Charting the World
Here are the Cities with the Biggest Carbon Footprints
精華簡文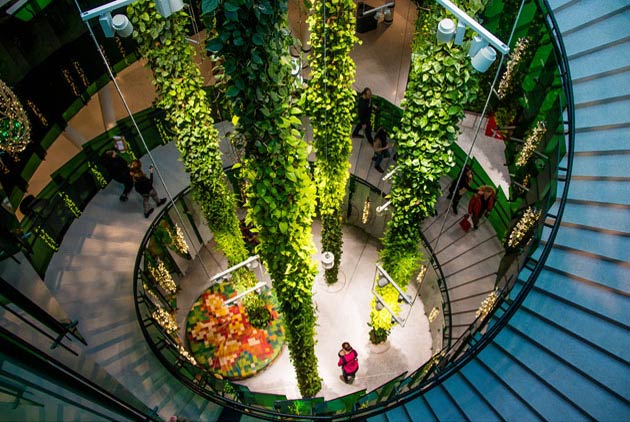 Source:flickr@Susanne-Nilsson,CC-BY-2.0
Many of the world's most affluent cities have large carbon footprints. However, according to a new study, this makes tackling the global emissions problem more manageable than it first appears.
Here are the Cities with the Biggest Carbon Footprints
By Emma Charlton
web only

Tackling the global emissions problem might be more manageable than it first appears.
Thinking about worldwide production of greenhouse gases can boggle the mind and make the scale of the problem seem unfathomable. But a new study showing 18% of all global emissions come from just 100 cities demonstrates how local action can meaningfully reduce pollution.
Seoul in South Korea topped a list of carbon footprints of 13,000 cities compiled by the Norwegian University of Science and Technology. Guangzhou in China, with a population of 14 million, came second on the list, followed by New York City.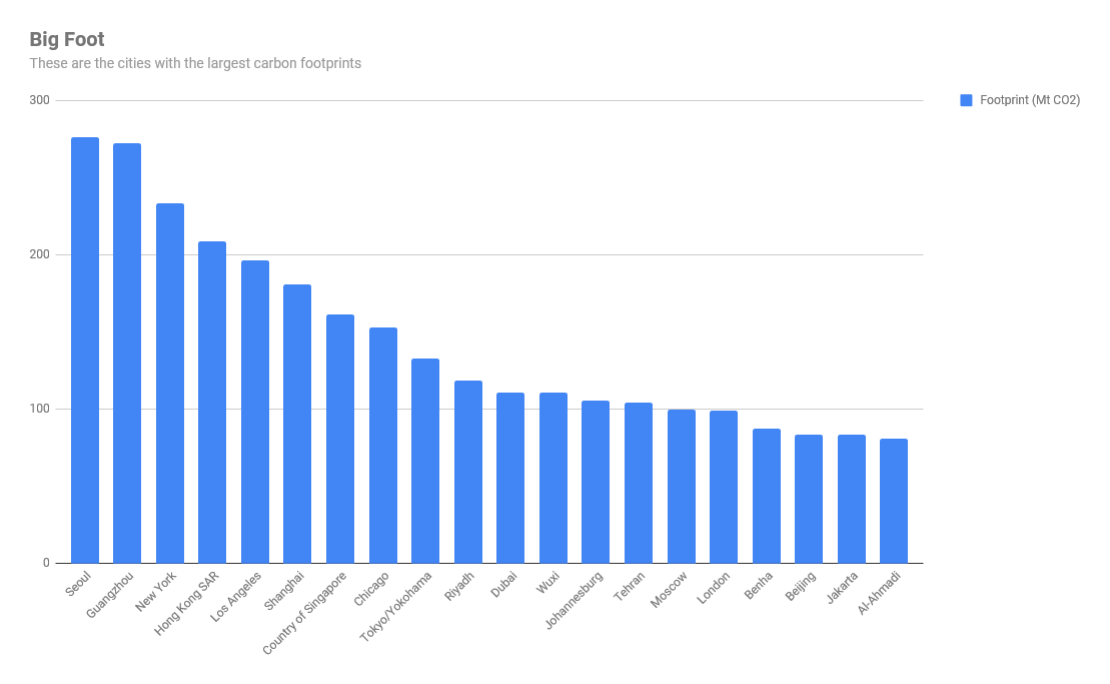 Image: Global Gridded Model of Carbon Footprints
Los Angeles, Singapore, Chicago, London and Dubai also featured in the top 20.
Concentrated Power
Researcher Daniel Moran said he was surprised at how carbon footprints are concentrated into a small number of dense, high-income cities and affluent suburbs. And that might make curbing the absolute levels seem more achievable, with the power in the hands of a relatively small number of local mayors and governments.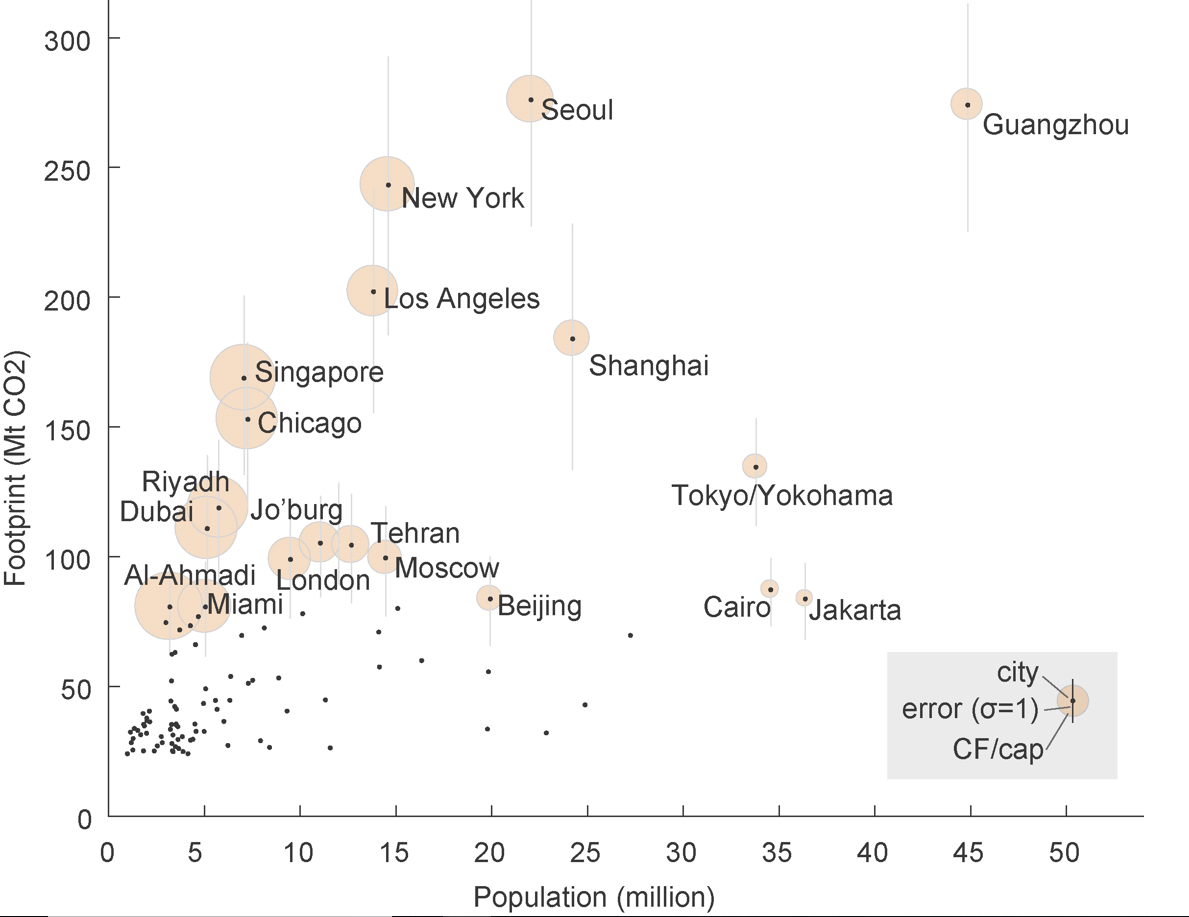 Image: Global Gridded Model of Carbon Footprints
In more than half of the 187 countries assessed, the top three urban areas were responsible for more than 25% of all national emissions.
The Worst Offenders
On a per capita basis, Hong Kong topped the list, followed by Mohammed Bin Zayed City and Abu Dhabi in the UAE. Four Chinese cities made up the top 10 per capita, as well as the US cities of New Orleans and Detroit.
Hong Kong was the only city to appear in the top 10 on an absolute and per capita basis. It has responded to the Paris Agreement – which aims to ensure the global average temperature doesn't rise beyond 2°C, compared to the pre-industrial level – by setting out plans to lower carbon emissions by 2030.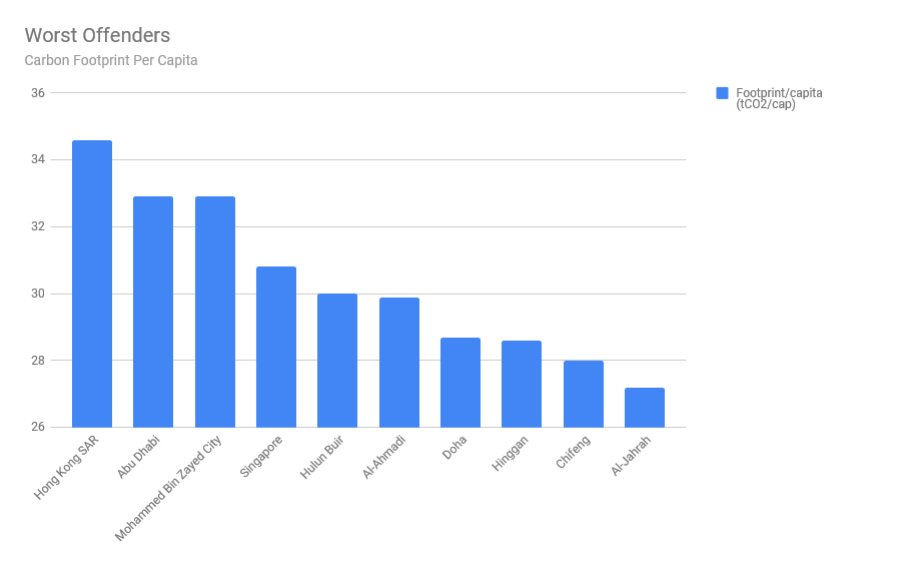 Image: Global Gridded Model of Carbon Footprints
And the new report could be interpreted as good news globally, after US President Donald Trump disappointed environmental campaigners by announcing the US withdrawal from the Paris accord. Still, some comfort may be drawn from the Norwegian University of Science and Technology's report, which suggests mayors and citizens, rather than national governments, are on the frontline in the battle to stem emissions.
"The confluence of high concentration of global GDP and global carbon footprints augurs well for future development of innovative strategies to reduce footprints," the researchers said. "The fact that carbon footprints are highly concentrated in affluent cities means that targeted measures in a few places and by selected coalitions can have a large effect covering important consumption hotspots."
Edited by Shawn Chou
---
Additional Reading
♦ Is Taiwan's Famed Pingxi Sky Lantern Festival an Environmental Plague?
♦ Facing Up to a Hot, Dirty 10 Years
♦ Taiwan's Sustainability Challenge: Time to Eat a Green Apple
Original content can be found at the website of World Economic Forum.
♦ These are the cities with the biggest carbon footprints
This article is reproduced under the permission of World Economic Forum (WEF) and terms of Creative Commons Attribution-NonCommercial-NoDerivs 4.0 Unported License ("CCPL"). It presents the opinion or perspective of the original author / organization, which does not represent the standpoint of CommonWealth magazine.