Pay as You Go Wherever You Go with EasyCard
EasyCard – Your Ticket to a Cashless Life and Unlimited Travel
精華簡文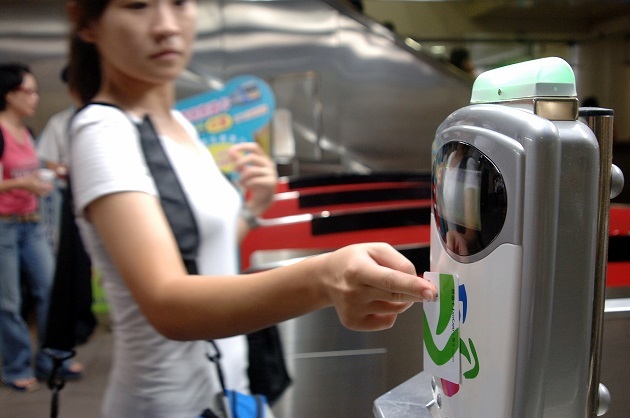 Source:CW
With Taiwan's EasyCard, a stored value or prepaid card, you can just leave your wallet at home. Cashless payments with EasyCard make life so much more convenient, covering all your daily needs – food and beverages, transportation, shopping, leisure and entertainment. Just swipe your EasyCard when shopping for groceries at Shidong Market in Taipei's Tianmu neighborhood, or when making a donation at Chaotian Temple in Yunlin County's Beigang Township. Do you need tickets to the National Palace Museum or a tourism factory and want to take public transport or a taxi to get there? All it takes is EasyCard.
EasyCard – Your Ticket to a Cashless Life and Unlimited Travel
By EasyCard Corp.
Sponsored Content

Easy Card accompanies you all day! From morning till night, you can pay without cash, tapping or swiping your EasyCard, on many occasions. You pay as you go when buying breakfast at a convenience store, after hopping on the bus or taking the MRT on the way to work, and use your EasyCard for keyless access to your office. During lunchbreak, you rent a YouBike to hunt for a tasty snack (Read: Going Green in Taipei: Free Coffee for Cyclists at YouBike Stations); in the afternoon you make a charitable donation and buy a drink from a vending machine, using EasyCard for both. Parking fees for the company car on an out-of-office assignment, dinner ingredients at the supermarket in the evening, weekend shopping for cosmetics, visits to the mall, the cinema and sightseeing spots – EasyCard has got all these payments covered.
Homegrown Brands Know Best What Consumers Need
In our daily lives, EasyCard services are ubiquitous as the "Beep" smart card economy continues to expand. Since March of 2000, the scope of EasyCard applications has greatly expanded as we aim to realize a more efficient cashless payment experience and implement the vision of EasyCard accompanying you from dawn to dusk.
So far, more than 70 million EasyCards have been issued, of which 17 million are currently in active use. In recent years, many electronic ticketing systems have entered the market, but EasyCard still leads the sector. EasyCard Corporation emphasizes that EasyCard, as a home-grown brand, best understands people's lives in Taiwan and can therefore provide services that perfectly meet local needs.
It's been eight years since EasyCard launched the ability for small purchases [of up to NT$1,000]. Meanwhile, EasyCard can be used to pay on the go at more than 50,000 sales points across Taiwan, including supermarkets, restaurants, drugstores, department stores, cinemas, gas stations, and so on. On top of that, EasyCard users can collect UUPON loyalty points, which can be exchanged for gifts.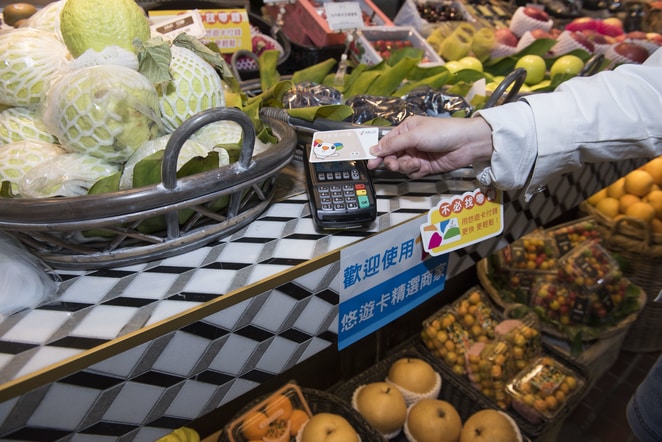 Top Service, Vast Options, Innovative Applications
Aside from large chain stores, EasyCard Corporation also cooperates with shopping districts to encourage smaller stores to develop convenient payment options. Island-wide, more than 30 shopping districts have joined, including Ximen, Gongguan, Yongkang and Xinbeitou in Taipei as well as popular tourist spots such as Jinshan Old Street, Keelung Old Street, Fengjia in Taichung and Kenting in southern Taiwan.
EasyCard payments are even possible in hospitals such as Taipei City Hospital, Tri-Service General Hospital and MacKay Memorial Hospital, and will be expanded to doctor's practices in the future. Cashless payment helps reduce the risk of contracting diseases from contaminated bills and coins. Eager to tap Taiwan's booming tea beverage market and anticipating brisk business on hot summer days, EasyCard teamed up with beverage chains Milk Shop and Ching Shin Fu Chuan Tea Station, which serve shaken tea and milk specialties, in April and May. Customers who buy specific drinks with EasyCard enjoy a NT$5 rebate per cup.
EasyCard's constant innovation is driven by its motto, "the best service and more choices." We found, for instance, that though students frequently shop online, they are not eligible to apply for credit cards. Therefore, EasyCard launched an online payment service called "DGPay" in March. Users only need to set up an account linked to their EasyCard to be able to make electronic payments.

The EasyCard Realm – A Wide Range of Uses
EasyCard has such a wide range of uses that many card owners are not even aware how vast the "EasyCard realm" has become! You can, for instance, use your EasyCard to make a donation at a temple! In several major places of worship, all you need to do to donate money is tap or swipe your EasyCard until you hear a "beep," saving temple staff the time of counting stacks of bills.
Participating temples include Beigang Township's Chaotian Temple in Yunlin County, New Taipei City's Yonglian Temple in Luzhou District and Fude Temple in Yonghe District, Ziyou Temple in Taipei's Songshan District, as well as Zhenlan Temple in Taichung's Dajia District. Donating on the go is particularly popular among the younger crowd.
Since this January, visitors to Shidong Market, which was revamped into a "five-star" traditional food market last year, can pay for their purchases with EasyCard at some 40 stalls! When Taipei Mayor Ko Wen-je, a surgeon by training, toured the renovated market, he praised the convenient and hygienic mode of payment, and announced with a laugh, "My short-term goal is to eliminate coins and bills altogether!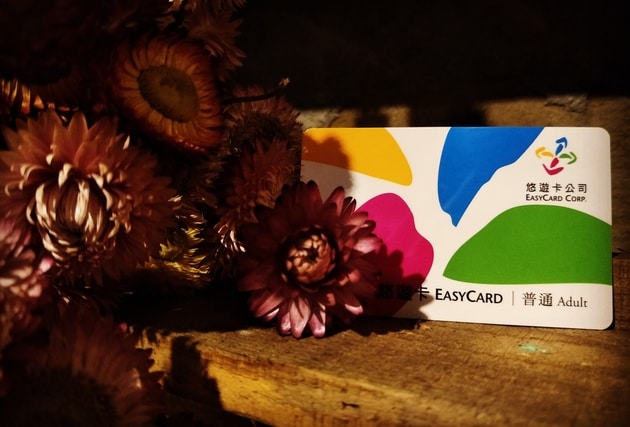 Image: EasyCard Corp.
All-round Cashless Lifestyle with Limitless EasyCard
Meanwhile, EasyCard usage has been expanded to other diversified services, providing a more convenient living environment. More than three million citizen cards or social welfare cards have been issued by more than a dozen local governments in cooperation with EasyCard Corporation. The Taoyuan City Government has already issued more than one million citizen cards, 90 percent of which are EasyCards. Last year, EasyCard and the Kinmen County Government jointly issued a "mobile citizen card", bringing cashless payment to the offshore isle.
The Taichung City Government has released a special Flora Expo Card combined with EasyCard functions for Taichung citizens to mark the 2018 Taichung World Flora Exposition, which will open on November 3 this year. Card owners can ride Taichung city buses for free for the first 10 kilometers of their rides and pay for small purchases with the card. During the expo, card owners can tour the flower show free of charge for as many times as they want on the day of their first visit. Admission tickets for subsequent visits are half price, and special discounts are available for purchases at the more than 2,000 designated Flora Expo vendors.
All it takes to enjoy a "cashless life and unlimited easy travel" is an EasyCard. Every day, every moment, as you leisurely travel around this beautiful land, EasyCard provides a convenient and safe environment for cashless payments to satisfy your everyday needs – be they transportation, food and beverage, leisure and entertainment, or shopping!
Translated by Susanne Ganz
Edited by HanSheng Huang
This content is sponsored by EasyCard Corp.
---
Additional Reading
♦ Going Green in Taipei: Free Coffee for Cyclists at YouBike Stations
♦ Finding Happiness in the Family Business
♦ The Digital Wallet Is Here
♦ EasyCard Corp. chairman Liu I-cheng: Financing a Renaissance