'PhilTai The Voice' Founder Gen
No More Stereotypical Filipino
精華簡文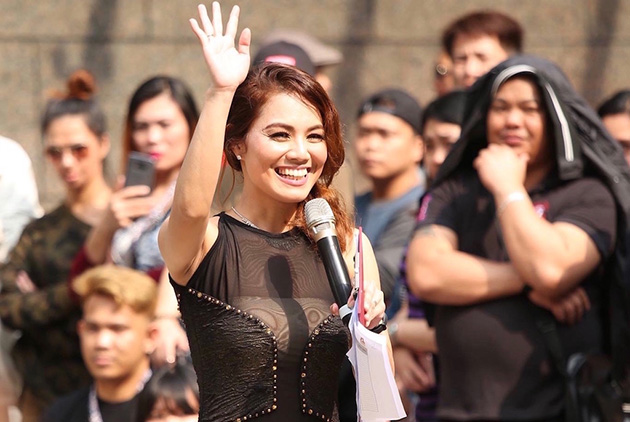 Source:Huang Chi-ni
For many Southeast Asian women who get married and settle in Taiwan, the transition can be difficult. Filipina Genevive Pajo Paliota, or simply Gen, has dedicated herself to helping those women and build bridges with Taiwanese society.
No More Stereotypical Filipino
By Hocheng Yen
CSR@CommonWealth

At first glance, there's a certain "star quality" to the woman everyone calls "Gen," short for Genevive Pajo Paliota. Fair-skinned with distinctively Western facial features, she has a natural beauty.
"I've worked as a model but not for commercial purposes. It was to shoot a public service commercial for the government," says the Filipina, who has been in Taiwan for 11 years and is active in Southeast Asian immigrant circles.
Gen has several identities. Beyond her roles as amateur model, event host, and a mother of two children, she is also the founder of "PhilTai The Voice." This nongovernmental group serves as an interactive platform for foreign spouses and helps Taiwanese and new immigrants to get to know each other. As indicated in the "product" category in the group's Facebook page, the purpose of its creation is for "family and friendship".
"New immigrants" refer to the tens of thousands of foreign nationals, mostly from China and Southeast Asia, who settled in Taiwan after marrying Taiwanese nationals over the past two decades.
The always smiling Gen explains that the purpose of her organization is love and affection, though calling PhilTai The Voice an "organization" obscures the fact that it is pretty much a one-person operation.
Gen has single-handedly used social media to build a communications network, shooting her own videos and sharing information with Filipinos in Taiwan while helping Taiwanese to better understand the Filipino community.
For example, she produced, directed and hosted a production on the views of Philippine spouses in Taiwan on that country's 2016 presidential election. She has also interviewed Taiwanese and Filipinos to find out if they believe in "eternal love" between a man and a woman.
She has invited people from her native Cebu to send pictures to her, which she then edited into a video introducing Cebu's people and tourist spots, and has produced other inspirational videos that encourage foreign spouses in Taiwan to find sources of strength within themselves.
Fostering Mutual Understanding
She finances all of these activities out of her own pocket. "My husband says I'll never be rich," she says only half-jokingly.
"But I want to help foreign spouses integrate into Taiwanese society, and help Taiwanese learn about our roots," says Gen, whose Chinese name is Huang Chi-ni (黃琦妮).
The motivation was spurred by her own experiences. When she came to live in Taiwan in 2007 after marrying a Taiwanese national, she had to overcome culture shocks and occasionally faced preconceived notions and stereotypes bandied about by local residents.
"Where you married through a marriage broker?" and "Aren't Filipinos darker skinned?" were just some of the questions that made Gen uncomfortable. If anything, she wants people in Taiwan to know that there is no "stereotypical" Filipino.
"The Philippines is an archipelago. We have 7,100 islands and islets. So when you go to our country, and when you tour around, actually you'll be surprised there are a lot of fair-skinned Filipinos and we have different physical features. It is not just me who is unique, there are many "Gens" in my country, " her tone turning serious when discussing the topic.
PhilTai The Voice was launched in as PhilTai Organization in 2007 soon after Gen arrived in Taiwan as a way to create a new family here by connecting Philippine spouses and migrant workers in Taiwan. But she became well-known among "new immigrants" through her association with 4-Way News, a publication catering to new immigrants from Southeast Asia.
She wrote a column for the news channel beginning in 2011 and later won a grant in the Four Ways Voices "Bridge to Home" program to collect secondhand goods to donate to families living in remote parts of the Philippines. Comfortable in public settings, Gen is also often invited to host public events, becoming something of a celebrity in new immigrant circles.
A Priceless Volunteer
"She has mobilized all of her resources. I met her on the Bridge to Home project. The funding she applied for was all used to support education in remote parts of the Philippines," says Liao Yun Chan, the co-founder of Four Ways Voices and now a director in CommonWealth Magazine's New Business Department.
"She may be an unpaid volunteer, but she's priceless," says Liao.
Gen, who comes from a middle-class family in Cebu, has always had a flair for stage acting. A devout Catholic, she began singing at her church at the age of three and participated in TV singing competitions. She continued to stage act as a college student, earning living expenses but also engaging in charity by buying instant noodles and canned goods and donating them to poor families.
She said she had a chance when she was 6 or 7 years old to go into the entertainment industry, but when her parents asked her if that was what she wanted, she said "no."
"I don't want popularity. I don't want fame. What I really wanted to do is to help other people," she says.
"It's written in the Bible that if you are humble, if you want to be a humble person, you have to think more about other people. And God said, if you have the chance to influence people, you are giving them the chance to voice out something and affect others. Every person has a voice."
24/7 Counselor
Her voice in Taiwan is as a psychological counselor to foreign spouses, many of whom are strangers who contact her through social media.
She says she gets call at all hours of the day and night with questions about marriage, life and even how to become prettier.
"There are a lot of full-time moms who don't want to keep themselves beautiful physically. I know it's not important, but it helps you a lot when you're a full-time mother that when you wake up in the morning and see yourself in the mirror, if you're happy it gives happiness within and to your children," she says.
One of her goals is to help people improve their self-esteem and build on the positive. One case that sticks out in her mind was a Philippine mother who was depressed and lonely after getting a divorce and came to Gen in tears saying she wanted to kill herself. But she was still living with her ex-husband's family to take care of her daughter and was given an allowance of NT$10,000 a month.
Gen saw that as a positive sign because most Taiwanese families would have sent the divorced woman back to the Philippines and not let her see her daughter. So she counseled the mother not to give up and to rebuild her relationship.
"In the end, they got back together and even had a second child," Gen recalls.
Not every story has a happy ending, however. One foreign spouse who had a husband who beat her while having an affair on the side sought Gen's help. Gen called the 113 hotline to report domestic violence and then called the victim to help her and advised her to return to the Philippines with her daughter. But the woman later came back to Taiwan, only to find that her husband hadn't changed.
"She loved him. I didn't know what to do," she says with a sigh.

Overseas Marriage a Ticket to Happiness?
Taiwan's government has recently made a concerted effort to publicize the lives of new immigrants here, giving the impression that they are generally happy, but Gen says that's not the case. For many spouses, their biggest problem is marriage and their mothers-in-law. Some mothers-in-law engage in emotional blackmail, saying such things as: "If you don't do as I say, I'll send you back" and "I won't let you see your child."
The root of the problem is not so much discrimination as it is cultural differences, Gen believes, pointing to two big hurdles: the gulf between Philippine and Taiwanese culture and a misconception in the Philippines that getting married and living overseas represents a ticket to happiness.
In the Philippines, women are highly respected and weddings often take place in the bride's hometown, but in Taiwan, the daughter-in-law generally has to bend to the husband's family's will and even live with the husband's parents, giving Philippine wives the sense of being "trapped."
"I tell my Philippine sisters, Taiwanese wives have the same problem," Gen says. "In fact, I think Taiwanese are pretty friendly, and most of my Philippine sisters think the same thing. Mother-in-law problems are the result of cultural differences."
With that in mind, Gen encourages foreign spouses here to learn Chinese and make an effort to integrate into local society, as she herself did.
Having never learned Chinese in the Philippines, she originally communicated with her husband in English and taught English at a language school when she first arrived in Taiwan. But she learned Chinese on her own, and with the help of her husband and her parish, she can now converse easily in Chinese.
Whether Gen is writing articles, shooting videos, or offering psychological counseling, it derives from her love of families and children, because she believes that sound families mean healthy children, knowing full well that as Taiwan's second-generation new immigrants grow up, there are family issues that cannot be ignored.
Removing Labels
"It's all for my children," Gen says. "I know Taiwan is my future and it's my children's future. If they don't know themselves, if their mother cannot love herself, then how can they teach their children? If they feel they don't have their own identity and status here, how can they love Taiwan?
"I hope to be able to get rid of labels. There are no new immigrants. We are just a small Taiwanese family. So I hope to build this bridge to make Taiwan a better place," Gen says in talking about her aspirations. Are they not the same as those of most Taiwanese?
Translated by Luke Sabatier
Edited by HanSheng Huang
---
Additional Reading
♦ 'No More Migrant Workers Will Ever Be Deceived Again, I Wish'
♦ Migrant Workers Should Get the Day-Off
♦ 'Staying in Taiwan is good, But Returning to My Homeland is Better'
♦ Our Generation Sees 'Others' More Openly
---

CommonWealth Magazine began its advocacy of corporate social responsibility in 1994, and in the coming years since, CSR has gradually grown in importance to companies, investors and society. In recognition of that trend, CommonWealth created the website "CSR@CommonWealth" in 2017 to highlight the most forward-looking CSR visions and ideas and create a CSR platform that can help build a better world.