Sizing Up the Atemoya Craze
Taiwan's Heavenly Gift in Peril
精華簡文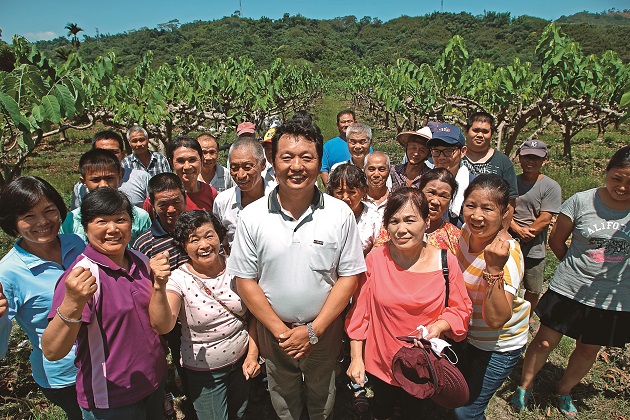 Source:CW
Taiwan has emerged as the world's biggest exporter of the custard apple-like fruit, the atemoya. But mindless competition among Taiwanese trading companies and dependence on China is threatening the riches derived from this heavenly gift.
Taiwan's Heavenly Gift in Peril
By Jenny Cheng
From CommonWealth Magazine (vol. 578 )


"The scorching heat of the Taitung summer pounds away, but for those who can withstand it, a treasure awaits. Going south from Luye, through the Wuling Green Tunnel, one arrives in Taiwan's biggest atemoya-growing area – the area of Banchiu in Meinong Village in Taitung's Beinan Township. The area's other specialties are its renowned Banchiu ices and millionaires.
Welcome to the '800 Club'
"Everybody here is a member of the 800 Club," says Chuang Cheng-hsiung, the head of the Agricultural Production and Marketing Group for atemoyas in Taitung Area Farmers' Association, in a robust voice to the CommonWealth Magazine reporter while pointing toward four farmers sitting down at home.
So what is the 800 Club? It refers to people who have incomes of NT$8 million a year, a rather surprising designation for farmers who grow nothing other than atemoya.
The fruit, known literally as "pineapple sugar apple" in Chinese, is member of the "Annonaceae" family of fruits that look like the top of a Buddha's head and include sugar apples (also known as sweetsops), soursops, custard apples and cherimoyas.
The names are often used interchangeably, but it is the atemoya – a cross between a sugar apple and a cherimoya– that has emerged as the star of the group for its smooth and juicy white flesh.
Of the 35-person production and marketing team led by Chuang, five belong to the 800 Club, and the others make over NT$1 million a year. The car parked in his garage is not a small delivery truck as one might expect but a Mercedes-Benz that shares its space with fertilizers and farming tools.
In fact, atemoyas have helped Taitung create nearly 1,000 millionaires in Taiwan dollar terms.
Lu Po-song, the head of the Banchiu branch of the Taitung Agricultural Research and Extension Station, says atemoyas can fetch up to NT$70 per 600 grams, or about NT$117 a kilogram, and a hectare of the crop can generate income of about NT$600,000. The Chulu Farmers' Association increases it savings by NT$100 million to NT$200 million a year because of the lucrative fruit.
A look at Taiwan's trade statistics explains why atemoyas have created so much wealth for the sparsely populated Taitung County, one of the country's least developed areas.
Beginning in 2008, atemoyas first surpassed pineapples and then vaulted past mangoes to become Taiwan's most important fruit export (Table 1). In 2014, the country exported NT$580 million (US$19.07 million) worth of atemoyas, more than Australia, Spain, Thailand or Hainan Island, to remain the world's biggest shipper of the product.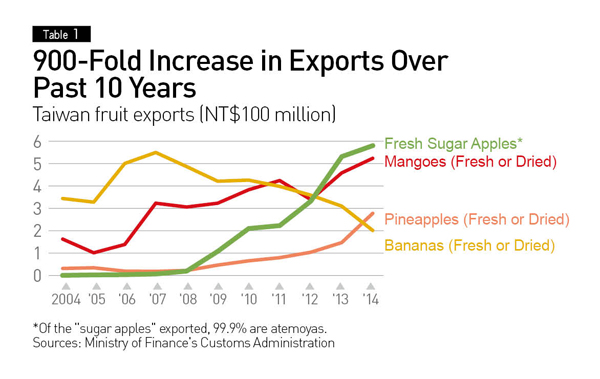 So how has Taiwan emerged as the world's biggest exporter of the fruit? Much of its success has been a gift of nature.
Rift Valley Climate a Perfect Fit
"You grow things in their most suitable environments. The climate here is most suitable to atemoyas," says Tsai Hui-tun, the former head of the atemoya marketing group, explaining Taitung's chief advantage in growing the crop.
When the fruit was first introduced to Taiwan, it was mostly grown in Yilan and Taichung. But Yilan's relatively cool weather was less than ideal for growing the fruit, and the texture and quality of the atemoyas grown in Taichung could not match that of the Taitung product once the southeastern county got into the act, which is why atemoyas eventually took root there.
As was evident even in Taiwan, finding the ideal growing environment for atemoyas is not easy.
Lu explains that Thailand's climate is too hot, and China's climate is too cold, with frost absolutely unacceptable. The climate of the Rift Valley, which runs north-south down the center of Taitung County between mountains that hug the coastline and Taiwan's central mountain range, is very diverse and allows the fruit to thrive. The closer farms are to mountainsides and the bigger the variation in temperature from day to night, the better the quality of the fruit.
Though members of the 800 Club are highly opinionated, the one thing they all agree on is that "the atemoya is a gift from heaven."
Beyond divine intervention, however, agricultural science has also contributed prominently to the change in the fruit's fate.
Lies that Translated to Quality
When Taiwan first introduced atemoyas from abroad in 1965, the variety chosen was a summer fruit. The Taitung research station discovered, however, that the summer variety was difficult to commercialize because it went bad or rotted easily, suggesting a short shelf life.
The station later adjusted the fruit's main growing season to the winter, and it has been regularly harvested from November to April since then.
To change the atemoya's natural growing season, farmers had to tell the fruit's trees two lies.
The first was to create the illusion that the growing season began in the middle of the summer rather than during the winter, Chuang explains. To be able to begin harvesting the fruit in December, farmers took to pruning their trees in July to fool them into thinking that life was at an end. The trees responded by gradually blossoming and bearing fruit over the next few months.
The second lie was to extend the trees' exposure to daylight. "Stay awake. Don't go to sleep. You have to keep blossoming," is what farmer Wu Tung-lung told his trees. Some farmers have illuminated the trees with lights to extend the harvest season to May and increase production.
Aside from cultivation techniques that rely on lying to the trees, artificial pollination has also been critical to growing the fruit successfully.
Lu says atemoyas can be difficult to pollinate because the flower demonstrates its male parts two to three days later than its female parts. Things were made worse when environmental changes more than two decades ago resulted in a decline in numbers of the flowers' natural pollinators – beetles. This combination posed a challenge to maintaining crop yields.
But in 1995, the research station guided farmers in developing artificial pollination technology, leading to soaring harvests and a more consistently round fruit.
With higher yields, however, came plummeting prices because of an excess in supply.
Lu recalls that only in 2003, the year when the price farmers got for their atemoyas fell to a paltry NT$20 to NT$30 per 600 grams, did the government begin considering export opportunities.
In 2004, a first batch of 18 metric tons of atemoyas was shipped by air to Singapore, but demand there was limited, forcing Taiwan to look elsewhere.
Japan and South Korea were other markets high on the list of potential targets, but quarantine issues could not be overcome.
Hong Kong, Malaysia and Indonesia eventually emerged as the main target markets, but total exports still only amounted to 100 to 200 metric tons per year.
The key to the explosion in exports from 18 metric tons initially to the nearly 10,000 tons a year at present came in 2005.
That year, the National People's Congress ratified the "Anti-secession Law," putting into law the People's Republic of China's right to use "non-peaceful means" if Taiwan were to formally declare independence. Chinese President Hu Jintao and KMT Chairman Lien Chan met in Beijing, and after the meeting China announced that 12 categories of Taiwanese fruit exports to China would be tariff-free, opening its doors wider to trade with Taiwan.
Later that year, China's Ministry of Commerce issued a list of 18 types of fruit that could be exported to China, with 15 types, including atemoyas, exempt from import duties.
Suddenly, carton after carton of fruit was shipped to China to fill "political orders" meant as a sign of Beijing's good will, forging an unprecedented milestone for Taiwan's agricultural exports.
For most fruit, however, the success was short-lived. Only atemoyas and pineapples experienced substantial growth (Table 2) after the first batch of tariff-free fruit was exported to China in 2006, according to Council of Agriculture statistics. By 2014, atemoya exports were more than double pineapple exports.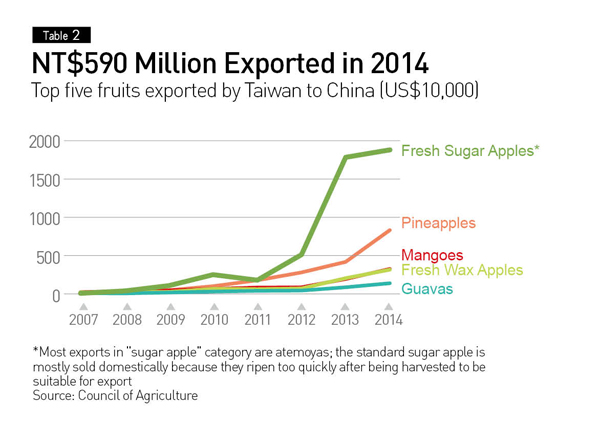 A Complete Supply Chain
Over 98 percent of the atemoyas Taiwan exports go to China, but it took a few years for the fruit to gain traction in the Chinese market before taking off in 2009.
That was when Taiwan truly built a complete value chain for exporting the fruit across the Taiwan Strait that deliver the product to consumers' hands in a timely way.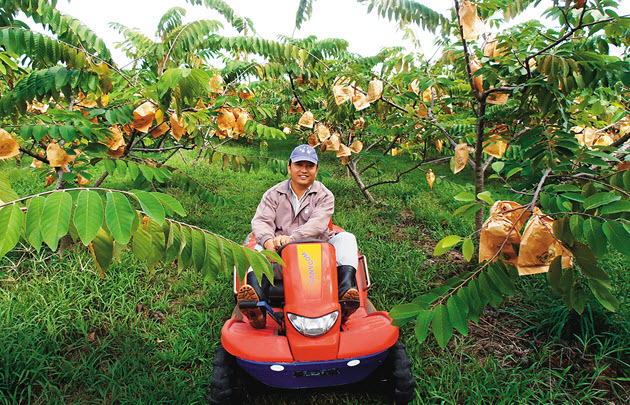 As atemoyas ripen, they need to be individually wrapped to prevent attacks by the Oriental fruit fly. From wrapping the fruit to fertilizing the crop to harvesting, the process is very labor-intensive.
Producers and exporters have 14 days in which to complete the process, starting with deciding when to harvest it to processing it in controlled temperatures and then storing and transporting it and getting it on store shelves. The process must be completed within 14 days because that's about how long it takes for atemoyas to ripen after they've been harvested.
Northern China is the main market for atemoyas, and getting the fruit from a warehouse there to the end user takes four to five days. The region's winter cold also increases the number of days needed for the fruit to naturally ripen, creating a challenge for exporters.
"We have to get it into the hands of the consumer at just the right time," Lu says with pride at having succeeded in the task.
By mastering the 14-day window, Taiwan has been able to sell atemoyas to places as far away as Xinjiang in China's far west.
The combination of climatic, technological and management advantages have made it possible for Taiwan's atemoyas to develop a dominant position in China's market and fetch the relatively high price of NT$250 per piece.
But traveling this favored export path has been anything but smooth sailing.
The Temptation of Pesticides
"Please. Absolutely, absolutely do not abuse pesticides. I beg you, please pay attention to this," a sweating Chuang implores the 35-members of his atemoya marketing group at a noon meeting.
Aside from the intense heat, there was also a palpable anxiety and agitation at the regularly scheduled meeting because of the high stakes involved. At the beginning of this year, Taiwanese mangoes and pineapples were found by Chinese authorities to have excessive levels of pesticides, resulting in the suspension of mango and pineapple exports to China and huge losses for Taiwanese farmers.
To Chuang, atemoya farmers could not, and had no reason to, repeat the mistake made by pineapple and mango farmers.
The former group head, Tsai Hui-tun, stressed that, "the use of pesticides should be truly controlled. Every farmer should use a serial number (for their produce) to give them the necessary protection."
Beyond the misuse of pesticides, there was another concern among the farmers at the meeting that was not brought up.
The Scourge of Chaos
The high export quantities and attractive prices have earned Taiwan the reputation as the world's top atemoya country but also triggered a "Warring States Period" among 10 to 20 trading companies fiercely competing against each other. Their primary concern has not been price but whether they can get their hands on the goods.
To ensure supply, the trading companies have paid cash on delivery of the fruit, a departure from their more typical practice of paying farmers only after collecting payment from the overseas buyer. To ensure the best price, farmers opt for early or late harvests to have fruit to sell when supply in the market is limited.
After paying a high price for the fruit, however, the trading companies engage in fierce pricing competition when trying to sell atemoyas in China.
'Taiwanese Killing Taiwanese'
Lin Chih-chung, the chairman of one of Taiwan's three biggest atemoya exporters, Charng Chern Co. Ltd., observes that local trading companies drive up prices to buy as much product as they can and then battle each other again by driving down the price to sell the fruit in China.
"Everybody fights to the death. With Taiwanese killing Taiwanese, the Chinese see us as idiots," says a frustrated Lin.
Sheu Fuu, a professor in National Taiwan University's Department of Horticulture and Landscape Architecture, worries that if traders are allowed to continue this senseless competition, Taiwan's atemoya empire could quickly decline.
"Chinese customers complain about 20 to 30 percent of the atemoyas Taiwan sells in China. Once a trading company is hit by complaints, it tries to sell its fruit in another province. China is a big place so they mess around, but the brand is still Taiwan,"Sheu says.
Out of 10 trading companies that did the business last year, nine lost money, which could lead to plummeting prices in the future that could destroy the Taiwan brand, Sheu observes.
Sheu also notes that the volume and value of atemoya exports over the past two years have remained relatively flat, indicating that new markets are not being developed. If trading companies remain short-sighted and go their own way, the atemoya "blue ocean"– or uncontested market space – will quickly transform into a "red ocean."
Of particular concern is that Chinese capital may be behind the infighting among Taiwanese traders.
Lin Chih-chung, who has exported atemoyas for a decade, discovered that after the opening of the mini three links in the early 2000s, China began investing in Taiwanese trading companies.
"They deliberately used Chinese capital and with no more than NT$200 million a year they can completely screw up your agricultural system," he says indignantly, accusing Chinese capital of being the culprit behind the driving up of prices at the farm. Even a NT$3 increase in price can create volatility and "electrocute you to death," Lin says.
This over-reliance on China and cutthroat competition among domestic trading companies could imperil the atemoya's reign as Taiwan's most important fruit export.
As trading companies engage in mindless bloodletting, turning a blue ocean into a red ocean, farmers and scholars both feel "integration" has become a must.
Taiwan may now be the world's biggest exporter of atemoyas, but for this advantage to be parlayed into further export growth amid globalized competition, people will have to come together.
The key will be the integration of trading companies once the fruit has been harvested and developing end-use marketing channels. Otherwise, the dark clouds shadowing these bountiful crops will never dissipate and potentially threaten the sustainability of this success story.
Translated from the Chinese by Luke Sabatier