12 Years of CommonWealth Magazine CSR Awards
Setting Ambitious Standards for Corporate Social Responsibility
精華簡文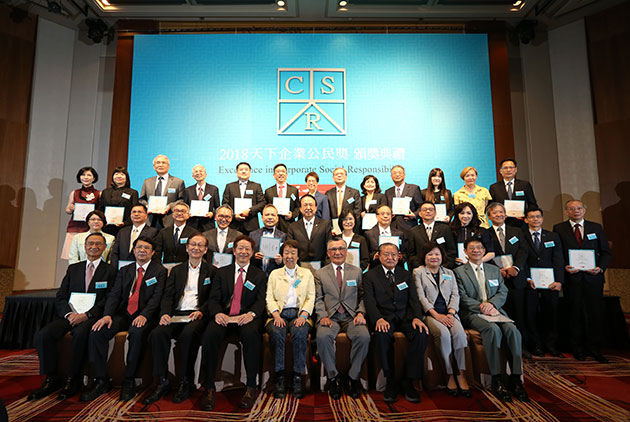 Source:Chientong Wang
Compared with previous years, Taiwanese enterprises made greater progress on the CSR front this time. In 2017 alone, companies poured NT$8.2 billion into charitable donations. The companies that made it into the top 100 corporate citizens employ a total of 460,000 people, accounting for only four percent of Taiwan's employed workforce. However, these companies generate annual revenue in excess of NT$14 trillion, or 80 percent of the island's GDP.
Setting Ambitious Standards for Corporate Social Responsibility
By CommonWealth Magazine
web only

Under cloudy skies, the winners of the CommonWealth Magazine Corporate Citizen Awards, now in their 12th year, were announced the afternoon of August 29. With vast parts of southern Taiwan deluged after weeks of torrential rains, Environment Minister Lee Ying-yuan noted as he addressed the awards ceremony that the flooding is clear evidence of ongoing climate change and bemoaned the fact that the fight against global warming has suffered a setback in the wake of U.S. President Donald Trump's withdrawal from the Paris climate agreement.
"The law provides the lowest ethical standards; requirements for corporate citizens must be higher. Enterprises must not only look after themselves but also take care of others," stated Lee, appealing to companies to take responsibility for their actions.
Delta Electronics Inc. Wins Large Enterprise Crown for Third Year in a Row
Amid the award-winners at the three-hour-long event were many "familiar faces", enterprises that, inspired by the CommonWealth Magazine Corporate Citizen Awards, have built their corporate social responsibility (CSR) portfolios over the years. Delta Electronics Inc. won the top spot in the large-scale enterprise category for the third year in a row, whereas BASF Taiwan, the local subsidiary of the German chemical giant, managed to make it into the top five foreign enterprises for the fourth successive year. Leading organic haircare maker Hair O'right International Corp. again clinched the crown in the "little giants" category. (Read: Delta Electronics Inc.: 'The Time is Always Right to Do the Right Thing')
As many awardees took the stage, they thanked CommonWealth Magazine for hosting the Corporate Citizen Awards for the past twelve years, and pointed out that this opportunity to compare notes and be evaluated regarding CSR approaches helped them figure out what worked, what didn't, and how to adjust the direction of their efforts.
Jimmy Hsiung, supervisor of the CommonWealth Magazine Survey Center, noted that this year's jury members concurred that, compared with previous years, Taiwanese enterprises made greater progress on the CSR front this time. In 2017 alone, companies poured NT$8.2 billion into charitable donations. The companies that made it into the top 100 corporate citizens employ a total of 460,000 people, accounting for only four percent of Taiwan's employed workforce. However, these companies generate annual revenue in excess of NT$14 trillion, or 80 percent of the island's GDP.
"They represent only a small group of people, but the change they bring about for Taiwan is enormous," remarked Hsiung, pointing out that setting ambitious CSR standards through long-term commitment and by embedding CSR in corporate culture and each employee's DNA, forms a vital element of corporate competitiveness.
As a longtime champion of the environment and energy conservation, Delta Electronics late last year became the first company in Taiwan or China to have its science-based targets for reducing greenhouse gases validated and approved by the Science Based Targets Initiative. Guo Shan-shan, the company's chief brand officer and executive director of Delta Electronics Foundation, noted that Delta Electronics began to collaborate with the Central Weather Bureau this year, providing architects with the micro climate data of nearly 30 areas across Taiwan as reference so that people would be able to live in comfortable housing that is adapted to the local climate conditions.
The world's largest chip foundry, the Taiwan Semiconductor Manufacturing Company (TSMC), won second place this year in the large enterprise category, with Chairman Mark Liu accepting the award in the wake of the retirement of longtime Chairman Morris Chang. Liu said that it is TSMC's vision to become a force that can lead Taiwan's society to a higher plane. Through volunteer activities, TSMC fosters its employees' volunteering spirit, encouraging them to not only do good deeds but also contribute to Taiwan's economic development with integrity.
Jonney Shih, chairman of Asustek Computer Inc. (Asus), stated that Asus successfully used 100 percent recycled parts and components for its recycled computers last year. This March, Asus won Circularity Facts Program Validation status, which means that the company implements the "cradle to cradle" concept for a sustainable economy.
Developing ambitious CSR goals is not just a privilege of companies in the large enterprise category. Transnational consumer goods company Unilever launched a sustainable live agenda in 2010, promoting sustainable lifestyle brands such as Dove, Lipton and Knorr. For the Lipton green tea series, the company cooperates with Taiwanese tea plantations, becoming the first tea bag brand in Taiwan with Rainforest Alliance certification.
Small giant O'right has shown through its plastic and emission reduction measures and development of sustainable green products that a Taiwanese company can be a global leader in CSR. Ko Li-li, O'right's deputy general manager, noted that the haircare maker promotes a circular economy through innovations such as using coffee husks from Gukeng in Yunlin County and golden goji berry root from Kuanyin in Taoyuan City in its products.
Companies can more fully fulfill their corporate responsibility by enabling every employee to join in CSR efforts. This year's award-winners attach growing importance to the joint involvement of their employees. Cathay Financial Holding Co. Ltd. Vice Chairman Chen Tsu-pei remarked that within the company's core business, banking is linked to the Equator Principles, insurance to sustainable insurance, and asset management to responsible investment, so that CSR becomes part of each employee's tasks and the long-term business strategy.
One new insight from this year's Corporate Citizen Awards is that companies in Taiwan are more ambitious in the four areas that were evaluated for the ranking – corporate governance, corporate commitments, social engagement and environmental sustainability – than laws and regulations require. This is particularly obvious with regard to social benefits.
"Since everyone is making an effort, we are witnessing forces that contribute to the progress of Taiwanese society," observed Labor Minister Hsu Ming-chun, who sat on the jury panel and attended the awards ceremony. Hsu said that, as Taiwan's top labor policymaker, she is very happy to see that many enterprises are ready to share their profits with their employees through various benefits such as salary raises and creative schemes such as "emotional leave" or allowing employees to take a day off when their children start school. This shows that corporate Taiwan and the government are making a concerted effort to improve the welfare of workers.
"It's great that Taiwan has you!" declared CommonWealth Magazine President Yin-Chuen Wu at the ceremony. More and more companies are deepening their CSR agenda, internalizing social responsibility in day-to-day business, and implementing CSR while making money is crucial for taking Taiwan to a higher plane.
---
About the CommonWealth CSR Corporate Citizen Awards Survey
By Elpis Su
The 2018 CommonWealth Magazine Corporate Citizen Awards Survey picked Taiwan's best corporate citizen using international benchmarks and evaluation methods in the four areas of corporate governance, corporate commitments,social engagement, and environmental sustainability.
The evaluation process, which covers CommonWealth Magazine's Top 2,000 Enterprises and domestic and foreign-invested companies recommended by experts, is split into four stages. In the first round, companies that have turned a profit for three years in a row are invited to participate in the survey. In round two, an initial evaluation takes place based on the data provided by the responding companies. In the decisive third round, experts from various fields form jury panels that rank the companies in the various categories according to their performance in the four evaluation areas. In round four, Jury head Lin Hsin-yi convenes a grand jury panel that selects the Top 100 Corporate Citizens based on enterprises' total scores.
This year, companies were grouped into four categories based on annual revenue. Companies with annual revenue above NT$10 billion were categorized as large enterprises, those with annual revenue below NT$10 billion and considerable CSR experience were put in the medium-sized enterprise category, while companies with less than NT$5 billion in annual revenue were designated as "small giants". Foreign enterprises made up the fourth category.
Survey period: May 3, 2018 to August 9, 2018
Survey execution: Jimmy Hsiung, Elpis Su
♦ 2018 CommonWealth Magazine Corporate Citizen Awards Winners
Translated by Susanne Ganz
Edited by Sharon Tseng
---
Additional Reading
♦ Water-free Dyeing Puts Taoyuan on the World Map
♦ Slow Shopping Means More Joy
♦ Slow Fish: Where Does Our Fish Come From?
♦ Leave No Footprint Taiwan