TSMC Chief Drops Hints
What's Next for TSMC?
精華簡文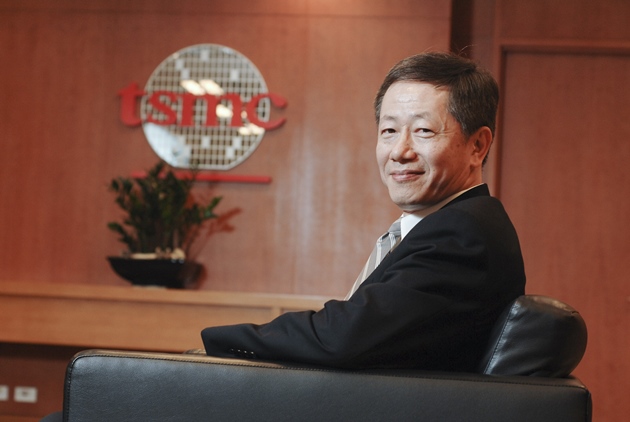 Source:Mingtang Huang
In the two months since Taiwan Semiconductor Chairman Morris Chang's retirement, TSMC's stock has unexpectedly soared by 26 percent. Having shaken off its two chief competitors, Intel and GlobalFoundries, what is next for TSMC? Mark Liu's first public speech since taking on the company's top position may hold some clues.
What's Next for TSMC?
By Liang-Rong Chen
web only

Upon Taiwan Semiconductor Corporation (TSMC) founder and chairman Morris Chang's retirement on June 5 this year, the company was followed by a flurry of bearish events. Smartphone sales had stalled, and Bitcoin cryptocurrency had fizzled out, sending TSMC stocks spiralling downward, plummeting to a low of NT$216 per share in late June.
In spite of this, Chang was in fine spirits when he appeared for the first time in public since his retirement to give the keynote address at SEMICON Taiwan on September 5. And the very next day, TSMC stock reached an all-time historical high of NT$268 per share.
In other words, TSMC stock has soared 26 percent in just the past two months or so, increasing the company's value by over a trillion NT dollars. Such a rapid and dramatic gain by a large-cap stock like TSMC is highly unusual. So what exactly happened?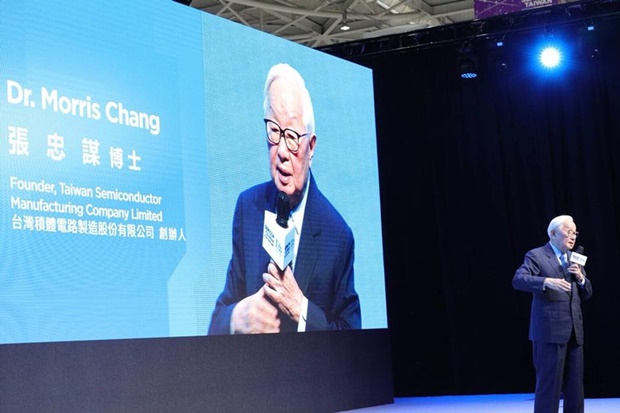 Morris Chang at SEMICON Taiwan (Source: SEMI Facebook)
The simplest explanation is that the processor chip made with TSMC's latest 7-nanometer process will power the latest Apple iPhones, set to go on sale worldwide in the second half of September.
Naturally, this is bullish news, something that overseas investors and shareholders, together with the industry, have anticipated since word of the successful development of the process was revealed early this year.
However, what outsiders are unaware of is that TSMC is not only the first semiconductor foundry to enter full-scale 7-nm production, but that it is also far ahead of the competition.
An INTEL executive admitted during a late-July investor conference that, due to further delays with products manufactured using the latest 10-nm production process (since different manufacturers use varying definitions, Intel 10-nm process belongs to the same class as TSMC's 7-nm process), production would not commence until late 2019, a full four years after it was originally announced.
This means that Intel, a company that had always had a technological edge over TSMC, has fallen behind by over a year. And this was confirmed the day after the investor conference, when Intel's stock took a steep eight-percent dive.
Is Intel's Reign Over?
Industry insiders predicted that if Intel were to lose its process leadership advantage, it would set off a chain reaction.
An August report by the Bernstein market consulting firm noted Intel's monopoly positions in personal computer chips and servers, at 91 and 99.4 percent, respectively. This gives Intel an overwhelming pricing advantage, alongside the fact that the company's products are 13-80 percent more expensive than those from competitor AMD. According to Bernstein, these advantages face imminent challenges, as Intel has fallen behind TSMC in the race to keep up with Moore's law (the maxim that transistor density can double every few years) at 10-nanometers and below.
And it did not take long, as AMD announced in late August that its latest CPUs and GPUs, slated to hit the market by year's end, would be switching to TSMC's 7-nm manufacturing processes.
This decision has a double-edged impact. First, Intel will be in the awkward position of losing its process advantage for the first time in its history next year, possibly ceding a portion of market share to AMD.

Second, AMD switching loyalty to TSMC means that the world's second-largest IC fab, GlobalFoundries, has lost a key client, and now faces the awkward position of having bailed on advanced process chip production.
In short order, GlobalFoundries announced on August 27 that it was scrapping its plans to mass produce 7-nm chips "indefinitely." This means that, over the past two months, TSMC has both gained a big new client and shaken off its two main rivals, leaving the company alone at the head of the advanced chip technology race.
Samsung also previously stated its intention to enter full 7-nm production sometime this year. However, at an OEM chip industry forum in Japan early this month, it revealed that it is engaged in limited 7-nm process production on its Hwaseong S3 line exclusively for its own-branded products. With full production slated for 2020, it puts Samsung a full year or two behind TSMC.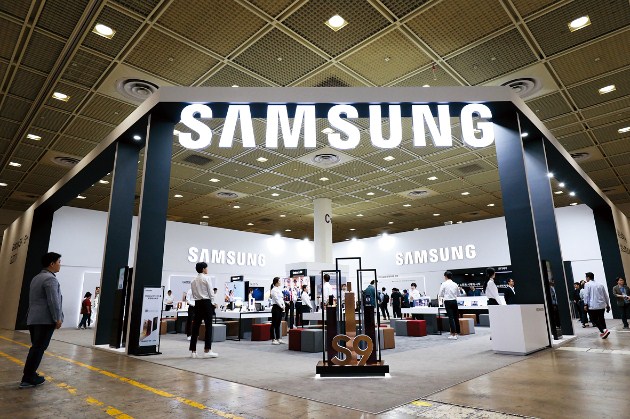 (Source: GettyImages)
At semiconductor industry shows, numerous analysts and industry bigwigs alike were excitedly discussing this new development.
During a presentation, Michael Jones, senior analyst with the U.S.-based semiconductor industry research outfit IBS, showed a slide depicting TSMC's share of the OEM chip market over the past several years climbing steadily from 49 percent in 2013 to 54 percent in 2017. Jones pointed out that advanced process customers don't seem to have any other options at this point.
The semiconductor industry veteran believes that TSMC's further moves to dominate the OEM chip production market leave plenty of room for imagination for future sales, "maybe like Samsung in the memory market," he said.
As OEM chip production begins to resemble a monopoly, what will TSMC's next move be?
During his address at SEMICON, Mark Liu offered a clear hint.
New TSMC Chief Drops Hints In First Public Speech
In a 20-minute address at the Semicon industry fair, his first since becoming company chairman, Mark Liu mentioned "memory" a total of 14 times. During his remarks, he repeatedly stressed that memory accounts for over 80 percent of the power consumption demand of today's artificial intelligence computing, representing a major bottleneck for semiconductor technology.
During an interview with Nikkei Asian Review, Liu admitted for the first time that TSMC "will not rule out the possibility" of acquiring a memory chip company. Nevertheless, he did not confirm clear aims in this area.
This development came as no surprise to industry insiders. First, when Toshiba put its memory chip business up for sale early this year, TSMC gave serious consideration to the purchase, but ended up not making an offer.
One U.S.-connected foreign investment analyst relates that, for Liu, a long-time observer of the memory business with an eye towards the long game, "this is a big issue of concern."
"If he is looking at a blueprint for the next 10 years, he'll have to pay attention to this area," the analyst remarked.
Moreover, it is worth noting that former Stanford University professor emeritus Phillip Wong, the newly appointed vice president of research and development and a semiconductor veteran from IBM, is an expert in new types of memory.
New TSMC Chief Mark Liu (Source: Kuotai Liu)
The memory industry, which is even larger than OEM chip manufacturing, has been in the midst of a "supercycle" over the past two years, as SK Hynix saw a surge in sales of 56 percent last year, surpassing TSMC's revenue for the first time. And given the AI industry's future robust demand for memory chips, TSMC can bank on high growth just by taking a bite of that pie.
On the technology side, TSMC is currently pulling out all the stops to focus on the development of 3D semiconductor packaging technology, which requires tightly stacking DRAM and processors during production. With its own packaging facility, if TSMC were to acquire its own in-house DRAM manufacturing capability, it would go far towards company efforts to advance technological development and defect rate control.
Strategically speaking, TSMC's last remaining rivals, Intel and Samsung, each has its own memory division, and Samsung is the world's leading company in DRAM and NAND flash.
Looking for other avenues, Intel is partnering with Micron Technology to develop 3D XPoint technology, to be bundled with its own processors for use in high-end servers.
According to the U.S.-based analyst, the timing of TSMC's entry into the memory business will depend on whether the R&D department can develop innovative infrastructure similar to 3D XPoint. This would require "a technical breakthrough to avoid going head-to-head with Samsung in standard memory," he adds.
Translated by David Toman
Edited by Sharon Tseng
---
Additional Reading
♦ Snatching Apple Orders: TSMC's Unsung Weapon
♦ China's IC Ambitions: Big Money ≠ A Second TSMC
♦ TSMC during and after Morris Chang's Leadership