Slow Living in Miaoli County
Discovering Miaoli Culture Through Slow Travel
精華簡文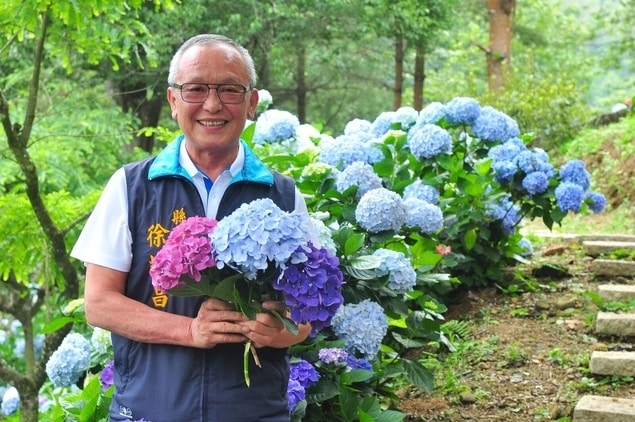 Source:Miaoli County government
With traditional culture kept alive along the county's coastline and in the mountains, four distinct seasons and a wealth of seasonal flowers and fruit, Miaoli has all it takes for developing slow tourism.
Discovering Miaoli Culture Through Slow Travel
By Integrated Communication Department
Sponsored Content

"I hail from Nanzhuang Township, and my grandfather and father both lived in Nanzhuang. Toufen Township is the place from where I began to serve the county's citizens, and Sanwan Township is my wife's native town. These are all located along the Zhonggang River basin catchment area. I know best what Miaoli needs to do to integrate and transform, how to exploit our Cittaslow (slow city) advantage to develop a distinct 'one town, one product, one story' profile to let Miaoli industry shape its future," says County Magistrate Hsu Yao-chang, confidently pointing out his local expertise.
Having represented Miaoli County in the Legislative Yuan for four terms before being elected county magistrate in 2014, Hsu is fully aware how stressful the rat race of fast-paced city life can be. City dwellers crave downtime, and they hope to slow down to recharge their batteries. Hsu believes this is where Miaoli cultural tourism could help. (Read: Slow Shopping Means More Joy)
Supporting Slow Business Certification, Pushing Cultural Tours and the Slow City Movement
After taking office as county magistrate in 2014, Hsu first took stock of Miaoli's resources, pooling governmental and private sector forces to actively push for "slow city" status for Nanzhuang and Sanyi towns in the Cittaslow international network of cities where living is good. He intended to introduce the international "slow life" trend to Taiwan to promote cultural slow tours among domestic travelers while using the global Cittaslow network to market Miaoli as an international tourist destination. By picking Nanzhuang in the northeast and Sanyi in the southwest of Miaoli, Hsu hoped to inspire a countywide slow life movement.
Eager to display the results, Hsu points to Nanzhuang as an example: "Nanzhuang evolved from a small town relying on forestry, mining and farming to a Cittaslow international city with a diverse cultural environment, boasting natural scenery, good food, coffee, bed & breakfasts and an ethnically mixed population of Hakka and Minnan Han Chinese as well as Saisiyat and Atayal indigenous peoples. It is the gem of the entire county's tourism industry."
Although the overall number of visitors has not markedly declined despite a general slowdown, tourist spending and occupancy have shrunk. In recent years, the county government has encouraged local businesses in Nanzhuang to apply for "slow business" certification to attract young people to return to their hometowns and start businesses. Meanwhile, quite a number of young people have opened cultural and creative guesthouses and hotels. The county government hopes the younger generation can inject new vitality into the city through storytelling and highlighting traditional Hakka arts and crafts. The idea is to use innovation paired with distinct local flair to make people want to stay longer than just a day. Hsu is doing his best to help Miaoli provide the necessary conditions, wholeheartedly welcoming tourists to take leisurely strolls during slow tours to Miaoli.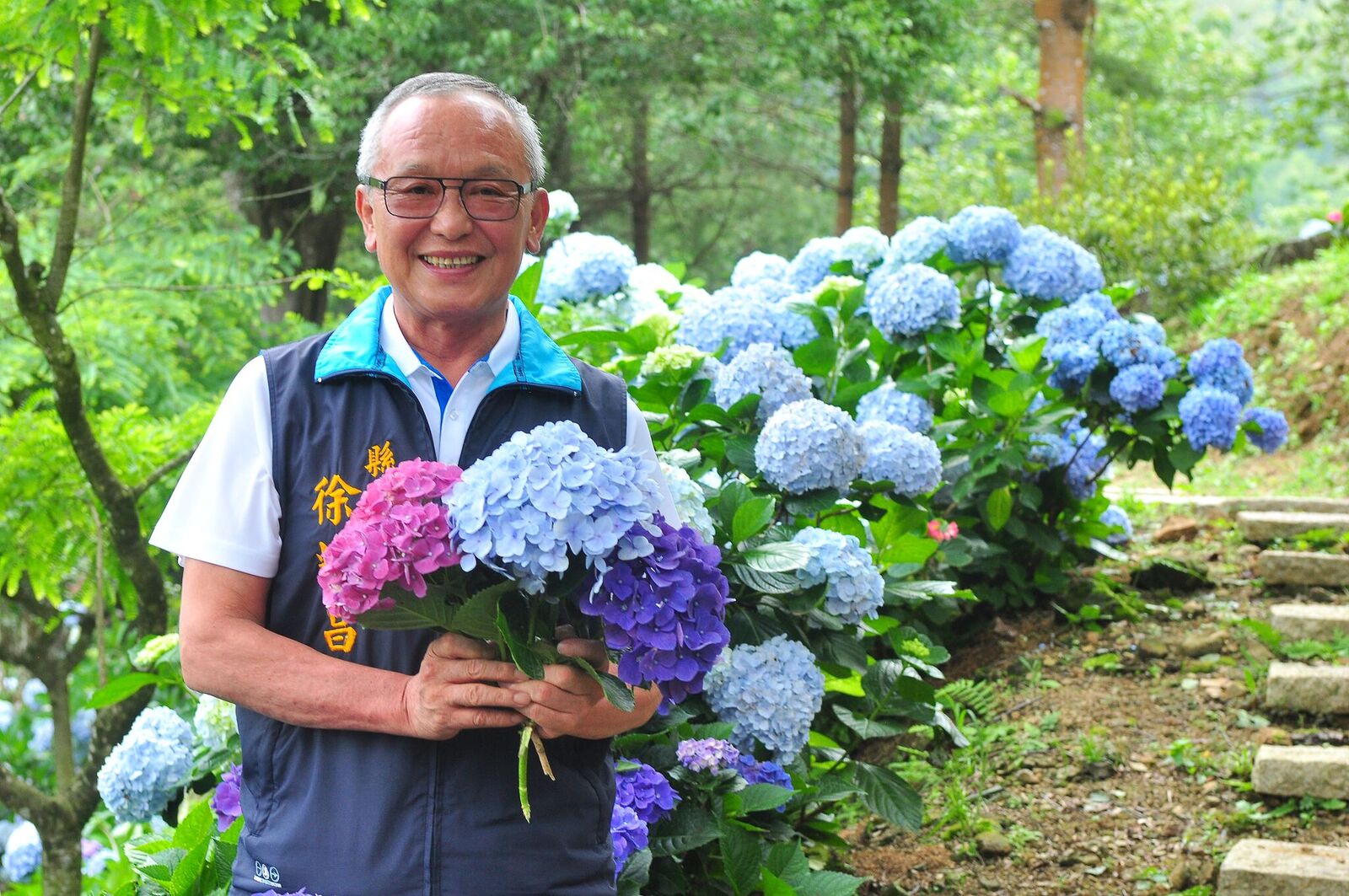 Hsu points out that the Miaoli people are hardworking and honest. Traditional culture is kept alive along the county's coastline and in the mountains. With four distinct seasons and a wealth of seasonal flowers and fruit, Miaoli has all it takes for developing slow tourism. (Image: Miaoli County government)
Last Mile of Northern Cross-Island Highway to Facilitate Green Travel
Hsu believes travelers should be encouraged to take public transport when visiting a slow city, since they want to enjoy a leisurely green trip with a low carbon footprint. As county chief, Hsu's job is to come up with ideas to make transportation more convenient. Transportation is not only the foundation for invigorating the tourism industry, it also benefits local business.
"The Northern Cross-Island Highway is advancing toward the last mile," says Hsu. "The County Government team fought relentlessly for the construction of the stretch between Douhuanping and Sanwan. In late 2016, the central government finally green-lighted NT$1.8 billion in funding. The project broke ground this January and is slated for completion in 2020. Once the Northern Cross-Island Highway is open to traffic on its entire length, it can effectively ease regional traffic flow, naturally stimulating tourism development in the Nanzhuang, Toufen and Sanwan area." Moreover, U-Bike rental stations will be set up in 30 locations in more densely populated areas such as Miaoli City, Toufen City and Zhunan Township so that tourists can easily rent bicycles to explore side streets and alleyways and get up close and personal with local culture and people.

Destinations in Miaoli County can also be easily reached on scheduled bus routes run by the Taiwan Tourist Shuttle service. Passengers with one-day tickets can hop on and off the buses as often as they want to visit sightseeing spots and scenic areas along the respective routes. Nanzhuang, the source of the Zhonggang River, boasts panoramic mountain views as it is nestled amid five peaks, including Lion's Head Mountain. Although there are some fields along the Zhonggang River, which flows through the entire township, the area is quite hilly.
The forestry industry began to develop in Nanzhuang as early as the Qing Dynasty. More than twenty years ago, outdoor coffee shops and unique guesthouses sprang up as travellers began to venture into the county's lush forests and beautiful scenery, setting a trend for the entire nation. However, for the public and private sector, access and transportation have always been major concerns because they are crucial for the development of the remote mountainous areas.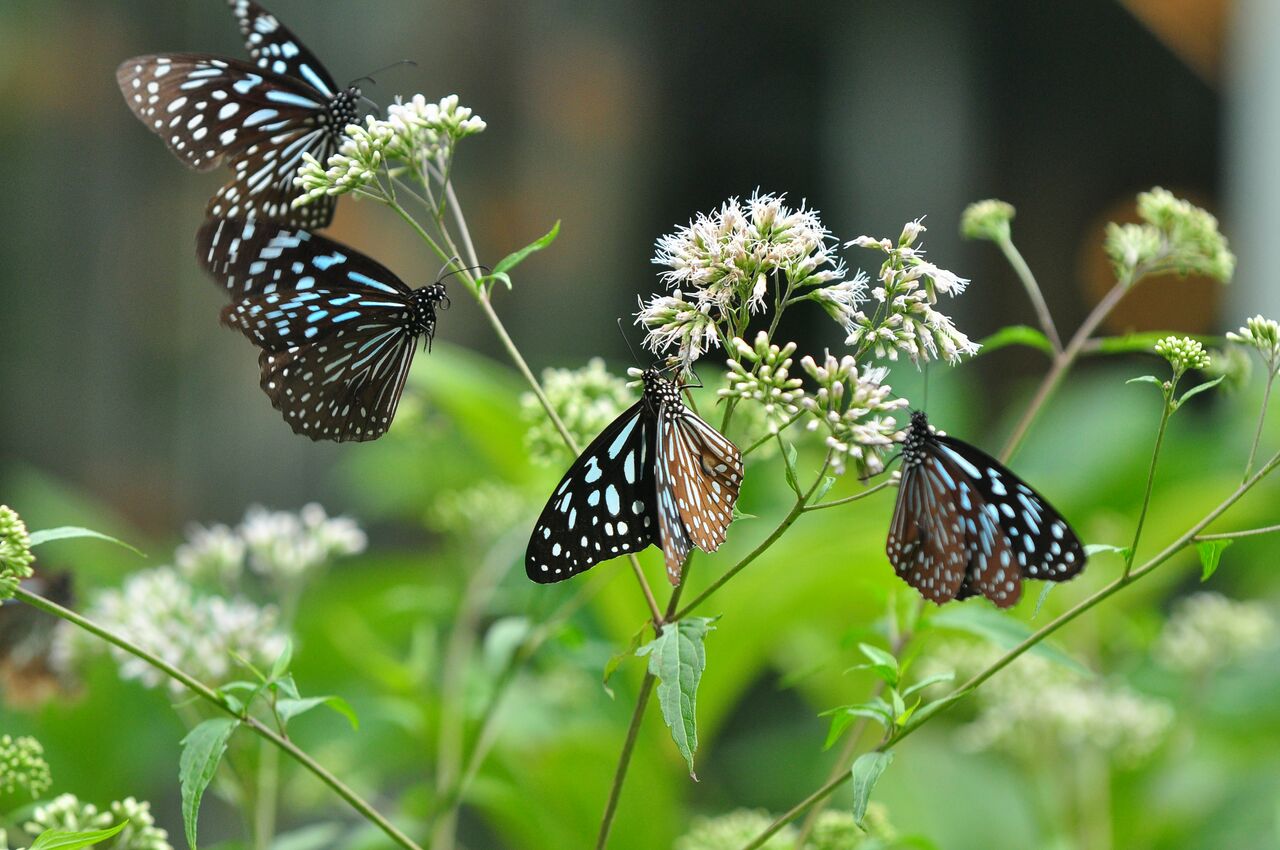 Nanzhuang is well known for its seasonal views, with colorful bushes and flowering trees such tung flowers, garden croton, and blooming cherry, plum and peach trees. (Image: Miaoli County Government)
Old Industries, New Stories to Promote Nanzhuang Old Street Slow Tours
When Hsu took over as county magistrate, Nanzhuang Bridge was in such disrepair that a person was injured when their wheelchair got stuck in the bridge's expansion joints. The Public Works Department originally postponed repairs, pointing to a tight financial situation. However, after Hsu personally inspected the site, finding that bridge corrosion was so serious that even the reinforcement bars had become exposed, he immediately released the necessary funds. "The safety of our citizens comes first," Hsu says. "This bridge links provincial road No. 124 with the villages in the east and west, and it is an important road for tourism. No matter how tight the county government's finances are, we still need to help."
Nanzhuang boasts many unique spots, sights and delicacies such as Osmanthus Alley, Dongjiang Hot Springs, the Saisiyat Folklore Museum, spicy pickled greens, persimmons, Makino bamboo shoots, windowsill orchids, golden spider lilies, trout and high-altitude vegetables. The County Government has already obtained central government subsidies for its slow tour project for Nanzhuang Old Street. Under the project, the government will support the revival of 30 stores selling traditional brands, and foster the launch of 20 hip new stores within three years. The shop owners will get advice on revamping their interiors, and young entrepreneurs will be introduced to vacant buildings for housing their businesses. Under the motto "old industries, new stories", the county government hopes to recreate past splendor that will allow visitors to enjoy a unique blend of "Old Street" nostalgia and modern innovation.
Hydrangea Festival Showcases Miaoli's Natural Beauty
Nanzhuang is famous across Taiwan for its seasonal blooms – there are tung flowers, garden croton, as well as blooming cherry, plum, and peach trees. Last year, the County Government joined hands with the Nan Jhuang Tourism Industry Association to promote the planting of hydrangeas, handing out subsidies for seedlings. In a concerted effort, the Nanzhuang Hydrangea Festival was launched. During the hydrangea bloom in May and June, Nanzhuang became a colorful sea of beautiful flowers as stunning as Taipei's Yangmingshan.
For the festival, Hsu made a special trip to Nanzhuang to market hydrangea tourism, discussing mountain development and the preservation with local businesses, fixing route shuttle services, enhancing education and training, and optimizing services. As Hsu admiringly took in the spectacular view – a myriad of flowers carpeting the mountain slopes, lush green forest in a sea of clouds, finches chirping and colorful butterflies fluttering in the air – he noted emphatically:
"We can only relieve stress if we change our lifestyle habits, and we can only see the beauty of Miaoli's natural simplicity if we slow down to explore slow travel."
Translated by Susanne Ganz
Edited by Sharon Tseng
Content sponsored by Miaoli County Government
---
Additional Reading
♦ Slow Fish: Where Does Our Fish Come From?
♦ The Hakka Cultural Renaissance Memories Along a Mountain Route
♦ Fostering Autonomous Learning and Critical Thinking
♦ German CEO Takes Lead in Local Reforestation