Sustainable Tourism Paradise
Discover Changhua County's Boundless Charms
精華簡文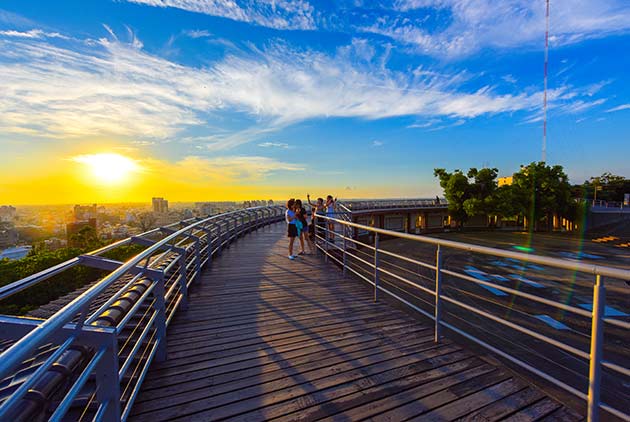 Source:Changhua County Government
The Wanggong Fishing Harbor Festival of Lights, the Tianwei Sea of Flowers, the Fangyuan wetlands mangroves, Baguashan Sky Bridge, Qingshuiyan Hot Springs, Beidou meatballs, Xizhou lamb stew, and the historical sites of Lugang…these are just some of the many notable tourist attractions of Changhua County.
Discover Changhua County's Boundless Charms
By Integrated Communication Department
Sponsored Content

Located in the heart of Taiwan's western corridor with the longest stretch of stunning coastline in central and southern Taiwan, the ancient capital of Lugang shines like a jewel in Changhua County.
County Magistrate Wei Ming-ku is leading efforts to transform Changhua County, long a major tourism destination, into a paradise for green energy and tourism. Guided by the completely redesigned Travel in Changhua website, visitors can easily plan immersion tours, themed tours, and destination stays to discover the boundless charms Changhua has to offer.
Experience Varied Culinary Delights and the Allure of Lugang
The Wanggong Fishing Harbor Festival of Lights, the Tianwei Sea of Flowers, the Fangyuan wetlands mangroves, Baguashan Sky Bridge, Qingshuiyan Hot Springs, Beidou meatballs, Xizhou lamb stew, and the historical sites of Lugang…these are just some of the many notable tourist attractions of Changhua County. Combined with such unique features as the country's only railroad roundhouse and oyster harvest ox cart rides, it's easy to see what makes Changhua a great place to visit!
Located along the west coast, Changhua generates the most offshore wind power in all of Taiwan, and is a close second in solar power generation. The wind animates the turbines, accumulating wind power, while solar panels store the sunlight's energy as nature lavishes her gifts upon Changhua. The tourism by foot route championed by Magistrate Wei starts in Lugang, one of the three cultural pillars covered by the route, including Tainan, Lugang and Wanhua. According to Wei, the Changhua County Government is concentrating its full efforts on making Lugang a national historic scenic area, with efforts including river dredging, water quality improvement, and linking together the area's multiple cultural and historical features to restore Lugang to its former glory. These features, a richly diverse spectrum of local industries, and a wide selection of tasty local delicacies, attract a constant stream of visitors.
Wei places a premium on sustainable green energy. He relates: "Changhua County's geographic location showcases the diversity of northern and southern Chinese, Minnan, and Hakka populations, historical landmarks and heritage, historical architecture, and natural beauty.
"Every scenic area around the county is exquisite, ideal for in-depth tourism with the whole family, punctuated by delectable culinary delights and seafood in abundance. At night, treat yourself to lodging at a vineyard or other themed bed and breakfast, and enjoy a relaxing two-day, overnight getaway that will broaden your horizons, rewarding your efforts and maybe even resulting in finding some secret locations."
Family, Seniors, Couples, Railway, and Cycling Adventures for All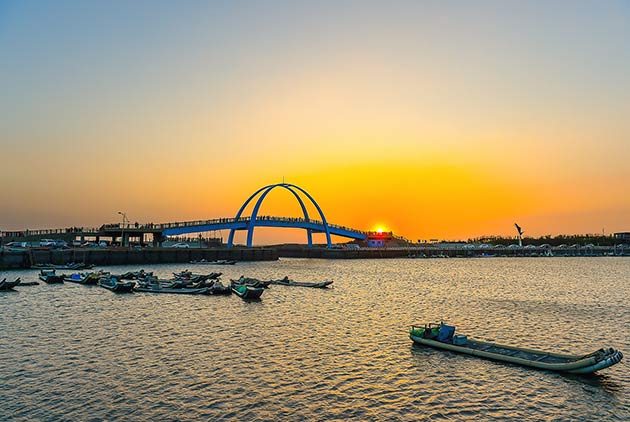 (Image: Changhua County Government)
Taiwan's conventional railway serves stops in Changhua and Tianzhong, and the Taiwan High Speed Rail also stops in Changhua, making the area and attractions like the new Bagua Skywalk and the comprehensive YouBike public bicycle rental system even more accessible and enjoyable. You can also opt for a longer stay to get a better feel for Changhua's exceptional vitality, vibrant living, and welcoming warmth.
For family outings, couples on a budget, or seniors, the Department of City and Tourism Development's Travel In Changhua website lets you customize your itinerary to your specific needs, showcasing such attractions and activities as the sea of flowers, forest hikes, coastal beauty, old town charm, relaxing cycling, temples and historical landmarks, exhibitions and museums, nostalgic railroad stations, and arts and crafts. Using a mobile phone or tablet, follow the handy categories and recommendations to seek out tourism treasures on the map. So put on your backpack and prepare to fall in love with Changhua!
Wei reels off Changhua's attractions with ease, from visiting the sea of flowers, to strolling along the Tianwei Road Garden, the sea of garden cosmos flowers in blossom at Baibao Village, and the verdant the 123-hectare Xizhou Gardens, the largest sea-level park in the country.
Breathe in the fresh forest air while reminiscing about days of yore along the Chishuiqi hiking path in the Tianzhong Forest Park, where the Tea Fragrance Path announces itself as you approach. Along the Longding Ancient Trail, once known as a trail upon which salt was transported, ancient trees reach toward the sky, and the mood is serene and soothing.
Along the coast, in the shadow of the Fangyuan Lighthouse, fiddler crabs, mudskippers, and snowy egrets accompany you as you await the return of the sampans to Wanggong Fishing Harbor after harvesting oysters. By bicycle, take in the snowy Tung blossoms, mountain cherry blossoms, grapefruit flowers, and Longan flowers flowing in the wind as you pedal through forests and fields.
(Read: Fruit Tourism is Taiwan's Ripe New Trend!)

Stunning Landmarks, Crafts, Railways and Fields
First and foremost among the county's temples and historical landmarks is the Lugang Empress of Heaven (Tianhou) Temple, the only temple in Taiwan built to worship an icon of the goddess Mazu from the Meizhou Mazu Temple in Fujian. (Read: The Mazu Pilgrimage Experience) Lavishly and elaborately decorated, each pillar is intricately carved, and the painting and carvings in wood and stone are exquisitely rendered, making it a citadel for art that is always popular with the religious faithful. (Read: 13 Tips for having a deeper Taiwan Temple experience)
Along the town's old street, every ancient family home is like a precious cultural treasure.
For family outings, the Baguashan Giant Buddha and Sky Bridge offer expansive views overlooking the Changhua Plain below, combining fun with learning about the local ecology. A nostalgic railroad-themed tour would not be complete without visiting Taiwan's only remaining railway roundhouse, impeccably preserved and still in operation today. And take in the pastoral beauty along the hand-painted narrow gauge tourism railway from the Xihu Sugar Plant.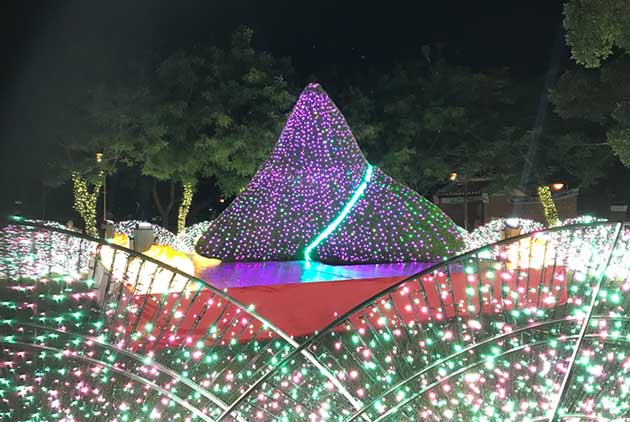 (Image: Changhua County Government)
In arts and handicrafts, Jheng Ying-sie's gold sculptures come to life through relief carving techniques. The craftsmanship that goes into the pewter sculptures of Master Chen Wan-neng at Longshan Temple, a Heritage Award recipient, have been honed over four generations. Tung Tso, the resident artist at the Tung Tso Ink Stone Art Museum, collects the stone for his works from the Zhuoshui River's Luo Creek, meticulously carving them into masterpieces known around the world for their consummate artistry.
Artisan Chen Chao-tsung's fans, beautifully hand crafted and decorated using oil paper, combine elements of calligraphy and traditional Chinese painting, and are surprisingly robust and built to last. Shih Hsiao-yung is a fifth-generation artisan with deep cultural roots who crafts hand-painted papier-mâché figurines. For exhibitions, the Taiwan Glass Gallery is always popular with visitors, and the colorful ribbons of the Ribbon Museum place Taiwanese conventional industry's characteristic creative restlessness front and center.
Venturing into the realm of numerous national treasures, Changhua constantly surprises and delights visitors, shining like a diamond and reminding them of the beautiful things in life.
Translated by David Toman
Edited by Sharon Tseng
Content sponsored by Changhua County Government
---
Additional Reading
♦ The Chishang Autumn Harvest Festival
♦ Indigenous Culture, not Food, is Taiwan's Top Tourist Attraction
♦ Bike Riding in Old Town Zhongli