Colin Chen
Focusing on the Joys of Authentic Nantou Cuisine
精華簡文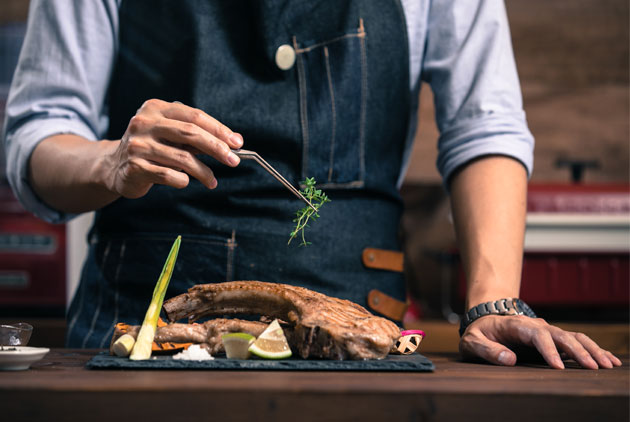 Source:Nantou County Government
Colin Chen became a chef in a radical career change that moved him from a life behind the camera into the social media limelight. Originally working as a print media photographer, Chen discovered his passion for cooking during a stint abroad as he craved the taste of home.
Focusing on the Joys of Authentic Nantou Cuisine
By Integrated Communication Department
Sponsored Content

"If you ask me, the most unique feature of Nantou [County], aside from its rich natural beauty, is its production of various foods with a unique taste," declares Chen as he rolls up his sleeves to prepare ingredients. While telling his story, Chen prepares a dish that marries typical Nantou flavors, called "indigenous cuisine-style pork chop with appetizing plum sauce."
Chen originally studied visual communication. During an 18-month study exchange in Toronto, Canada, a few years ago, Chen, who had hardly ever set foot into the kitchen before, realized that he loved to cook. Being abroad, Chen craved home-cooked Taiwanese meals, so he began to read recipes, and then went on to experiment in the kitchen. Much to his surprise, these creations turned out quite authentic.
During his time abroad, Chen learned an important lesson: If you want something, go get it. This applies to looking for a job as much as it applies to cooking. After returning to Taiwan, Chen joined a magazine publisher as photographer, but continued to work frequently in the kitchen.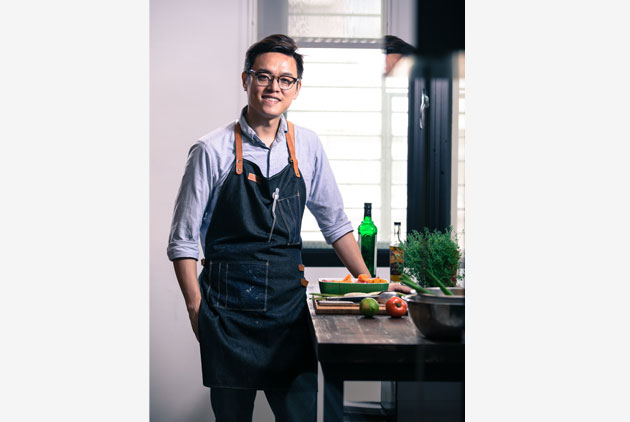 Image: Nantou County Government
"My mother was curious as to if I wasn't tired after a day's work, and why I was still sneaking into the kitchen," recalls Chen with a laugh. Cooking is a skill where you get more out of it the more you put in. Chen enjoys the time he spends in the kitchen concentrating on cooking. He can become completely absorbed in his activity until he has completed a task to perfection.
Chen not only gets a sense of achievement from creating dishes but also comfort and relaxation. He began to publish his kitchen adventures in a Blog titled "Man's Kitchen 1 + 1", combining well-written texts with mouth-watering food photography that gives readers the feeling that they are sitting right there at the table sharing Chen's creations.
Chen used to visit Nantou because of work assignments that took him to places like Puli's Paper Dome, a chapel made of waterproof paper, and papermaking workshops. Given his passion for cooking, however, Chen took advantage of his spare time to cook up classical water bamboo dishes, a famous Nantou product also known as lady legs, stir-fried water bamboo shoots with salted egg or stir-fried water bamboo shoots with sliced pork.
This time, Chen scouted many places for ingredients to create a dish that features Nantou's wealth of farm produce. He even purchased ingredients at the sales outlet of the farmers' association of Nantou's Xinyi Township in the underground shopping mall at Taipei Main Station, before deciding to put his culinary skills to test making "indigenous cuisine style pork chop with appetizing plum sauce".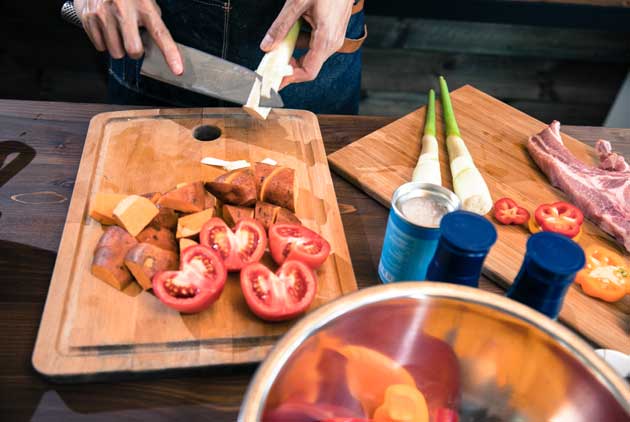 Image: Nantou County Government
First he seared the pork fillet steak directly over the flame to build rustic flavor, and then paired it with pickled plums, tea leaves, water bamboo shoots and other typical Nantou products, creating an ingenious mix of mouthwatering flavors. Chen thinly coats the firm pork chop with oil, sprinkles it with fleur de sel and pepper, and then roasts it in a preheated pan until it develops a caramelized crust with beautiful grill marks.
Then he strews leaves of Pine Oolong, a light green tea from Nantou's Mingjian Township, onto the very hot pan, waits until it releases the unique flavor of high-altitude tea, and then adds some water to create a steam effect. He returns the sizzling pork chop to the pan to infuse the juices with the tea leaves' aroma before putting the dish in the oven.
Chen then cuts Nantou seasonal vegetables such as red and yellow bell pepper, water bamboo shoots, beef tomatoes and sweet potato into pieces, seasons them with olive oil and herbs, and roasts them on the lower rack in the oven. As oil from the pork chop on the upper rack drips onto the vegetables below, more delicious aromas instantly fill the room, whetting one's appetite.
The finishing touch, however, is the dip that Chen put together in a sudden inspiration. He unhurriedly chops up handpicked, pickled green plums from Xinyi Township, not too finely in order to give the dip a grainy texture. Glutinous rice vinegar, fructose and a splash of lemon juice add different fruity notes to this highly original appetizing plum sauce. Oolong and pickled plums are known for reducing the greasiness of a meal. Nantou tea and the plum dip are therefore an ideal match for balancing the pork chop's heavy rustic flavor.
A bite of this tasty creation delights your mouth with a crispy texture and a blend of sweet and sour flavors. You will realize that, even if you can't make a trip to Nantou, you will be able to brilliantly recreate the beautiful mountain atmosphere at your own dining table.
Translated by Susanne Ganz
Edited by Shawn Chou
Content sponsored by Nantou County Government
---
Additional Reading
♦ In Appreciation of Taiwan's 'National Dish'—Braised Pork Rice
♦ 24 Michelin Stars Bestowed to 20 Restaurants in Taiwan
♦ Discover Changhua County's Boundless Charms
♦ Discovering Miaoli Culture Through Slow Travel
♦ Sai Jia Paragliding Site: Take a Light Flight over the Island