AI Industry in China
Meet China's Five Biggest AI Companies
精華簡文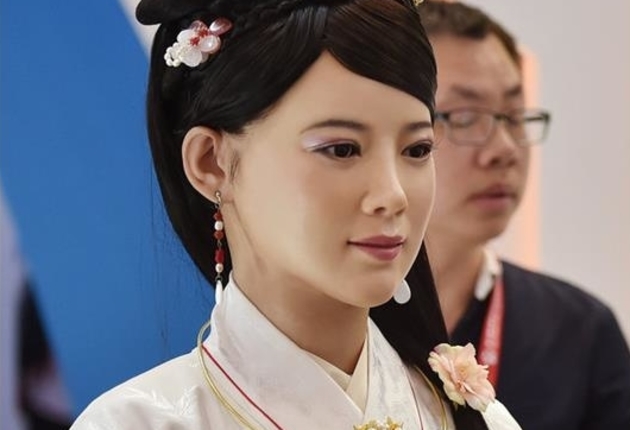 Source:AFP
China is aiming to become the leading power in the industry of AI. From last year alone, its AI industry had grown 67%. With two thirds of global investment in artificial intelligence goes to China, being one of the biggest AI companies in China is closely equivalent to becoming the top AI company on a global scale. Here are the top five biggest AI companies in China.
Meet China's Five Biggest AI Companies
By WEF Digital Media Team
web only

Two-thirds of global investment in artificial intelligence is poring in to China, which helped the AI industry there grow 67% last year alone.
China Money Network, a leading source of information on China's technology sector, recently announced its top 50 AI companies to watch. They included 14 "unicorns" - start-ups with a valuation of $1 billion or more - worth $40.5 billion in total.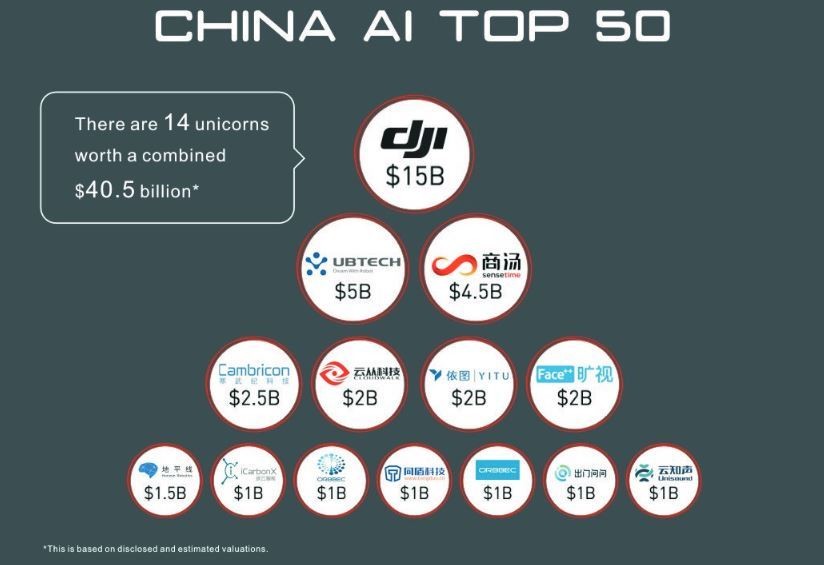 China's government, heavily backing many of these companies, is hoping AI will be worth 1 trillion yuan ($146 billion) to the country by 2030. Here are the top 5 Chinese AI powerhouses, in order of valuation as detailed in the report:
1. DJI
This company's utter dominance of the global drone market – it has more than 70% share – has increasingly meant crossing over into AI. Research for its latest models, like the Phantom 4 drone, which uses image recognition to avoid objects, routinely incorporate AI design principles.
DJI recently partnered with Microsoft to let its drones stream real-time data into a computer that can analyze it for, say, faults in power lines. Rumours are rife that DJI, using its accumulated expertise in image analysis and AI algorithms, may move into autonomous vehicles and robotics.
2. Ubtech Robotics
The Shenzhen-based outfit has come a long way since founder James Zhou borrowed money from family and friends to make its first humanoid robot, Alpha 1S. Expanding from its original focus on consumer-facing robots, it now also caters to enterprise, such as with the customer-service droid Cruzr intended for use in local government offices and schools.
The next move is to shift to large-scale humanoid robots, which means honing Ubtech's expertise in motion-control algorithms and computer vision. A recently launched robotics kit is trying to gain Ubtech a foothold in the educational sector, too.
3. SenseTime
Rooted in a research team investigating deep learning at the Chinese University of Hong Kong, SenseTime earned early renown by occasionally beating Google and Facebook in image-recognition competitions. Rapidly expanding on the back of massive rounds of VC, it currently supplies face-recognition tech that the Chinese government plans to use to track citizens through its network of 170 million CCTV cameras, and with which state-owned telecoms behemoth China Mobile will monitor its 300 million users. Banks, prisons, airports, police and retailers are already on the SenseTime client list; it may add autonomous driving and augmented reality to that roster soon.
4. Cambricon
Only two years old, this state-backed semiconductor and AI chip specialist has big ambitions. "We hope to take 30% market share of China's high-performance smart chip market and to have 1 billion smart devices worldwide integrating our processors in three years' time," Chen Tianshi, one of its founding brothers, said recently.
Optimized for deep learning capabilities, Cambricon chips are currently being slotted into Huawei smartphone products. If the company realizes its ambitions, it will help China achieve self-sufficiency in digital components and reduce dependency on imports.
5. Cloudwalk
Another facial-recognition giant, Guangzhou-based Cloudwalk started in business supplying technology to border-control agents. Now 24 Chinese provinces employ its public-security solutions – facial recognition terminals, scanning during door entry – and it has had particular success supplying software to the banking industry.
It recently signed a deal to export its capabilities to Zimbabwe, in order to build a national facial-recognition database; the first Chinese AI initiative in Africa. Pushing into new areas, like 3D face-scanning, should ensure it continues to fight its corner of the AI playing field.
Edited by Shawn Chou
---
Additional Reading
♦ Microsoft's New AI R&D Center: Taiwan Lands the Prize
♦ Can Taiwan Find an AI Niche?
♦ The Brave New World of AI
Original content can be found at the website of World Economic Forum.
♦ Meet China's 5 biggest AI companies
This article is reproduced under the permission of World Economic Forum (WEF) and terms of Creative Commons Attribution-NonCommercial-NoDerivs 4.0 Unported License ("CCPL"). It presents the opinion or perspective of the original author / organization, which does not represent the standpoint of CommonWealth magazine.