A Taiwanese Tale of Two Cities
Conveying the Human Touch of Taiwan Through TV Dramas
精華簡文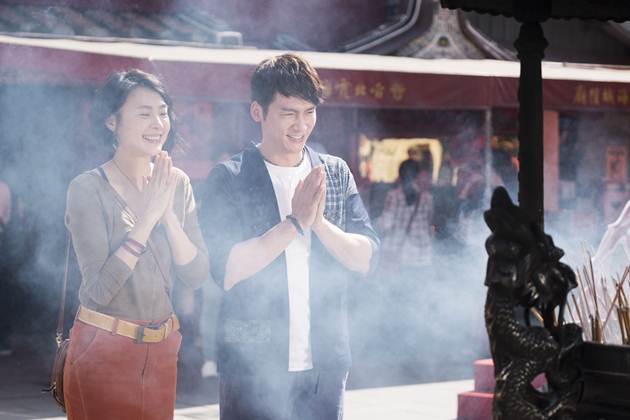 Source:Scene from A Taiwanese Tale of Two Cities (provided by Nelson Yeh)
"If one day a foreigner comes to tour Dadaocheng, and when you ask him 'What brought you to Taiwan,' he tells you: 'Well, I came because I saw A Taiwanese Tale of Two Cities', then all my efforts were worth it. It would mean much more to me than winning a Golden Bell Award!"
Conveying the Human Touch of Taiwan Through TV Dramas
By Sunny Wu
web only


Director Nelson Yeh's movies break box office records, and the premieres of his TV series usually get top ratings among programs aired during the same time slot. Yeh advertises the beauty of Taiwan using a commercial entertainment approach and clear-cut, easy-to-understand stories. Yeh took the director's baton from his father, staying true to his family's involvement in Taiwan's film industry. At the same time, he also carries on his father's nostalgic admiration for Taiwanese literature.
"This is the family business that I inherited, one that I carry on with nostalgia," remarks Yeh, whose entire family is active in the film industry.
Director Yeh Chin-sheng is his father, producer Tamako Pan is his mother, and screenwriter Yeh Tan-ching is his sister. Since Yeh took over from his father as director, the father-son duo has collaborated on 18 movies adapted from literary works of renowned Taiwanese authors such as Huang Chun-ming and Kuo Sung-fen.
These include La Grande Chaumiere Violette, a 2016 TV drama based on the life of Taiwanese painter Kuo Hsueh-hu (1908-2012), the 1985 movie Sayonara Good Bye based on Huang Chun-ming's novel of the same title, and the 1999 TV series In Meinan (The First Stitch) based on Yang Ching-chu's novel Virgin Boy, in which Yeh played the lead.
Yeh's focus on Taiwanese literature comes from his upbringing. He recalls seeing many "writer uncles" frequent their home and interact with his father. During his filmmaking days, "These uncles wrote novels, and my father adapted them into screenplays. It was only natural to merge literature and film; the same goes for Harry Potter."
It's not unlikely that Yeh developed deep feelings for Taiwan thanks to these everyday occurrences and interactions. After working as a director, Yeh has been experimenting with an easy-to-understand approach that contains elements of commercial entertainment. "The advantage of a commercial approach is that you reach the broader public," he says, allowing him to develop a Taiwanese consciousness from his own perspective.
When Yeh was in college, he and his father were both involved in the production of the movie March of Happiness, a romance set against the backdrop of Japanese colonial rule and the February 28 Massacre. Consequently, Yeh began to read up on Taiwanese history.
"I felt that what I wanted to do had something in common with the ideals of Chiang Wei-shui [an important figure in the Taiwanese resistance movement against Japanese colonial rule]. Chiang used his role as a physician to say that Taiwan was sick, and he explained in simple language what the disease was and how to treat is, just as easy and clear-cut as when I filmed the movie Twa-Tiu-Tiann so that everyone gets to know some history."
"My creative work follows two directions," notes Yeh, explaining that, as he continues his father's work for the Taiwanese Writers' Theater TV productions, he aspires to shoot 30 movies based on Taiwanese literary works in his lifetime. The other strand is local stories, picking a corner in Taiwan to tell its stories, like the 2013 TV series Flavor of Life, which was set in Toucheng in Yilan County.
Traveling Back in Time - Favorite Location is Dadaocheng
Yeh's TV dramas and movies are all at least partially shot in Dadaocheng, be it the 2014 blockbuster Twa-Tiu-Tiann (Dadaocheng), the currently airing TV drama A Taiwanese Tale of Two Cities, or Moon Shadows, an adaption of a Kuo Sung-fen essay. Yeh laughingly justifies his choice, saying, "Because this place is a treasure trove! From the 1920s this was the artistic and economic center of all of Taiwan [for some time]. You see, almost 100 years later, Dadaocheng is making a literary and artistic comeback, and there are truly too many stories that are worth telling."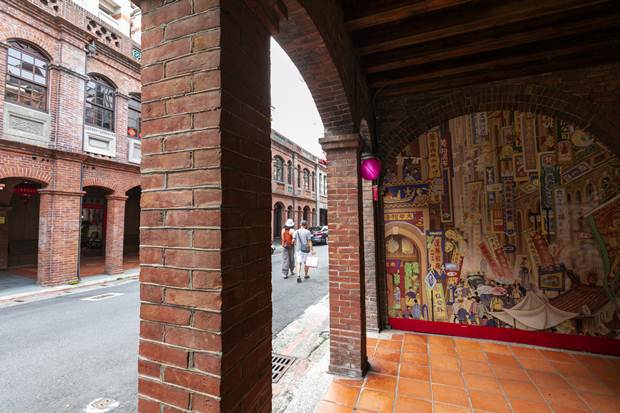 Up to four generations of Yeh's ancestors on his father's side all lived in Dadaocheng. For Yeh, Dadaocheng is home. "The old home of my dad and grandpa was near Nanjing East Road; it was a traditional four-sided residence with a central courtyard. My grandpa was a partner of British trading company Tait & Co. and my grandma once sold rice noodle soup at Yongle market."
Fate brings people and places together. "This might look like a small place, but you will find a lot of interesting people here and a lot of interesting things happening," remarks Yeh.
Each time he returns to Dadaocheng he experiences "many intriguing moments."
For instance, he was once scouting for a location and wanted to rent an old house from around 1923 as movie set. However, the landlord was not in a hurry to strike a deal but wanted Yeh to first "come over for a traditional dinner party."
"We were already tipsy when a musician began to play an 80-year-old accordion that once belonged to the landlord's grandfather, singing Longing for the Spring Breeze, a popular song from 90 years ago.
When I heard this upstairs, I was so moved it gave me goosebumps. This place here is like the entrance to a time travel tunnel; you can come across history any time. Some people tell love stories; we film dramas...everyone is creating history here," says Yeh.
It's not hard to travel back in time in Dadaocheng. "One moment you've gone back to the Qing Dynasty; the next moment you are in the Japanese era. No matter theera, stories have always been happening here. In the future I will continue to film Dadaocheng because this place will always be popular, and the subject matter will never repeat itself," says Yeh. (Read: Dadaocheng 'Your View, My Home' Exhibition)
What Image of Taiwan Does Yeh Seek to Portray in His Work?
Yeh hesitates before answering, "I would like to describe the image of the Taiwan in my heart with a role [in a play]. She is a mother who speaks with a mixed accent, carrying a woven katsi bag full of Taiwanese goods in her hand while pushing her bicycle as she walks home."
"Though she may seem a bit tired, she has a firm look in her eyes that indicates she is gathering her energy for action."

How Does Yeh Convey His Image of Taiwan?
Directors use the camera lens to tell stories. Yeh cites as an example his newest creation, A Taiwanese Tale of Two Cities, which intertwines the stories of two young women, one from Dadaocheng and the other from San Francisco, who pursue their dreams in a different world abroad.
The warmth and friendliness of the Taiwanese people represents the soul of the TV drama, while the different settings such as a traditional Chinese pharmacy, night market food stalls, and people praying for a happy love life at the Xia-Hai City God Temple portray local customs and traditions.
A Taiwanese Tale of Two Cities, an international co-production with U.S. streaming service provider Netflix, aired last month in 190 countries around the globe in 30 languages.
The American Institute in Taiwan (AIT) welcomed the Taipei premiere of the TV series on its Facebook page, stating: "After the success of Crazy Rich Asians, we are excited to see another work that celebrates the role of Asian Americans in American life." (Read: The Dilemmas Those "Asians" Really Face)
For Yeh, the series is significant in two ways: "One is conveying Taiwan's rich human touch through the drama. That counts among our very important and unique assets. The other is letting everyone get to know Taiwan by standing on an international platform, which the TV drama industry can achieve too!"
Actor James Wen, one of the stars of the series and a multiple nominee for best leading actor at the Golden Bell Awards, concurs.
"Dramas are the best marketing; through a TV series it is possible to advertise Taiwan's traditional culture, good food and beautiful scenery." Wen, who has known Yeh for more than ten years, describes the director as "a gentle person. This character trait comes from the literary and cultural upbringing in his family, which also predisposes him to directing emotional dramas, since he films with more attention to detail."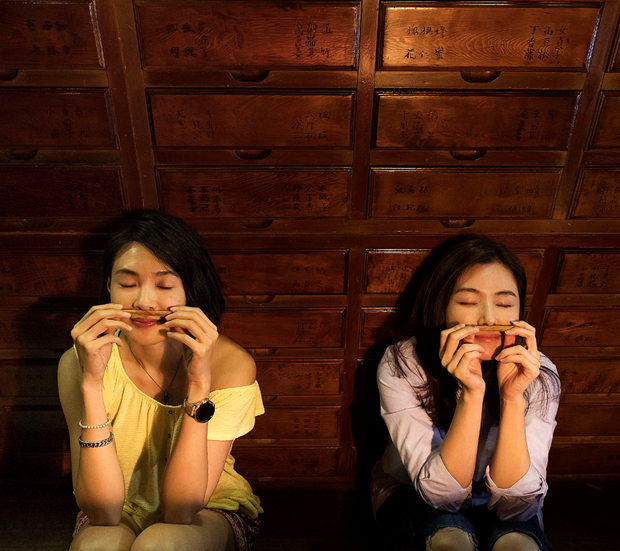 Scene from A Taiwanese Tale of Two Cities (provided by courtesy of Nelson Yeh)
Chang Chia-li, executive secretary of Sedai Group which manages historic neighborhoods, was born in Dadaocheng. When watching the test screening trailer of A Taiwanese Tale of Two Cities, she was moved to tears. Chang feels that the character, family background and values of the key protagonists "truly resemble us, the people who live here." (Read: Taipei's New Hotspot for Young Entrepreneurs)
Yeh reveals his highest aspirations, saying: "If one day a foreigner comes to tour Dadaocheng, and when you ask him 'What brought you to Taiwan,' he tells you: 'Well, I came because I saw A Taiwanese Tale of Two Cities', then all my efforts were worth it. It would mean much more to me than winning a Golden Bell Award!"
Translated by Susanne Ganz
Edited by Sharon Tseng
---
Additional Reading
♦ What the Movie Gets Right and Wrong about the 'Rich Asians'
♦ Ang Lee: Cinema Keeps Telling Me It is About to Change
♦ Taipei's New West Side Story