Young Fintech Entrepreneur Lands Global E-Commerce Giants as Clients
精華簡文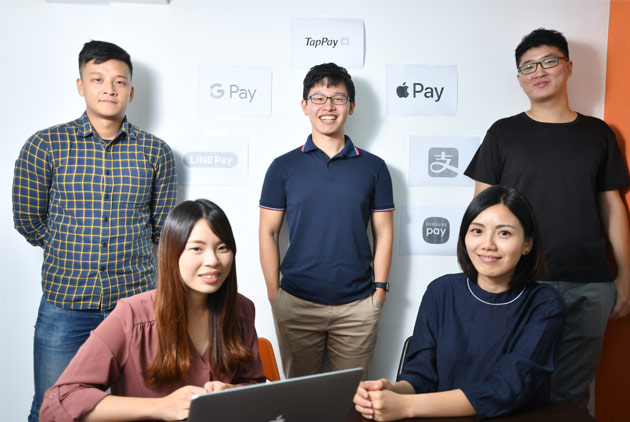 Source:Kuo-Tai Liu
Around the world, technological innovation is disrupting the financial sector, sparking countries to incubate fintech startups to ensure global competitiveness. The online payment tool TapPay, which made it into the ranks of the world's leading 100 financial technology companies in late 2017, is all the rage in Taiwan's startup incubator and consulting circles yet virtually unknown among consumers.
Young Fintech Entrepreneur Lands Global E-Commerce Giants as Clients
By Pei-Hua Lu
web only

Frankly speaking his mind and laughing deeply, Steven Chuang, the 26-year-old founder and CEO of Cherri Tech Inc., the company behind TapPay, is a sunny personality who does not take himself too seriously. Chuang laughingly recounts how he founded his company on April Fools' Day, but turns more serious when discussing his business philosophy. He decided against ordering customized business T-shirts with the company logo because he does not believe that wearing a uniform generates business.
Chuang was still studying for his master's degree at the Institute of Electrical and Computer Engineering at National Chiao Tung University in Hsinchu when he founded payment service provider Cherri Tech. Within just three years, its product TapPay, a software development kit and application programming interface (API) for mobile financial transactions, conquered the markets in Singapore, Hong Kong and Malaysia.
Cherri Tech is the only Taiwanese company to make it into the 2017 Fintech 100 by H2 Ventures and KPMG, which ranks financial technology company based on innovation, size, capital-raising activities and reach.
When Apple Pay was launched in Taiwan some 18 months ago, Cherri Tech was the only startup to gain authorization for app development or integrating Apple Pay into e-vendors' existing systems, alongside veteran payment service providers Neweb Technologies Co. Ltd. (NewebPay) and Green World FinTech Service Co. Ltd. (ECPay).

From C2B to B2B to Boost Transaction Volume
In the beginning, Cherri Tech was in the mobile wallet business. But Chuang felt that setting up marketing channels and sales points and cultivating customers amounted to burning money. At the time, Chuang visited many trade fairs, where he always heard people complain that online transactions were so cumbersome that potential customers who visited a site often left before completing an order. That's when Chuang decided to change tracks.
"Our customers are mostly medium-sized and large e-commerce vendors who don't lack site visitors. What they do lack is the ability to turn these visitors into real orders," says Chuang.
Industry statistics show that only one in four online visitors who put products in a shopping cart will also complete checkout. Therefore, Chuang repositioned the company as a technology provider. Instead of dealing with money flows and managing customers, it would focus on providing convenient payment solutions to e-commerce companies and make app developers' lives easier.
Chuang realized that many online payment processes were complicated and complex because they focused on fraud prevention.
The first thing Chuang did after transforming the company was to set up a system that predicts the risk of individual transactions.
Among others, the system assesses risk by comparing card holders' personal data across several e-commerce platforms, verifying whether users were ordering from a real static IP address or via a VPN, and whether they were browsing in incognito mode or using a temporary email address. These are all measures habitually used by fraud rings to keep their online activities anonymous.
On top of this, Cherri Tech grades purchases based on their potential to be exchanged for cash. An order for 100 boxes of toilet paper will get a low ranking, whereas an order of a one carat diamond will be rated high risk.
Chuang points out that the system completes the risk assessment of every single transaction within 0.15 seconds, before you can even blink an eye. Transactions that are deemed low risk are completed without additional SMS authentication, which applies to 98 percent of all payments. When checkout is faster more orders tend to be completed.
Addcn.com Technology Co. Ltd., a listed company that operates an Internet trading platform and online clothing retail business, was Cherri Tech's first customer. After using TapPay, the company's sites, which include 591 house rental, 8891 vehicle listing and 518 job bank, registered a 2-2.5 percent increase in transactions. Addcn.com was so optimistic about the technology's potential that it became a Cherri Tech shareholder.
Helping Vendors Integrate Mobile Payment Systems
In the second step, Cherri Tech began to offer diverse payment solutions. Following stores accepting Apple Pay, customers using other payment systems such as Google Pay, Samsung Pay, Line Pay and Alipay also knocked on Chuang's door.
Chuang explains that it is more challenging for e-commerce companies to integrate mobile payment systems than integrating traditional bank transactions. Internet giants such as Apple and Google are concerned that data could be leaked during checkout at the vendor end. Therefore, Google requires e-commerce companies that use Google Pay to operate via a TapPay server.
This means that e-commerce vendors only need to link to the TapPay API to use five different payment methods through Apple Pay, saving them the time and costs spent developing separate apps.
The other advantage is that Cherri Tech takes care of any system updates that might become necessary, such as when Line Pay began in September to allow users to link a bank account, meaning that the e-commerce companies don't even need to lift a finger. For Taiwan's leading shopping portals PCHome Online and Yahoo Shopping, this was such an attractive proposition that they bought into the scheme.
Cherri Tech also helps medium-sized businesses save money because it can use its clout resulting from a large customer base and high transaction volume to negotiate lower transaction fees with banks.
Having broken even for a single month last year, the company recently moved to a new office. Why did this electrical engineering whiz come up with the idea of crossing over into online payment solutions? Chuang has a simple answer: As a student, he was just annoyed because he was forced to pay for his cafeteria lunch in cash!
This is where Chuang keeps finding his business opportunities. It's all about eliminating the annoying factors from the payment experience.
Translated by Susanne Ganz
Edited by Tomas Lin
---
Additional Reading
♦ These Are Some of Asia's Most Creative Start-Ups
♦ Opinion: How Western Entrepreneurs Can Make It in Asia
♦ How Android Captured the Smartphone Market