Advantech's Rising Star
Invisible Department Eliminates Internet Congestion for Alibaba, iQiyi, and NHK
精華簡文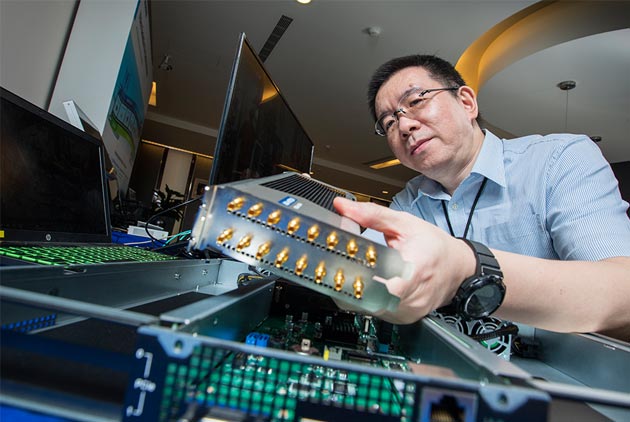 Source:Chien-Ying Chiu
Mobile multimedia surpassed half the entire world's mobile data traffic in 2012, and is expected to increase to 78 percent by 2021. But does your video cut out when you're on your mobile phone? A group of 100 professionals based in Taipei, working to resolve Internet congestion since 2012, finally won orders this year from the likes of Alibaba, iQiyi, and NHK to help make video live streaming supersonic.
Invisible Department Eliminates Internet Congestion for Alibaba, iQiyi, and NHK
By Zhang-Han Zhong
web only

Do Internet videos freeze while you are watching them? If you watch popular streaming broadcasts, the Asian Games, Facebook videos, LINE video, play online mobile games, or watch television series on video sites, you have most likely experienced video transmissions that freeze or cut off at one time or another.
Like a highway, the Internet has peak and off-peak periods, as well as times of fluid and congested traffic. A team has assembled on Yangguang Street in Neihu to serve as mechanical engineers for this Internet speedway, aiming to soup up every vehicle about to hit the road into a supercar to speed toward the finish line.
The team hails from a small 100-person division within Advantech, Taiwan's top name in industrial PCs. Coming under the company's Communication and Network Solution Business Group, it is known as the Professional Imaging Business Department.
In its Visual Networking Index forecast released last year, the U.S.-based networking hardware manufacturing giant Cisco noted that video is set to dominate cyberspace in the future, serving up one million minutes of video content over the Internet every second by 2021.
To put this into perspective, it would take one individual more than five million years to watch the monthly volume of video transmitted over the Internet at that point.
The Cisco report indicated that the demands on the video industry are broad, spanning video, security, direct streaming, AR/VR, and gaming. This will drive a surge in traffic volume that will see video's share of total traffic increase from 73 to 82 percent from 2016 to 2021. Further, Internet video traffic will increase fourfold, live streaming volume will grow by 15 times, monitoring traffic will increase sevenfold, AR and VR volume will increase 20 fold, and gaming traffic will grow nearly tenfold.
Mobile data traffic is set to see even more explosive growth. Between 2016 and 2021, mobile video communications will grow at a compound annual growth rate (CAGR) of 54 percent, with video communications accounting for 78 percent of the total monthly exabytes of data (one exabyte equals one billion gigabytes).
This means that over the next several years before rapid improvement of existing hardware can be completed, mobile will bear greater video transmission volume, making online traffic jams unavoidable.
This is also why Advantec established the imaging department under the Communication and Network Solution Business Group, to decode and compress all video communications awaiting transmission using software and hardware solutions - like turning every car at the entrance to the race track into a lightweight supercar in the effort to alleviate traffic bottlenecks.
(Read: Taiwan's New Strength: Industrial PCs: Advantech the World No. 1)
Hidden Champion Saw 20% Earnings Growth in 2017
Another recent test involves Chinese e-commerce giant Alibaba, which held a major computing conference on September 19. Referring to an 8K real-time transcoder card, Advantech director David Lin said that Alibaba will use an 8K video card provided by Advantech for 8K live streaming, making Alibaba the first Internet company to stream live in 8K.
"Video captured on an 8K camera at Alibaba headquarters in Hangzhou is compressed in real time and transmitted to Shenzhen for broadcast. They want to prove the group's CDN (Content Delivery Network) capacity, that it can process Big Data, high volume flow, high definition audio and video, and can be rapidly broadcasted without delay. And Advantech is providing the technology that Alibaba is using."
Taiwan's biggest name in industrial PCs, Advantech is actively working to stake a position in the new Internet of Things (IoT), Big Data, and artificial intelligence (AI) waves. Last year the company recorded combined annual revenue of NT$44.375 billion, with net operating profit after taxes of NT$6.15 billion, and earnings per share of NT$8.84, making it the most profitable IPC company.
Yet few people are aware of a little 100-person business group inside Advantech: the Communication and Network Solution Business Group's Professional Imaging Business Division, viewed by the company as a future star with exceptional potential.
Last year the imaging division reached sales of US$72 million (~NT$2.2B) for over 20 percent year-on-year growth, the highest among all group divisions. Currently the division has seven production lines, spanning such technology as video modules, transmission, 4K8K image processing, and FPGA image analysis. Lin predicts that in the future this division will continue to achieve CAGR of over 20 percent.
Advantech co-founder and executive director, Mr. Chaney Ho, adds: "The imaging business division is involved in a high-value industry. It is this department that is invested in Advantech's most cutting-edge technology. This is a business with very bright future prospects!"
The Communication and Network Solution Business Group employs around one hundred staff members, targeting broadcasting, OTT, AI, ARVR, smart cities, and smart healthcare related ventures, developing image decoding, transmission, and recognition technologies.
Pointing to various products, Lin methodically goes over the division's history: "The industry used to associate Advantech with only IPCs and product automation, but the imaging unit has been in place for quite some time now. In fact, it helped Sony develop a multi-person video conferencing system in 2012, allowing Sony staff to transmit images and hold meetings no matter where they are around the world. In 2013 we took this technology outdoors, incorporating the processor units into video cameras, then broadcasting these all around the world, so that firms do not need to use elaborate equipment such as satellites. And these developments were ahead of their time."
In 2015, Advantech set out on developing a 4K real-time encoder, shifting emphasis last year to 8K imaging, and SoC (system on a chip) based on the ARM architecture, as well as utilizing the FPGA (field-programmable gate array) module of major U.S.-based Xilinx as its hardware foundation to progressively incorporate AI on the production line.
"This means that Advantech can provide broadcast-level image- processing solutions, not only bridging platforms and transmitting a high volume of data, but also testing out AI image recognition technology in the cloud," relates Lin.
Encoding Platform Used by iQiyi for Live 360o Music Festival VR Streaming
In the works for six years, the imaging division has been buoyed by the thriving development of interactive audio and video, which has seen the rise of such prominent China-based online audio-visual firms as video streaming platform iQiyi, Alibaba, and Japan's NHK. As technology has progressed, major players in Internet and broadcasting, which would once have been out of the sphere of contact for most IPC manufacturers, have now become Advantech's new clients.
Lin relates that iQiyi was the first in the field to begin using Advantech's VEGA-6301 compact 4K/UHD video appliance with real-time HEVC 4Kp60 encoding capabilities for the site's first 360-degree 4K virtual reality (VR) livestream, successfully completing the broadcast of iQiyi's "Scream Night Music Festival" program. Hundreds of superstar entertainers, VIPs and over 10,000 fans watched the extravaganza in person, which reached over 3.8 viewers online in less than three hours, setting a new livestream concert record.

Taking notice of iQiyi's successful run, this past March Alibaba contacted Advantech about using its encoder to livestream the company's Shenzhen Computing Conference. The camera signal was encoded and compressed to a sub-200M code stream, then uploaded to Aliyun (Alibaba's cloud computing network), and pushed to the Zhenzhen conference center, successfully completing the 8K livestream.
China-based Internet giant Tencent has also approached Advantech about shipping ASICs (Application-Specific Integrated Circuits) for image control. Lin relates, "Advantech previously did not do business with Tencent, but over the last few years as Tencent has branched into the gaming and e-sports sectors, it wanted to give Advantech graphics accelerators a try!"
Paul Luo, general manager of Advantech China, says that, in addition to Chinese multimedia websites, there are plenty of future opportunities in such areas as global AI manufacturing, license plate recognition, medical imaging, and facial recognition for smart retail.
Collaborating to Present the 2020 Tokyo Olympics
With this in mind, Alibaba and iQiyi are just frontier outposts. Hsieh Chiung-chi, senior manager of the Communication and Network Solution Business Group's Professional Imaging Business Department, tells us that Advantech's 8K real-time image encoding solutions will be used at the 2020 Tokyo Olympics. In fact, Advantech has cooperative agreements in place with NHK and Socionext, so that real-time compression of NHK's 8K video will be made possible thanks to Advantech's design and R&D efforts.
One can imagine that, as the countdown to the Olympics ticks down, the contract with NHK demonstrates that Advantech's Professional Imaging Division is not only equipped to handle the emerging internet media, but is highly competitive in the global sports streaming and broadcast communications realms.
As Advantech Chairman KC Liu recently remarked, Advantech aims to seize the "eyeball economy". Accordingly, the company has targeted video communications technology as yet another area for technological breakthrough, while in the future the smart operating room, transportation and automobile networks, and smart cities all present new opportunities.
Lin confidently predicts that social media platforms like Facebook and YouTube will eventually incorporate such trends as 360-degree surround multimedia and sports cinematography. And he is confident that when the time comes, this little division that has been preparing the ground for so long will be ready to embrace explosive growth.
Translated from the Chinese Article by David Toman
Edited by Shawn Chou