Tong Yang-tzu's Literary Clothing
From Ink to Apparel III – Another Calligraphy and Fashion Crossover
精華簡文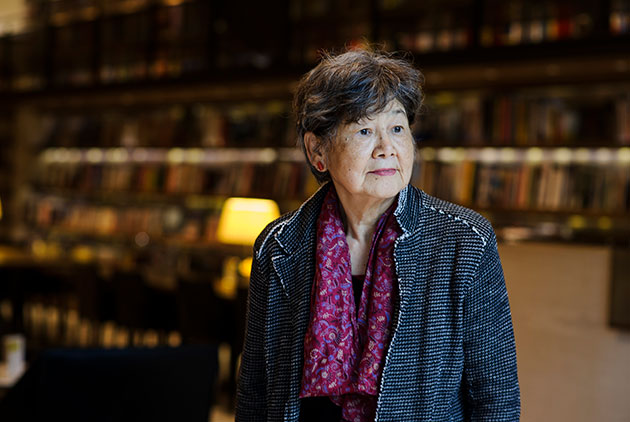 Source:Ming-Tang Huang
The Chinese character "wu", written in different calligraphy styles from an ancient, formal seal script to a rounded and smooth cursive script, has been freed from the confines of paper to come alive on fashion apparel, moving with light and space. Taiwanese calligrapher Tong Yang-tzu, well known for breaking into the realm of modern art with her unruly, playful approach to traditional East Asian calligraphy, has co-curated another exhibition exploring a crossover between modern calligraphy art and fashion design.
From Ink to Apparel III – Another Calligraphy and Fashion Crossover
By Sunny Wu
web only

In contrast to the two previous crossover experiments, From Ink to Art III, on display at the Huashan 1914 Creative Park in Taipei from October 20 to November 5, uses concrete characters rather than deconstructed calligraphic strokes as a basis for fashion designs.
Tong says, "In the first two exhibitions we first did lines, because lines are abstract. The major focus of this exhibition is that it features characters. Each calligraphic style reflects the distinct character of a certain era; aside from its artistic quality, it also entails a sense of speed."
Tong created 22 variations of the character "wu" in five major writing styles – cursive script (Cao shu), semi-cursive script (Xing shu), regular or standard script (Kai shu), clerical script (Li shu) and seal script (Zhuan shu). In Chinese philosophy, "wu" means absence, nothingness or nonexistence, in the sense of not being present.
Tong underlines the broadness of the concept of "wu", noting that her interpretation of the character results from the connotation of "without limits, without end."
She explains that "'wu' is the ground, 'you' (the opposite of wu) is the sky. Since there is a ground there can be an endless stream of ideas." Like the "ground" [in the literal sense], it provides the capability to bear a load and create.
Six fashion designers, including Justin Chou, Chen Shao Yen, Yaya Tsai from Taiwan, Beijing-based Li Yingjun and Zou You, and British-Chinese Bernice Pan individually interpreted the character "wu" through garment construction, material and patterns.
The show represents a milestone in creating a dream made by hand. Co-curator Yvonne Feng, CEO of the MSYAMING Luxury fashion group and Tuan Tuan Up, says, "This year we realized the long-held wish of Master Tong, letting characters leap off the paper onto fabric to see how young people use their own culture, how they narrate their own fashion, speaking up from Taiwan to make themselves heard in the world."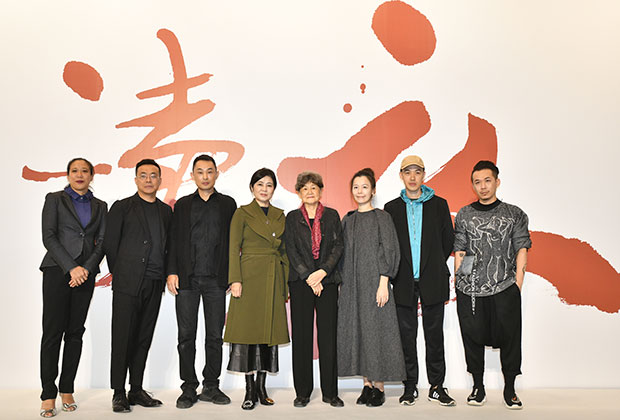 From Ink to Apparel III co-curators Tong Yang-tzu (5th from left) and Yvonne Feng (4th from left), pose with the six participating fashion designers, from left to right, Bernice Pan, Zou You, Li Yingjun, Yaya Tsai, Chen Shao Yen and Justin Chou. (Photo: Kuo-Tai Liu)
Pushing the Boundaries, Tong's Crossover from Calligraphy
In 2003, Tong began to cross over from calligraphic art into other realms such as space, architecture, jazz and dance. "I have been crossing over on all fronts. My friends and schoolmates are all curious to hear why I do so many crossovers," she remarks. She has collaborated with Taiwanese singer-songwriter Cheer Chen and renowned architect Eric Yao.
The theater performance Sao, meaning disturbance, featured an improvised blend of calligraphy, jazz music, modern dance and multimedia projections, with dancing brush strokes forming the backdrop. From Ink to Apparel III uses calligraphic art to inspire designers to search for the future of Asian fashion
"I advocate for characters, but what does it help if I win awards? Ordinary people will still use English; they still don't write characters; it's a different era," laments Tong. Since she feels that society does not value characters, Tong is trying to figure out how the cultural practice of Chinese characters can become more popularized.
"For instance, when making a painting, be it a still life, flowers and plants, or a female nude, it must attract people's attention, including its colors and composition. Why do characters not appeal to you? This is the reason why I have been testing my limits in recent years; otherwise this old lady would be bored, having nothing to do."
Tong, who has eschewed smartphones, personal computers and other gadgets of the digital era, nonetheless, expresses admiration for digital natives. "You are all working magic with one finger; you are very strong, and I admire you enormously," remarks Tong, alluding to touch screen finger gestures.
However, for Tong, this also underlines how important it is that the cultural practice of writing Chinese characters is passed down to future generations. "I hope that young people know how beautiful and rich our writing system is. Should the ABCs really become our world language? I won't have it. Our script should have an important position in the world, and I hope that everyone can make a concerted effort to forge social consensus," says Tong.
(Read: Tong Yang-tze- Reviving the Joy of 'Characters')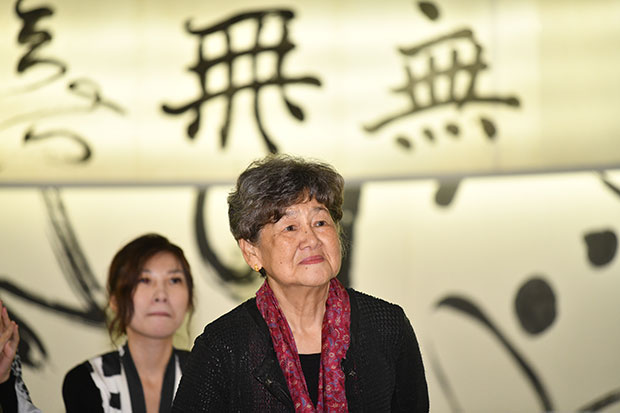 Through cross-disciplinary collaboration, Tong hopes to make young people realize the beauty and complexity of Chinese characters. She feels they deserve an important position in the world. (Photo: Kuo-Tai Liu)
Playful Character Metamorphosis, Putting Taiwan on the Fashion World Stage
Tong begs to ask: "What is real culture? How can we use calligraphic art? People believe that characters are simply for communicating with others; they don't see their many facets. As someone who works with characters, I spread their appeal and highlight their beauty from many angles as best as I can."
Why did she cross over into fashion? Tong says she was inspired by a CommonWealth Magazine article about a Taiwanese organic fabric brand. "I thought, this is something that makes Taiwan known internationally, but regrettably it lacks the cultured character that I care about." Pointing at herself, Tong remarks, "I don't consider myself fashionable at all; I don't know anything about garments, but Yvonne Feng is a real expert."
Feng, who has been marketing fashion brands for many years, observes that international fashion brands often use their own culture to tell their own story. "I think along the same lines, but it didn't occur to me that in Taiwan, a calligraphy artist could take the lead in launching this process."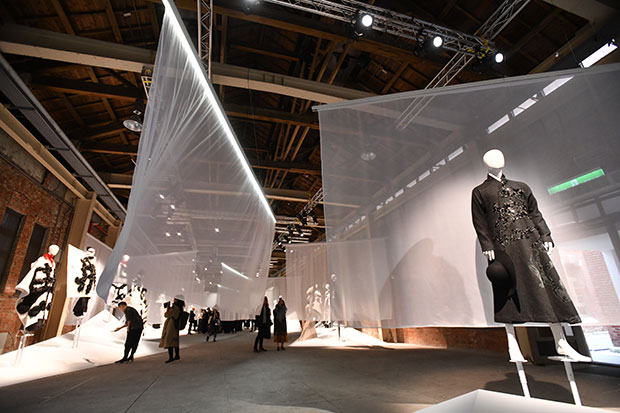 In the exhibition space contrasting effects such as "black and white, light and shadow, bright and dark, penetration, vacillation, separation and reunion" create a poetic frame of mind "between presence and absence."(Photo: Kuo-Tai Liu)
The Chinese character lines are an expression of Chinese culture containing connotations from the humanities, philosophy and the natural world. Feng believes that Tong provides the fashion industry with "an opportunity and a platform that allows young people to let their dreams come true" and face international competition.
"They use our fabrics, have their own ideas, thinking and visual design, and make their own fashion. This creates an opportunity for exporting the lines of East Asian culture to the West. It is also a starting point for Taiwan to establish itself as the fashion capital of the East."
"This is not an ordinary exhibition. I use clothing to promote characters and Chinese culture," declares Tong. She is not interested in politics and history but has her mind set on the here and now. She hopes to use the display of calligraphic art in apparel to let the international community see that "This is Taiwan."
Between Presence and Absence, A Poetic Frame of Mind
In the exhibition space, contrasting effects such as "black and white, light and shadow, bright and dark, penetration, vacillation, separation and reunion" create a poetic frame of mind "between presence and absence." The calligraphy area displays numerous "wu" characters and brushstrokes of deconstructed characters by Tong. Semi-transparent curtain screens nearly three meters high suspended in midair guide the flow of foot traffic, physically separating the six fashion designer areas without blocking them from visitors' sight.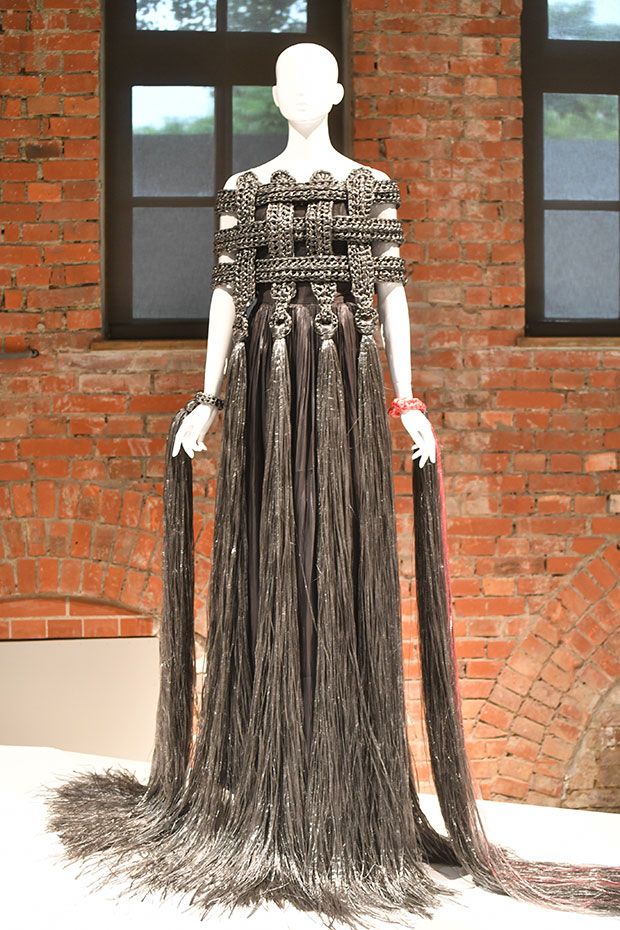 This evening robe by Tsai features a lace combination and pearl embroidery. Through the material and tailoring, she expresses the feeling of penetrating the space between reality and nothingness. (Photo: Kuo-Tai Liu)
Fashion design is not only about the obvious, such as materials and garment construction. As she walks through the exhibition, Feng explains that Tsai and the other designers needed to first understand what the character "wu" was meant to convey before they made their creations. "Every single person has a different perception and philosophy of life. How do you view 'wu'? Tong gave them an exam question, hoping that everyone brings their skills into full play as much as they like."
Tsai, for instance, turned to a passage from the Diamond Sutra: "All conditioned phenomena are like a dream, an illusion, a bubble, a shadow, like dew or a flash of lightning; thus we shall perceive them." Her evening dress pairs a lace combination with pearl embroidery. Through the material and tailoring, she expresses the feeling of penetrating the space between reality and nothingness. Chen, for his part, chose "蕪Wild Land" as his theme. He turned calligraphic strokes and lines into different geometrical silhouettes, constructing the character "wu" on imaginary lines and creating a space between reality and illusion.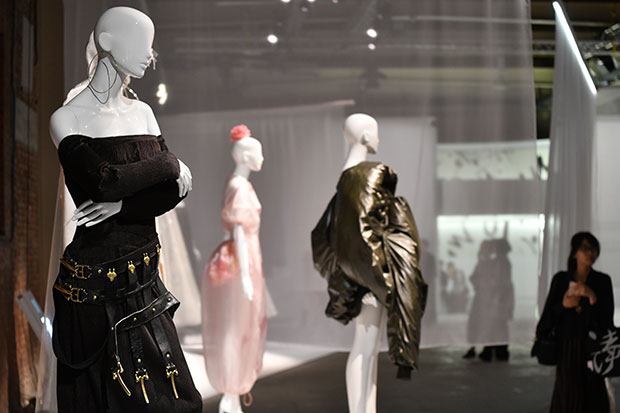 Chen turned the calligraphic strokes and lines into different geometrical silhouettes, constructing the character "wu" on imaginary lines. (Photo: Kuo-Tai Liu)
A documentary plays in the corridor that links the two exhibition venues, and a 20-meter-long counter has been set up to entice visitors to take up a brush and write calligraphy. Tong notes, "Characters have endless possibilities. We hope to revive the art of writing in the digital age through all kinds of innovative cross-disciplinary works."
The more Tong plays with calligraphic art, the more energetic she becomes. "I am not awesome at all; I am only very daring and passionate. When I come up with an idea and see that no one is doing it, I tell myself: Ok, I'll do it myself. Within a limited time, one person, one brush, one dream...that's how things get done."
Over the years, "society has gradually come to understand what this old lady is doing. I'll be honest with you, I have been on the phone all day every day for a month. I've called everyone I am remotely acquainted with because I hope that everyone can come to see the exhibition, and that they bring a crowd with them!"
Translated from the Chinese Article by Susanne Ganz
Edited by Shawn Chou
Exhibition Info From Ink to Apparel III
Date: October 20 (Saturday) to November 5 (Monday) 2018, 10 a.m. – 8 p.m.
Place: Huashan 1914 Creative Park, Brick Lane W1 and W2
Free admission