Digital Distrust
We're Losing Faith in Technology to Solve the World's Problems
精華簡文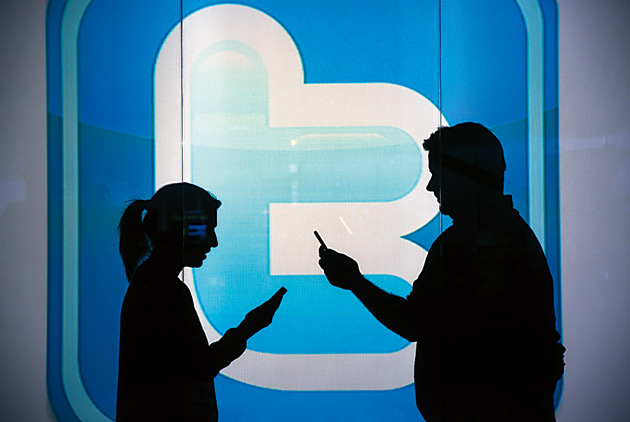 Source:Shutterstock
Innovation could be one of the casualties of a lack of trust in digital technology in some countries.
We're Losing Faith in Technology to Solve the World's Problems
By Sean Fleming
web only

Climate change, hunger, disease, inequality, conflict. The list of problems facing humankind grows longer and more complex all the time. Emerging digital technologies may hold the answers to some of these and other challenges. But are people losing faith in what tech has to offer?
That's one of the questions posed by the Digital Society Index from Dentsu Aegis Network and Oxford Economics.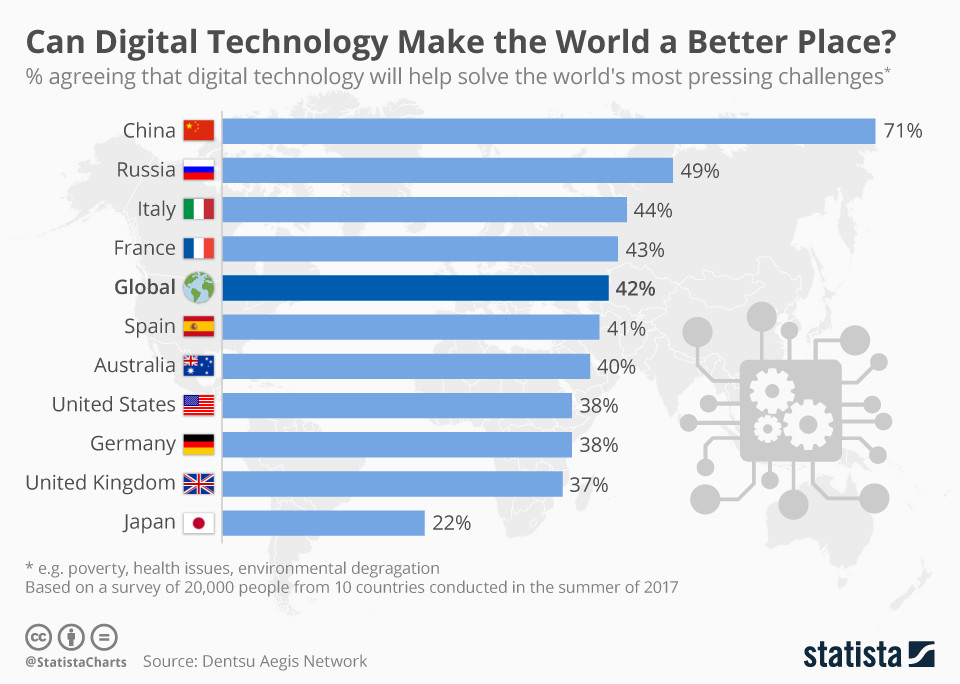 Image: Statista
Ranking 10 major economies across three dimensions (dynamism, inclusion, and trust), the index is based on a global survey of 20,000 people. It aims to make it possible to measure the growth and health of the global digital economy.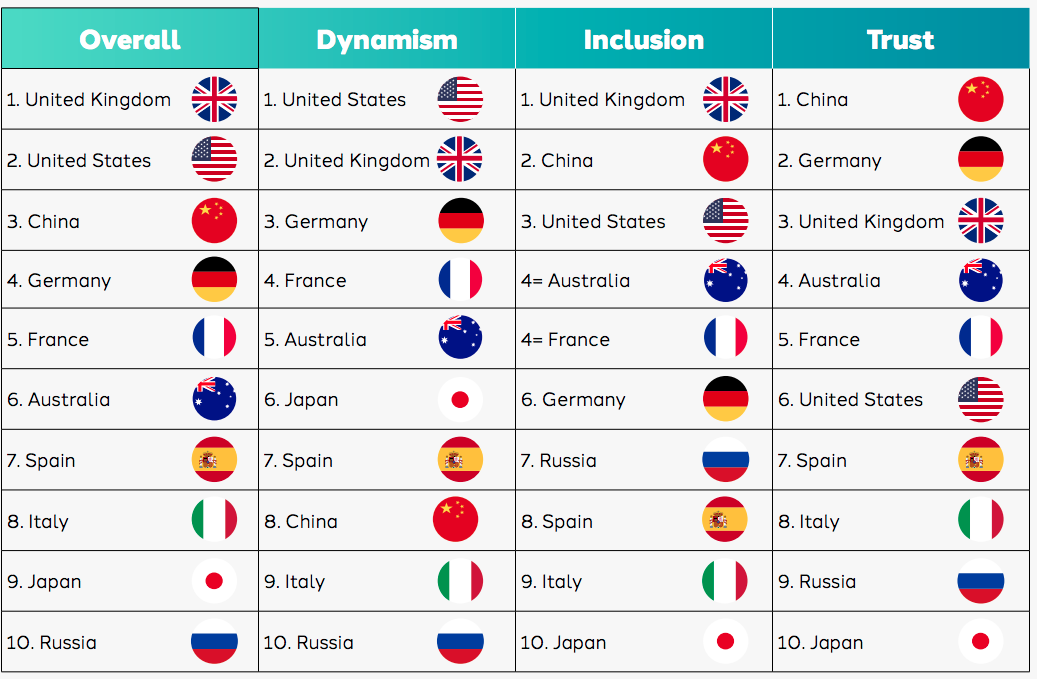 Image: Dentsu Aegis Network Digital Society Index
The UK ranks highest overall, due mainly to high levels of digital inclusion, the extensive use of ICT in education, availability of internet access, and the widespread use of digital tools across the economy. No surprise then that it ranked highest in the Inclusion category.
The US leads the Dynamism category, as its digital industries were deemed to be highly active and effective. Yet it scores relatively badly where trust is concerned – fear over job losses is a major contributor here. Conversely, China comes out top for trust, so much so that it evens out its poor performance on digital dynamism.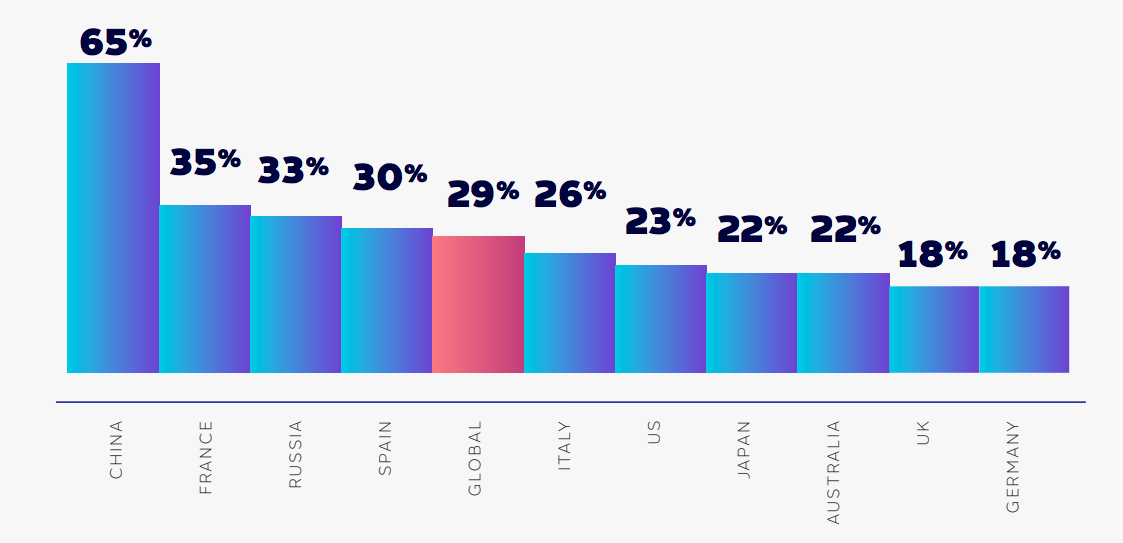 Image: Dentsu Aegis Network Digital Society Index
Trust is a highly valuable commodity in the digital economy. Without it consumer adoption rates and the pace of innovation could stall, the report's authors say.
Writing in the foreword for the index, Jerry Buhlmann, CEO of Dentsu Aegis Network, says: "Our results here show that people are less positive about the digital economy than we might have expected. This matters because the digital economy is people-led."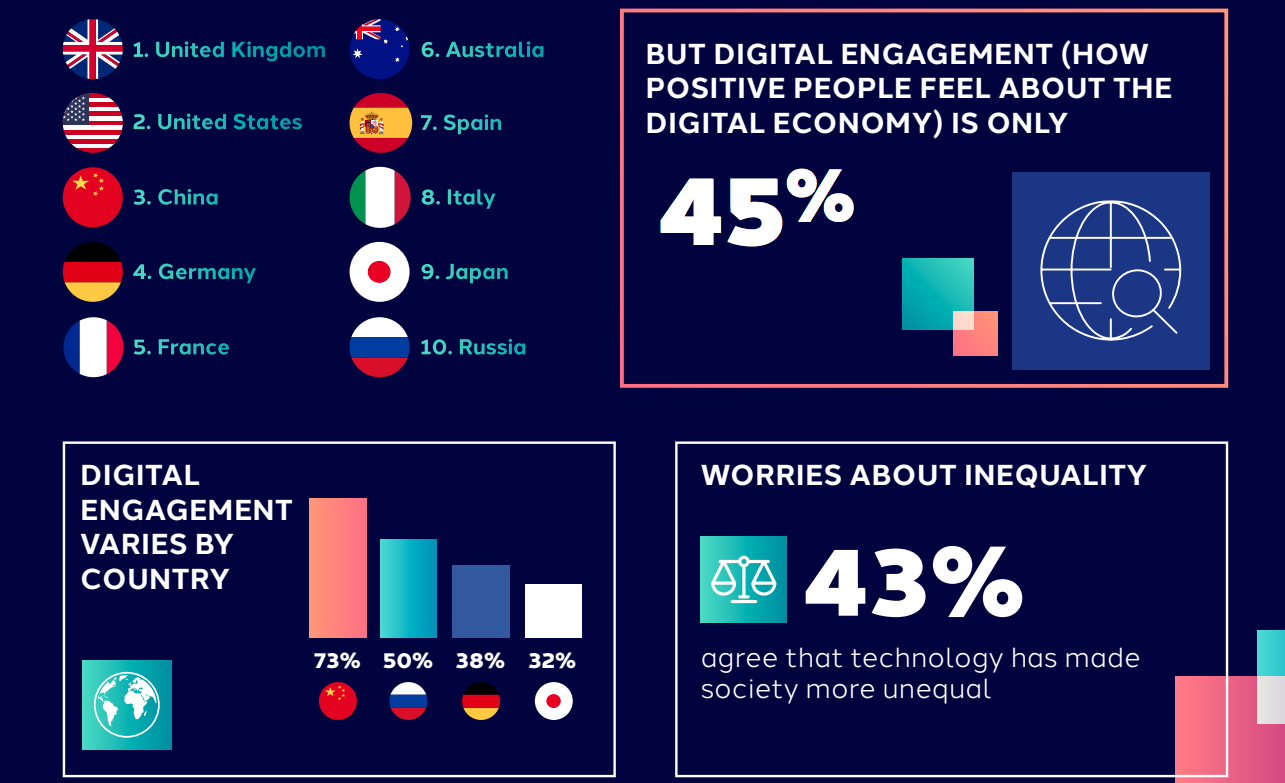 Image: Dentsu Aegis Network Digital Society Index
The index seeks to identify levels of digital engagement – a positive metric based on the average percentage of people who feel digital technology will:
create future jobs
help address societal challenges
ensure that its positive impact outweighs the negative
Engagement varies by country but one apparent trend is that the most mature economies are those with the least engaged people: Japan – 32%; Germany – 38%; Russia – 50%; and China – 73%.
There is also a digital engagement gender gap. Globally, it stands at 42% for women and 49% for men. But the UK, despite topping the index overall, has the largest gender gap – 36% digital engagement for women and 45% for men.

Even more surprising is how far down the rankings Japan appears. Held up for many decades as a high-tech economy, Japan spends more on research and development as a share of GDP than the other nine countries in the index (based on 2013 data, the most recent year for which internationally comparable figures were available). Yet the Japanese public is markedly more pessimistic than the rest of the sample, according to Dentsu Aegis, which pushed Japan down the rankings.
China is almost the opposite. Despite its size and influence on the global economic stage, China still lags behind most economies where the growth rate of its digital industries are concerned. But that's compensated for by the enormous and enthusiastic appetite the people of China have for the tech sector.
Innovators and tech brands need to focus their efforts on winning over the hearts and minds of consumers, while governments need to put in place frameworks to safeguard privacy and security. Failure to meet customer expectations where these issues are concerned risks a continuing erosion of trust, which will affect the rate at which people will try, buy, and recommend new digital products and services.
In turn, if user adoption rates slacken there will be a fall in demand for the tech sector's outputs that could damage the overall health of an increasingly important sector, and even dissuade investors from backing new initiatives.
Edited by Shawn Chou
---
Original content can be found at the website of World Economic Forum.
♦ Digital distrust: We're losing faith in technology to solve the world's problems
This article is reproduced under the permission of World Economic Forum (WEF) and terms of Creative Commons Attribution-NonCommercial-NoDerivs 4.0 Unported License ("CCPL"). It presents the opinion or perspective of the original author / organization, which does not represent the standpoint of CommonWealth magazine.