'Queen of Wafers' Doris Hsu
The Women to Watch in Asian Tech
精華簡文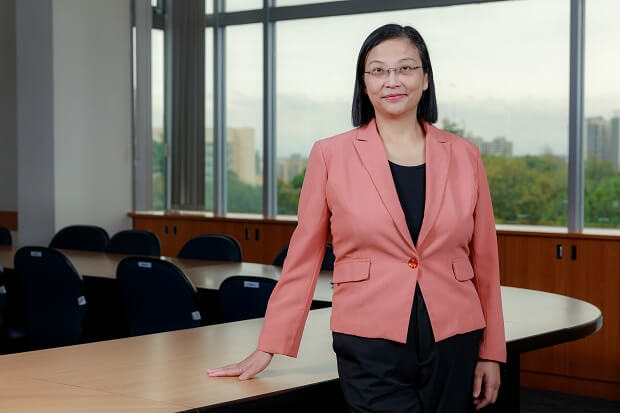 Source:Chien-Ying Chiu
GlobalWafers' sales have grown nearly 100-fold in six years, but its stock price has been volatile in 2018 and the wafer market could soon face a supply glut. What are the difficult decisions Chairperson Doris Hsu has had to make to keep the company on an even keel?
The Women to Watch in Asian Tech
By Hannah Chang
web only

On the day when GlobalWafers Co. Chairperson and CEO Doris Hsu welcomed CommonWealth Magazine for an interview, she smiled when she saw the same reporter she talked to last year, and said, "It's been a year since we saw each other. A lot has changed since then."
On May 31, GlobalWafers' stock price hit an all-time intraday high of NT$642, up over 60 percent from the beginning of the year, and its market capitalization reached NT$270 million. The dazzling results pushed Hsu to prominence, including being honored by Nikkei Asian Review in August as one of the "Women to Watch in Asian Tech."
But in the following months, GlobalWafers' stock price cratered. It tumbled to NT$200.50 on Oct. 26, down nearly two-thirds from five months earlier. (It has since rebounded to NT$294.50, as of Nov. 19.)
"There has been a lot of change in the past year, a lot of mental journeys. Although the company's revenues have grown for 11 consecutive quarters, there have been many struggles, and there were some decisions that were very hard for me to make," a reflective Hsu, dubbed by some as the "Queen of Wafers," tells CommonWealth.
Though the company's stock price has been volatile and made her life more difficult, Hsu's routine has changed little in the year since CommonWealth last spoke with her. She still gets up every morning at 3:58 and leaves home for her office dressed in the company uniform – a short-sleeve button-down shirt and dark pants – at 5:15.
GlobalWafers is the world's third largest vendor of silicon wafers with a global market share of 17%, trailing only big Japanese companies Shin-Etsu Chemical (the biggest player in the market) and Sumco, and is a key supplier of leading global contract chip maker TSMC. (Read: Snatching Apple Orders, TSMC's Unsung Weapon)
The 57-year-old Hsu sits atop of this multinational corporation. She has been mentored by the man known as the "King of Acquisitions," Sino-American Silicon Products Chairman Lu Ming-kuang, so it's not surprising that she has used acquisitions to spur the company's rapid growth.
Since 2011, when GlobalWafers was spun off from Sino-American Silicon Products (which still holds a 50.84 percent stake in GlobalWafers), it has gone public (in 2015) and demonstrated meteoric growth, its sales rising from NT$480 million in 2011 to NT$46.2 billion in 2017.
The situation took a sudden turn, however, in the second half of this year. Prices for memory chips weakened, and analysts with European brokerage houses projected that supply will soon exceed demand, resulting in downgrades of their recommendations for Shin-Etsu and Sumco to "neutral." GlobalWafers' stock price was inevitably caught in the crossfire.
The volatility of the company's stock price led many investors to call the company to vent their anger, frustrating GlobalWafers spokesman Lee Chung-wei. He says the company's capacity has been fully booked for all sizes of wafers this year, with no signs of loosening up in sight.
In the first three quarters, customers paid NT$22 billion in deposits for long-term orders, the most in the company's history for that period of time, and the amount of deposits continued to rise in October. All the company can do, Lee says, is to continue working to eliminate the doubts.
On Oct. 30 and 31, Hsu faced investors and analysts at the company's third-quarter English-language and Chinese-language investor conferences, respectively, to ease some of those concerns.
Though Hsu had to answer tough questions at the meetings, GlobalWafers was still able to announce record earnings. The company's earnings per share for the first three quarters of 2018 was NT$22.66, far exceeding the NT$12.68 posted a year earlier.
One analyst at an American brokerage house also praised Hsu's "honesty" after the conference.
"She admitted that spot market prices in the first quarter of next year will be a little lower, with bigger fluctuations. But foreign investors understand that GlobalWafers has the advantage of signing long-term agreements with customers, meaning that if prices fall in the short term, it will be affected less than other customers," the analyst says.
Hsu also acknowledged that the rise and fall of the company's stock price is out of her control, but said the key was to simply work harder and make the market realize that GlobalWafers is a stable company. To achieve that, she has made three major decisions this year to help the company thrive further into the future, none of which were easy.

Major Decision No. 1:
Using Deposits to Build New 12-inch Wafer Plant
The first major decision Hsu made was to expand capacity at a time when the market expects supply to exceed demand.
On Oct. 5, GlobalWafers decided to inject US$438 million (about NT$13.4 billion) into its Korean subsidiary MEMC Korea Co. to build a new 12-inch wafer plant that will increase capacity by 150,000 wafers a month. Mass production is expected to begin in 2020, according to the company.
"Our capacity is totally inadequate. Customers want us to expand our capacity, but semiconductor plant expansions invariably involve NT$10 billion to NT$20 billion decisions. Our management team debated this several times starting in November 2017, with those for and against evenly split. In the end, I decided to make the investment," Hsu recalls.
A critical factor in Hsu's decision was GlobalWafers' 14 percent share of the global wafer market, well below the 20 to 30 percent shares marshalled by the company's two big Japanese rivals. Expanding capacity was a must if GlobalWafers hoped to close the gap.
"In the future, the greatest source of demand and biggest growth opportunity for semiconductors will be 12-inch wafers, not smaller sizes. That means that regardless of how prices are fluctuating or whether the market is good or bad, GlobalWafers had to take the bold step of increasing its 12-inch wafer capacity," Hsu says.
It was the first time in the seven years since GlobalWafers was spun off from parent company Sino-American Silicon Products that it invested in new plant capacity. In the past, its strategy focused on acquisitions, buying mature production lines that had already been fully depreciated.
At the same time, however, the company worried during its deliberations that if the market were to go south after the investment was made, it could suffer huge losses because of idle capacity.
The solution was simple. Hsu felt that if the capacity of the new plant could be pre-sold for five years after mass production begins in 2020 and deposits could be collected on those orders, any risk of idle capacity would be greatly reduced.
That was Hsu's second major decision: to sign long-term agreements (LTAs) with customers and collect advance payments on their orders. (Read: China's IC Ambitions: Big Money ≠ A Second TSMC)
Major Decision No. 2
LTAs over Price Hikes
At the beginning of 2017, a supply shortfall in the silicon wafer market was becoming increasingly evident, presenting Hsu with a conundrum. She could respond to market conditions by raising prices, but "at a time when customers were short of inventory, I didn't want the company to be seen as an 'opportunist,'" Hsu says.
After a heated debate within the company, management came to a simple consensus: short-term price hikes were not as beneficial as long-term supply contracts. As a result, GlobalWafers opted to sign LTAs with fixed prices, according to Hsu. "That way, nobody would have to watch how much prices were rising, but customers would be buying from us for the next two years, three years, five years!"
GlobalWafers' LTAs go until 2020, and some customers are already discussing orders for 2021 to 2025. It has collected NT$22 billion in deposits alone, enough to build its new production facility without having to get financing from a bank.
"These opportunities don't come along every day in the semiconductor industry," Hsu says excitedly. "The customer gives you money so you can build a plant and also gives you more than five years of orders, committing to buy 100 percent of what you produce.
If I backed off because I was afraid of uncertainty, then that would be weakness instead of caution. Under the right conditions, I had no reason not to go for it!"
But one analyst with an American brokerage notes that the semiconductor cycle has yet to hit bottom, and if prices suddenly tumble too much, customers may prefer to break their contracts so that they can buy product on the spot market.
"The two big Japanese silicon wafer companies don't believe in LTAs," the analyst notes.
"An analyst I know at a Japanese brokerage has followed Sumco for more than a decade. He says the Japanese signed LTAs about 10 years ago, but the contracts were broken when the economy hit bottom. So if silicon wafer prices fall by 30 percent, LTAs won't be of any help," the analyst argues.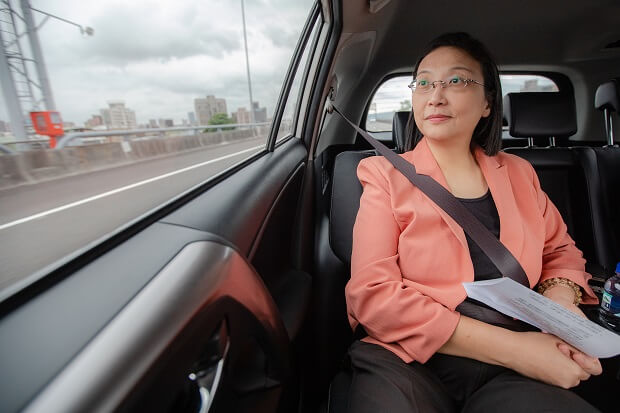 Source: Chien-Ying Chiu
Hsu contends, however, that the LTAs signed by the Japanese companies in the past were more vulnerable to market and price downturns because they did not require deposits, resulting in higher customer default rates that led the Japanese vendors to sour on the idea.
She also observes that times have changed. Wafer suppliers abounded a dozen years ago, serving a large number of clients, but the industry has since consolidated through mergers and acquisitions, reducing the number of vendors from more than 10 at the time to only five today. Those five now supply 90 percent of the world's 12-inch wafers, making LTAs more binding than they were in the past.
Sino-American Silicon Products Chairman Lu adds that it was because of Hsu's insistence that customers guarantee orders for five-year periods that GlobalWafers has been able to invest in a new factory and not concede much on price.
"When we talked about expanding plant capacity, the industry was trending upward, and prices were strong. Customers were worried that prices would continue to rise, so the prices they agreed to then are higher than they are now," Lu says.
Della Huang, the vice president of Shin-Etsu Chemical agent Topco Scientific, confirmed that Shin-Etsu negotiates prices on a quarterly basis rather than engaging in LTAs. It was not until last year when supply shortages emerged that customers sought longer-term purchase contracts, Huang says, "but we only signed LTAs with longtime customers, and because they were longtime customers, we did not collect deposits."
"Her [Hsu's] ability to sign five-year deals and collect more than NT$10 billion in advance payments is quite rare," Huang acknowledges.
An executive with Formosa Sumco Technology Corp., a joint venture between Japan's Sumco and Taiwan's Formosa Plastics Group, adds: "Doris Hsu's ability to get customers to sign LTAs is where she stands out."
Lu is also full of praise, saying that the process of negotiating long-term deals highlights two of Hsu's strengths: "She is a master of timing in negotiations and of quickly making and executing decisions."

Major Decision No. 3
Suing Former Employees for Non-compete Violations
While searching for breakthroughs amid volatility in the industry, GlobalWafers faced an unprecedented storm this year. Two vice presidents at one of the company's subsidiaries resigned in the second and third quarters of 2017, respectively, and within two months were working at a major Chinese semiconductor company. Shocked and hurt, Hsu decided to sue them.
"They were partners I really liked and trusted. So it was really a blow when I found out they went to the other side," Hsu says. "To me, filing a lawsuit was a really difficult decision."
The two former executives were with GlobalWafers subsidiary SunEdison Semiconductor (SEMI). GlobalWafers acquired the company, then the world's fourth largest wafer supplier, at the end of 2016, obtaining three patents it previous lacked for SOI (silicon on insulator) wafers, 12-inch Epi wafers, and low COP (crystal originated pits) wafer technology. Crystal originated pits are structural defects that form on a wafer's surface.
The successful acquisition turned GlobalWafers into the world's third largest silicon wafer producer worldwide.
When the two executives resigned last year, Hsu tried to retain them and later tried to find out where they had gone, but did not hear anything about them changing jobs. It wasn't until the beginning of 2018 that she found out they had violated their non-compete agreements by defecting to a Chinese-invested company. The two had also begun privately contacting younger GlobalWafers engineers to lure them away.
Though the company did not find evidence that the two in fact stole trade secrets, Hsu said it would not be hard to imagine that confidential information was compromised.
"It's something that's hard to check. But they were VPs at SEMI for many years, so it's hard to say what might have happened," she says, before pausing and looking out her office window as if gathering her thoughts.
"These two people have really hurt the company. If I didn't sue, a lot more engineers would have been recruited. So I hired the same law firm that helped TSMC file suit when one of its important employees went off to a Korean company to sue the two of them.
"To a company like ours that doesn't like to spend money, it's hard to choose a big law firm like this that charges very high fees. But we had no choice if we wanted to protect the company," Hsu says.
As the interview was coming to an end, Hsu's phone rang again. She stood next to an office window facing the strong Hsinchu winds to speak with one of her overseas offices. The next day, she had to take an early flight to meet an overseas customer and discuss an order.
It's just another day in the life of this top female executive, getting up every day while it's still dark outside, putting on the company uniform to go to the office, ready for another 18-hour day managing more than 7,000 employees in more than 10 countries, including the United States, Japan, Denmark, Poland, China, Taiwan, and South Korea.
With the energy of a production line ready to start running at full capacity, Hsu appears determined to be as prepared as possible for the market's next turning point or opportunity.
Translated by Luke Sabatier
Edited by Tomas Lin