From Gang Member to World Master Baker
Conquering Europe with the Taste of Taiwan
精華簡文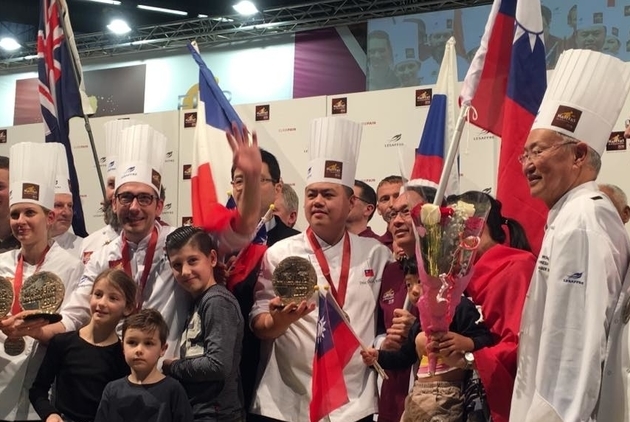 Source:Masters de la Boulangerie Facebook
Have you ever tasted bread with straw mushrooms, crown daisy, bamboo shoots, or water spinach? Wang Peng-chieh, who earlier this year earned the title World Master Baker with the sculpted statue of a general from Taiwanese folk religion, wows bread lovers with authentic Taiwanese ingredients and seasonings.
Conquering Europe with the Taste of Taiwan
By Hocheng Yen
CSR@CommonWealth

The windows and doorway and elegant interior of Wang's bakery near the Kaohsiung Museum of Fine Arts show a strong European influence. Silver Christmas decorations and round iron tables and chairs in front of the store add to the French ambience. The white lettering on the arched transom reads: Boulangerie Shakespeare & Co.
Inside the store, a myriad of breads is on display, including some varieties that could not be more "Taiwanese" in taste and appearance – meat floss, red bean or pineapple bread. And then there are seasonal products and breads you won't find anywhere else, such as straw mushroom bread and water spinach pizza!
"We create six seasonal breads every season using local foodstuffs. We have used crown daisy and bamboo shoots, and once, when cabbage was in oversupply, we created cabbage bread. Taiwanese vegetables can make bread tasty and can be defined as the taste of Taiwan," explains bakery founder Wang, who is also known as Chef Jay.
A Contest with Only One Winner
The slightly chubby Wang is only 32 years old, yet he managed to win the honorary title of World Master Baker at the Les Masters de la Boulangerie contest in Paris this February, becoming the second Taiwanese baker to win the breadmaking world championship after Wu Pao-chun won the title in 2010. (Read: Taiwanese Chocolate Seduces the World)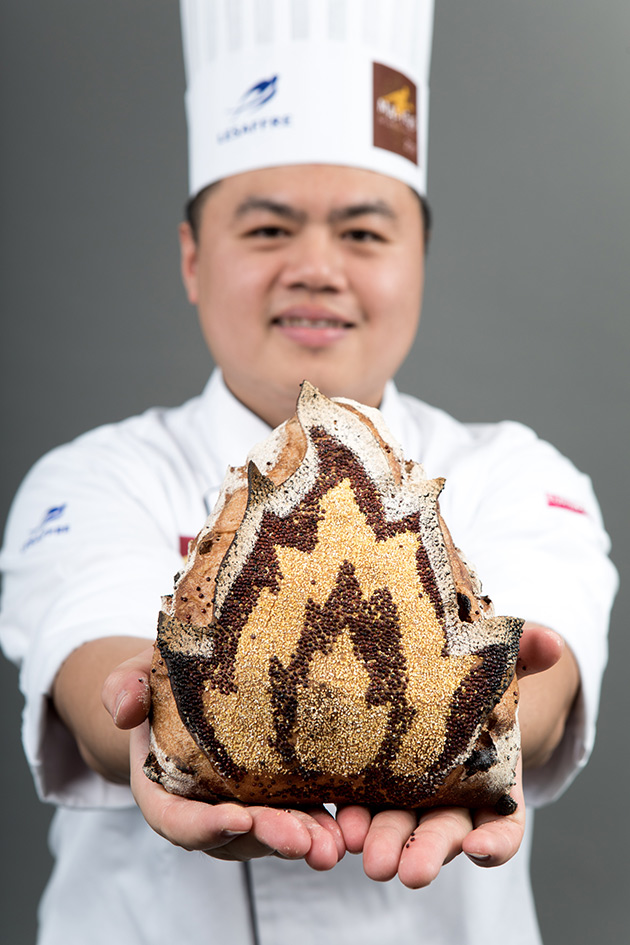 Source: Peng-Chieh Wang
Just how difficult is it to become a world champion in breadmaking? The contest, also popularly called the breadmaking Olympics, is held in France every four years. Like in the Olympic Games, participants must meet certain standards to qualify for the competition, which in this case are high scores in the Coupe du Monde de la Boulangerie, an international artisan bakery competition.
Six candidates each battle it out for the World Master Baker crown in one of three specialties – nutritional breadmaking, gourmet breadmaking (the discipline in which Wu Pao-chun competed), and artistic beadmaking (Wang's discipline). The contestants have eight hours to complete their creations, working alone without assistants.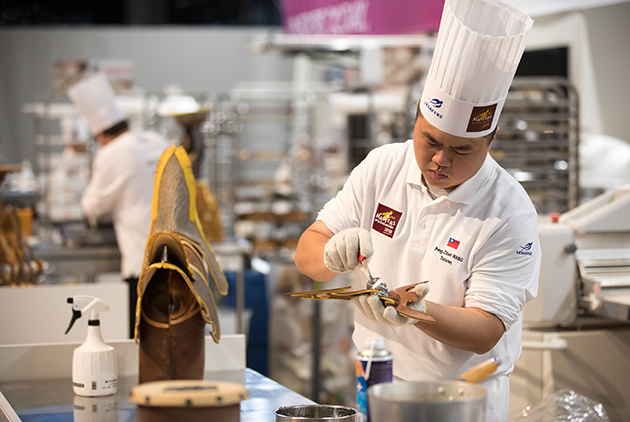 Source: Peng-Chieh Wang
When practicing in Taiwan, Wang never managed to finish within the given time, once even exceeding the deadline by two and half hours. In the final trials after arriving in France, he still exceeded the time limit by five minutes. Fortunately, when the real battle was on, Wang finished two minutes early. As that point, Wang was overcome with emotion, but by the time he received his trophy, he had composed himself again.
"In this competition, there is only first place; there is no second or third. If you don't win the title, you won't have any ranking. Over the past ten years, only nine bakers around the world have become World Master Baker," Wang says, explaining how hard it is to claim the coveted title.
A Masterpiece that Showcases Taiwan's Diversity
Wang's masterpiece is strongly influenced by Taiwanese folk religion and culture. He chose an underworld military leader as they typically appear in temple parade formations known as zhentou.
Wang sculpted a life-size, 170 cm-tall general from dough infused with Taiwanese flavors such as lychee, strawberry and rose. He painstakingly reproduced every detail, including the battle crown, the fiercely painted face, the elaborately decorated shoulder armor, the belt, the scepter and the mace.
The jury was so impressed with the elegance of the piece that Wang easily defeated his rivals from Brazil, China, Mauritius, South Korea, and the United States.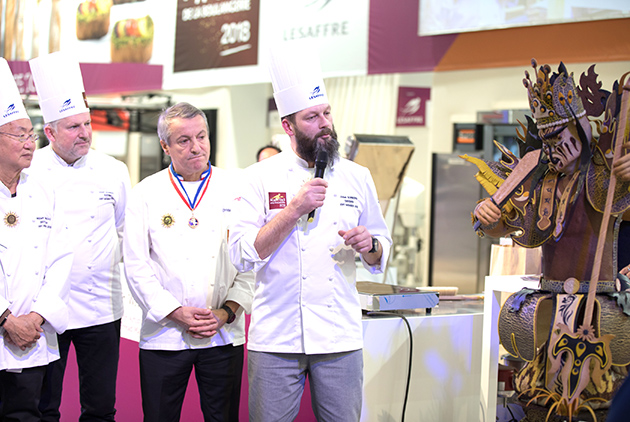 Source: Peng-Chieh Wang
Why did he choose a temple parade formation as his topic? Wang explains that the contest required the artistic bread piece to highlight a country's unique character. He immediately thought of the temple parades because they represent local grassroots culture and have a long history as a performing arts form that blends folk custom, sports, and aesthetics beyond the original religious components.
Therefore, Wang believes, they underline the diversity and openness of Taiwanese culture.
"Zhentou has already become an art. I want to highlight this kind of distinct local feature," notes Wang.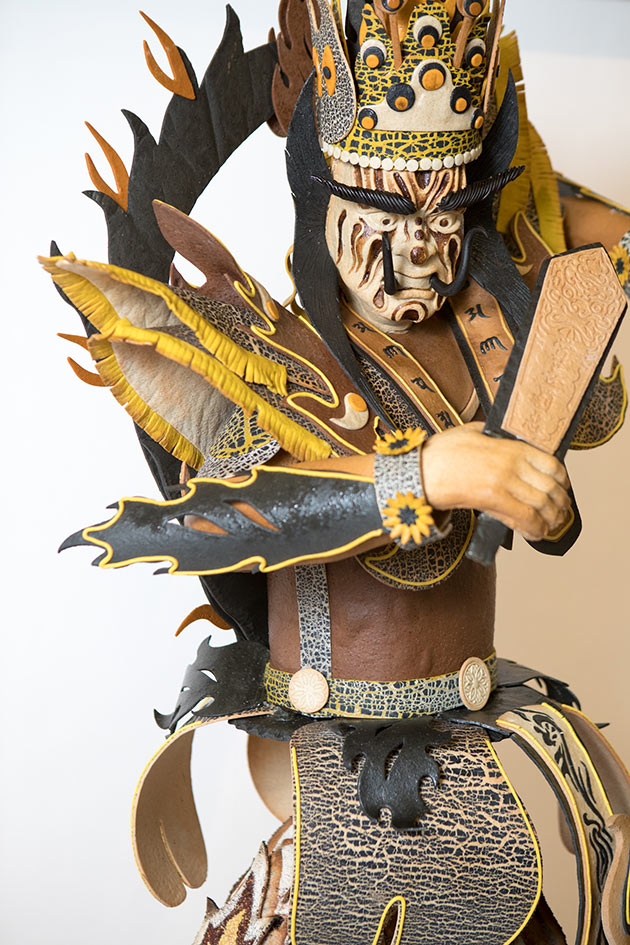 Source: Peng-Chieh Wang
It was not the first time Wang used bread to express his love for his native Taiwan. When participating in the 2016 Coupe du Monde, Wang and his team created a work depicting an aboriginal baseball player of the Taitung Red Leaves (Hongye), a Little League baseball team that famously defeated an all-star youth team from Japan in 1968.
The piece stood for the team's spirit of self-confidence and solidarity among different ethnic groups, winning Wang's team the silver medal.
"Standing on the world stage as a baker seems to be an unfathomable responsibility. You need to show others the invincible spirit of the Taiwanese," says Wang.
Aspirations of a Rebellious Adolescent
Wang, who grew up in Changhua, hails from a family of bakers. The family ran a traditional Taiwanese bakery. Wang jokingly notes that he has been baking bread for 20 years. He used to loathe the craft because of the long working hours and exhausting working environment, and had his mind set on escaping his destiny as a baker. In senior high school, he began to hang out with local gangs while his parents racked their brains trying to keep him out of trouble.
"When I was 16, I aspired to become a mafia boss," Wang frankly admitted his rebellious youth before an audience of more than 100 people at a recent 1 for One Talk forum in Kaohsiung.

He had a change of heart when one of his gang buddies was killed right in front of his eyes in a revenge shooting. At the time, Wang was about to graduate from senior high school. Afraid that he could become the next target of revenge, Wang decided to call it quits. He went to Kaohsiung to sit for the entrance exam of National Kaohsiung University of Hospitality and Tourism.
While his grades were not good, he could fall back on what he had learned over the years at the family bakery, clinching the last slot at the Department of Baking Technology and Management thanks to his technical skills.
When he had just entered the university, he still acted like a cocky gangster and did not believe that baking requires management. "On the third day of school, I wanted to suspend my schooling. I phoned my dad and told him that my schoolmates were crazy because they studied every day!" recalls Wang.
Bold and Prudent – Following Through on his Commitment
Later on, Wang and other students represented the university at a contest in Shanghai. He ended up being the only one among the five contestants to go home empty-handed. That was when he realized that he had been too arrogant, just going through the motions.
As a result, he began to delve into European breadmaking and even carried his sourdough starter around to keep an eye on the fermentation time. He realized that breadmaking requires the same perseverance as dancing in a temple troupe.
The 1 for One Talk event in Kaohsiung was launched by Steven Chang, founder of non-profit organization platform NPOChannel. Watching Wang from the sidelines, Chang observes that Wang "has a strong learning aptitude; once he has committed he is very diligent." The 1 for One Talk city forums are modeled after the TED Talks.
Each speaker has 18 minutes of speaking time. Chang invited people who have a personal connection with Kaohsiung to tell their Kaohsiung stories. Since Wang rarely speaks before an audience, he discussed possible revisions to the manuscript with Chang late into the evening, even though he knew that he had to get up very early the next day to work in the bakery.
"It's probably because of his background when he was growing up that he feels he has nothing to fear. He really can be described as both bold and prudent," notes Chang.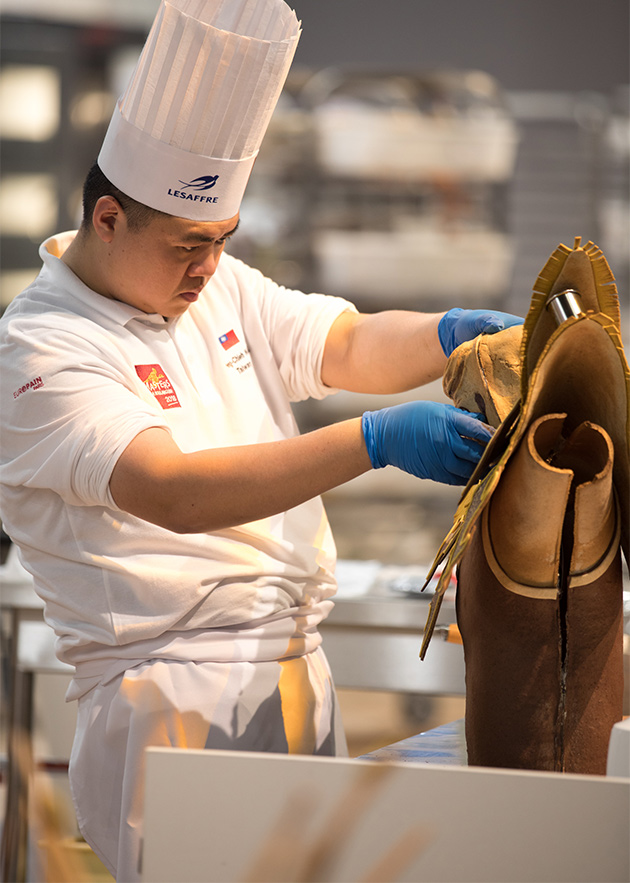 Source: Peng-Chieh Wang
Bread Also Requires a Sustainable Environment
That year, the sudden decline in the bee population that made the headlines sparked Wang to consider environmental issues, leading him to create "Kaohsiung beehive" bread, a rustic round boule flavored with locally produced longan honey, which helped build the bakery's reputation.
"With this bread, I wanted to let everyone better understand the problem of environmental sustainability," notes Wang.
From then on, Wang incorporated local elements into his bread creations, following the motto "European on the outside, Taiwanese stuffing inside". His fusion-style baked goods are local and international at the same time. He even adds a twist to traditional Taiwanese bread. The typical pork floss bun contains pork floss that costs around NT$100 per pound. But Wang insists on using top-grade pork floss that goes for more than NT$600 per pound.
"Our customers say our buns taste like they contain pork. I want to give our customers peace of mind and let them trust our products," explains Wang.
Shakespearean Bravery
Yet, do unorthodox tastes and comparatively high prices stand a chance of being accepted in Kaohsiung? Wang admits that he had his doubts in the beginning, particularly because his father challenged his approach, asking him "Who wants to eat such breads?" But Wang insisted on charting his own course. The name of his bakery was inspired by the renowned independent English bookstore Shakespeare and Company on the Rive Gauche in Paris.
"Imagine how much courage it takes for an American to open an English bookstore in Paris. I want to bring foreign culture to Kaohsiung, so I need that kind of courage too," says Wang who is living proof that a master baker can harbor similarly lofty aspirations.
A Life Choice with a Sweet Aftertaste
Reality proves that Wang's courage is paying off as his breads are critically acclaimed and sell well. Since he won the World Master Baker trophy, Wang has been flooded with invitations. He had to pass on an invitation to exhibit at the British Museum in London because it is not possible to preserve bread creations for an exhibition period of up to half a year. Market reception in Kaohsiung is so good that Wang has already opened his second store in the harbor city. Some customers from Taipei even order his breads for home delivery.
"Seeing this, my father now feels what I am doing is right," says Wang, the prodigal son returned home. "It's the same as when choosing bread: If you make the right choices in life, the future will have a sweet aftertaste."
Translated by Susanne Ganz
Edited by Tomas Lin
---

CommonWealth Magazine began its advocacy of corporate social responsibility in 1994, and in the coming years since, CSR has gradually grown in importance to companies, investors and society. In recognition of that trend, CommonWealth created the website "CSR@CommonWealth" in 2017 to highlight the most forward-looking CSR visions and ideas and create a CSR platform that can help build a better world.