A Southern Taiwan University with a Vision
Cultivating Overseas Talent to Build Bridges to the World
精華簡文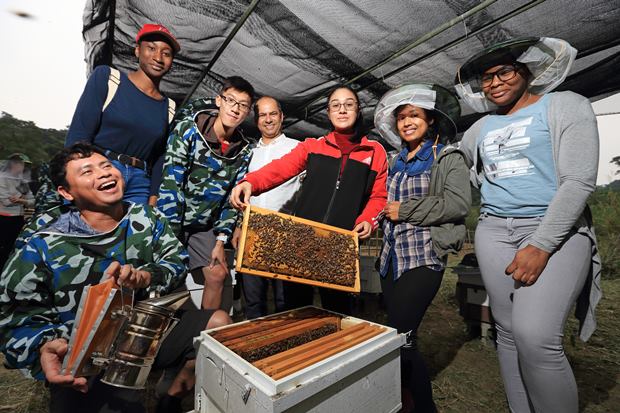 Source:Chien-tong Wang
How have more than 400 students from 46 countries around the globe come to study in Pingtung? What makes the Department of Tropical Agriculture and International Cooperation so special?
Cultivating Overseas Talent to Build Bridges to the World
By Meng-hsin Tien
web only


Taiwanese graduate schools, which draw the highest numbers of international students, almost entirely belong to the island's top universities such as National Taiwan University, National Tsing Hua University and National Chiao Tung University.

The surprising exception of the rule is the Department of Tropical Agriculture and International Cooperation at National Pingtung University of Science and Technology in southern Taiwan, which ranks second island-wide in terms of international student numbers. How have more than 400 students from 46 countries around the globe come to study here? What makes the department so special?

In October, the Tainan-based University of Kang Ning made headlines as it transpired that Sri Lankan students enrolled there had been dispatched to work illegally. Television footage of students tearfully recounting their predicament in front of the Ministry of Education in Taipei almost instantly became the strongest impression that people associate with international students. But aside from these isolated cases, Taiwan boasts schools, undergraduate and graduate courses that are committed to educate international students and nurture their world-class talent.

National Pingtung University of Science and Technology (NPUST) is located on a vast green campus in Neipu Township Pingtung County against the backdrop of Mt. Da-Wu. Its Department of Tropical Agriculture and International Cooperation (DTAIC) was the first in Taiwan to set up a class exclusively for international students. In a stark contrast to schools that recruit foreign students to boost tuition revenue, the department has educated expert individuals who went on to have successful careers, working for the United Nations or in high positions for their national governments. (Read: 'One-Day Farmer' Tour Has Hit Abroad)

Working at the United Nations, as Cabinet Member or Legislator after Graduation

As one steps out from Pingtung railway station, the sunny skies make one feel welcome in Taiwan's hospitable south. Half an hour's drive will take you to NPUST, which boasts the largest and arguably most beautiful campus in Taiwan. With orchards and farmland on both sides of the road, pastures, and forest roads nestled against a mountain range, the scenery is so breathtaking it almost seems like an illusion. "When I arrived here, I felt this is the paradise I have been dreaming of," says DTAIC Assistant Professor Lekhnath Kafle. (Read: TEDx Ambassadors: Taiwan's Strength Lies in Cultural Freedom)

Kafle, who hails from Nepal, was among the lucky few who could get an education in agricultural research in his native country. After graduation from university, he worked as a plant protection officer with the Nepal government. He came to NPUST to study for a master's degree in tropical agriculture 15 years ago. After obtaining a Phd. in entomology from National Taiwan University and working a few years for a chemical company, Kafle became an assistant professor at his alma mater in Pingtung in 2016. His research focuses on the development of baits for urban pests. He has obtained a patent in the United States and Taiwan on a water-resistant bait for fire ants that is considered an important contribution for solving the threat from red fire ants that were accidentally introduced to Taiwan a few years ago.

In the office next door, Associate Professor Albert Linton Charles, who sports an afro and hip-hop style attire, welcomes us with a bright Caribbean smile. Charles, a national of Dominica, originally studied agriculture at the University of the West Indies in Jamaica. Upon graduation, he obtained a scholarship for graduate studies at DTAIC. "My country does not have the money to conduct in-depth food-related research. The Taiwanese government is very supportive in that regard," remarks Charles, who has lived in Taiwan for 18 years. His research on the cancer-fighting properties of cassava has drawn the attention of multinational pharmaceutical companies, and he has been invited to lecture as a guest professor in Indonesia. Charles, who is not yet forty, is expected to be promoted to full professor soon.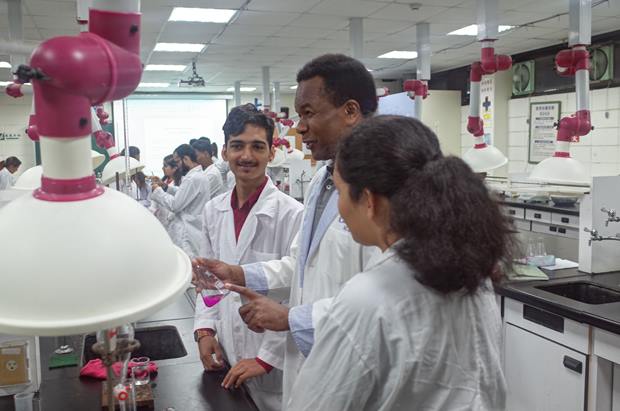 Source: National Pingtung University of Science and Technology
Aside from those DTAIC alumni who remained in Taiwan or returned home to serve as scholars and advance national academic research, there are a few others who have risen to prominence in other areas. Alumni Molengar Ngoundo and Belembaye Tongongar work with the Food and Agriculture Organization (FAO) of the United Nations, Gibson Susumu became agriculture minister of the Federated States of Micronesia, Selwyn Riumana is a member of the national parliament of the Solomon Islands, and Asterio Appi, deputy speaker of the national parliament of Nauru, recently returned to Taiwan to receive the first Global Outstanding International Alumni of Taiwan Award.
More than 400 international students from 46 countries shoulder heavy responsibilities in their jobs, exerting considerable influence in contemporary agriculture.
NPUST Globally Known for Research in Smart Agriculture
How does DTAIC attract so many international students? Several historical and political factors have contributed to this development.
NPUST was founded as the Kaohsiung District Pingtung Extension School of Agriculture in 1924, when Taiwan was under Japanese colonial rule. At the time, National Taiwan University, National Chung Hsing University and National Chiayi University were all listed as focus schools for agricultural development. Over time, the three other universities gradually transformed, and only NPUST stayed true to its founding mission of agricultural research, becoming the main driver of contemporary applied agriculture in Taiwan. Within the field, NPUST developed a main focus in tropical agriculture thanks to its historical track record and natural environment in the humid tropics.
How strong is Taiwan's tropical farming research? Thanks to the foundations laid during the Japanese colonial period, the department was subsequently able to pool resources from specialized agencies under the Cabinet-level Council of Agriculture such as the Taiwan Agricultural Research Institute, several agricultural research and extension stations, and the Fisheries Research Institute, which led to numerous breakthroughs in applied agriculture. Other tropical countries in Southeast Asia, Central and Latin America are learning valuable lessons, for instance, from Taiwan's experience in developing popular fruit varieties such as black pearl wax apple and golden diamond pineapple. DTAIC also ranks among the frontrunners globally in terms of number of papers published per year in tropical agriculture journals and periodicals.
The school is internationally acknowledged as a model student when it comes to scientific achievements in breeding and smart agriculture.
"In Taiwan, agriculture is not a primary sector industry with farmers working in the fields as most people imagine but has already become a high-tech industry," posits Kafle.
Pointing to a beekeeping course that he has recently launched, Kafle notes that beehives can be monitored online round the clock to assess productivity and honey quality. Such smart systems register, for instance, how many trips individual bees make per day, which time slot is the busiest during a day, or which bees are most productive. Beekeepers can thus assess how to breed healthy bees and produce large quantities of highly pure honey. (Read: Traditional Agricultural Knowledge of Taiwan Indigenous People)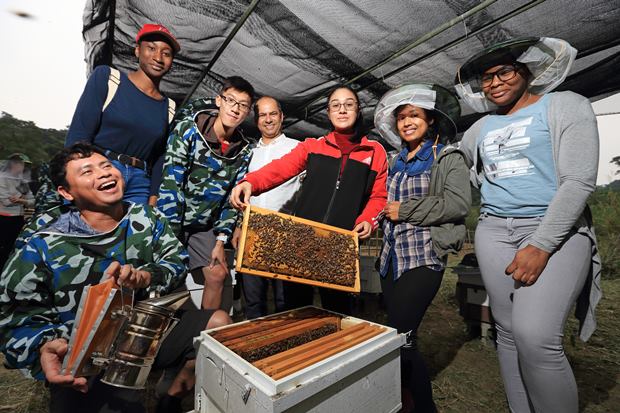 Kafle (in the middle) notes that beehives can be monitored online round the clock to assess productivity and honey quality (Source: Chien-tong Wang)
However, that DTAIC boasts the second highest number of foreign graduate students in Taiwan is not owed to its technological developments alone but can also be attributed to historical and political factors.
An Academic Mainstay that also Serves as Diplomatic Bridgehead
When the international status of the Republic of China on Taiwan became increasingly shaky with China's rise, Taiwan regularly dispatched world-class agricultural missions and fishery technology teams to its diplomatic allies to consolidate bilateral relations. Twenty years ago, NPUST began to cooperate with the International Cooperation and Development Foundation (ICDF), establishing the first international class entirely taught in English, which has meanwhile evolved into DTAIC. "Compared to dispatching technical teams, it makes more sense and is more efficient to invite students from our diplomatic allies to study in Taiwan," says Professor Philip Cheng, who heads DTAIC.
Therefore, the first group of international students came from Taiwan's then diplomatic partners in Central and Latin America, and Africa. Charles arrived from Dominica with the first group of students. But in his second year, Dominica severed diplomatic relations with Taiwan. "Back then, I was agonizing over what to do. Thank God my supervising professor sponsored me to continue my studies and finish my degree in Taiwan," recalls Charles. Upon earning his doctorate, Charles therefore decided to stay in Taiwan to give back to the island and thank his teachers for their support.
Kafle, for his part, had another reason to remain in Taiwan. "I can help Nepal more if I am here," he explains, pointing to Taiwan's much more advanced agricultural technology such as irrigation and monitoring systems.
"Nepal has many farmers but hardly any research resources. By staying here I am building a bridgehead to transfer cutting-edge knowledge and technology to them," notes Kafle.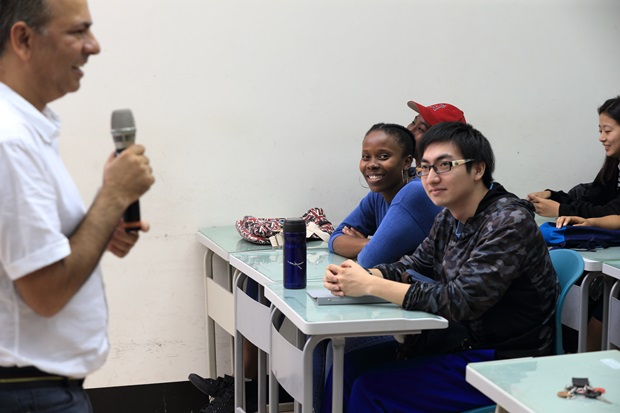 Souce: Chien-tong Wang
"No matter whether they stay here or return to their countries, it is positive for Taiwan," says Cheng.
Outstanding white-collar workers can inject fresh energy into research in Taiwan or serve as executive-level opinion leaders in their home countries. This contributes to maintaining lively private-sector exchanges between Taiwan and these countries. After cutting off diplomatic relations with Taiwan, many countries such as Bangladesh need to rely on unofficial contacts.
"Such academic, civic exchanges are very important for our country, particularly in regard to agriculture, food and other major aspects pertaining to the economy," says Cheng. "When your closest relatives don't recognize you, these people do at least still heed us." After President Tsai Ing-wen took office, promoting the New Southbound Policy, DTAIC also began to look toward Southeast Asia. Meanwhile, the first students from the ten members of the Association of Southeast Asian Nations (ASEAN) have been enrolled.
Teaching Technology and Teaching Culture to Nurture Identification with Taiwan
DTAIC took a cautious approach in its teaching design to ensure that sturdy and stable bridgeheads are built. "When we established the first international class, we demanded that faculty lecture entirely in English, not just using PowerPoint presentations or limiting the use of English to required courses in the major subject; English must be spoken also in general education and physical education courses. We wanted to ensure that the students can truly understand the course content and not just swallow information without digesting it because they don't understand Chinese," Cheng recalls. (Read: Bilingualism in Science and Engineering Education in Taiwan)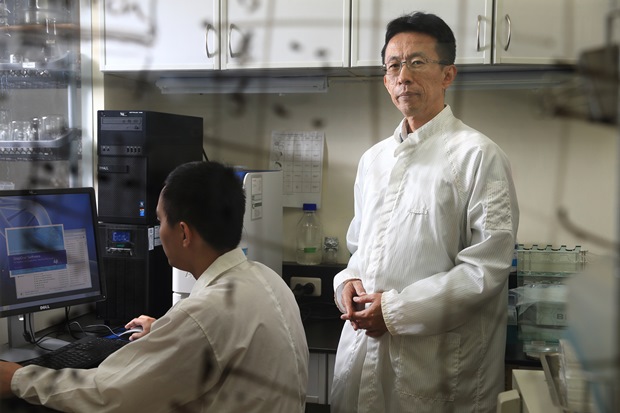 Philip Cheng (Souce: Chien-tong Wang)
Graduate students from so many different countries not only put the department's teaching to the test, but also challenged its ability to practically deal with a myriad of trivial everyday problems. As Taiwan's international class pioneer, NPUST has gained ample experience in assisting students to adjust to life in Taiwan.
"Clothing, food, housing, transportation, education and entertainment...we need to assist them adjust in all fields," notes Li Po-min, biomechatronics engineering professor and dean of the Office of International Affairs. "We have a complete map of where you can buy, for instance, Halal-certified foodstuffs or where Indian-style curry is being sold."
Kafle says he most yearns for his student days when he would cook curries with his friends at the dormitory and get to sample Australian and Middle Eastern home cooking in the process.
The university's Student Counseling Center not only provides English-speaking counselors but also offers appointments in the Vietnamese, Indonesian and Thai languages. The center also holds seminars on legal and cultural issues. "Students from Southeast Asia are not that used to gender awareness and equal rights for men and women as we have them in Taiwan, so we need to guide them to follow local customs," explains Li.
The university encourages local and international students to jointly plan events to celebrate traditional holidays such as Thailand's Songkran celebration, and the three major festivities in Taiwan - Lunar New Year, Dragon Boat Festival and Mid-Autumn Festival. "During the Lunar New Year, I always went home with my roommate to celebrate with his family; it felt like I had a family in Taiwan so I didn't miss Dominica as much," says Charles in recalling his student days.
In the eyes of DTAIC, international student enrollment is not only an educational issue but also pertains to foreign relations and national security. "International students create a kind of link," notes Cheng, echoing the goal that was set when the Institute of Tropical Agriculture, the precursor of DTAIC, was established in 1997. As someone who understands the mission of nurturing international students, Cheng finds it hard to come to terms with the recent scandal over the exploitation of international students as illegal workers. "Taking the wrong path in order to survive affects the international image and relations of entire Taiwan."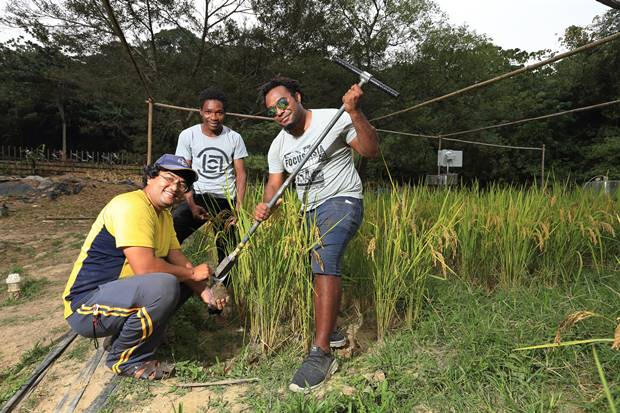 As Taiwan's first university with a dedicated class for international students, NPUST not only caters to the student's educational needs but also helps them adjust to everyday life and culture in Taiwan. (Souce: Chien-tong Wang)
Cheng thinks that the Ministry of Education should not overreact and abandon international classes for fear of irregularities. Strict controls must be guaranteed so that even more international students can come to Taiwan, which would create bridges to even more places around the world.
Lately, the department is preparing to apply for the establishment of Taiwan's first international-level beekeeping research center. Kafle, who is in charge of the project, notes: "Bees are an issue of global dimensions. We know that if there are no bees in the world, many plants won't be able to survive." Aside from observing the bees in the laboratory, students also frequently monitor sensor data, which shows just how technology-driven modern agriculture has become. Kafle hopes to use this project to show off Taiwan's research prowess to the world.
Certain cash-strapped schools might regard international students as a panacea to make up for dwindling student numbers due to the declining birthrate in Taiwan. DTAIC, however, views the enrollment of international students as planting the seeds for highly trained experts and civic diplomacy. Although running international classes well is a costly undertaking due to complex cultural, language and political factors, such engagement pays off in the long term. (Read: The World School Traveling Taiwan)
"Such investment is worthwhile; over time, the seeds that have been sown will sprout and grow," says Cheng.
Translated by Susanne Ganz
Edited by Sharon Tseng