AOpen
Can't Tell Pine Nuts from Peanuts? Taiwanese AI Gives 'Smart Vision'
精華簡文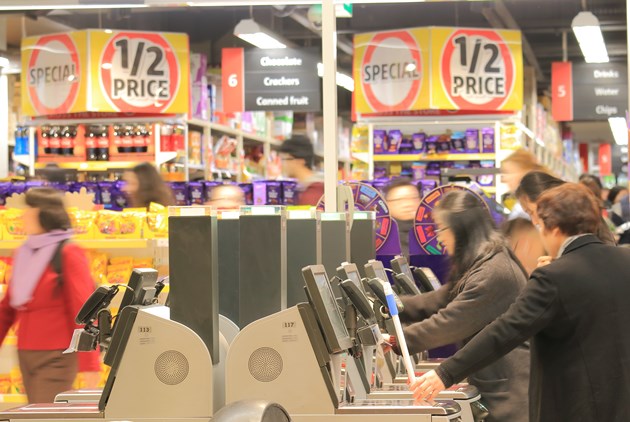 Source:Shutterstock
How did a long-established Taiwanese corporation use AI to rescue one of the top Australian supermarket chains? Coming off six years in the red, AOpen, which built its business on computer peripherals like optical drives and motherboards, made the difficult transition into the AI realm. Following Acer's 2018 acquisition of a majority stake, AOpen moved quickly into the digital signage and visual recognition fields, taking on orders from major US- and Europe-based chains to become Acer's potential-rich ace in the hole.
Can't Tell Pine Nuts from Peanuts? Taiwanese AI Gives 'Smart Vision'
By Elaine Huang
web only


One of Australia's top three supermarkets has been troubled by "nuts" in recent years.

Australians love to eat nuts, and this particular supermarket's display of nuts allows shoppers to scoop nuts, weigh them themselves, and calculate the price for checkout.

When the supermarket went to settle its accounts for the year, it was shocked to find that members of the public often "mistakenly" rang up expensive pine nuts for the price of cheap peanuts. Cumulatively, the supermarket brand, which operates over a thousand outlets throughout Australia, suffered heavy losses in the seeds and nuts product category, with one specialty store recording losses of two million Australian dollars (approximately NT$44.72M) in a single year.

However, in 2018, the installation of a smart scale designed and manufactured in Taiwan immediately helped the supermarket reduce losses by 30 percent.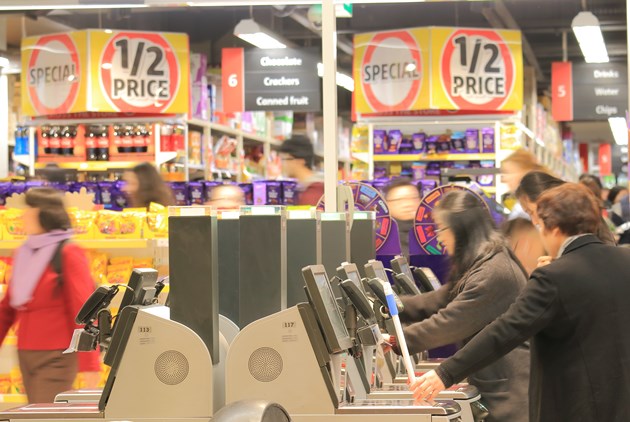 Australian supermarkets increasingly use self checkout counters, raising the need for AI and machine visual recognition. (Source: Shutterstock)
How Did Smart Scales Come About?
Situated between the headquarters of major manufacturers Wistron and Acer, AOpen's offices on the twenty-first floor of Building C in the Acer headquarters complex on Xintai Fifth Road in Xizhi is rather unassuming. Yet it was within these humble surroundings that the creative idea for this smart scale was born.
Founded in 1996, AOpen is an established Taiwanese company. In January of 2018, Acer acquired Wistron's shares to become AOpen's largest shareholder, with more than a 40-percent share, and Acer Chairman Jason Chen taking over as CEO.
Chen presided over AOpen's November 2018 corporate shareholders' meeting. Following numerous consecutive quarters hemorrhaging money, AOpen finally turned a profit in the third quarter of 2018, largely owing to its focus on the chain store market. "Operations are gathering momentum," stated a sanguine Chen at the annual shareholders' meeting.
Chen revealed that AOpen and Acer together won a five-year contract from one of the world's biggest fast-food hamburger chain brands, and joined the object recognition system supply chain for one supermarket chain's smart scales.
Following the delisting of rising VR sector force StarVR, an Acer-invested venture, AOpen, with 300 employees, rocketed to prominence as the biggest dark horse among the Acer Group's holdings.
However, it has not always been easy going for AOpen, as the company has seen its share of ups and downs over the past two decades.
A Venerable Company's Rough Road to Transition
From its beginnings in computer parts and components, to motherboards, optical drives, and mini backbone systems, and later investing in potential-rich digital signage, AOpen has seen market fragmentation get in the way of turning a profit.
One analyst familiar with AOpen observes, "As electronics manufacturing value declined and profits slid, AOpen made efforts to integrate everything from hardware to software and services. However, it never managed to reach maturity, resulting in losses for years on end."
Looking at company annual reports, AOpen recorded losses over consecutive years from 2012, amounting to losses of NT$3.09 per share in 2017. In the effort to stem the bleeding, then parent company Wistron sought to take on a strategic partner, and even went as far as to reduce capitalization by 70 percent to offset its losses.
The trend continued through late 2017, when, after six consecutive years of losses, AOpen finally allowed Acer to sweep in. Jason Chen came in as CEO alongside Dale Tsai, who stayed on as company president. In less than a year, leveraging Acer's global brand status, and existing after-sales service and maintenance channels, the partnership achieved excellent results with numerous chain store brand clients in U.S. and European markets.
Having based its business on the sale of such hardware as optical drives, mainframes, and electronic displays, AOpen's transition to solutions provider relied upon seizing the extensive demands of the conventional retail industry's digital transition.

Key Technology: Machine Vision
"Retail is our largest worldwide business sector," says Lin Ming-hsiang, executive vice president of the AOpen Machine Vision Business Division.
The Machine Vision Business Division is a new business division established by AOpen only recently in 2018, providing customers such solutions as AI, visual recognition technology, and hardware-software integration. Although new, it has become a major focus of promotional efforts for both AOpen and Acer since its establishment.
"This is a division we only just put together this year. Our customers need it, so the (corporate) group puts a lot of stake in it. It affords the group the chance to integrate software and hardware resources, and, given our familiarity with systems integration, the group hopes to leverage our existing resources to work on some projects in the industry," says Lin.
The "smart scale" object recognition system for supermarket chains Chen refers to is the very system that the Australian supermarket chain used to reduce losses by 30 percent. And the AOpen Machine Vision Division was the instrumental force driving it.
"This case consumed a total of two years," chuckles Lin, a veteran of two decades at AOpen.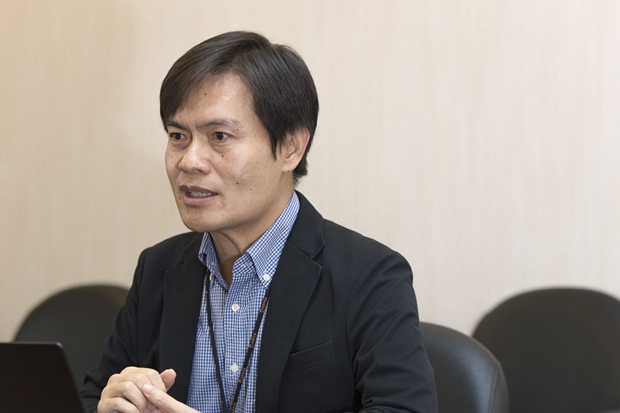 Machine Vision Business Division Vice President Lin Ming-hsiang spent two years working on a smart scale for sale to an Australian supermarket chain. (Photo by Justin Wu)
Two years ago, during a discussion among members of an Australian retail industry association, business owners brought up various pain points that retail operators face. They narrowed them down to two key issues, namely inventory and loss prevention. Loss prevention in particular has become an emerging new challenge for many European and American retail outlets in recent years.
"Due to the manpower cost considerations in advanced countries, many supermarket checkout areas in Europe and North America are staffed by just a few individuals whose role is to assist you with self-checkout, not to help you check out. So customers take the items, scan the barcodes, and run their credit cards to complete their purchases," says Lin.
In Australia, major supermarket chains Coles and Woolworths recorded annual losses of nearly one billion Australian dollars stemming from their self-checkout systems. A survey conducted by Canstar Blue, an Australian consumer advocacy organization, found that the two largest contributors to losses were consumers' deliberate failure to scan item barcodes and selection of only the less expensive items for checkout.
One Australian supermarket chain with over 1,000 outlets, together with a nuts brand it partnered with for many years, approached AOpen seeking help with loss prevention.
The supermarket had adopted a method whereby an area was allotted to the placement of assorted nuts, which customers themselves scooped into plastic bags or cases, to be weighed and rung up. After years of using this arrangement, the supermarket discovered that the nut brand had caused a two-million AUD annual revenue shortfall at a single store.
"The biggest reason was that customers frequently checked out the wrong items," says Lin. "This caused annual losses of two-million Australian dollars - an astounding number."
Supermarkets were keen to fix this problem, yet could not allocate resources to dispatching clerks to oversee and help customers weigh nuts and tally the price. This led AOpen to devise applications for remote cameras, using visual recognition technology to reduce nut merchandise losses. However, given the wide variety of nuts, this would require the assistance of artificial intelligence (AI) to be effective.
Machine Recognition + AI Not Enough
AOpen and the in-country team in Australia started out thinking quite simply: Input data provided by the nut company into the database, and with the help of an "eye" on the scale - actually a digital camera - the first-generation smart scale would be ready to go.
However, upon taking the idea to stores, the team discovered that, although the first-generation machine recognition system adequately recognized nuts with wide variation between them, the combined angle of in-store lighting and the reflective nature of nut packaging made it nearly impossible to identify varieties with smaller differences in size and color.
"You need to appreciate that, unless automatic recognition achieves a success rate of over 90 percent, there's no sense in using it at all," says Huang Ju-fen, general manager of AOpen's channel market integration department, getting right to the biggest challenge to be resolved.
For the second-generation smart scale, AOpen did their homework on such factors as lighting and packaging, as well as camera placement, so as to minimize reflections and glare.
However, this soon led AOpen to consider the bigger picture of one thousand outlets of the supermarket chain across Australia, each with different configurations affecting recognition in different ways.
Finally, by the third generation, following communication between AOpen and the supermarket, the nuts display cases and smart scales were designed together so as to allow control over the nut display cases and lighting environment as a whole.
In addition, AOpen gave further consideration to the placement of the nut displays.
"Over a two-year period we experimented repeatedly; it was a long process. Fortunately, AOpen used to be in the optical drive business, so we had experience with optoelectronics integration," says Lin, recognizing the complexity of integrating the optoelectronics recognition software into the smart scale's overall recognition system.
Ultimately, the supermarket placed AOpen's third-generation smart scales into stores. Having found during the initial testing stage that it reduced losses by 30 percent, it plans to go ahead and introduce the scales to outlets sometime in 2019. News of these plans has given Aopen a huge confidence boost.
Lin also disclosed that the smart scale model used for Australian supermarkets will not just be applied to single products; rather, the company plans to also use them at cosmetics chains in Taiwan. Lin revealed that AOpen is currently conducting testing with a cosmetics store brand.
AOpen Turns Heads at Intel
AOpen's model of applying its solution to retail stores attracted the attention of tech giant Intel, becoming a component of the company's efforts to advance its computer vision solutions ecosystem.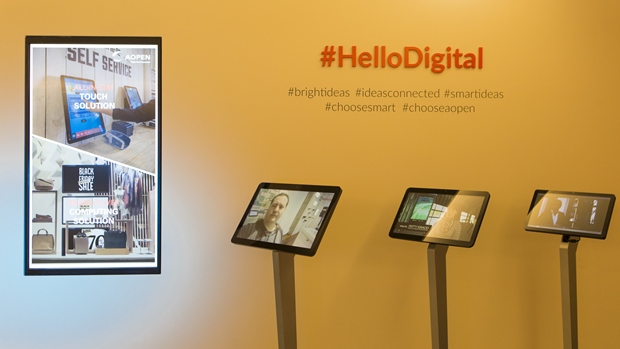 Photo by Justin Wu
As part of its overall Internet of Things (IoT) business strategy in recent years, Intel has also pushed visual accelerators for businesses to use in product design so as to foster the establishment of an industry ecosystem. In addition to environmental controls in manufacturing, "there are also applications in retail, especially with inventory management, helping business operators raise customer purchase rates, as well as the application of smart kiosks," according to an Intel corporate communications statement.
In addition to smart scale recognition system solutions, AOpen has also made major inroads into the chain supermarket space with the incorporation of digital signage.
At the company's November shareholders meeting, Jason Chen shared that AOpen digital signage has been put into place at McDonald's, Kentucky Fried Chicken, and Wendy's fast food chains, and has received orders for over 10,000 restaurants operated by another global fast food chain, which plans to install 20 machines in each branch. AOpen expects to complete delivery and installation globally over the next five years, spanning kiosks for ordering and picking up food, digital signage and menu boards inside restaurants, as well as delivery staff handsets and point-of-sale (POS) machines, all of which are part of a complete system.
"Acer alone was unable to secure big orders from major chain restaurants, as the customers required products with unusual specs. But when it came time to sign the contract, the other side worried that AOpen was too small, and wanted Acer to handle the orders," admits Chen. Thus the partnership between Acer and AOpen is a symbiotic, mutually beneficial model.
AOpen's accumulated experience with over 500 B2B system integration commercial business clients can help Acer, while AOpen can leverage the global brand recognition Acer has built over the years.
A veteran of over two decades at AOpen, Lin admits that the company has had a tough time transitioning over the past decade and more. Today, riding the wave of retail industry digital transition into smart retail, the company is poised for further transformation and growth.
Translated by David Toman
Edited by Sharon Tseng