Nojima Tsuyoshi Column
Tokyo's Kabukicho - City of the Taiwanese
精華簡文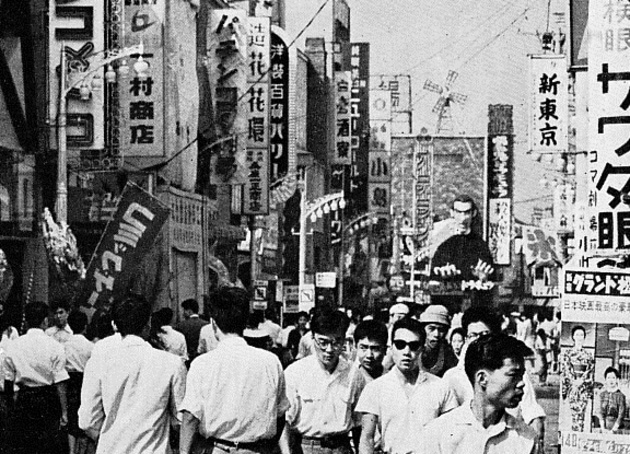 Source:Wikipedia
Who would have thought that three Taiwanese people would be instrumental to the establishment and growth of Japan's number one red light district? Not only is this true, but it points to the considerable role certain Taiwanese quietly played in Japan's overall post-war history.
Tokyo's Kabukicho - City of the Taiwanese
By Nojima Tsuyoshi
web only


Linsen North Road is a section of Taipei dedicated to nightlife expressly for servicing Japanese patrons. Japanese businessmen have even given Linsen North Road a nickname, "Five Woods University", in reference to the five mu or "wood" radicals that comprise the two characters lin 林 and sen 森.

It is not unusual to hear them joking about Japanese people who arrive not knowing any Chinese, but after hanging out in the bars on Linsen North Road, under the tutelage of the hostesses there, they return home to Japan fluent in Chinese. Thus they can claim to have "graduated from Five Woods University."

The closest analog to Linsen North Road in Japan is Tokyo's Kabukicho neighborhood. However, Kabukicho is significantly larger than Linsen North Road.

Unlike Linsen North Road, Kabukicho does not have as expressive a nickname as "Five Woods University." Most people refer to it as "Japan's number one red light district" or Tokyo's "City that Never Sleeps."
But for me, Kabukicho is the "City of Taiwanese" because Taiwanese people played an instrumental role in the establishment and development of the neighborhood.
I learned of all this when I was on a short excursion to the Lin Family Garden, and while in the neighborhood I paid a visit to the nearby Yiwen Library. Yiwen is the first name of Mr. Lin Yi-wen. Many people know him as an overseas Taiwanese representative of Japan, and the library is his prominent contribution to the area in the name of the Wufeng family.
Lin Yi-wen's father left Taiwan for Japan shortly after World War Two, where he became a successful businessman. Although historical documents are not especially prevalent in the library, it is nonetheless the only place in which one can follow the arc of Lin Yi-wen's career. On the surface, Lin was a successful overseas Taiwanese resident of Japan, but he was also "the man who created Kabukicho."
Whether in Japan or back in his ancestral home of Taiwan, this Taiwanese man's contributions to Japan are scarcely known. As it so happens, a book covering this portion of history has recently been published in Japan, entitled The Kabukicho of the Taiwanese, written from interviews with living Taiwanese expatriates in Japan.
The Three Big Overseas Taiwanese of Kabukicho
Shortly after purchasing the book, I became quite busy for six months. But when I began reading it again recently, I found myself completely engrossed, unable to put it down. It turns out that every famous commercial building in Kabukicho was built by a Taiwanese businessman. Just a five-minute walk from Japan's busiest metro station at Shinjuku, Kabukicho acquired its name from the Kabuki theater planned there. Similarly, Kabukicho became known by the nickname "Hanamachi Boulevard" (Hanamahi meaning "geisha district), and the neighboring area became a Taiwanese enclave. From budget hotels and teahouses to Pachinko parlors, business constantly expanded here.
The book also specifically mentions the "three most renowned overseas Chinese of Kabukicho" including Lin Yi-wen.
Lin Yi-wen was instrumental in bringing about the revival of the Moulin Rouge theater on Shinjuku's eastern side, and he played the biggest role in Taiwanese purchasing the land upon which Kabukicho was built, speaking out to fellow Taiwanese, and ultimately forging a Taiwanese enclave in Tokyo. Numerous buildings adjacent to the Koma Theater, located in the heart of Kabukicho, were also Lin's work.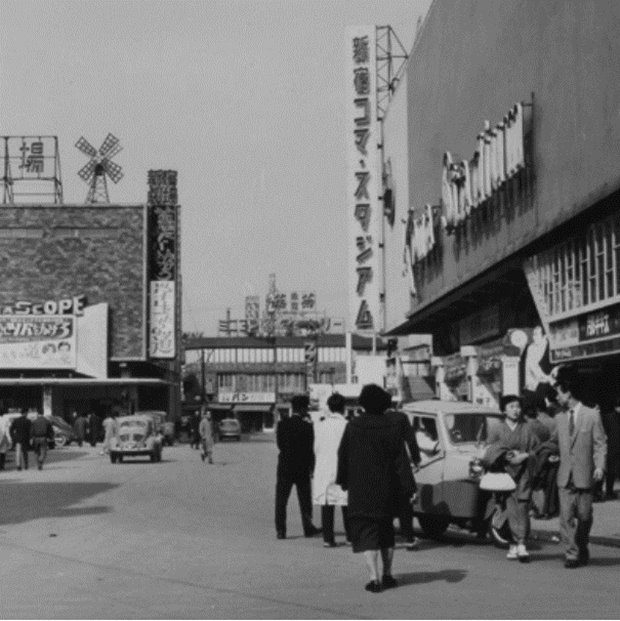 The Kabukicho neighborhood of Tokyo's Shinjuku District, circa 1960. To the left is the Shinjuku Theater built by Lin Yi-wen, and to the right is the Koma Theater. (Source: Wikipedia)
Lin Yi-wen went on to serve as president of the Tokyo Association of Overseas Chinese and president of the Chinese United Union in Japan, moving fluidly among political, business and financial circles. His friend, the late Prime Minister of Japan Takeo Fukuda, once described Lin Yi-wen, standing 1.80 meters tall, as striking an imposing figure, an unshakable force "with the tolerance of the sea, and the power of the mountains."
The two other highly influential Taiwanese figures referenced are Lin Tsai-wang and Lee Ho-chu. Lin Tsai-wang built the Fūrin Kaikan, a Kabukicho landmark that housed countless venues of entertainment, in which underworld gang shootings sometimes took place. He, Lin Yi-wen, and Lee Ho-chu, then an overseas representative in Taiwan's Legislature and owner of the Tokyo Hotel Chinese restaurant, were collectively known as the "Three Overseas Chinese Bigshots of Kabukicho."

Why are Taiwanese in Japan So Low-key?
Still, the trio is barely known among Japanese society in spite of their prolific exploits. Finding related records on them is difficult, and public information is quite scarce, which can largely be attributed to the low-key mode in which Taiwanese in Japan have characteristically operated.
Prior to the war, those born in Taiwan were second-class citizens; after the war, they were regarded as "foreigners," making for interesting distinctions. Further, Taiwanese expatriates in Japan following World War Two were divided into three separate political streams, namely pro-Kuomintang, pro-Communist, or pro-Taiwanese independence. That they were able to maintain a subtle balance amongst themselves is largely due to their keeping a low profile. Still, that is not to say that running establishments of ill repute did not require a certain ability to get along with elements of Japanese society's underbelly like the Yakuza and right-wing forces.
Weighing all the various factors, it is understandable that the Taiwanese of Kabukicho would not be open to media interviews, nor would they actively be interested in writing their own stories.
There was a large influx of Chinese to Kabukicho beginning in the 1990s. Popular author Chi Xingzhou's work The City That Never Sleeps was extremely popular, causing many people to view Kabukicho as "Chinese Street," while the existence of Taiwanese there was slowly forgotten. Still, there are at least 2,000 Taiwanese living in Kabukicho today, and many of the area's buildings remain in the hands of Taiwanese.
Consequently, the publication of the book The Kabukicho of the Taiwanese holds great significance as a chronicle of the active role Taiwanese have played in Japan's history.
The significant role of Taiwanese in post-war Japan actually extends well beyond Kabukicho. Such entertainment figures as Weng Chien-yu, Teresa Teng, and Ouyang Fei Fei have certainly played a prominent role in Japanese popular culture.
Overseas Taiwanese have also contributed greatly to the popularity of Chinese food in Japan. Chen Chien-min, proprietor of the Szechuan Hotel, a restaurant in Tokyo, was born in China, but worked as a chef in both Taipei and Kaohsiung and continues to hold ROC citizenship. Chen has done his part to spread the popularity of Szechuan cuisine in Japan. Osaka 551 Penglai pork bao, quite popular among Japanese, were popularized by Luo Pang-chiang, a native of Chiayi, in the post-war period, quickly becoming one of Osaka's most popular treats.
The topic of "Taiwanese people and post-war Japan" is an alternative post-war history of Japan, providing an inside look at Japan's extensive post-war growth. As participants in this chapter of history are dying off, I hope that Japanese authors like myself and other scholars can continue to unveil the dynamic history of Taiwanese figures across various fields.
More articles from Nojima Tsuyoshi Column
Opinion: Taiwanese Drivers Turn Streets into Warzone
No International Recognition, No State?
Translated by David Toman
Edited by Sharon Tseng