From Factory Owner's Daughter to Rancher's Wife
A Taiwanese Immigrant's Tale from the Last Generation
A Taiwanese Immigrant's Tale from the Last Generation
By Reader's Submission
Opinion@CommonWealth

My father-in-law owned a ranch in his youth. In the 1970s, changes in the government's agricultural policy brought him nearly to ruin. In desperation, my mother-in-law pawned all her most expensive jewelry and got four hundred thousand New Taiwan dollars in cash to bail her husband out.
Afterwards, the couple immigrated from southern Taiwan to Los Angeles with their son and daughter in tow. She was quick to learn and adapted well to her new surroundings. She took care of the new house, as well as the family's daily necessities. She also helped her husband manage his new career as a hotel owner. When they were invited by friends to participate in a local golf tournament, she took a crash course and left with the women's championship.
Taiwan's traditional values placed emphasis on men over women, which meant my mother-in-law did not get a chance to receive higher education. This would become her greatest regret.
As the daughter of a flour factory owner, she met her future husband in the church choir before she even graduated high school. It was love at first sight, but it made quite a scandal for a rich girl to marry a cowherd's son. But they made it through, for better or worse. She could have worked as an accountant, comfortably counting cash in her father's company. She traded it for the life of a rancher's wife, waking every morning in the small hours to go milk the cows.
The cows had to be milked twice a day. She got up at two in the morning to prepare, then milked the cows from three to five. After the cows had gone to sleep, she tidied herself up, woke the kids, made breakfast and lunch for them, and then hustled them off to school.
An experienced farmhand could milk ten cows a day, but she put them all to shame. With her woman's strength, she milked fourteen cows a day. So long as she was around, everyone on the farm worked their tails off, because they could not compare to her even with their best effort.
She loved the fifteen years on the farm, but the hard labor took its toll. When she immigrated to the States, her American dream was simple: "It made me smile to think I no longer had to squeeze udders in the dark!"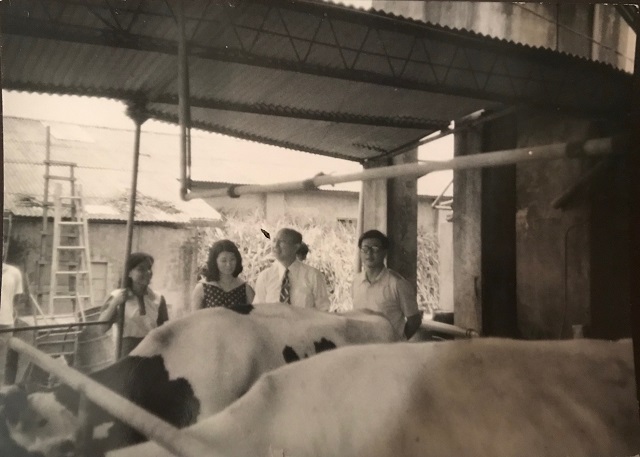 The rancher's wife and her cows (Source: the author)
From Ranch Hand to Chambermaid
In the 1970s, there weren't many Taiwanese-owned hotels in Southern California. Their investment in a motel was not only a way to make money, but also a way for these new immigrants to obtain legal residence status. My father-in-law was advised by friends to purchase a small hotel with twenty rooms near Central Los Angeles. It took care of the family's livelihood and put a roof over their heads. Also, the children could help out around the hotel.
It was hard work running a motel, but you did not need to speak much English, and it was a steady source of income.
It was not a big place, so my father-in-law hired only a manager, and an African-American janitor who was paid by the hour. In order to save operating costs, my mother-in-law pitched in as soon as she returned from her adult school. She was mistaken if she thought moving to America meant she'd escaped hard labor. In the hotel, she scrubbed toilets, cleaned vomit-stained carpets, and mended furniture damaged by drunken guests—all without complaint.
When even that was not enough, she found a garment factory in the center of the city that was looking for a tailor. She drove an hour to attend the interview. As before, she took a crash course in operating a sewing machine and performed so well she landed the job.

Later, her boss took pity on the fact she had to drive her kids to and from school. He allowed her to borrow a sewing machine and work from home, and made arrangements to have someone pick up her finished garments. Just like when she got up in the middle of the night to milk cows, she burned the midnight oil working on her sewing machine in the garage every night, "even if it amounted to earning only five extra bucks!"
Once the money became steady, they sold the original motel and bought a piece of property that was repossessed by the bank from a 7-11 in a nearby city.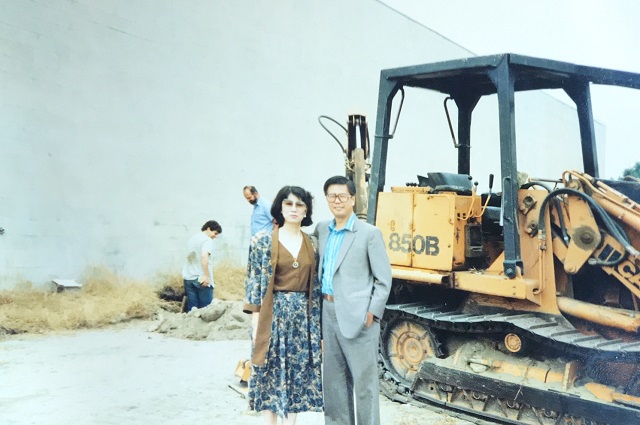 The author's parents-in-law with their hotel being constructed in the background (Source: the author)
On this new patch of earth, they erected a hotel with 43 rooms. The location was near an airport and a large shopping mall, and business came pouring in. This hotel was the foundation of my in-laws' future business. "I felt content when I opened a drawer and saw it was overflowing with cash!"
Lots of their staff were immigrants like them, people struggling to win their share of the American Dream.
Some were old, some young; some were mother and son working as colleagues. Everyone had a story. One woman, named Maggie, was an illegal immigrant who spoke not a word of English, but was referred to work in the hotel by a friend.
"I taught her to count by pointing at each room: one, two, three, four!" My mother-in-law eventually arranged for her to learn English at a local school. Maggie dedicated the best twenty years of her life working at the hotel. Her son and his wife even became my father-in-law's trusted subordinates.
Giving Her All to Support Her Husband
In the 1980s, Taiwan's nascent opposition party began to grow in earnest. My father-in-law was a believer; he often read reports about the "Formosa Magazine Incident" and other pro-democracy movements. He volunteered his hotel as a meeting place for these bold activists. Though my mother-in-law was not into politics, she supported her husband's high-minded ideals, and even prepared meals for such gatherings with her own two hands.
When she looks at old photos, she often laments her best days are behind her. She labored all her life, but now she is comfortably retired, and enjoys nothing more than singing in the church choir.
In the blink of an eye, she has already spent half her life in America. Though her English is still heavily accented, she has long considered Los Angeles to be her true home. This is the story of her immigration: leaving home when she was already middle-aged, settling down in a foreign land with her husband, overcoming hurdles, and building a future for her children. Now, she is a grandmother watching the third generation grow up brave and strong, and she has nothing but gratitude in her heart!
Translated by Jack C.
Edited by Sharon Tseng
---
Opinion@CommonWealth website is a sub-channel of CommonWealth Magazine. Founded in January 2013 with its main focus on social, humanity and policy issues and opinions, Opinion@CommonWealth is dedicated to building a democratic, diverse platform where multi opinions can be presented.
Currently, there are approximately 100 columnists and writers co-contributing on Opinion@CommonWealth to contemplating and exploring Taiwan's future with the Taiwanese society.