Fake News & Press Freedom
In the Era of 'Red Infiltration'
精華簡文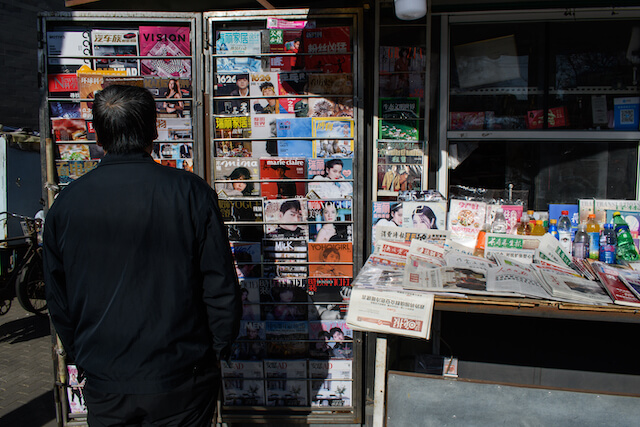 Source:Shutterstock
A cold institution has become a hot topic. What can the National Communications Commission (NCC) do about fake news? Or rather, what should we use the NCC for?
In the Era of 'Red Infiltration'
By Dennis Huang
web only

The Cans and the Cannots of the NCC
First, let's get the facts straight: Behind the establishment of the NCC, the full name of which is the National Communications Commission, were scientific factors (the media industry converging with the communications industry) as well as political factors (media liberalization after the lifting of martial law [in 1987], and political parties, the government and the military being forced to give up their media shareholdings [in 2005]).
The bigger picture included the abolishment of the Publication Law [in 1999] and the scrapping of the Government Information Office [in 2012], whereby the government vowed that it would no longer intervene in media content, and which also constituted an important symbol for the protection of press freedom.
Therefore, the National Communications Commission Organization Act states that the NCC's mission is, among others, "to enforce the Constitution's protection of freedom of speech" and "to protect the media's professionalism and independence." Its statutory tasks are mostly of a technical nature, including legal, engineering and administrative matters, so its main operations do not involve evaluating media content.
Of course, the NCC holds the power to approve and revoke licenses. Given that the "protection of consumer interests" and "maintaining the order of communications competition" count among its duties, it can use relevant laws to supervise television channels and internet and communications providers.
However, due to the NCC's innate character, institutional operations and member composition, it is mainly geared toward the specialist field of broadcasting and communications laws and regulations, not the evaluation and supervision of media content.
Of the seven incumbent committee members, only one is a journalist. Therefore, when fake news and unbalanced media reporting blow up into political issues, which might be partly attributed to a lack of activism on the part of its head, the NCC certainly also faces constraints in terms of resource allocation for its bureaucratic organization.
Presently, television news is drawing the greatest fire, first because of erroneous reporting content, and second for biased political stances.
Erroneous reporting such as the Madou pomelo incident can be dealt with based on broadcasters' obligation to verify facts as stipulated in the Satellite Broadcasting Act. The media can be requested to air a correction and submit an [investigation] report to the regulatory agency for deliberation, and the public can also lodge complaints via the official website of the NCC.
However, we have also seen many incidents of television channels taking a specific political stance. One TV station, for instance, constantly broadcasts news about [Kaohsiung Mayor] Han Kuo-yu, even about the pattern of his handkerchief and the collar of his dress shirt. Another news channel, ignoring even the protests of its own staff, took down an exclusive interview with American Institute in Taiwan (AIT) Chairman James Moriarty in which he stated: "There are obviously attempts by external powers here in Taiwan to try and alter the debate and spread false information, and those are dangerous." The report was completely deleted from the TV channel's official website, and then followed up the next day with the airing of a riposte from China's Taiwan Affairs Office.
Unfortunately, as long as such politically tainted editorial judgment does not violate the fact-checking principle, it does not fall within the NCC's purview but, due to press freedom, belongs into the realm of media self-regulation.
(Electoral news, however, must observe the principle of fairness and justice, which means the media must not favor a specific political party or candidate. During the local elections late last November, the NCC therefore referred the cases of seven news channels to the Central Election Commission for violating the requirement of fair and just reporting stipulated in the Civil Servants Election and Recall Act. The only problem is that it is up to the Central Election Commission to determine whether the broadcasters violated the law, not the NCC.)
In other words, the NCC is able to control "fake news" but cannot control "bad [quality] news."
This is the price we pay for press freedom, and it is also an inevitable compromise given Taiwan's martial law era experience of secret police (aka the Taiwan Garrison Command) controlling the media. Because who knows whether the next person wielding the power to censor news is a good guy or a bad guy.
Are the NCC's Hands Truly Tied?
While this might be the case, this does not mean that the NCC must sit idle and watch while the others play their cards. Instead they can take a more proactive stance:
1. Make complaint statistics easily accessible online: While the NCC's official website features a complaint mechanism, it is not user-friendly. I cannot help but point out that the NCC, given that it is the competent authority for the internet and communications industry, needs to massively overhaul its official website. Be it visual design or user experience, the website must be made easier to navigate, more accessible and focus more on communicating with the public.
Presently, the NCC publishes quarterly broadcasting content supervision reports, but these are downloadable PDF files with text and tables that are not reader-friendly. If the NCC is serious about responsiveness, it could use simple graphs to visualize the number of complaints that have been lodged against news broadcasters and track the resulting fines while also generating grand totals that are made public and proactively announced to generate public pressure.
2. Enlist the support of professional and civic organizations: The NCC should implement internal appeals for a division of labor among commissioners based on specialization to shorten the response time to complaints and address fake news controversies in a straightforward manner to strike while the iron is hot. Should internal resources be insufficient, the NCC can enlist the help of external media supervision groups to establish a fair and just investigation mechanism and prevent administrative procedures or manpower constraints from becoming a pretext for not getting things rolling.
3. Strengthen self-regulation mechanisms: When being questioned in the Legislature, the NCC chairperson admitted that "the self-regulation mechanism of the news broadcasters is out of control" so their news coverage and political standpoints have become unbalanced. Broadcasting laws and regulations stipulate that TV news channels must set up ethics committees that meet regularly and report back to the NCC.
Yet the existing ethics committees have limited effect because they lack power, thus often degrading into a stage for verbal trench warfare among newsroom bosses. So how can self-regulation mechanisms be strengthened? Grassroots employees could be encouraged to participate and make their voices heard, suggestions by ethics committee members could be included in evaluations, and TV ratings should no longer be accepted as an excuse for unbalanced reporting. In any case, we cannot let the TV stations rig the game.
4. Make media finances and personnel structures transparent: The general notion about Taiwanese media is that their ownership is not transparent. TV channels in particular, which occupy frequencies, should publicly disclose their shareholding structure, the background of their management executives, including major shareholders' scope of business, and conflict of interest principles so that the public can monitor and fairly judge them.

Fake News is More a Political Than a Media Issue
As for media ownership transparency, the U.S. Department of Justice has recently launched an effort to enforce the Foreign Agents Registration Act, which strictly requires people who engage in "hidden lobbying" on behalf of foreign governments to register and regularly disclose their activities. The American branch of the China Global Television Network (CGTN), the international arm of China state broadcaster CCTV, also counts among such foreign agents.
Although CGTN vehemently denies it has ties to the Chinese government, it has red lines when it comes to reports about Taiwan, the Uighur minority or Falun Gong. Moreover, CGTN once also broadcast China's official "confession channel" and suppresses footage when the wind dishevels Chinese President Xi Jinping's hair. The New York Times quoted a law professor as comparing the credibility of CGTN's claims of independent reporting with "Pravda claiming to be a health magazine." As pressure from the Department of Justice built on CGTN, its America head and several other employees were recently recalled back to China.

This alerts us to several things: 1. Since fake news is not just a media issue but much more of a political one, the NCC can only solve one aspect of the whole issue. 2. Major powers like the United States have all begun to guard against media control by foreign governments and demand disclosure of political interests behind such media. In comparison, public vigilance in Taiwan is insufficient. 3. It is a great irony that Taiwan once advocated that political parties, the government and the military pull out of the media and prohibited the government and political parties from running media outlets but is not able to prevent agents of foreign governments from gaining control of mass media by trading interests.
If we call attacks by TV broadcasters via the air waves "air warfare," then attacks from troll armies are "street fighting." Last November, the Nikkei Asian Review published an article titled China uses Taiwan as R&D lab to disrupt democracies. Quoting an article by the University of Nottingham's Taiwan Insight, it said that in the run-up to the local elections, China used a combination of tactics to keep President Tsai Ing-wen and the Democratic Progressive Party on the defensive. These included disinformation and trolls to influence online debate and disrupt discourse among Taiwan's electorate as well as inflating the popularity of opposition candidates via online, broadcast and print media.
Is There a Remedy for Fake Social Media Accounts?
In a recent report, Reporters Without Borders concluded that China has sought to expand its influence on media around the world over the past decade. It said China's new media strategy, which involves buying vast amounts of advertising, infiltrating foreign media and employing aggressive practices such as blackmail, disinformation and harassment, pose "a threat to press freedom around the world." The report points out that, while Beijing's propaganda has been targeting Taiwan for decades, it is now using "carefully coordinated and extremely effective disinformation campaigns."
In other words, disinformation has already become the psychological warfare of the Internet age. The Chinese government is currently learning from the Russian experience and exports its tactics to other countries. In November of 2017, I described in an article titled An Alien Invasion? This Time it's from the Kremlin how Russian trolls intervened in the U.S. presidential elections, such as by using large amounts of fake accounts and social media advertising to intensify the propaganda effort. They attacked specific candidates and pretended to support weaker rivals to divide the opposing camp. Zeroing in on sensitive issues and contradictions in American society, they provoked bipartisan strife with incendiary language and even ran Facebook pages in the guise of immigrants and Muslim organizations to spread rumors and hate speech.
Similar phenomena have appeared in Taiwanese online forums. The controversy over issues such as pension reform and same-sex marriage were no doubt caused by the government's failure to fully communicate these policies to the public, but also provided a lever for troll armies to sow discord to endlessly increase the contradictions in Taiwanese society. Some harassment that went nowhere [propaganda-wise] simply provided food for further tirades that polarized opinions in the online community, which the trolls again used to their advantage.
Have you read? More from Dennis Huang column:
♦ Five Keys to Penetrating the Facebook Echo Chamber
♦ What's Driving the New Generation
♦ Giving the World an Unending Dividend
Rather than Scolding Netizens and Journalists, You Could Do This
There are several ways to debunk the current disinformation attacks:
1. The government sets up an online rapid response window that uses data visualization and infographics in various media formats such as video or image messages to counter false information. Information from the government must be accurate and must not be distorted or embellished. At the same time, detailed fact-checking channels must be provided so that citizens can verify information.
2. The news media bring their investigative capability into play. Aside from fact-checking information from the government and the Internet, they can expose how political forces use the media and the web to interfere with democracy, such as when the New York Times investigated the dark inside story behind the Russian troll armies and China's censorship factories. They could, for instance, investigate whether there have been secret moves to systematically pay small eateries for setting their TV sets to a specific channel.
3. Internet users must remain skeptical about online information, just as they must question the veracity of mass media news. Moreover, given that Facebook is suing four Chinese companies for selling fake accounts, we need to first take a reserved attitude regarding comments on news websites and unfamiliar social media accounts. The Russian troll experience tells us that the goal of aggression-saturated internet discourse is not to gain acknowledgement from like-minded people but to stir up domestic public opinion and sow hatred among the people so that rational debate becomes impossible in the Internet. As National Taiwan University sociology Professor Liu hwa-jen observed, the goal of deliberately spread disinformation is not debate but putting up a performance to influence other onlookers and undermine our values for communication in cyberspace.
Of course, Internet users can also shoulder the responsibility for fact-checking key facts, and they can broadcast in netspeak to counter false information. Or they could even return to the offline world to engage in face-to-face communications or, like university students and shop owners, launch their own boycott actions to generate public pressure.
4. Rebuild our information immune system. The current fake news problem is rooted in the failure of our "information immune system." Lo Huei-wen, assistant professor at the Department of Communications Management of Shih-hsin University, writes in an article that netizens' standard reaction to bad quality news is "Who does not learn in school grows up to become a journalist." People blame individuals without squarely noting the political and economic forces behind the media.
This attitude can be exploited by political manipulators because disinformation incidents are attributed to the negligence of a single reporter and not to systematic ideologically motivated control [by the media outlet]. As a result of an atmosphere that tars all journalists with the same brush, the Taiwanese public's trust in journalists has reached a new low. When the audience and readers are no longer willing to differentiate among the news media, this plays into the hands of political forces. When all media are invariably regarded as producing fake news, then politicians can take advantage of the situation to steer public opinion.
In order to rebuild society's information immune system, political parties, professional media, civic groups or individuals must return to the principle of fact-based discourse. Particularly, the new media must earn the public's trust by letting readers and listeners make their own information "white list versus black list" to encourage responsible media and eliminate the problematic ones. Otherwise, we won't be able to effectively resist the fake news onslaught in the long run.
According to statistics by The Economist magazine, only 13 percent of the world's population enjoys true press freedom, with Taiwan counting as a rare model in Asia.
That's something we can be proud of, and it is a democratic asset we must carefully protect. Finding ways to maintain a free and open environment for expression while also preventing hostile countries from taking advantage of Taiwan's freedom and openness to systematically corrupt our news media and web culture will be a difficult, long-term job.
This is not just the NCC's problem; it is everyone's problem.
Translated by Susanne Ganz
Edited by Sharon Tseng
---

Opinion@CommonWealth website is a sub-channel of CommonWealth Magazine. Founded in January 2013 with its main focus on social, humanity and policy issues and opinions, Opinion@CommonWealth is dedicated to building a democratic, diverse platform where multi opinions can be presented.
Currently, there are approximately 100 columnists and writers co-contributing on Opinion@CommonWealth to contemplating and exploring Taiwan's future with the Taiwanese society.