CommonWealth Finance Weekly
Beijing Pressed at Brussels to Open EU Market
精華簡文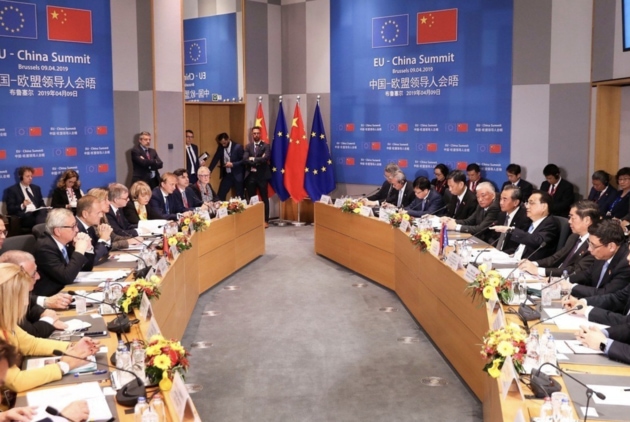 Source:Xinhua News
The 21st EU-China Summit was held in Brussels. If China had hoped to gain European allies in the trade war against the United States, they got a rude awakening. The EU views China as a "systematic rival" and urges Beijing to open its market.
Beijing Pressed at Brussels to Open EU Market
By Brian Chen
web only


The Chinese economy is being besieged from within and without since last year. The trade war with the United States and slowing economic growth are wreaking havoc on employment. This puts China in a weak negotiation position. Perhaps Beijing had hoped to gain European allies to use as leverage against the U.S., but that plan backfired, as well. The EU realigned their Chinese strategy at a summit meeting in late March, recognizing the eastern giant as a "systematic rival." Everything came to a head during the EU-China Summit in Brussels this past week. Controversial issues such as trade and opening the Chinese market were put on the table.

"The EU is looking for an equal relationship with China," said European Council President Donald Tusk during the late March summit meeting. He said both sides should work to guarantee fair competition and equal access to each other's market. The prevalent view among European officials is China is overly protective of its domestic market, and this mindset has resulted in a myriad of unfair trade practices.

European Commission Vice President Jyrki Katainen was even more blunt, stating that the time was gone when China, the second largest economy in the world, could argue it needed to protect its developing economy.
This past week, Chinese Vice Premier Liu He continued to negotiate trade with the United States via video conference, aiming to wrap up unresolved issues from his official visit to Washington earlier this month. Meanwhile, Premier Li Keqiang was deployed to the EU-China Summit to counter mounting pressure from Europe.
China finds itself beset from both sides because its habit of making empty promises about granting access to its market has finally worn out both American and European patience.
Quoting from a draft of the EU's joint statement, foreign media found out ahead of time that the EU planned to issue an ultimatum to Beijing during the summit: serve up a deadline for when the Chinese market will be opened, and provide evidence that the promise of strengthening bilateral trade relations is really being fulfilled.
Have you read? More on EU-China economis and politics:
♦ Xi Jinping is in Europe; Why is Taiwan Worried?
♦ Chinese Capital Welcomed, but with Caveats
♦ China, Europe, U.S.A.-Rearranging the Global Chessboard
Translated by Jack C.
Edited by Sharon Tseng