NTU Plans Innovative Cross-Disciplinary Courses
Chinese Literature Meets Information Engineering
精華簡文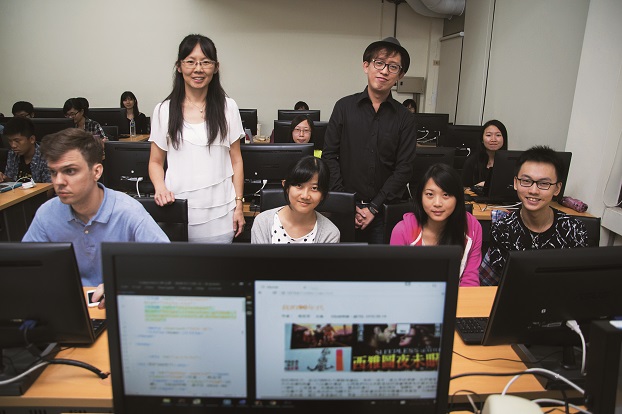 Source:CW
At first glance, Chinese literature and information engineering seem to be worlds apart. Nevertheless, National Taiwan University (NTU) is planning to bridge the gap with an innovative "Computer Science Plus" project.
Chinese Literature Meets Information Engineering
By Jenny Cheng
From CommonWealth Magazine (vol. 610 )


"NTU needs to transform, and, given that students face new challenges, universities must be more flexible," notes Kuo Tei-wei, NTU executive vice president for academics and research, talking animatedly with us about the upcoming changes even as he is busy signing a stack of documents.

Some of the flexibility and transformation Kuo advocates is already reflected in the existing curriculum.

On a Friday afternoon, Chang Yuan-hung, a Ph. D. student with the Department of Computer Science and Information Engineering, gives a lecture about webpage programming, changing font and colors and designing webpage layouts, at the university's Computer and Information Networking Center. Most of the students in his audience come from the Department of Chinese Literature. The students here made it through a selection round from a field of 300 candidates.

Wu Min-min, associate professor at the Department of Chinese Literature, attends the class together with her students. The course titled "Digital Application and Practice of Literature" is taught by faculty from both departments.

Wu's task in the first half of the course is to help students analyze the structure and making of existing literary websites as well as the ideas generated by the texts. In the latter half of the course, Chang shows the students how to use HTML, CSS and other programming languages to design websites and create webpage layouts.

That information engineering and Chinese literature, two academic fields that are widely perceived as worlds apart, have been brought together in this course is not a coincidence. Late last year, NTU launched a Computer Science Plus (CS+) program that marries computer sciences with different liberal arts specialties. The aim is to have students from the Chinese literature department and the College of Social Sciences also learn computer programming languages. To date, only the Department of Chinese Literature has adopted the model of using faculty from other departments to jointly teach cross-disciplinary courses.

Why should students of Chinese literature also be proficient in computer languages?

"In the future, all talent will be digital talent," says civil engineering professor Jessy Kang, who doubles as deputy vice president for academic affairs. Kang believes that the training of so-called software skills should not be limited to IT-related departments since computational thinking should be part of every student's basic skills.

In his eyes, the ideal scheme would start out with Computer Science Zero, a general education type course that builds basic computer science knowledge, followed by CS+ courses for cross-disciplinary specialty knowledge and a final CSx stage, namely internship programs in cooperation with business and industry. Such a program would help solve the problem of overspecialization by moving toward a broader more general education at universities in Taiwan. However, NTU is currently only able to offer courses up to the CS+ stage, Kang points out.

What appears feasible in theory often proves difficult to implement and manage in the real world. Wu and Chang spent more than half a year preparing their joint course that covers many new skills such as 3D printing and webpage design. However, after teaching their course in the first semester of the academic year, they discovered that the students were not able to digest so much new knowledge. Therefore, they decided to devote 80 percent of course hours to programming in the second semester.

In the past, Chinese literature classes focused on the teaching of texts and their analysis. In contrast, information engineering emphasizes practical experience. Therefore, students are asked in their weekly homework to apply the syntax of the computer language that they learned in that week to literary texts.

In contrast to traditional computer programming courses, which begin with the teaching of coding, the new inter-disciplinary course requires students in the first class to use just learned webpage commands in connection with an essay or a contemporary poem. The students must use their own imagination to practice displaying their visual sense and special effects on the computer.

Typical homework would include designing a coding game around a literary story. The goal is that a certain text section changes color for any correctly answered question. "Some people make jokes, while other reflect deeply on the story," notes Wu, who is very pleased about the diverse outcomes of her students' homework.

The initial idea at the core of the new course was enabling Chinese literature students to comprehend the logic behind computer programming. "The students' transformation is not about how good their results look, but that they are able to imagine the different possibilities of telling a story," Wu says. Previously, the students could only rely on more computer-savvy colleagues when it came to digital texts, but now they know how to put their imagination into practice to create more diverse works.

Chang Wen-rong, a first-year Chinese literature student, considers the literary websites she has seen so far as "very stereotypical, and the interaction is very boring as well." She is therefore very keen on learning how to use programming to design more interesting websites.
Embracing Change
The Chinese literature department is not the only one branching out into information engineering; information engineering is also putting out feelers in other industries. In October, the NTU information engineering faculty held a strategic meeting on how computer science departments could adjust to emerging new fields of expertise. They concluded that change is crucial, be it with regard to curriculum design or faculty recruitment.
Chao Kun-mao, chair of the NTU computer science and information engineering department, points out that the university will offer additional new elective courses that combine theory and practice and reflect the latest industry trends. With the new electives, students will be better prepared for work in newer fields such as the Internet of Things, financial technology, information science, virtual reality, augmented reality and deep learning.
As the cross-disciplinary approach is becoming mainstream, obstacles that hinder unlimited studies across departments must also be gradually eliminated. University Without Borders, for instance, is an interdisciplinary NTU project that is not affiliated with any specific department or college. Under this program, students cooperate with the Taipei City Government to address problems in urban development such as transportation, firefighting, community planning and medical care. Students began to pick such courses this semester.
"Where departments are not able to provide certain capabilities, it is us who should come up with solutions," remarks Chan Kuei-yuan, mechanical engineering associate professor and director of academic affairs at NTU's Stanley Wang D-School for innovative design. Modeled after Stanford University's Institute of Design, the D-School employs design thinking to create University Without Borders courses and train innovative talent with interdisciplinary skills.
Facing the Digital Challenge
In a sign of our rapidly changing times, NTU is facing an erosion of the traditional course system. At the end of this year, NTU plans to greenlight major changes in its course system.
Atmospheric sciences chair professor Kuo Hung-chi, who became dean of academic affairs in February, has been working on these plans for half a year. He hopes to break the mold of traditional departmentalized university education to promote a "second specialty" program for NTU students. This means that in the future, NTU degrees will also list different specialties or skills.
These so-called specialties will result from a combination of courses taken at different departments. NTU expects to split all courses into basic, intermediate and advanced level content. In order to obtain special skill qualifications, students will have to earn credits in advanced-level courses at specific departments. These courses will also no longer involve only a single department such as information engineering, finance and economics, mathematics or foreign languages.
Instead, NTU is planning to experiment with mixed specialty offerings such as finance and technology, science and statistics, arts and big data.
"Even now, departments and colleges can't keep up with the pace of change. On the other hand, it is impossible for us to just go ahead and open a big data department simply because it is important," Kuo explains over the phone, talking faster and faster as he explains the reasoning behind his brainchild.
Kuo points out that, in comparison to major/minor, double major or dual degree programs, the specialty concept is very flexible as there is no need to prescribe a set number of basic, intermediate or advanced level courses. In the future, students could feasibly design their own individual combination of different specialties. Such a concept could be applied to all NTU students.
Kuo is, however, rather conservative in his expectations, however, since all these changes involve the relaxation or revision of school regulations and a series of subsequent complementary measures. How far NTU can go will become clearer at the year-end academic affairs meeting.
Change is like an arrow on a bowstring. Even NTU, Taiwan's most prestigious educational institution, has no choice but to set it in motion.
Translated from the Chinese by Susanne Ganz