Meimei Ding
Conquering China's Fashion Realm
精華簡文
Source:CW
Starting in Hungary, DFO International founder Meimei Ding skillfully employed the latest Western fashion business model to boldly take on the China market, establishing herself as a successful entrepreneur bridging Europe and Asia in just two years.
Conquering China's Fashion Realm
By Hsiang-yi Chang
From CommonWealth Magazine (vol. 595 )


It is three days before the start of the 2016 Shanghai Fashion Week at the Sinan Mansions in the city's central Huangpu District, which is notable for its rustic European-style residences.

Well after midnight, several dozen team members from around the world, averaging less than 30 years old, congregate around a Taiwanese woman, who directs them as they expertly check every detail.

Under their scrupulous arrangement, this pleasant and unassuming 1,500-square-meter space has been transformed into a colorful fashion show stage with a distinctive style all its own.

Attired in a neatly tailored dress, Meimei Ding, CEO of DFO International (Danube Fashion Office), China's top B2B fashion showroom, looks entirely too fresh to have just returned from a long-haul flight from Europe.

The term "B2B fashion showroom" refers to the role of agent and intermediary platform between designers and boutiques, department stores and other such retail channels. Not charged with serving consumers directly, it must be firmly in touch with fashion trends, and develop potential-filled designers worldwide, while also having a keen market familiarity to serve as channel operators' eyes and ears, helping them source popular products suited to their style and positioning.

Commonly known as "buyer among buyers," this business model has been practiced for many years across Europe. In China, however, it has only gained currency over the past five or six years. Ding's DFO has only formally taken on the Chinese market in the last two years by way of Hungary. Over this short period, not only has the company established offices in both Budapest and Shanghai, but it acts as an agent for more than 70 European brands, and partners with over 600 sales channels throughout China to make it China's largest such firm.
A Lucky Accident
Within two years, Ding became firmly established in the China market so often described as a place that "everyone says is full of opportunity, but where few actually succeed." How did she do it? Laughing, Ding says "It was just a lucky accident."
To understand how she got there, first we must go back seven years, when Ding, sporting a BA from University of Pennsylvania, and an MA from Central St. Martins College in London, moved to Budapest with her Hungarian husband, whom she met in graduate school.
With extensive work experience at such international and media outfits as STAR TV and Hunan TV, she presumed that finding a job at a foreign-run media company in Hungary would not be a problem.
She never thought that someone with background like hers could end up either over-qualified for local jobs or not having the right language skills to meet the demands of local businesses. But that became her reality, unemployed and unable to find a suitable job for herself.
"I got slapped in the face like few times in my life," Ding recalls. "I thought I knew all about the Western world, but I actually only had a relatively good understanding of the places I'd lived before, namely England and America. Different countries on the European continent each have their own cultural context. Taking language, for instance; many countries' corporations and markets barely use English to communicate domestically, even toward the outside world," she says.
But Ding would not be defeated. Changing course, she decided to start an apparel brand with her husband, an art lover like herself with a degree in design from Central St. Martins College. They decided to adopt the European B2B platform, and successfully made sales to stores in 13 countries.
Ding and her husband sold the brand they founded together in 2010 for a considerable amount of money. However, still feeling the urge to do something else, she set up her own studio based in Budapest, working as an agent to introduce European designers she liked to boutiques she knew well across China, Taiwan and Hong Kong. This formed the basis of what would become DFO. With the profits from the sale of her brand, combined with a stable income from her small studio, Ding was able to live a relatively carefree life, needing to work just three to five hours a day.
"Still, I felt like I could challenge myself more," she says with a chuckle. The more familiar she became with the European and Asian fashion apparel markets, the more her intuition told her that, for someone like her, China offered the greatest potential market. Presented with the opportunity, she went for it.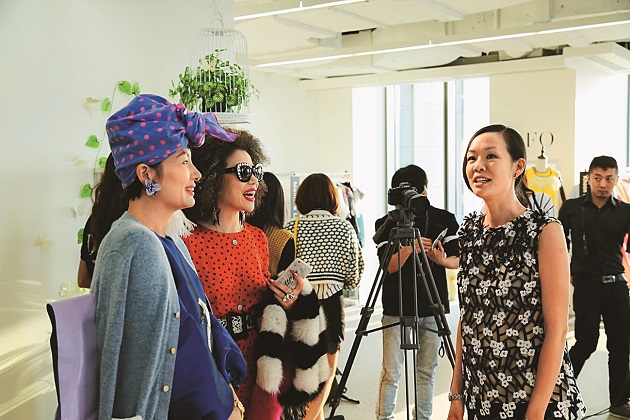 Meimei Ding forged a B2B fashion showroom on her own, making rapid inroads into the Chinese market.
"My weakness is that if I get a new idea, I have to try it out myself, even if it's doomed to fail, and almost no one can stop me," she says. In 2013, Ding sought out Ye Qizheng, a good friend who was working at a famous fashion media company in Shanghai. Together the pair tried two critical things that would later have a great impact on DFO.
First, they engaged a large number of students as part-time workers to conduct blanket street surveys across the main commercial districts of five major Chinese cities, collecting their own "big data" on fashion in China.
"We were shocked to find out that, once you take away major international department stores with full access to avenues for sourcing stock, and mostly low-cost retailers, there were at least 200 boutiques across the five cities with the potential to become our customers," recalls Ye about their initial venture. "We got more and more excited, and I ended up diving in myself."
In Ye's eyes, Ding, who has a good head for business and an enlightened manner, doesn't get caught up in particular apparel styles, yet pays attention to details and has a keen sense for fashion trends. For his part, Ye understands the tastes of Chinese buyers very well.
"I was thinking that this sort of combination is rare in China, and we had an excellent chance," says Ye.
Ding and Ye, now DFO's director of operations for the China market, embarked on their second new venture in early 2014, setting up a DFO Weibo account, starting to promote their business via the DFO website and putting out feelers with potential customers.
"The first month it had practically zero effect, and I was thinking I had probably been too optimistic and naïve. Then a fashion show in Chongqing city happened to find us via our Weibo and contacted us in the second month," Ding recalls. At this, Ding, who happened to be back in Taiwan visiting family, rushed to Chongqing. Ye met her from Shanghai, bearing packages large and small, filled with samples. Little could the pair have known that from this time forward the designer works they displayed would be so well received by buyers, and that DFO's reputation would grow rapidly via China's various fashion media outlets and the company's own Weibo.
"What happened next honestly took me by surprise," relates Ding. Over the next two years, DFO's sales volume showed three-digit growth, and DFO now employs a multinational team of young specialists in Hungary in charge of introducing and representing designers, and developing sales channels across China. Chen Qiuting, a buyer with several boutiques in Shanghai that has worked with DFO since its beginnings, observes: "Meimei and her team are young, but they are willing to take the time to understand our needs. They are able to offer goods with just the right combination of style and reasonable price, so they are like a pair of eyes overseas that we can trust to resolve all sorts of sticky problems for vendors with no time to go abroad themselves. I think that's the key to why she's experiencing more and more success."
A Brilliant Journey
Looking back at her incredible journey, Ding modestly credits it mostly to good luck, stressing that it is too early to call her business a success. "I think the most important thing I've learned from it all is not to worry about whether what you've learned or experienced is useful, because if you find your passion, all your experiences can become important sustenance," she says.
However, she also stresses that she would not be the person she is today if not for the setbacks and hardships she has experienced. For instance, if she had not attended business school in the United States, she would not have cultivated her sensitivity and curiosity toward market trends, nor would she have ever thought to conduct a "blanket style market survey" in China. Further, if she had not gone on to pursue a Master's degree in design in the United Kingdom, she would not have honed her fashion industry and market eye. And if she had not found herself unemployed in Hungary, she may have never ventured into the fashion industry, not to mention having started her own business.
Today, over 90 percent of her multinational DFO team members do not have backgrounds in such directly related disciplines as marketing and business. "Today's global market changes so quickly, and on such a large scale – especially in an emerging market like China's that is not yet stable or mature. Taking the example of fashion apparel sales trends, everyone is learning as they go, and even experts cannot make proclamations with any accuracy," Ding asserts.
In this rapidly changing, competitive atmosphere, attitude is more important than training, be it in entrepreneurship or one's career.
"I encourage Taiwanese youths to work up their courage to step outside of their comfort zone. They don't necessarily have to go out and go abroad, but they should be willing to come in contact with unfamiliar fields and not be afraid of setbacks," says Ding. She adds, "If you do, you'll find that there is always a great and fabulous journey waiting for you up ahead."
Translated from the Chinese by David Toman