Thomas Heatherwick:
Keep Moving Forward
精華簡文
Source:CW
Like his projects, Thomas Heatherwick operates in a world of practical considerations and constraints, relentlessly working to bridge modern cities with the individual need to feel important and productive. Inside Heatherwick Studio, an exhibition at the Taipei Fine Arts Museum through May 15, celebrates and gives insight into the mind behind such projects as the Garden Bridge and the British Pavilion at the 2010 Shanghai World Expo.
Keep Moving Forward
By Yueh-lin Ma
From CommonWealth Magazine (vol. 593 )


How is a nation remembered? In the contemporary pursuit of beauty, creativity and problem-solving, architectural geniuses around the world are like commanders promoting civilization's forward progress. They give people unexpected pleasure and a beautiful life.

Following on the heels of the dandelion design of the British Pavilion at the 2010 Shanghai World Expo, and the petal-like cauldron for the 2012 London Olympics, one of Britain's top minds is now at work designing a new corporate headquarters for Google, with a built-in app-like capacity for constant updates. Thomas Heatherwick, the force behind these big ideas, has brought his exhibition, Inside Heatherwick Studio, to Taipei as part of a larger regional and world tour. It will be open to visitors at the Taipei Fine Arts Museum through May 15.

Both adults and children taking seats in the revolving chairs of various types placed in the square outside the Taipei Fine Arts Museum do not want to get up, seemingly afraid of falling over. In reality, the chairs rotate while safely enveloping them. Like everything Heatherwick Studio designs, from small as furniture and installation art to as large and extensive as architecture, mass rapid transit vehicles, and cityscapes, every work consistently exhibits attention to openness, interactivity, and shaking up set ways of thinking.

The London-based Heatherwick Studio currently employs 180 staff members from such diverse fields as design, architecture, photography, and theater performance, communicating and debating across professions on a non-hierarchical plane. In TFAM Director Lin Ping's words, Heatherwick is "like a consolidator with magic powers."
Giving ideas form
A London native, Heatherwick, 46, studied 3D design and furniture design at Manchester Polytechnic and the Royal College of Art. Immediately upon graduating, at the age of 24 he decided to start a business in the hopes to marry ideas spanning architecture, design, and sculpture, so as to"ask the right questions, to resolve challenges that really need to be faced."
With this mission in mind, the Heatherwick Studio not only looks for new ways to use materials, technology and techniques, but also explores the possibilities of human nature and aesthetics.
Heatherwick admits that he grew up dreaming of becoming an inventor, so that everything he does is an extension of his dreams as a seven year-old. For him, design is "practical, reality," because design is about taking steps to resolve problems.
Heatherwick likes to invest his energies on public spaces where people gather at the macro level promoting civilization's progress. Turned off by the increasing sameness of cities, he says, "We're trying to do something different, to create an atmosphere for cities and streets, because every city should be able to express its personality."
In this exclusive interview, CommonWealth spoke with Thomas Heatherwick about the major design projects he has in the works and the messages he wants to send to society:
---
CommonWealth: We are very honored and excited to have you here again in Taipei. Please tell us about your world studio tour, which places you will be visiting, and the purpose behind it.
Heatherwick: Among many reasons, at the most selfish level an exhibition makes you step back and look at your own work in a different way. Working with Kate Goodwin, who is one of the best architectural curators in the world, was a luxury. She could look through our archives and make connections that we would never make ourselves, and then interpret them. I am very interested in how work communicates, and she is very interested in looking in more depth at why work is created and what it is for. We had some very interesting discussions together.
I also know that when I was little I saw very few places or exhibitions that glued together the different aspects being expressed. There was a Crafts Council in Britain that hosted events where you could see different objects made by crafts people, and you could go to the Architectural Association and see drawings of buildings… but it was hard to understand what the buildings were. And you could also go to an art gallery and see art exhibitions, but they were all very separate. I was interested in how they seemed to me to all be aspects of the same thing. So the work that my studio has been doing has been trying not to see these as separate efforts, but all as one mode of thinking and working.
So I suppose I hope that the exhibition, and with the British Council's support for showing my work, that it will encourage the "little me's" of the future that you can do things. There is a lot of pessimism and cynicism that contends that the world will stop you from doing things, and my experience is that we all want special things to happen. We're trying to do that with my studio, and I hope that it encourages others to maintain their determination and keep trying. Because occasionally it's possible to make a difference with what you do.
The final reason is my dream to do a project here in Taiwan. At the moment there's nothing in the works, but I'm hoping the exhibition may lead to interesting discussions and meeting people, so that if one day there were a possibility for such a project I would snap it up. I don't know if there are any property developers, or city officials or mayors – the kinds of people that become clients and commission things to happen – I don't know if they attend shows like this.
CW: What people have you met during this exhibition tour that have made an impression on you?
Heatherwick: I've enjoyed seeing the reactions of people looking around the show, and feeling that people can understand it. When I was little, so often it was difficult to understand shows about architecture. And they celebrated drawings, but you couldn't really imagine how that would become a real building. So at the simplest level, I'd like for people to go around and understand what's being shown. I think Kate is very skilled about how to show things, and as the designers of the exhibition working with her curatorial vision we tried to make it so an eight-year-old or an 80-year-old could understand it. So far it has been the show, and feeling that it can work for both adults and children – I don't see any difference, myself.
CW: What have you found most intrigues people about this exhibition?
Heatherwick: Have you had a look around?
CW: Yes
Heatherwick: The exhibition has been in China, and Singapore, and now here (at the Taipei Fine Arts Museum), and even though it was now six years ago the British Pavilion (at the 2010 World Expo in Shanghai) seems like it's still in people's minds. It's very moving to find that people still remember that, and that's exciting and encourages me. I'm very interested in how people react to my projects, so watching how they respond and what they remember and what they say keeps me going forward and pushes me to believe that things are possible even more.
CW: Even with all your success you still need this kind of encouragement.
Heatherwick: Yeah, yeah!
CW: Great designers all seem to have their own empires, which I imagine could make them believe they are capable of doing anything.
Heatherwick: Every project is a collaboration with your clients, and I'm never allowed to do anything I want. Never.
Because architecture is so expensive. So everyone's always worried, and you have to justify everything amidst so many questions. This means you're always going back to zero and having to show and explain, and provide logic and test your own logic. And if your idea is weak, you have to go back and re-do your idea. After all, no one is a fool about spending money, and I think that's a healthy process.
CW: Your new project is a collaboration with Mr. Bjarke Ingels for the Googleplex project. Your stated goal of creating a new sort of workplace is very ambitious. So what in your mind is the most important issue as you take on this project?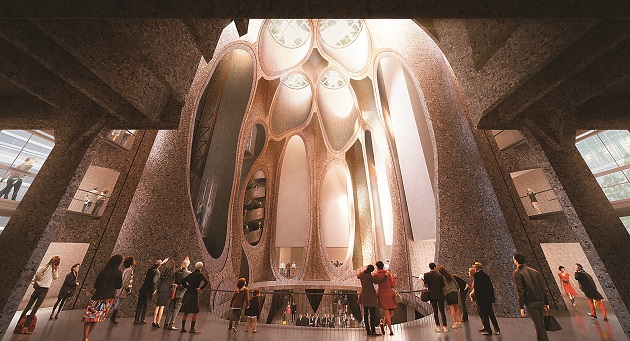 For his transformation of the V&A Museum in Cape Town, South Africa, Thomas Heatherwick made transverse cuts in cylindrical concret silos and opened up the space to natural light from above to give the Zeitz MOCCA art museum its distinctive atmosphere.
Heatherwick: As you say, it is a very difficult project to make a working environment to replace what exists at the moment. At the moment they (Google) are in a series of old buildings – dating from the 1970s and 80s – which were not designed for this kind of use. They might not get much daylight, and it is surrounding by parking; there are cars everywhere, and a lot of the area is quite horrible. But it could be beautiful, because it's right next to the (San Francisco) Bay. So it's interesting to make buildings that are more efficient, but at the same time the risk with big buildings is that they stop you from feeling special. Because if you look around and see 3,000 other people, you feel like you're just a tiny person and it doesn't matter if you die in the corner, because there's all these other people around.
So how do you design an environment? Humans need to feel special. We are all special, and if your environment reminds you that you're not, and that there are actually millions of other people and you don't really matter, then how do you contain each person and make an environment that has the human scale at the same time it has the efficiency of the larger scale. So that's what interests me. Not 'How do I make a flashy building?' but 'How do I make it human?'
CW: What are the key challenges to achieving the objective of making people feel special in their environment?
Heatherwick: The main thing is allowing people to feel facilitated to work well. Also, it is important to make a piece of town; the Google office isn't a private office away from the world. What interested me was, you or I, when we go to Mountainview (California, the seat of Google headquarters), will be able to walk through some of these buildings ourselves. So they're very public. And that excites me. Because it's not just a private fantasy world, but part of a town. I feel a responsibility that we're making a town, and we're making individual work spaces. So it's public, and also a private company. Those aspects all meet together here.
CW: Can you share something about the process behind the Garden Bridge project? I saw it in London in 2013 when it was just getting started. How is it going?
Heatherwick: In the three years since you've seen the project a charity has been created, which has raised 145 million pounds.
CW: Is that enough for the project?
Heatherwick: It's enough to start construction. The entire project will cost 175 million pounds, and most big projects like this will start before they have all the funding, because then everyone knows about it, and once construction gets underway it will inspire the other fundraising. People always wonder if a project is actually happening or not. Construction begins in about three months' time. It's going to be very exciting.
There's been a sort of political process of trying to bring people together, and like in any democracy, in any public project, there's always concerns. But more people want it to happen than don't want it to happen.
CW: Why?
Heatherwick: Maybe it has something to do with NIMBY, or the "Not In My Back Yard" attitude. Very often people will be rational about something when it's in a public place, but when it's in your own back yard people become a little bit less objective. But it's a free garden that will be open longer than any of the royal parks in London. So it's exciting, and we're now in the last phases of deciding the details on it. Plants have been selected from all over Britain to go in it, and a contractor has been commissioned for the construction. So it's all about to kick off, and it will be finished by the end of 2018.
Translation and transcription by David Toman