Giant Manufacturing Co.
The Future Determines the Present
精華簡文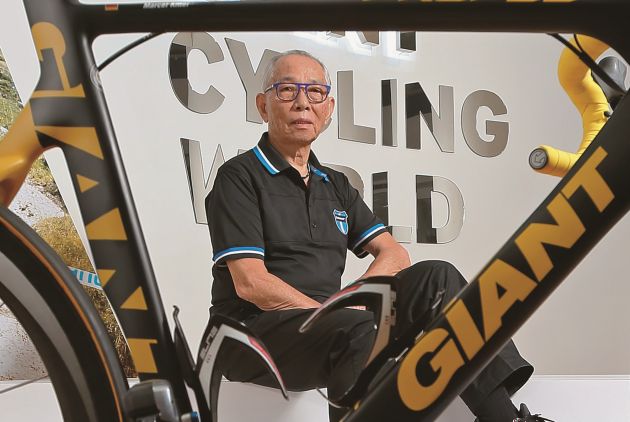 Source:Chien-Tong Wang
Giant Manufacturing founder and chairman King Liu has been instrumental in leading the global cycling lifestyle trend. Liu believes that if you want to win you have to anticipate trends before others, and never let the present affect your thinking about the future.
The Future Determines the Present
By Kuo-Chen Lu
From CommonWealth Magazine (vol. 609 )


Sitting at his company's headquarters at 19 Shunfan Road in the Taichung suburb of Dajia, Giant Manufacturing Chairman King Liu personally confirms that this will be the final time he will earn the [CommonWealth Most Admired Company Award] in the capacity of company chairman. He plans to pass the baton to a successor at year's end.

Over the past 44 years, King Liu has overseen the Giant Bicycle Group through six major reforms, helping the company become the highest-earning bicycle enterprise in the world. He was instrumental in setting up the A-Team to elevate Taiwan's bicycle industry, in calling for the creation of bike paths throughout Taiwan, and providing the world's highest standard bicycles to serve Taiwan's YouBike public bicycle system. YouBikes have changed the way the Taiwanese public rides bicycles, even creating a new bicycle culture.

"Taiwan has become a world capital of cycling fashion, capable of leading trends," Liu asserts.

From manufacturing products to elevating culture and fashion, Giant Bicycle's achievements even brought the Toyota Group, the world's largest automobile company, to Taiwan to study how Giant came up with all these initiatives, and how it expanded its scope from manufacturing to fashioning a cycling lifestyle.

At the same time, a number of Japanese prefectures, including Ehime, Hiroshima, Miyagi, and Shiga, invited King Liu to come cycling to help promote local tourism.

Tsuyoshi Nojima, author of The Giant with Silver Wheels, credits Liu's push to elevate the cycling culture for Japan's development of the Shimanami Kaido bikeway – the country's most beautiful bike route. It stretches 70 kilometers and spans six islands from Hiroshima Prefecture on Honshu to Ehime Prefecture in Shikoku, making it possible to island hop by bicycle along the Seto Inland Sea National Park. The bikeway, which follows an expressway lined with dedicated bike lanes, has gone far in promoting cycling tourism in Japan.

"Japanese people adore King Liu," offers Nojima.

Ying-Ming Yang, chairman of Kenda Rubber Industrial, Co., who cycled the Shimanami Kaido bikeway with Liu, opines that this means Taiwan not only exports bicycles, but is even capable of exporting cycling fashion and culture.
A Voracious Reader
What makes Giant able to accomplish these things? Liu puts it this way: at Giant, they try to do things based on the logic of "the future determining the present."
Giant employees challenged Liu on the concept, wondering, "Chairman, how do you know what the future will be like, when even economists and fortune tellers do not know what is going to happen on a given date?" But Liu ended up making the concept a core part of Giant's thinking.
"We can't consider what happens in the future based on what we're doing today. The present is the past's future, so how can you determine it based on the past. Instead, strategy must be tied together with the future," he says.
The question thus arises, how do you approach future events? Pausing, Liu summarily called for special assistant Chen Chun-hung to fetch him a book from his office, remembering exactly where it was on the bookshelf. Extensive reading is his secret weapon in keeping abreast with the industry trends and to get a glimpse into the future.
Quoting a Chinese poem by Su Dongpo, he recites, "When the river water warms in spring, the duck is first to know." The Giant team aspires to be a visionary, readily eyeing trends, and poring over vast amounts of diverse information to grasp things before others.
Knowing before others and having more confidence than others are the keys to winning.
Returning to Toyota's question, how has Giant elevated Taiwan's cycling culture to become a promoter of the shared cycling economy?
As it turns out, Liu suggested that the government construct bikeways and actively promoted cycling culture back when Lee Teng-hui was president [Lee served as President from January 1988 through May 2000], so he is not a Johnny come lately by any stretch of the imagination. Nor can such an enterprise be accomplished overnight; in fact, Liu had the future in mind back then.
Kenda's Yang says it was Liu who encouraged everyone to steadily bring the future into focus on two wheels, citing for example his leadership in promoting round-the-island circumnavigation of Taiwan by bike.
Prepare for Crises in Good Times
Constantly reforming and thinking about the future, Liu chose this juncture in time to pass the mantle, to promote the Giant Group's sixth wave of reforms and hand over the chairman's position to the younger generation.
He has overseen Giant's progression from OEM contract manufacturer to original brand manufacturer and ultimately ascending to become the highest grossing bicycle company in the world. Like a cyclist going with the wind, the ride has been smooth and the weather ideal, lulling company staff into believing that the company will achieve growth every year. That has led to limited crisis awareness and diminished attention to potential threats.
"They only see the chairman in good times, not the bad times!" Liu quips. "The boss's trials and tribulations are often invisible to people at the lower levels. Whenever I've anticipated trouble ahead I've thought of everything to make it easier for [people at lower levels] so they could concentrate on doing a good job. They didn't have to face adversity, and even if they did it fell upon their superiors to handle it."
With the time for making critical decisions at critical times now at hand, Liu's mind is occupied with corporate succession for the next century. People have asked him, given his good health condition, why hand over the reins?
"If you're going to have a baby you should do it when you're in peak health; if you're old and feeble, you won't have a healthy baby," Liu says.
Giving thought to crises when the sailing is smooth, business moguls need to activate the succession mechanism while they are healthy to ensure seamless transition and minimize damage. The later they hand over power, the harder it is for young people to take command, and that is not fair to young successors, Liu contends.
This past May, Liu took a cycling tour of Lake Biwa in Shiga, Japan with Giant chief executive Tony Lo and Giant China president Young Liu, his son. This rare appearance of Young Liu at his father's side was widely seen as paving the way for a father-to-son succession at the company.
In addition, Giant's sixth company reform broke through the customary corporate linear organizational structure, opting instead for a functional structure (an organization based on job functions).
Under the structure, each department has a function chief, such as sales function chief, manufacturing function chief, and information function chief. In the past, every department reported directly above itself, lacking lateral cooperation. Consequently, Liu discarded the linear operations model in favor of functional organization to give each department autonomy, allowing them to cooperate laterally and make their own decisions without having to report to superiors about every last thing.
With the biggest reforms at Giant in over 44 years now underway, Liu has stepped back from the front lines of company operations and transitioned to a supporting role behind the scenes as company founder and chairman. Plans are even underway for the company to move its headquarters from Dajia's Shunfan Road to new facilities in the fifth phase of the Central Taiwan Science Park in Taichung.
In essence, the only thing that remains the same is Liu's adherence to his "1-3-3-0" cycling principles (namely, cycle three times each week, for 30 minutes each time). Looking ahead, he wants to keep serving as an evangelist promoting the elevation of Taiwan's cycling industry and culture for as long as he lives.
Translated from the Chinese by David Toman