From 'Made in China' to 'Owned By China'
The Insidious Spread of Red Wealth
精華簡文
Source:CW
Chinese capital is pervasive in Taiwan, much of it entering the country through legal loopholes to steal technology and poach talent. Is there any way Taiwan can manage this onslaught of "red wealth?"
The Insidious Spread of Red Wealth
By Kuo-chen Lu, Kwangyin Liu, Patty Yen
From CommonWealth Magazine (vol. 594 )


It's no longer a figment of the imagination but a fact of life for the average Taiwanese. Chinese capital is everywhere.

Going to work in the morning may mean taking an electric bus built by SAIC Motor Corporation or BYDx Company. Of the games played on the bus to kill time, 90 percent are developed by Chinese companies. If you look up into the distance at Yangmingshan – the mountain that towers above the Taipei basin – you may see Chinese-built towers inhabited by wealthy Chinese entrepreneurs.

Go out for dinner and the choices may be Chinese-invested duck, hot pot or Yangzhou cuisine restaurants. Want to relax after a long day? The Fuji massage chairs and sofas that have been a domestic institution for 22 years are now the property of Chinese investors. And when it comes to doing the laundry, the Taiwanese Magic Amah brand detergent that has been a fixture in local households for 30 years has been bought out by Chinese interests. Perhaps hardest to imagine, Chinese investors even have a stake in the government's wastewater treatment projects.
Conquered by a Renminbi Invasion
This has all happened in just over six years, since July 2009 when the government opened Taiwan to Chinese investment (in specific investment categories listed by the Investment Commission). Chinese capital has been invested legally in electric car manufacturing and the restaurant business or to buy well-established detergent or massage chair brands.
But Chinese investors have also used illegal proxies or shell companies set up in third countries to operate mobile game companies or develop property in Taiwan and engage in stealing technology, poaching talent and evading taxes.
So why have Chinese investors been able to circumvent strict investment reviews to "buy up" the daily life of the average Taiwanese?
In fact, it is a problem that goes beyond Taiwan and has become an international phenomenon and challenge.
The once ubiquitous "Made in China" trend – where China became the world's factory and snatched global manufacturing jobs away from others – has evolved into "Owned by China" – where deep-pocketed Chinese investors gobble up companies at a frenetic pace.
In 2013, Chinese overseas investment exceeded US$100 billion for the first time, firmly establishing it as the third biggest exporter of capital behind only the United States and Japan. And that number is on the rise. In the first three months alone of 2016, China's investment overseas totaled US$80 billion, according to an estimate by Thomson Reuters.
This Chinese capital tsunami has engulfed the world, from the United States and Europe to all corners of the globe, sweeping up important corporations and major landmarks, and Taiwan has inevitably been caught up in this unprecedented wave.
Chinese investment in Taiwan has totaled US$1.45 billion to date (about NT$47 billion) based on approved investment by Taiwan's Investment Commission, though the figure does not reflect investment that was later pulled out or reduced. On an annual basis, Chinese investment rose from US$37 million in 2009 to a peak of US$349 million in 2013.
Investment from China fell off in 2015 to US$244 million, but that was still the seventh highest by any country, surpassing that of the United States.
As Chinese capital has been acquiring global companies, technology and brands, China has quietly become the biggest foreign thief of Taiwanese enterprises' technology.
After a careful investigation, CommonWealth Magazine has uncovered the extent to which Chinese capital has illegally snuck into Taiwan through channels that skirt the law and permeated the lives of all who live here. Investment has also entered through legal norms that are being inconsistently applied and managed and encourage Chinese investors to use indirect approaches that end up contrary to Taiwan's own interests. Our analysis has revealed six systematic problems that have arisen in trying to cope with Chinese investment.
Problem No. 1:
Covering Up Investor Identity
CommonWealth Magazine discovered that Beijing's biggest state-owned enterprise, Beijing Enterprises Holdings Ltd., has invested in Yuan-Jong Port in Kaohsiung's Nanzih District, just a stone's throw away from the country's major naval base in Zuoying. But Kaohsiung officials were unaware that their wastewater treatment facility had been "acquired" by this Beijing monolith.
According to Taiwanese law, Chinese investors are allowed to put their money into sewer projects and wastewater treatment plants, but they still prefer to hide their identity when engaging in this field, still considered sensitive by many local governments.
"It was only after you (CommonWealth Magazine) gave me the information that I started looking into it. Before last week, we didn't know about it because our contract did not cover this area (Chinese investment). In our view, this is a pretty serious problem," says Tsai Chang-jhan, the director-general of the Kaohsiung Water Resources Bureau.
What exactly is the problem? To Tsai, it is the potential risk of giving China access to the city's BOT (build-operate-transfer) sewer project, which involves a lot of piping.
"(Chinese investors) indeed will have a large amount of information about our underground piping system, including major public piping systems, Taipower and Taiwan Water pipelines, and important oil pipelines. The project guidelines note that the drawings are limited to use for design and engineering purposes, but once they are sent out, they can be seen by others," Tsai says.
"If they were used to paralyze Kaohsiung's fuel and electricity systems or poison the city's water, what could we do?" worries one city official.
The participation of Chinese capital could also be hurting emerging Taiwanese enterprises because Kaohsiung authorities have leaned toward supporting local businesses in fields related to water resources.
Water resources are being aggressively developed by advanced countries everywhere, and they try to give priority to local vendors and businesses, Tsai says. That's why for an upcoming NT$3 billion tender for a wastewater recycling project in Fengshan District's wastewater treatment plant, Tsai said he will remind the review committee to be sure that there is no Chinese investment behind any of the bids.
Kaohsiung's opposition to the participation of Chinese capital in the water recycling project explains why Chinese investors try to hide their identities. Under the government's investment regulations, half of all service sectors remain closed to Chinese investment, and significant restrictions exist on Chinese participation in government projects or procurements.
Local authorities can also impose technical barriers to Chinese capital at their own discretion, including in fields such as wastewater treatment where Chinese investment is legal, so Chinese investors cover up their identities to get around the restrictions.
The question remains why Tsai was not aware that a Beijing company was involved in a city wastewater treatment plant project? Beijing Enterprises Holdings made it hard by using a labyrinthine series of investments rather than getting directly involved in BOT wastewater projects in Nanzih or Luodong in Yilan County.
The Beijing company first invested in Hejing Enterprise Co. (鶴京公司), a subsidiary of Taipei-based Rich Development Inc., then used the affiliate to buy a stake in Forest Water Environmental Engineering Co. (山林水環境工程股份有限公司), through which it obtained a stake in the companies that won the rights to the two BOT contracts, Green Forest Company Development Enterprise Co. (綠山林開發事業股份有限公司) and East Forest Development Enterprise Corp. (東山林開發事業股份有限公司).

Through these multiple transactions, Beijing Enterprises Holdings' stake in the two companies that won BOT contracts was held to below 30 percent, enabling it to be involved in the projects that served 500,000 local residents by maintaining a Taiwanese identity.
The driving force behind the deal on the Chinese side was Lei Zhengang, the former chairman of Beijing Enterprises Holdings affiliate Beijing Holdings Ltd. When Lei returned to Beijing after completing the deals, he declared with great fanfare that the company had "acquired" the wastewater BOT projects in Nanzih and Yilan. The use of the term "acquire" surprised and confused Kaohsiung officials.
"The Chinese investor really exaggerated, describing the purchase of a stake as a wholesale acquisition," Tsai says.
Wu Jen-chieh, the general manager of Forest Water Environmental Engineering who is in charge of overseeing the Nanzih and Luodong BOT projects, was also taken aback.
"When I saw the word 'acquire' I was quite surprised, because Beijing Enterprises' shareholdings don't reach the legally mandated percentage, and Beijing Enterprises is not at all involved in the operations of the business. It simply acts as a happy investor," Wu says.
Because of the Chinese investment, Forest Water Environmental Engineering was able to sign a letter of intent with Beijing Enterprises Holdings to participate in wastewater projects in China, essentially trading access to Taiwanese projects for admission to the Chinese market.
The Chinese side's interest goes beyond the projects in Nanzih and Luodong. Taiwan is building many wastewater treatment plants and sewer systems around the country, including in Zhongli District in Taoyuan. With water an increasingly scarce commodity in Taiwan, water recycling has emerged as an important commercial battleground, and more than 30 local governments could undertake recycling projects.
That represents a huge emerging market for domestic vendors, while for Chinese businesses Taiwan is an important step in their process of internationalization.
Problem No. 2:
Forcing Investors Underground
How big a stake in a company do Chinese investors have to have before it can be considered Chinese? Investment Commission executive secretary Emile Chang said that if the Chinese stake in a company is below 30 percent, it is not subject to restrictions.
In other words, if their holdings remain below 30 percent of a company's shares, Chinese investors can participate in Taiwan's public infrastructure projects or sectors normally not open to Chinese investment without anybody finding out.
The government may be worried about the perception of society, which is fearful of Chinese dominance of Taiwan's economy, but it has also forced vendors who operate openly to go underground. Kaohsiung approved the Beijing Enterprises Holdings BOT project, but in a similar case Taoyuan blocked Yunnan Water Investment Co. from investing in the water treatment field on the grounds that "sewers involve national security."
Lin Chiang-ya (林江涯), the chairman of Yunnan Water's Taiwan subsidiary that participated in the tender, held up in dismay the Taoyuan city government's official response to the company's bid at his office on Chengde Rd. in Taipei. He said he regretted believing the government and its stated investment policy rather than setting up the company through a third territory and packaging it as a Hong Kong-invested enterprise to participate in the Zhongli sewer system BOT tender. In the end, his bid was cast aside, and his only recourse has been to file an administrative complaint against the government.
"In talking about this, I'm really kicking myself," Lin says. "Yunnan Water asked me at the time if we should use a Hong Kong identity to establish the company, because it is listed in Hong Kong and not in Yunnan. But I told them that the government has opened up (to Chinese investment) and we should openly register Yunnan Water as our parent company."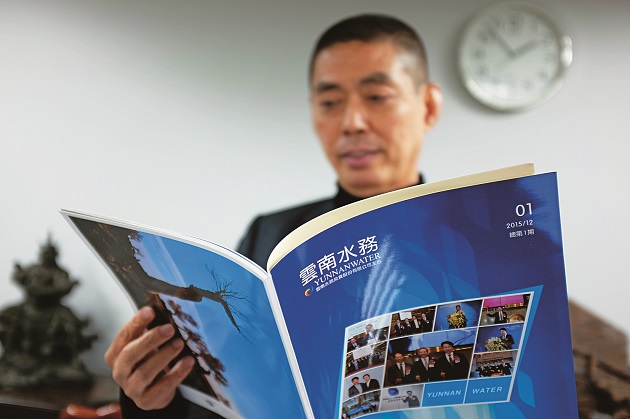 When the government opened BOT sewer projects to Chinese investment, Lin Chiang ya, the chairman of Yunnan Water's subsudiary in Taiwan, decided to bid on a water recycling tender. But the bid was rejected because of national security concerns over Chinese participation.
The government clearly opened its doors to Chinese investment but then added a set of unwritten rules that made it impossible for Chinese companies that wanted to enter Taiwan through legal channels to invest, forcing them to go through Hong Kong. It's kind of like having students take an exam and then giving honest students a hard time while letting cheaters pass. Facing these unwritten rules, it's hard to see what incentives companies have to comply with the law?
Under such circumstances, smart people have a clear idea how to exploit legal loopholes. The source of the problem in part is the different treatment afforded to "foreign" investors and "Chinese" investors.

Taiwan has encouraged foreign investment by managing it through a "negative list" approach, essentially allowing investors to put their money into any sector not identified on the list, which currently bans or restricts investment in around 40 business categories.
For Chinese investment, however, the government uses a "positive list" approach, limiting Chinese companies to investing only in categories cited on the list. Far fewer sectors are open to Chinese investors than to foreign investors, and even in permitted sectors, the approval process is much stricter. Chinese investors must file an investment application for screening by a review committee consisting of minister-level officials, urban development commissioners of two special municipalities and the National Security Bureau.

Facing a strict and drawn-out process that gives them access to only a smattering of sectors, Chinese investors have opted to take risks.
Problem No. 3:
A Flood of Shell Companies
Finding a Hong Kong or Singapore citizen to act as a proxy and then getting an accounting firm to issue a fake certificate offers a path to investing in Taiwan that can be six months to a year faster than going through legal channels. It also steers clear of the unwritten rules imposed at the central and local government levels.
Is the government really able to detect whether Chinese investors are secretly behind investment proposals submitted by Hong Kong or foreign investors? To find out, we brought documents about a company to the Ministry of Economic Affairs on Fuzhou St. in Taipei to have the Investment Commission's Chang see if the company was held by Hong Kong investors or Chinese investors.
Vice Economic Affairs Minister Shen Jong-chin told CommonWealth Magazine that ferreting out Chinese investors means working back to the ultimate beneficiary, even if the beneficiary is an individual. But that process may not have been followed in this particular case. In answer to our question about the Hong Kong company's backers, the Investment Commission simply answered: "We'll have the company's accounting firm explain the situation again."
Investment Commission 4th Division chief Chu Ping said the agency suspected at the time that Chinese investors were behind this Hong Kong company and would now ask the accounting firm that confirmed there was no direct or indirect Chinese investment involved to defend its position.
"The certified public accounting firm is legally liable for the certification it has issued. If there was fraud, we will pursue legal action," Chu said.
Over the past six years, there have been countless examples of Chinese-invested companies using Hong Kong fronts trying to infiltrate Taiwan.
In one case, a Chinese investor posing as a Hong Kong citizen came to Taiwan to invest in the media in clear violation of the "Act Governing Relations between the People of the Taiwan Area and the Mainland Area," but the government ignored the warning signs and approved the application, only to take a closer look when people in the domestic media raised objections.
This proves that the government could allow Chinese capital to invest illegally in Taiwan, such as in the media, if it claims to be from Hong Kong and is cleared by a certified public accounting firm.
This loophole reflects the Investment Commission's management approach and lack of manpower, according to Chang, who says the agency has only 10 people to deal with more than 2,000 investment applications filed by foreign nationals or overseas Chinese.
"It's like no matter how many policemen a country has, it's impossible to stop people from committing crimes or to ensure that absolutely nobody will violate regulations. You also can't treat all foreign investors as thieves, and trace their backgrounds back to their distant pasts," Chang says.
Problem No. 4:
China the World's Biggest Thief of Secrets
The CommonWealth Magazine team also visited the Ministry of Justice's Investigation Bureau in the Taipei suburb of Xindian to get a feel for the extent to which Chinese investors steal commercial secrets in Taiwan.
Bureau statistics show that there have been 41 trade secret theft cases over the past 18 months, double the usual number during periods of similar lengths. About a quarter of the cases directly involved Chinese companies. Of the other 75 percent of cases, one was a German company suspected of stealing technology (and the Investigation Bureau is still checking its origins) and the remainder involved domestic companies stealing each other's secrets. China has indisputably become the biggest foreign thief of Taiwanese technology.
The epicenter of the problem may be the Tai Yuen Hi-Tech Industrial Park in Zhubei, home to a notorious group of secretive Hong Kong companies with one simple purpose: steal technology and poach talent from Taiwan's high-tech sector.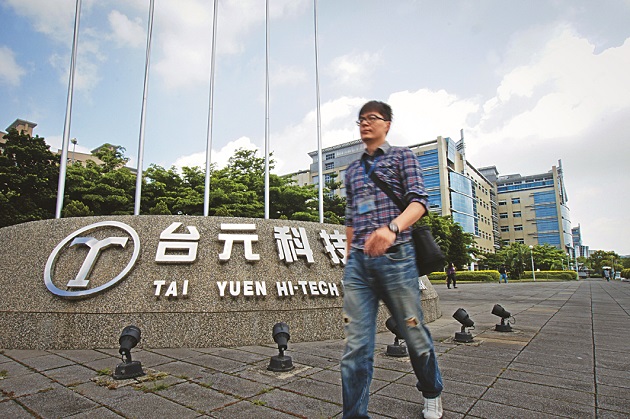 The Tai Yuen Hi-Tech Park, located not far from the Hsinchu Science Park, is ground zero for Chinese capital posing as Hong Kong companies to poach Taiwanese talent and technology.
Lin Wei-cheng, the head of the Enterprise Anti-corruption Section under the Investigation Bureau's Economic Crime Prevention Division, says the benchmark case has been Hong Kong company Digital Infrastructure Limited (香港商鑫澤數碼股份有限公司). This company, which has gained notoriety throughout the industry, specializes in poaching IC design talent and stealing technology for Chinese IC design houses.
In 2014, news emerged that former MediaTek engineer Cheng Kuo-chung and nine other former employees of this leading IC design house allegedly took MediaTek's core smartphone chip technology and passed it to Digital Infrastructure. After MediaTek tipped off the authorities, prosecutors discovered that Digital Infrastructure had offered a salary of NT$1.5 million a year for four years and guaranteed pay raises to each member of the group to lure them away from MediaTek. In a case tantamount to industrial espionage, it wanted to use the lowest cost possible to gain access to products that MediaTek had spent hundreds of millions of Taiwan dollars to develop.
In another case, XunWei Tech. Co., a subsidiary of Chinese telecommunications equipment giant Huawei Technologies Co., came to Taiwan and registered as Huawei's exclusive agent in the country. Oddly enough for an "agent," it posted openings for more than 100 analog and digital IC engineers, digital IP verification engineers and mobile chip product management engineers on manpower website 104 Job Bank.
People in the industry were highly skeptical, and their fears were well-founded. Behind the scenes, XunWei was offering monthly salaries of NT$200,000 to NT$400,000, or about three to five times the going rate in Taiwan, to steal engineers away, and was even willing to pay the penalties for breaches of non-compete agreements to their original employers.
"They (Chinese companies) set up so many companies in Zhubei and directly recruited so many people. There's no way they wouldn't have taken the technology with them," says Khein-seng Pua, chairman of Zhunan-based Phison Electronics Corporation.
Though there had been cases of Taiwanese enterprises stealing trade secrets from each other or from foreign companies abroad, opening Taiwan's doors to Chinese capital made it easier for Chinese investors to get closer and have access to Taiwan's jewels.
The loss of these trade secrets have dealt blows to Taiwan's companies and overall economy. In 2015, for example, several senior executives and key employees from Taiwan's second biggest petrochemical conglomerate, the Chang Chun Group, were lured away by Chinese capital and sent to Yunnan in China to build a factory identical to Chang Chun's making the exact same products. Prosecutors estimated losses from this theft of trade secrets at NT$10 billion.
Problem No. 5:
Property Ban Ineffective
Even in the distance, a group of towering buildings near Beitou that form a part of the Yangmingshan skyline is hard to miss. Located in the Xiaopingding section of the hot spring resort area, these buildings represent the internationalization of the capital of Chinese developer Beijing Vantone Real Estate Group.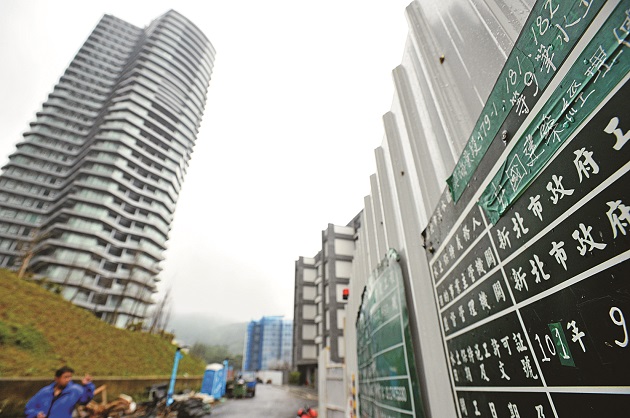 Beijing Vantone Real Estate Group's project near Beitou was completed in 2011 and became the Chinese community development with the highest concentration of Chinese nationals. It is known as Taiwan's "Chinese village."
The group went through a third territory to openly develop property in Taiwan, and real estate tycoon Feng Lun, Vantone's chairman, has frequently talked up his investment in Xiaopingding in the media.
According to Taiwanese regulations, Chinese interests are prohibited from engaging in property development in Taiwan, but they can buy and sell property. From 2012 to 2015, the amount spent by Chinese nationals on property in Taiwan rose 190 percent, with an accumulated total of 267 units purchased.
In fact, simply by slipping into Taiwan through a side door, Chinese investors can fully engage in Taiwan's property development market. If Chinese nationals are naturalized citizens of Singapore for at least four years and they hold less than a 30 percent stake in a domestic company, they are treated as Singaporean investors able to engage in businesses not opened to Chinese.
Despite declarations that Chinese investors are prohibited from Taiwan's property development sector, the Chinese simply take a detour through Singapore to sanitize their real estate operations in Taiwan, a clear indication that the government's "positive list" approach has been rendered completely ineffective.
Problem No. 6:
Unreciprocated Opening, Tax Evasion
In this virtual world, Chinese investment has had a larger impact on Taiwan than imagined. It has bought Taiwan proxies and used foreign shell companies to gain a foothold here and release and distribute video games and even take over an entire advertising wall in Ximending in Taipei.
Among the categories open to Chinese investment on the Ministry of Economic Affairs' "positive list," operating a game company in Taiwan is not one of them. But Chinese Internet companies Tencent, Perfect World Co., Beijing Kunlun Tech Co., Shanda Interactive Entertainment Limited and 37Games all have companies in Taiwan managing and representing their games.
None of those companies are established Taiwanese enterprises. Instead, the Chinese companies use cross-border services to capture Taiwan's mobile game market, in the process avoiding sales and corporate income taxes. Taiwanese vendors estimate that the Chinese intruders have grabbed a 90 percent share of the market.

Are Chinese game companies really that competitive?

The chairman of Taiwanese game software development company Softstar Entertainment Inc., David Tu, says Chinese firms released an average of 380 mobile games a day last year, or about 120,000 a year, by far the most of any country in the world. China has well over 100,000 game development vendors, supported by artistic, programming and sound contractors, that all engage in cutthroat competition.
Because it shares a common language and culture with China, Taiwan has become the preferred export market of Chinese game developers, and their sales have been helped by the onset of the cross-border services era.
Where gamers had to buy a game CD at a bookstore and install it on their computer at home in the past, all they have to do today is download games on their mobile phones in less than two minutes, with the payment process handled completely online. Payments are generally made in Taiwan and collected in the United States, with a portion of the receipts then spun off to China.
The size of Taiwan's mobile game market and the losses to Taiwan's economy caused by China's infiltration and dominance of the market should not be underestimated.
Taiwan ranks ninth in the world for Google Play downloads and fifth for iOS downloads, more even than India and its population of over 1 billion people.
But if 90 percent of the games are Chinese releases, Taiwan has little to show for its booming market financially, exacerbated by the fact that Chinese vendors don't have to pay taxes on their Taiwan-derived income.
"About NT$48 billion a year goes directly to China, which actually violates the "Act Governing Relations between the People of the Taiwan Area and the Mainland Area" because Chinese mobile game vendors are not allowed to operate in Taiwan, the same as Taobao," warns a game operator, referring to an order by Taiwanese authorities in May 2015 that Taobao, Alibaba's online marketplace, withdraw from Taiwan within six months.
Can anything be done? The MOEA's Industrial Development Bureau said it has studied and discussed with the Ministry of Finance the idea of tracking down and investigating Chinese shell companies in Taiwan, including those set up by major Chinese online game enterprises.
David Tu argues that it's futile to try to stop the practice and suggests that opening up to Chinese capital in the game industry would actually improve the existing situation. Taiwan could collect 20 percent of the profits in taxes, and more jobs would be created here.
The operations of Chinese game developers are completely concentrated in China at present, with only a few customer service offices in Taiwan, but opening up and allowing the companies in would likely mean more jobs, benefiting the domestic game sector as a whole, Tu argues.
A similar problem exists with Chinese video-on-demand provider iQiyi, which launched online video-streaming services in Taiwan on March 29. The Investment Commission rejected its application to operate in Taiwan because the business category is not open to Chinese investment, but iQiyi is entering the market anyway. And because iQiyi cannot register its business in Taiwan, it will be beyond the reach of Taiwanese laws and controls or the country's tax collector.
In contrast, when American video-streaming provider Netflix entered Taiwan at the beginning of this year, it set up a legal Taiwanese subsidiary that abides by local regulations.
An Industrial Development Bureau official says that if China is willing to open up its game, electronic commerce and digital convergence markets to Taiwan, Taiwan would reciprocate, eliminating the need for different standards for Chinese-invested and other foreign-invested companies in the country.
And therein lies perhaps the most vexing and challenging problem in dealing with Chinese capital. While Beijing deliberately protects several of its sectors from foreign competition or participation, Chinese companies and their proxies are aggressively attacking global markets, knowingly skirting laws and using whatever means necessary to achieve their ends.
The Economic Affairs Ministry's Shen says that of the 801 Chinese investment applications approved to date, 90 were later found to be illegal shell companies, meaning that at least 10 percent of the Chinese-invested companies in Taiwan were in the country with unclear or sinister intentions.
The Solution:
Embrace Liberalization, Strengthen Oversight
Finding a solution to these many challenges requires going to the root of the problem. The idea behind opening Taiwan to Chinese investment was to encourage Chinese investors to come to Taiwan to create jobs and improve the country's competitiveness. The Investment Commission's Chang says China invests tens of billions of U.S. dollars a year in the United States and if Washington does not reject Chinese capital, then Taiwan has no reason to do so either.
But that does not mean the U.S. blindly welcomes investment from China with open arms. The Investigation Bureau's Lin says America treats its corporations' assets as national assets because they are synonymous with the country's competitiveness.
Consequently, Chinese investment is welcomed with open arms on the one hand but treated as a national security risk on the other and dealt with using counterintelligence methods.
Lin says the FBI's early surveillance of suspicious activities explains why the U.S. often nabs people who steal trade secrets or technology before they leave the country or spirit away their haul.
Says Lin: "The earlier you get involved, the better the chances of preventing the theft of secrets. You can't wait until the technology has been stolen to begin an investigation because the damage has already been done. By then, it's too late."
Translated from the Chinese by Luke Sabatier