Hon Hai's Bold Gambit
In Hot Pursuit of Japanese Treasure
精華簡文
Source:CW
Hon Hai Precision Industry, the world's biggest contract electronics manufacturer, is close to acquiring Sharp of Japan. What is behind Hon Hai's willingness to risk it all financially to take over the venerated but money-losing Japanese electronics giant?
In Hot Pursuit of Japanese Treasure
By Elaine Huang, Liang-rong Chen
From CommonWealth Magazine (vol. 592 )


In June 2011, Terry Gou, the chairman of the world's largest contract electronics maker Hon Hai Precision Industry Co., and then Sharp Corporation Chairman Katsuhiko Machida met in Hong Kong and set in motion negotiations on cooperation to counter Samsung's growing strength.

What seemed to be a promising marriage, however, turned into a rocky courtship over the next five years full of twists and turns, angry rebuffs and cultural clashes and misunderstandings. So it almost seemed inevitable that when the financially ailing Sharp finally agreed to a takeover offer by the Taiwanese suitor (known internationally by the name Foxconn) on Feb. 25, another obstacle arose, forcing Hon Hai to call time-out.

Hon Hai said it had received "new material information" that it needed to clarify, which turned out to be a list of roughly 300 billion yen (US$2.66 billion) in contingent liabilities. According to Reuters, they were not liabilities that required formal disclosure but were forwarded as a goodwill gesture by working level officials at Sharp to make Hon Hai aware of worst-case scenario risks.

Though it was another blow to the shaky trust that existed between the two companies, negotiations were continuing as of early March to seal the deal, a sign of its importance to both sides.

For Sharp and its major creditors, it represents a major injection of much-needed capital and a potential opportunity to better market its products. For Hon Hai, the benefits, at least financially, may not be so clear-cut.

Several foreign analysts have questioned the financial sanity of Hon Hai Chairman Terry Gou in pursuing Sharp, which has teetered on the brink of bankruptcy in recent years and reported a six-month net loss of nearly US$700 million in late October 2015.

Alberto Moel, a Hong Kong-based analyst with Bernstein Research, estimated before the final terms of the agreement were known that Hon Hai's share price could face a 30 percent downside under certain conditions if a deal is completed.

But analysts and academics familiar with Hon Hai's operations believe that aside from strengthening the group's vertical technological integration, the Sharp gambit is especially important for Hon Hai if it hopes to continue following the tech blueprint of its biggest customer – Apple Inc.

Apple needs displays for its products that are sharper and more energy-saving than those it sources at present, needs that cannot be satisfied by the technologies of Hon Hai's flat panel subsidiaries.

"Taiwan's flat panel technology is all transferred from Japan, but (Japan) won't give you its most competitive patents," says Ji-ren Lee, a professor with National Taiwan University's College of Management.

Paul Peng, the chairman of AU Optronics Corp., a leading Taiwanese panel manufacturer not affiliated with Hon Hai, says Sharp's most precious asset is its IGZO (indium gallium zinc oxide) technology, which can reduce the power consumption of LCD or OLED panels by 80 percent. More importantly, Peng says, "Sharp is the only manufacturer in the world that can mass produce IGZO panels."

Though Sharp possesses unrivaled panel technology, it has faced bankruptcy because of bad management. It was a combination that Gou saw as the opportunity of a lifetime, "like when an eagle spots meat" says one management scholar who has studied Hon Hai.

Beyond gaining access to advanced technology, a more strategic consideration for Gou is breaking away from overseas Taiwanese businesses' traditional model of setting up manufacturing bases wherever they go. He has already begun to obtain technology and talent from advanced countries and moved toward vertical integration.

"Terry Gou has spent 20 years of effort placing his bets on mainland China, and now, starting with Japan, he wants to place bets on opportunities around the world," NTU's Lee says.

That Sharp was willing to entertain Hon Hai's offer indicated the Japanese government's resolve to shake things up by having foreign investors reform the country's biggest monoliths.

Could other Taiwanese companies follow in Gou's footsteps and leverage Japan's cutting-edge technology and talent to upgrade their own operations? The answer could decide whether Taiwan is capable of engineering a real transformation.

"Is there a big risk in making such an acquisition? Of course there is, but if you stand pat, the risk is even greater," says Jack Huang, an M&A lawyer with Jones Day who has been involved in many deals joining Taiwanese and Japanese companies.

With Taiwan's big companies having had trouble re-engineering themselves to cope with changing economic and market environments in recent years, and startups having yet to blossom, the Hon Hai-Sharp merger may represent a new benchmark for corporate transformation in Taiwan.

The question is whether Gou, who turned a NT$100,000 mold-making shop in Sanchung into a NT$4 trillion empire, can once again lead Taiwan's industrial sector into a new era by rewriting Taiwan-Japan corporate history.
The Sharp Prizes
Gou is confident the answer will be yes, and the reason in part was contained in Sharp's announcement on Feb. 25 that it had accepted Hon Hai's bid.
International media reported Gou's offer as being worth about 600 billion yen (US$5.3 billion), with the two main constituents a 489 billion yen commitment to buy new Sharp shares that would give it a 66 percent share of the company, and the purchase of 100 billion yen of Sharp's preferred stock owned by the Japanese company's main lenders – Mizuho Bank and Bank of Tokyo-Mitsubishi UFJ.
In Sharp's statement, it said that of the newly raised 489 billion yen, 200 billion would be invested over the next three years in OLED (organic light-emitting diode) R&D and 100 billion yen would be injected over the same time frame into the development of small and medium-sized screens.
That confirmed longtime speculation that Gou was in the hunt mainly for access to advanced OLED technology, which results in thinner and more vivid and energy-saving panels that can be rolled up like scrolls and hung anywhere.
A documentary by Japanese broadcaster NHK loosely translated as "Asia's Black Shirts Take Action" was the first to lift the veil enshrouding Hon Hai's R&D technology center in Osaka. According to the documentary, the center recruited former veteran technicians from Sony, Sharp and Hitachi to research OLED technology.
"In the future, anything that your eyes can see will be products with monitors. Monitor components (panels) represent strategic materials for us. They're very important," Gou says in the documentary, revealing the importance he gives to flat panels.
Gaining a firmer hold on display technology will enable Gou to strengthen his hand with Apple, which currently accounts for about half of Hon Hai's revenues, and create a new impetus for growth.
Apple is currently facing the danger of stagnant growth as sales of its flagship products fail to create the buzz they once did. In the fourth quarter of 2015, 74.77 million iPhones were sold around the world, only 0.4 percent more than in the same period a year earlier. That was the lowest quarterly growth since the first iPhone was introduced eight years ago.
"Sales of the iPhone 6s are quite poor," an executive with one of Taiwan's three biggest telecom companies says frankly.
Apple stock has fallen 20 percent since the beginning of November, from US$122.57 a share on Nov. 3 to US$96.69 on Feb. 29, and because of that its market value has fallen below that of Google's.
As Apple's growth plateaus and the Hon Hai Group can no longer "grow together with Apple," it is more vulnerable to mounting competitive pressure from rival electronics manufacturing services provider Pegatron Corp., which also churns out Apple devices. Facing such prospects, Gou's answer has been to strengthen his company's vertical integration and leverage advanced technology to get Apple's display orders.
The two iPhone components that generate the highest profit margins for their suppliers are the screen and the metal casing. Of the two, the screen and touch module account for around 20 percent of the device's costs. Hon Hai already supplies metal casings to Apple and if it could add displays to the list, it would undoubtedly provide a source of growth.
Preparing to Compete with Samsung
"Hon Hai has always been pragmatic. The goal of buying a stake in Sharp is to provide its major customer Apple with comprehensive one-stop shop services and grab a bigger share of a limited pie," contends Eric Chiu, senior research director at market intelligence provider TrendForce.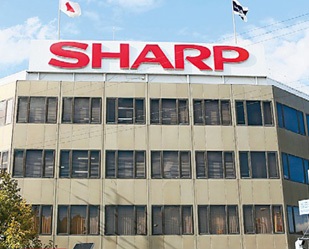 Sharp's headquaters in Osaka have a historical feel.
Hon Hai has its own sources of flat panels, including subsidiaries Innolux Corp. in Taiwan and Century Technology (Shenzhen) Co. in China, its own display plant in Guiyang and Sharp's flat panel plant Sakai Display Products Corp., in which Gou personally owns a 37.6 percent stake. But Apple has never been sold on the level of display technology found at those facilities.
"Innolux has worked hard on this for a long time, but it has never taken its game to the next level," says one individual familiar with the inner workings of the company.
Apple currently has three main LCD display suppliers: Japan Display Inc., Sharp and LG Display of South Korea. Of them, Sharp controls the LTPS (low temperature polysilicon) and IGZO technology, capacity and patents considered vital to high resolution LCD monitors.
Rumors have also been rife in the electronics industry that Apple is determined to switch to an OLED screen similar to the kind found in Samsung's smartphones in its next-generation iPhone. It may even be aiming for something straight out of a sci-fi movie – a soft OLED display that can be folded.
In addition, Japanese business media Nikkei reported not long ago that LG Display and Samsung have been aggressively pushing Apple to adopt a soft OLED screen in the 2018 version of its iPhone, and LG Display has committed to investing an additional 10 trillion Korean won (about NT$260 billion) in the technology before 2018.
Samsung, however, has been the undisputed OLED panel king, with a 90 percent share of small and medium-sized panels in the category. Any move by Apple to switch to OLED screens would turn Samsung – Apple's bitter smartphone rival – into one of its key suppliers, which is why the U.S. consumer electronics giant has been reluctant in recent years to make the move.
If Gou is ultimately able to take over Sharp and combine the strengths of Taiwan and Japan to create a new OLED supplier on a par with the Korean stalwarts, Apple CEO Tim Cook would undoubtedly be very pleased.
"One of the main reasons Apple has pushed (Terry Gou) is because it doesn't want to be too dependent on Samsung," says a veteran analyst of the flat panel display industry.
Developing Smart Appliances for the IoT Era
Beyond seeing Sharp as a conduit for growth with Apple, Hon Hai has also been drawn to Sharp's home appliance brand in the Internet of Things era.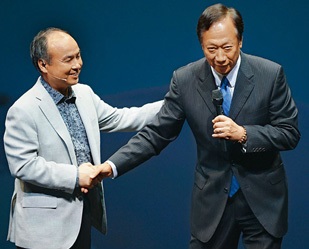 Even when he was young, Terry Gou showed his drive and business acumen. Now he hopes to take his company to another level by acquiring Sharp.
At annual Hon Hai shareholders meetings in recent years, Gou has repeatedly echoed the conglomerate's desire to transform itself into a technology and services company and evoked his "11 screens, three nets & two clouds" strategy.
Tomohiro Otsuki, an analyst with Techno Market Research Inc. and reporter with Nikkei Electronics, said in an interview with CommonWealth that smart appliances represent a major opportunity in the IoT age, but Hon Hai's major customer Apple has yet to roll out significant products in this category. Sharp, on the other hand, has an excellent reputation for its appliances, including LCD TVs, air purifiers and the superheated steam ovens Taiwanese consumers love, making it an ideal partner for Hon Hai.
"Hon Hai's strength is backend engineering and assembly. Sharp's has excellent front-end R&D capabilities," Otsuki says. In that sense, the cooperation between the two companies could be beneficial to several other major customers beyond Apple.
Of course, the deal still has to get done, but even if it does, Sharp's problems run so deep that they may overwhelm Hon Hai.
Makoto Sakurai, a representative with international financial research center Sakurai & Associates, observes in an interview with CommonWealth that other ailing Japanese giants such as Hitachi, Mitsubishi and Toshiba have taken a different path than Sharp in trying to salvage their fortunes. They are transforming themselves into integrated conglomerates similar to GE or Siemens and investing their resources in heavy industrial rather than consumer products, he says.
Sharp, which is smaller than those three companies, has not kept up with the trend. Most of its production bases are in Japan, its costs are high, and it is not very competitive, Sakurai says. He believes Sharp may actually fall by the wayside in this paradigm shift and is somewhat skeptical that Terry Gou can turn it around.
As Sakurai says: "In the final analysis, Hon Hai is presumably very confident that it can emerge victorious in this transformation wave."
Translated from the Chinese by Luke Sabatier
---
Chinese Version: 霸氣總裁 如何苦追沒落貴族?