Chen Shu-hui – Former Taitung County Tourism Director
Civil Servant Reverses County's Fortunes
精華簡文
Source:CW
Civil Servant Reverses County's Fortunes
By Monique Hou
From CommonWealth Magazine (vol. 591 )


When Justin Huang was elected magistrate of Taitung County in 2009, he became the administrative chief of Taiwan's poorest county. Even he described Taitung as a "backwater."

Apart from the hot springs resorts of Zhiben, Taitung seemingly offered little of interest to attract tourists.

One day, somebody mentioned hot air balloons during a discussion. Chen Shu-hui, then section chief of the Taitung Tourism Department, thought back to the hot air balloon festivals she had seen while stationed abroad with the Overseas Community Affairs Council in New Zealand and Canada. She thought such an event might also be suitable for Taitung to host.
Balloons irk conservative CAA
The problem was that Taiwan lacked a single hot air balloon or licensed pilot. Moreover, hot air balloons are classified together with airplanes as aircraft, thus falling under the direction of the Civil Aeronautics Administration, which had a well-deserved reputation for being ultra-conservative and difficult to please.
Nevertheless, the allure of the pretty picture of colorful balloons filling the sky was irresistible, and Chen– never one to take no for an answer – dove right into the project. The annual budget for the Tourism Department had been set prior to her taking office, and hot air balloons were not included in that allotment. "She wanted to make hot air balloon pendants, but she had no money. She begged us to produce them, giving us an IOU," recalls Hoya Resort Hotel Group President Chang Tien-jung, then director of the Zhiben Hot Springs Tourism Association. "I'd never seen a civil servant like her," Chang adds.
The initiative coincided with a pitch competition sponsored by the Bureau of Foreign Trade, which offered a grand prize of NT$9 million to the winner. "Five years ago, no one would have ever dared associate Taitung with international expos," relates Huang. Yet Chen was on a mission, her sights firmly fixed on the promise of that NT$9 million in prize money. She got in touch with an alumna of her university writing her thesis on sports tourism, bundled the pitch competition, thesis paper, and balloons together, and dispatched Huang to deliver the presentation himself. The prize was theirs.
"Now came the hard part," recalls Chen with a chuckle. She lobbied the Civil Aeronautics Administration (CAA) hard, meeting with them over 100 times in one year. "I was all over them," she adds.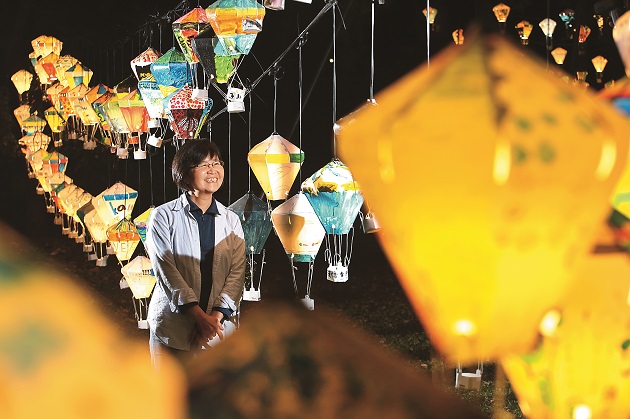 Once CHen Shu-hui established Tiehua Village's reputation, hand-painted hot air balloon lanterns filled the sky with brilliant color every night of the week.
The CAA told her she could have hot air balloons as long as she used European Union-approved (the EU has the strictest international standards) pilots and balloons; U.S. certifications would not suffice, and "do not even think about Southeast Asian or Chinese ones."
Taiwan had no pilots, so she enlisted some through an aviation association; Taiwan had no balloons, so she used her connections among the diplomatic corps, "borrowing" some 30-odd pilots and 15 hot air balloons from 16 different countries. "And as everybody knows, it was an instant sensation," quips Huang.
"We held the world's longest-running hot air balloon festival, running two months straight – not like the paragliding competition, which is over in two days," relates Huang. And today, hot air balloons take flight year-round from Taitung, weather permitting.
People start lining up at 10:00 p.m. the night before each morning's balloon flights, and the excitement and beauty reach people around the world via the media. "For many people, this is it – the only flight they'll ever take (in a hot air balloon) – seeing Taiwan quietly from above, taking in the Rift Valley."
Crowds flock to Surf Festival, Tiehua Village
Taitung has great surf during the winter months, and Chen next went about organizing an annual surfing festival each October, attracting surfers from around the globe. Some Japanese surfers liked the area so much they stayed in Taitung for an entire month. "(The surf festival) heats up winter on the east coast, energizing the whole city of Taitung," observes Chang.
Hotels in Taitung County used to be limited to the Zhiben area, but now hotels and eateries keep cropping up all around the city. In Chang's words, "Taitung has been transformed. She (Chen) was also the force behind Tiehua Village – she's really so different from your average civil servant." "Maybe it's her personality, plus a supportive county magistrate," Chang adds, noting this critical factor.
The whole year she was preparing for the first Taitung Hot Air Balloon Fiesta, Chen was so busy she had no time for Council meetings. "Some county councilmen laid into me for that, but I was actually way overextended on work hours already, and if I had sat around in Taitung having meals and socializing with councilmen, I would never have gotten a lot of things done," she says.
"I prostrated myself before others and apologized on her behalf," relates Huang. Even after she left her position, Huang nominated her for the highest honor for civil servants in Taiwan, the Outstanding Civil Servant Contribution Award.
From hot air balloons to the surf festival, and Tiehua Village, one highly scrutinized, high-profile event after another got people talking and turned Taitung around. The number of annual visitors grew from four million to six million, and room occupancy climbed from 32 percent to 63 percent. Meanwhile, the savings of Taitung County residents skyrocketed from just over NT$40 billion to nearly 80 billion as Taitung natives started returning home and prices rose as the transaction volume climbed in the local real estate market.
High altitude traffic control despite threats
However, hot air balloons were not her first claim to fame. In 1998, while serving as director of the Mt. Hehuan Service Station, she made her mark with her efforts to institute traffic control on Mt. Hehuan during the snowy season.
Traffic often comes to a standstill on the road up Mt. Hehuan during the snow season, turning it into a high-altitude parking lot. "It could take eight or nine hours to make the 19-kilometer round trip," recalls Lin Chung-shan, Taroko National Park Administration secretary.
Each year at this time taxis converge on the area from all over, making enough money in three months for them "to live comfortably the rest of the year," Lin relates with a laugh.
"A taxi cab with five or six passengers, and five more stuffed in the luggage compartment, could get away with outrageous prices. It's cold up on the mountain, and people have been known to sell two fishballs to hungry tourists for a few hundred NT dollars. Anything goes," says Chen.
Chen divided the day into early and late periods when locals were permitted passage, and daytime hours when private vehicles were not permitted to go up the mountain. Further, taxicab fares were standardized, and unlicensed vehicles were not permitted to take fares from passengers.
Traffic control measures that now seem commonplace were exceptionally difficult to put into place – especially since the cab drivers "had backing."
After Chen arranged discussions with residents of Tayuling (a small settlement close to the summit of Mt. Hehuan), several dozen taxi drivers from central and southern Taiwan descended upon her and "acted very aggressively, talking like gangsters," she recalls.
"They got loud, threatening Shu-hui and warning her not to put traffic control measures into place," relates Lin Chung-shan.
"I told them, no one is trying to stop you from making a living, just not in such a crooked way; now you have to charge standard fares," relates Chen. "I explained that, since citizens cannot drive up the mountain, more people will need to take taxis. Plus, with no congestion, taxis can make more runs. This made sense to them, and they finally let me go home. After they ended up making just as much money after the first year, we kept the system in place."
Taroko Gorge Marathon
After successfully negotiating the institution of traffic controls on Mt. Hehuan, Chen proposed the idea of holding a Taroko Gorge marathon. As a world-class scenic destination, Taroko Gorge "surely had the allure to attract people, like renowned marathons in Hawaii that people in Japan charter entire flights just to attend."
However, she had no money to work with. Then, one day on a flight she chanced upon Legislator Chang Fu-hsing. "I figured as I had him corralled at several thousand meters in the air, he wasn't going anywhere," she says, laughing. Chang helped her obtain NT$200,000 from the National Sports Commission. With that sum, she did what others could only do with several million NT dollars.
The organizers placed aid stations every five kilometers along the full 42.195-kilometer marathon course, with sponge stations every 7.5 kilometers. (to help cool down overheated runners). She convinced hoteliers in the Hualien area to serve breakfast starting at 3:00 or 4:00 in the morning, and mobilized volunteer corps. "We didn't let them raise pennants or banners, but they were allowed to wear uniforms. That way, every station had its own character, and helped gain the participation of businesses from all around Hualien."
She positioned the Taroko Gorge Marathon as an event for people to experience running through the spectacular beauty of the gorge on their own two feet, rather than as a competitive event. "After all, it's only that select few runners that always win the top places," she says.
Accordingly, the time limit for the Taroko Gorge Marathon was extended to seven hours, or enough time for people to finish even by walking. "Even if you're still at it at three or four o'clock in the afternoon, there are still people out there on the course cheering for you," and finishers get a certificate of completion after crossing the finish line.
After leaving her post at the Taitung Tourism Department, she was scooped up by Taiwan Railway Administration (TRA) director-general Chou Yung-hui to take on duties as general manager of the TRA's Freight Service Department, a role that in actuality sees her seeking cross-industry alliances and integration, as well as ways to revitalize administration assets.
Can this tireless worker find ways to rescue the century-old TRA and turn losses into profits? "The chances are good," assert both Chou Yung-hui and Chen Shu-hui.
People often say how hard it is to be in Taiwan's civil service, but that has never stopped committed civil servants like Chen Shu-hui from doing whatever she can in every role she takes on.
Translated from the Chinese by David Toman
---
Chen Shu-hui
Born: 1964
Education: Institute of Ethnology, National Chengchi University
Experience: Technician, section chief, Taroko National Park Administration
Overseas affairs secretary, Taiwan Representative Office, Auckland, NZ
Deputy director, Taiwan Representative Office Cultural Center, Toronto, Canada
Director, Taitung County Tourism Department
Current position: General Manger, Taiwan Railway Administration Freight Service Department
Honors & Awards
Model Civil Servant Award, Executive Yuan
Outstanding Civil Servant Contribution Award, Examination Yuan