James Soong :
Taiwan's Problem Is Leadership
精華簡文
Source:CW
Taiwan will be holding its sixth direct presidential election in history on Jan. 16. People First Party Chairman James Soong has participated in four of them. He says Taiwan is facing a crisis of leadership, and he's the right person to fill the bill.
Taiwan's Problem Is Leadership
By Rebecca Lin
From CommonWealth Magazine (vol. 589 )


He walks 10,000 steps every day and often plays golf during the week at a course near his home in Linkou. It usually takes most people four to five hours to walk 18 holes, but he usually finishes his rounds in two. He even scored a hole in one in July 2015.

People First Party (PFP) Chairman James Soong (宋楚瑜) seems to be describing his daily routine. Then, unexpectedly, in the middle of his narrative, the khaki-clad Soong leaps up.

After taking a big step forward and steadying his stance, he bends over at the waist with his arms extended and touches his palms to the ground without the least bit of exertion, drawing exclamations of surprise from those watching. A few seconds later, he straightens himself back up while flashing a big smile, turns to a crowd of people around him who are all 30 to 40 years younger than he is and asks: Can you do that? Can you? How about you?

It's a scene that leaves the many onlookers dumbfounded, unwilling to believe the man who showed such dexterity is 73 years old.

"I wasn't doing that for publicity's sake. I just wanted you to see it," says a gesturing Soong as he turns around and sits back down.

Beyond his physical agility, Soong stands out as a master storyteller who usually weaves emotionally moving tales.

One day while walking his golf course at a rapid pace, a groundskeeper busy weeding runs up to him from a long way away and greets him as "Mr. Governor," referring to when Soong headed the Taiwan provincial government from 1994 to 1998.

"How can you stand seeing Taiwan sink to this degree?" the groundskeeper asks.

"There's nothing I can do. I'm too old," Soong says looking into the worker's eyes, getting ready to continue his round. To Soong's surprise, the groundskeeper gives the veteran politician a piece of his mind. "What do you mean you're too old? You're in great health."

It was because of the earnest appeals of many similar ordinary citizens that Soong decided to once again roll up his sleeves and make another run for the presidency.
Preparing to be President for 40 Years
Soong, who describes himself as "Taiwan's most diligent old man," wants to be president more than anybody else. "I've been preparing for 40 years," he tells a CommonWealth reporter, saying he has learned every step of the way since serving as President Chiang Ching-kuo's (蔣經國) secretary from 1978 to 1981.
He first ran for president as an independent in 2000 after failing to get the Kuomintang nomination despite his strong showing as the popularly elected KMT provincial governor. He and KMT nominee Lien Chan (連戰) ended up splitting the pan-blue vote, enabling Democratic Progressive Party upstart Chen Shui-bian (陳水扁) to win office with 39.3 percent of the vote. Soong finished second a mere 2.5 percentage points behind.
He is currently making his third run for the presidency (he last ran in 2012 when he got only 2.77 percent of the vote), and also ran as a vice presidential candidate on a ticket with Lien Chan in 2004 that lost to the incumbent Chen by about 23,000 votes out of 13.25 million cast. In effect, his shadow has been felt in every presidential election since Taiwan's president was first popularly elected in 1996.
During that time, his old rival Chen Shui-bian served two terms (from 2000 to 2008) before being jailed for corruption and then getting medical parole. Incumbent President Ma Ying-jeou (馬英九) started his time in office in 2008 as a bright political star, but has since lost his luster. In a political landscape that sees a constant change in political heavyweights, Soong is the only one to have never given up.
In the second half of December, when he was being "interviewed" by representatives of seven major domestic business associations, Soong explained to the corporate executives that he was running despite being over 70 because he couldn't stand seeing Taiwan continue to waste time and also because he wanted to show he could do better than others.
"These people are full of promises during election campaigns, but they just make people angry when they start doing things after taking office," says Soong, dressed in a black suit and orange (the PFP's color) tie standing on a brightly lit stage. "How can the KMT have fallen this far?" he says, his tone tinged with anger and disappointment.
Though Soong's time as Taiwan governor came to an end nearly 18 years ago when the provincial government's operations were downsized and essentially frozen, his leadership abilities and his team's effective administrative abilities remain legendary, as if suspended in time.
"Leaders have to know how to choose the right people and lead a team in setting national strategies and goals that steer the country in a good direction," says PFP Legislator Lee Hung-chun (李鴻鈞), who left the KMT in November. Soong, he says, is not only able to get to the heart of problems and figure out how to solve them, his team has the ability to carry out policies and decisions.
The stories from Soong's provincial government days are like flowers blooming from Soong's mouth one by one.
Once when he visited Tongluo Township in Miaoli County for a road-opening ceremony, he promised to build a bridge nearby. But as he was getting ready to leave after the event ended, the township chief caught up with him and said a special access road was needed with the bridge. A day later, members of Soong's team visited the township chief and went to the construction site to determine whether the access road was, in fact, necessary.
"This is a team. Departments and divisions have to do more than just support each other. They have to follow up and check (on work being done)," Soong says in explaining what he sees as good leadership.
To Soong, politics involve three main disciplines: setting policy directions, prioritizing the allocation of resources and choosing the right people. Simply put, a government must be organized, must be trained and must be integrated, while leaders decide "what people to use and how to distribute limited resources to achieve a certain goal."
When it is suggested that Soong's provincial government experience may have come too long ago and that today's world differs markedly from the one in which he governed, Soong suddenly leans forward and evokes the words of another politician known for his oratorical gifts.
"I want to borrow a saying from former American President Bill Clinton" Soong says, raising his two arms and lowering his voice, commanding the attention of those present. The phrase he wants to paraphrase? "It's the economy, stupid."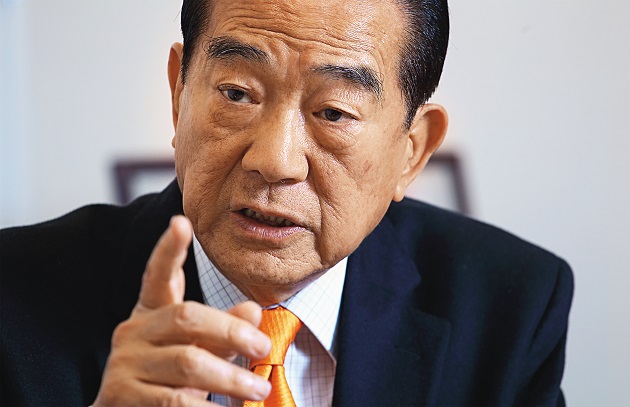 James Soong has touted his leadership skills, but in what direction does he intend to lead his People First Party in the future?
He then raises his voice again, going from nearly a whisper to a loud burst. "Dear friends, it's about leadership!" he bellows.
When Soong started at the provincial government in 1994, he only brought three people with him. Within two years, he was leading over 100,000 people and had built a complete administrative team, relying completely on his philosophy of "leadership."
He then switches back to today's government, describing it as consisting only of a group of people that lacks a team spirit. A team needs "to have values," he says, because with values, "there are strategies and there is management. With a strategy, you still need management, and then proceed step by step to achieve a goal, ultimately fulfilling your values."
Whether speaking about leadership or telling one of his many stories, Soong always plays up his innate charisma and ability to perform in front of a crowd. In the first presidential debate in late December, he was pretty much given the cold shoulder as usual by his rivals from the DPP (Tsai Ing-wen 蔡英文) and KMT (Eric Chu 朱立倫). But he was unfazed and said calmly, "I'm not afraid of being marginalized. I'm only afraid of Taiwan being marginalized."
As Soong delivered his conclusion as the end of the debate neared, he suddenly stepped to the side of his rostrum, and delivered three rapid-fire 90-degree bows, pleading with voters to give him a chance. It instantly became the highlight of the night, and the video of the scene went viral. According to a survey by the Cross-Strait Policy Association, Soong's debate performance was rated higher than that of either of his two rivals.
To discerning eyes, the veteran politician has seemingly been reborn.
From 'Lao Soong' to 'Hsiao Soong'
The old Soong, "Lao Soong," would never have appeared in public not clad in a suit and not sporting perfectly combed shiny black hair, but for this appearance he donned white fabric shoes, a casual Uniqlo shirt and khaki pants, and occasionally rolled up his sleeves as if he were getting ready to get to work. The message on his glossy publicity material: "On this road of life, Hsiao Soong will take care of you," the "Hsiao" referring to this fresh, younger version of the PFP chairman.
As a public figure, whose hairstyles and tastes in fashion all represent personal symbols, Soong is trying to convey the message that he is willing to open his mind, accept new ideas, and try new things – executing a transformation from "Lao Soong" to "Hsiao Soong."
To reinforce that message, he recruited 43-year-old Minkuotang (民國黨) Chairwoman Hsu Hsin-ying (徐欣瑩) as his running mate and tagged the ticket with the slogan: "Two Generations, One Hope."
"When we first heard about it, we were all stunned," admits one of Soong's advisers, who envisioned a group of people engaging in "national calisthenics." But what Soong saw were two people whose differences, whether age, gender or profession, could be complementary. It further demonstrates that political parties not only compete with each other but can also cooperate.
Others have said that the strong religious backing for the Minkuotang, which was only founded in March 2015, was a consideration in Soong's choice of Hsu, herself a KMT legislator before establishing the new party. Because religious groups represent a powerful voting bloc outside of the main green and blue political parties, some observers think Soong made a smart, strategic move.
Soong has also broadened his strategic vision, advocating the concept of a coalition government, and has led his team around all of Taiwan's 309 districts and townships, shaking the hands of everybody he comes across. A microphone and a few chairs are all that's needed for "Hsiao Soong" to give an impromptu speech, completely unencumbered by formality.
"Once after campaigning all over for a full day, I was so exhausted in the car I couldn't open my eyes," recalls 36-year-old PFP legislator and spokesperson Chen Yi-chieh (陳怡潔). She then made the mistake of asking Soong if he was tired. Full of energy, he answered that to be the country's leader, you have to be patient and listen to the voices of the people and do not have the right to be tired.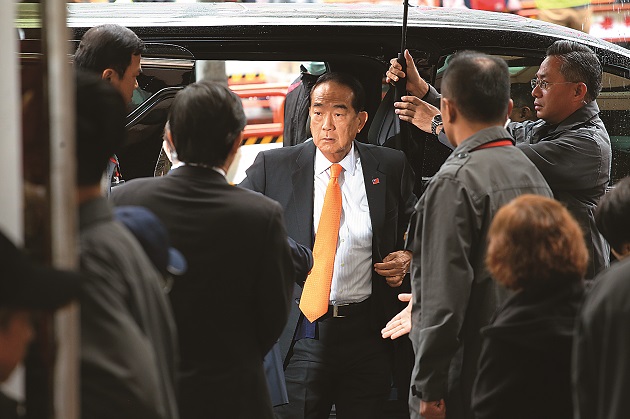 "Governor Soong" and his administrative team have achieved "legendary" status. What Soong cares about now is how to give play to his abilities after taking power.
The people at Soong's side feel that he has changed. Maybe that's because this is his last battle, says Clarence Wu (吳崑玉), one of Soong's top aides. "At this age, he has no job and no wealth, so why not take a gamble? What does he have to lose?"
"On the journey of life, maybe he's come to accept things more easily," Wu observes. "He has nothing tying him down, and he does not want for anything."
If Soong still covets power, maybe what he really cares about is how to demonstrate his abilities after taking power.
Over the past 18 years since stepping down as provincial governor, what Soong has truly wanted is simply a chance.
"Just give me a chance and whether it's food safety or compensation in the gas explosion case, I'll make sure the people feel results in three to six months," he shouts passionately.
Looking back at Soong's 42-year career in politics, the first half of it – as head of the Government Information Office, KMT secretary-general, and in other positions – are inextricably shadowed by Taiwan's authoritarian era. The latter half, after his bitter split with former President Lee Teng-hui (李登輝) in the late 1990s, has been full of political intrigue and scheming.
In 2006 after getting only 4 percent of the vote in the Taipei mayoral election, he declared that he was withdrawing from politics, only to resurface in 2008, triggering skepticism among observers.
Soong has never shied away from the criticism, once again telling a story to make his point.
"In China there was a person who got out of politics three times. That person was Deng Xiaoping (鄧小平)," Soong says, then pauses before continuing. "But after the third time, when he was 74 years old, he decided the country's direction and changed mainland China. He was a year older then than I am now."
Soong, who will turn 74 on March 16, is running for president desperately hoping that voters will give him the opportunity to serve them. Though he is not given much of a chance of winning, he seems to have generated at least some momentum as the campaign winds down.
Four years from now, when Soong will be 78 and with the KMT in danger of splitting apart and even collapsing, will the PFP be stronger or weaker? For this politician who touts his leadership skills, that may become his next pressing challenge.
Translated from the Chinese by Luke Sabatier