Tsai Ing-wen
Ready to Take on Cross-strait Turbulence
精華簡文
Source:CW
Nimble campaign tactics, ambiguous cross-strait discourse, and a strong Taiwanese consciousness are the hallmarks of Tsai Ing-wen's campaign. The daughter of a successful businessman, she has overseen her party's rebirth and seeks to renew Taiwan's socio-political and economic structure.
Ready to Take on Cross-strait Turbulence
By Ming-hsien Lee
From CommonWealth Magazine (vol. 589 )


On a brisk evening on Ketagalan Boulevard in downtown Taipei, the temperature seems to rise as 59-year-old presidential candidate Tsai Ing-wen (蔡英文), clad in a down jacket and jeans, takes the stage at a Democratic Progressive Party (DPP) presidential election rally. Raindrops fall on her plainly styled hair as she grips the hands of DPP legislative candidate Wu Si-yao (吳思瑤) to her left and New Power Party nominee Freddy Lim (林昶佐 to her right. They raise their joined hands, along with other non-KMT candidates, to a chorus of calls to "dongsuan, dongsuan" ("win the election").

Addressing the crowd of over 10,000, she states that the DPP's objectives are to embrace diversity, and to win more Legislative seats in Taipei, which the pan-blue (Kuomintang, or KMT) camp has always dominated.

The sea of pennants and flags below includes voters nearly drunk with excitement, as well as those shaking their heads in confusion. Noticing the presence on the stage of Taipei City Councilor Yang Shih-chiu (楊實秋), only recently kicked out of the KMT, one Green-supporting photojournalist could not help but take to Facebook and comment, "All right, well, I guess that's politics for you."

Six hours earlier, Tsai was at the Taiwan Public Television Service (PTS) studios, her hair done in the same style but wearing a pants suit, facing her opponent, KMT candidate Eric Chu, in the presidential candidates' debate. When Chu, who also serves as chairman of his party, came bearing down hard on Tsai, demanding to know if she "recognized the 1992 Consensus," Tsai sternly quoted PRC scholar Zhou Lian's (周濂) famous axiom: "You can't wake someone who's pretending to be asleep."

"There was no 1992 Consensus in 1992," she said. "That term wasn't coined until 2000, so this is a question of semantics and interpretation," she added, clearly enunciating every word as if speaking directly to listeners across the strait. "This is something we can all sit down and discuss. Haven't I made my stance clear enough?"

Analyzing the platforms of the three major parties' presidential candidates, Taiwan Electrical and Electronic Manufacturers' Association (TEEMA) deputy secretary-general Luo Huai-jia (羅懷家) opines that the KMT's Eric Chu and People First Party (PFP) candidate James Soong are long on pragmatism and short on idealism. In contrast, he says, Tsai is willing to take on the public pension system, consider issues with the industry structure, and even overhaul on the entire food safety framework. "All of these are challenges facing Taiwan, which happen to be blind spots for government bureaucrats in office interested in self-preservation. In this area Tsai Ing-wen certainly has much more far-reaching views."

With an ambiguous stance on cross-strait issues, alliances across the political spectrum, continuing strong popularity, and an unabashed Taiwanese consciousness, Tsai's energetic performance in the elections have piqued many people's curiosity. Just who is Tsai, who could very likely be elected to become the Republic of China (Taiwan)'s first female president?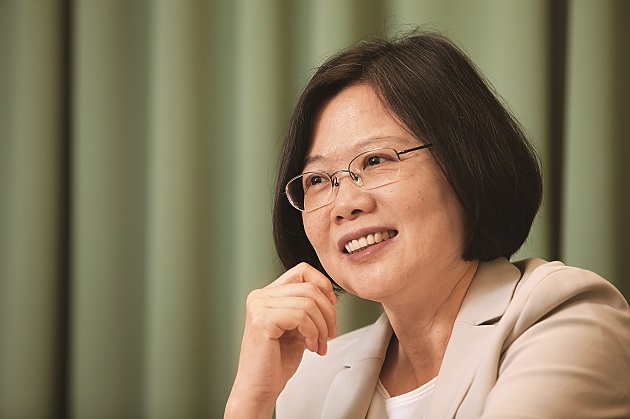 From NTU to the London School of Economics, Tsai Ing-wen is a typical academician turned politician.
Not reliant on sympathy
Looking closely at her performance, Tsai appears to resemble the type of "transformational leader" described by the late American academician and author James MacGregor Burns. On the one hand, she connects with followers spiritually or ideologically to form a strong support base; on the other hand, she tries hard to expand her sphere of operation to break down conventional power relationships and position herself as a transformational leader who can leverage her ability to get things done to tackle Taiwan's systemic and existential crises.
After her industry platform was met with the criticism of "old wine in new bottles," Lin Chuan, Executive Director of the DPP's New Frontier Foundation think tank, said, "I have no opinion on other people's criticism – it's all rhetoric to me." An economist by trade, Lin said that transformation requires carrying things out, not exaggeration, as "There is no elixir to heal the economy. You can't go hoping for a plan that falls from the sky to be effective. Fairy tales like that don't exist."
Discussing transformational leadership, Tsai Ing-wen comes off as especially confident. At a banquet in October of 2015 for over 100 Taiwanese alumni of Berkeley and the University of Chicago, describing the changes she effected upon becoming DPP party chairperson, she says, "The first thing I noticed when I walked into the Central Standing Committee's conference room was a gavel. I looked at that gavel – scarred all over with a dent in one place – and wondered how many times it had been struck. (The reason) is simple. Anything that needs to be said when the DPP gets together is said during Central Standing Committee meetings, using the Taiwanese dialect, and spoken loudly, complete with gesturing by banging on tables. And sometimes they get so excited they stand up. So the chairman ends up striking the gavel repeatedly, trying to get everyone to sit down."
Continuing, she says, "But these days at Central Standing Committee meetings you'll find that everyone (committee members) speaks Mandarin. And it doesn't come out so easily for all of them, but they pay it no mind, as though thinking if that's how the party chairperson does things, that's how we will as well."
On the campaign trail, Tsai Ing-wen makes an effort to take her transformative vision to different communities. Touring the island, while making a stop at a meat market in Changhua, she encourages pig farmers not just to be concerned about imported U.S. pork, but to further find ways to make Taiwanese pork products competitive internationally. In a narrow alleyway in Taipei's old Dadaocheng district, she thanks an apparel maker intent on staying in Taiwan for their efforts to upgrade and constantly innovate. And speaking with farmers near the southern tip of Taiwan, she tells them that combining agriculture with biotech could help generate more income.
"What the government needs to do is ensure that agriculture is no longer a weak or moribund industry," she told a nearly 1,000-strong crowd at a November 2015 rally in Tungkang in Pingtung County.
The infectiousness of Tsai Ing-wen's transformational leadership is the product of both her personal efforts as well as an unexpected outcome of changing circumstances.
In spite of being the DPP's top warrior at this time, Tsai Ing-wen has an atypical style, perhaps because she is not a tragic figure shaped by blue-green antagonism and honed by street protests and resistance. Quite the opposite, born into a businessman's family, she stayed in school all the way through the completion of her Doctorate. Upon completing her Ph.D. she returned to Taiwan as a university lecturer, subsequently joining the government's World Trade Organization (WTO) negotiation team, which led to top public service positions as minister of the Mainland Affairs Council (2000-2004) and vice premier (2007). Upon the DPP's trouncing in the 2008 presidential election, which sent the party into a tailspin, she took on the mission of reversing the party's fortunes.
"Her contribution is the introduction of new elements to the DPP," says Hsu Hsin-liang (許信良), a charter member of the party and two-time party chairman. Hsu observes that, while the DPP has experience in power, having relied on popular support and grassroots campaigning to establish itself, the party does not fundamentally understand the art of international negotiation, international relations, nor does it have an extensive understanding of economics.
Tien Chiu-chin (田秋堇), a DPP legislator, recalls the situation back in 2008, when the leaders in the party's major factions essentially ignored Tsai's status as party chairperson, issuing directives on their own, and even criticizing her speeches as lacking fire and the power to motivate people.
"She didn't respond. Instead, she just quietly followed her own line of values and led everyone towards transition," says Tien. The approach she used consisted of carrying out major policy consultations at weekly Central Standing Committee meetings, shifting everyone's attention from the "street" squarely back to "policy." After all, "the days when the DPP had to try earning every vote with emotional appeals has now passed," Tien says.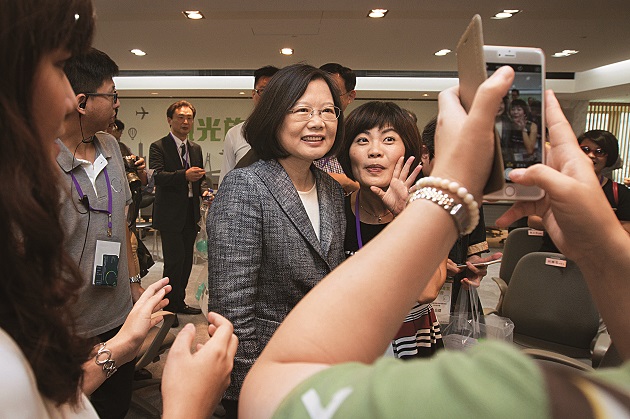 Not relying on popular movements or emotional appeals to the disenchanted and disenfranchised, Tsai Ing-wen has effectively reshaped the DPP's image.
Holding steady
As a female leader trying to make her mark in the testosterone-laden, often chauvinistic political arena, and without relying on family connections as is commonly seen among female politicians in Asia, Tsai relied on hard work and an open attitude towards learning, earning respect along the way.
For instance, during negotiations on the importation of U.S. beef to Taiwan when she was younger, not only did she grasp the major points after just a few rounds, "she even memorized every part of the cow's anatomy in English," recalls a retired Bureau of Foreign Trade official. And not only did she hone her speaking skills after getting some experience with populist politics under her belt, but the precision with which she expresses ideas is especially impressive.
Even more important is her principle of leading by example. Hsu Hsin-liang observes that, in the 9-in-1 elections of 2014, Tsai Ing-wen was so intent on taking central Taiwan for the DPP that she made 28 visits to Changhua in one month – nearly outdoing local candidates in her aggressiveness. "She doesn't put on a show or perform, instead relying on sincerely touching her supporters," says Hsu, himself a seasoned veteran of many campaigns.
Still, Tsai Ing-wen's transformation from academic to political leader has also been shaped by a favorable environment during this period.
Responding to youths' frustrations
In one sense, she is up against a historically weak opponent in this election. The traditional Blue camp is highly fractured, People First Party candidate James Soong is aggressively going after that segment's voters, and the KMT has had difficulty consolidating its forces internally, so that "even if you add them up it still doesn't amount to anything," laments one high-level KMT official.
The overall international climate could also benefit Tsai, according to DPP elder Lin Chuo-shui (林濁水), who says that many people feel that cross-strait relations are on an irreversible trajectory, yet fail to realize that China's rise over the past eight years has triggered rising nationalism and unprecedented tensions across the Asia Pacific region, from Korea to Japan and Vietnam.
"China might want to make Taiwan an internal issue, but the United States and Japan will not sit idly by," Lin says.
More notable is the shift in the people's identity and allegiance, which has clearly benefited the DPP's resurgence after long working to gain a foothold with local discourse. Observing the changing face of identity in recent years,
Wu Jieh-min (吳介民), deputy researcher at Academia Sinica's Institute of Sociology, says that the concept of "Taiwanese" now "transcends historical factional and ethnic tensions," and that no one is actively challenging this definition now.
"Traditionally, the Kuomintang has been more or less disinterested in discourse on Taiwan's status, whilst the DPP cares quite a lot about it and has kept trying to come up with answers. There may have been some mistakes, but [the party's] stance is unequivocal," adds Hsu Hsin-liang. Consequently, he believes that, although Taiwan does not lack for intellectual elites of Tsai Ing-wen's caliber, only with the support of the DPP could someone like Tsai achieve such status.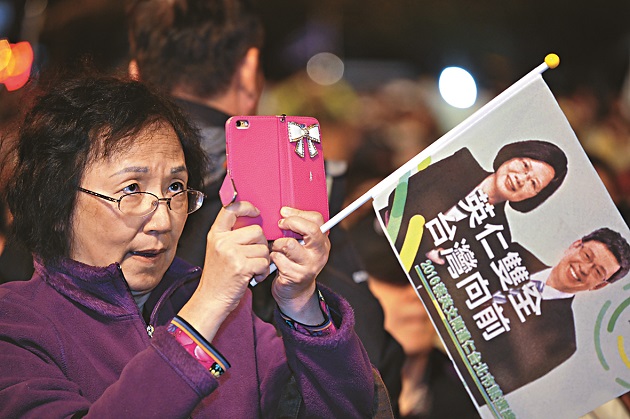 The DPP and its emphasis on local discourse established Tsai Ing-wen's political leadership status.
In her autobiography, From Onion Omelets to Hsiao-Ing Box Lunches: Tsai Ing-wen's Taste of Life, she recalls the words of her father, the man with the greatest influence on her life. His words of advice to her were: "You don't need to fight with others. Let them do what they want to do, and you do what they don't or can't do." Perhaps this explains her promotion of the Little Three Links (allowing Taiwanese to travel directly between Taiwan and China via Kinmen and Matsu using ferry transport), and her conscientious effort to oversee the rebirth of the DPP.
Tsai's good friend and seasoned DPP diplomatic hand, Hsiao Bi-khim, points out that the DPP has undergone two major transformations over the past 16 years. The first took place in 1999 when the party issued the Resolution on Taiwan's Future, which marked a change of stance from advocating independence to safeguarding the status quo; the second was when the party took power in the 2000 presidential election, which subsequently ended in an unfortunate corruption scandal.
"I think the third transition will take place after Tsai Ing-wen is elected," says Hsiao. "From food safety, to long-term care, and the national pension system, the resurgent DPP will give Taiwan a clear direction of values."
Continued cross-strait ambiguity?
Still, should she become president, transformation advocate Tsai is sure to face tests of unprecedented magnitude and scale.
Tsai has doubters on all sides, ranging from her communication style to policy, and leadership team.
The latest CommonWealth State of the Nation Survey shows that, although Tsai stresses that she is a leader who communicates, the immediate challenge before her is how to gain the confidence of voters and groups considered "alien" to her, or outside her core supporters. Because even at a time of pervasive distrust of the KMT, over half of the populace still remain unconvinced by her.
Despite her having articulated "employment, innovation, distribution" as economic development targets, industry has yet to suspend its skepticism of Tsai's energy and labor policies. Similarly, she looks to achieve balanced development between industry and communities, and make inroads into the regional economy to flex Taiwan's international competitive might.
Yet politics and economics are always about give and take, necessitating conciliation and compromise among competing interests. In the DPP party list of legislator-at-large candidates, Tsai has displayed good will towards various activist and disenfranchised groups. And while such overtures will certainly help boost her support heading into the election, tensions are sure to resurface when bills related to environmental, labor, and even cross-strait policy come up for revision in the Legislative Yuan.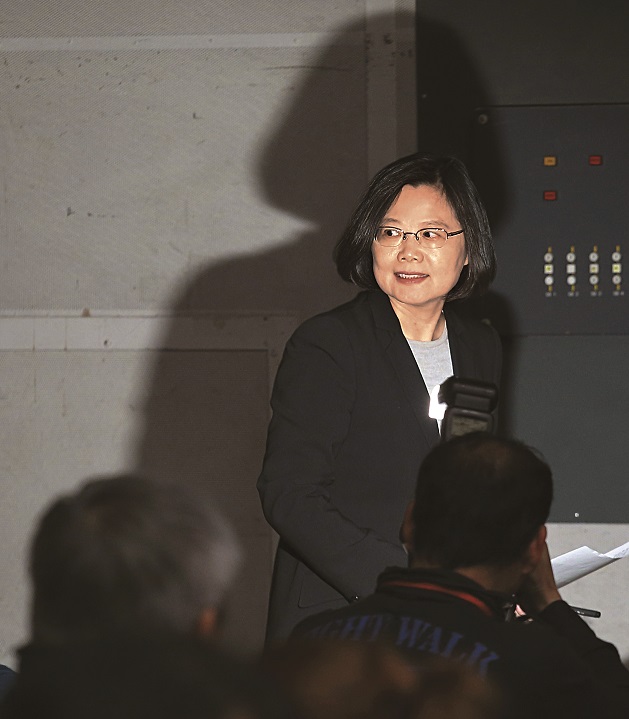 Connecting with supporters on ideas, Tsai Ing-wen faces momentous challenges in seeking to transform the socio-political and economic order.
Her true test will come from the high degree of uncertainty in cross-strait relations from the moment she is declared winner of the election, and whether she will be able to come up with new ways to find common ground over the shortest time. Doing so will require the support of a strong, mission-oriented team.
Though she takes pride in her negotiation skills, when it comes to bargaining chips at the cross-strait negotiation table, Tsai will still be working at a clear disadvantage due to the gap in economic might of the two sides. Moreover, on an even more practical level, the party she leads has long lacked people engaging in stable, ongoing interaction with China, an area in which it must cultivate personnel.
Dr. Evan S. Medeiros, former senior director for Asian affairs at the U.S. White House Security Council, visited Taiwan this past December. Before leaving he met with Tsai behind closed doors for a full hour. Also present from the Green camp were DPP secretary-general Joseph Wu and director of international affairs James Huang, but a China affairs officer was conspicuously absent. "I thought to myself, oh no, this shows that there is still no one in the party that can speak for Tsai Ing-wen on cross-strait policy," said a scholar in cross-strait affairs on condition of anonymity.
People are anxious, but Tsai responded with her usual circumspection and ambiguity. "Perhaps the questions in people's minds will only be answered once she's elected," offers a businessperson familiar with Tsai Ing-wen's decision making. In that case, we will just have to wait and see.
Translated from the Chinese by David Toman