Legislative Yuan Elections
A Second-generation Wave
精華簡文
Source:CW
Of the 356 candidates vying for directly elected legislative seats in Taiwan's fast-approaching elections, 63 are from political families and 40 are the children of former politicians. Will they change the face of hereditary politics in the country?
A Second-generation Wave
By Ming-hsien Lee, Jenny cheng, Pei-hua Yu
From CommonWealth Magazine (vol. 588 )


On a chilly, partly cloudy December day in Taipei, the 37-year-old great-grandson of Chiang Kai-shek, Chiang Wan-an (蔣萬安), appears at Binjiang Market early in the morning. Speaking in fluent Taiwanese, he visits vendors accompanied by a ward chief. Welcoming him were not only hearty greetings but whispers behind him spreading the word that he was "Chiang Ching-kuo's grandson," referring to the late president who was also Chiang Kai-shek's son.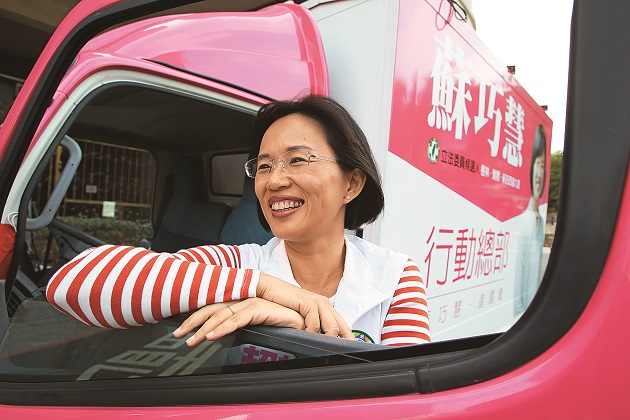 Lawyer Su Chiao-hui has centered her campaign for a legislative seat around such issues as parent-child relationships, education and food safety.
At roughly the same time, in the plaza behind the Shulin train station just outside of Taipei, a band of Taiwanese rockers called Kanku People was performing. Working the crowd there was another legislative candidate, Su Chiao-hui (蘇巧慧), who is the daughter of former premier Su Tseng-chang (蘇貞昌). Wearing a white campaign jersey with eye-catching embroidered characters reading "Push higher. Go, Go, Go," the Democratic Progressive Party (DPP) candidate was busy shaking hands with concert-goers. Her facial expressions and the way she spoke gave some people the false impression that she was a female version of Su Tseng-chang.
In southern Taiwan in the pastoral Meinong area, Kuomintang (KMT) legislative candidate Chung Yi-chung (鍾易仲) fights a hot sun to pierce through black netting and bring water to some women picking orange-colored cherry tomatoes. Behind him, a voice repeatedly reminds him to "call them 'older sister.' If you call them 'auntie' you won't get their votes." The voice is that of his father, former legislator Chung Shao-ho (鍾紹和).
The younger Chiang, Su and Chung are all political neophytes vying for seats in Taiwan's national Legislature, but because they have inherited their parents' resources and network of contacts, they have much higher name recognition and are considered "second-generation politicians" or "legacy political candidates."
There are 356 candidates competing for the 73 legislative seats that will be directly elected by voters on Jan. 16, 2016. (The other 40 seats in Taiwan's 113-seat legislative body consist of 34 are at-large seats decided by votes for political parties and six seats reserved for aboriginal voters.)
Of those 356 candidates, 63 come from political clans (either their own families or through marriage) and 40 have a parent who was involved in politics.
They have received considerable attention in part because the reputations of their elders make it easier for them to gain name recognition in their local constituencies. In contrast, New Power Party Chairman Huang Kuo-chang (黃國昌), who is running for a legislative seat in a constituency centered around Xizhi in New Taipei, struggles with name recognition despite his leading role in the Sunflower Movement because his family is not well known in the area. That's why older voters often ask him, "What's your name?"
The 31-year-old KMT legislative candidate Huang Yun-han (黃韻涵) gets a very different reception because she is the daughter of Kaohsiung City Councilor Lu Shu-mei (陸淑美). The question she hears most often is "Why is your surname Huang and not Lu?"
"I've ended up calling myself 'Ah-mei's daughter," Huang says with a wry smile.
Family Ties a Source of Controversy
Leveraging their clans' resources to run for legislative seats has not been without controversy.
On the one hand, these newcomers have been groomed well with generally impeccable educational backgrounds and experience and clearly are untinged by the grassroots or local boss images carried by the previous generation. But on the other hand, because they have directly partaken in the power game involving the distribution of resources, some wonder if their rise could spawn a type of hereditary politics or distort distributive justice.
Sociologist Ku Chung-hwa (顧忠華) believes that there's no need for alarm over this second-generation political class because social and political capital has always been distributed unevenly.
"The key is whether there is a sound system of accountability and whether they can earn the approval of voters," Ku says.
But younger voters may have different inclinations. A young civil servant in Taipei's municipal government explains that he is resistant to appeals focused on "one vote, service from the entire family."
"If elections are demonstrations of clan influence, then they could put up a watermelon and it would get elected, right?" the civil servant argues.
In Taiwanese elections, second-generation candidates are generally not news. Though they account for 17.7 percent of the candidates running directly for office in the 2016 legislative elections, that's still 0.7 percentage points below the 18.4 percent share they had in the previous legislative polls in January 2012.
Yet they still draw attention because they are by and large young and spread across all of Taiwan. So why in fact do Taiwan's two main political camps – the pro-KMT blue camp and pro-DPP green camp – recommend these second-generation candidates?
Forcing Out the Old Guard in Favor of New Blood
The phenomenon reflects Taiwan's changing democratic political landscape. The student-led Sunflower Movement, which occupied the Legislature in March and April 2014 to protest the KMT government and closer ties with China, triggered the eruption of new, strongly independent social forces in Taiwanese society. Political parties recognized that to appeal to these younger forces, they had to get younger themselves.
But as parties desperately sought out new faces, young people were not necessarily eager to answer the call. KMT Secretary-General Lee Shu-chuan (李四川) admits that while trying hard to encourage younger people to join the party and represent it in elections, he encountered parents of people he was trying to recruit "who shut the door in my face and would not let me in."
Unable to recruit younger talent from outside, the parties resorted to looking internally for new blood. In the New Taipei legislative electoral district covering Linkou and Danshui, the DPP recruited 27-year-old Ph.D. candidate Lu Sun-ling (呂孫綾), whose father was once a New Taipei city councilor and has some degree of local influence.
"The convener of the election committee, Su Jia-chyuan, fully supported my thinking," says the baby-faced Lu in explaining why she decided to run. "I was worried that I was not very articulate, but he said I'll be fine after spending a year in the Legislature."
The urgent search for second-generation candidates also played out in Chiayi County's first electoral district covering the western half of the county. KMT candidate Vincent Lin (林江釧) was running a business in Taipei before being recruited because his father was the former chief of Dongshi Township, one of the eight townships and cities in the district. He only joined the KMT after agreeing to run in the race.
Local Level Influence
An ever bigger impetus behind the participation of second-generation politicians is local politics. Worth watching is whether this move toward hereditary politics will extend to the central government level and bring to the fore traditional horse-trading of votes for positions or favors.
When CommonWealth Magazine reporters analyzed Central Election Commission data and news reports, we discovered that in Taiwan's 22 city and county councils, 24.6 percent of all councilors were from political families, and younger councilors in Keelung, New Taipei, Hualien County, and Chiayi City were almost exclusively second-generation politicians.
Local clans have maintained control over local councils from one generation to another despite the waning influence of influential factions because grassroots democracy has failed to uproot the unwritten rules of traditional patronage politics. In fact, because of the intense competition between the blue and green camps, the situation may be getting worse.
A scholar who studies local politics explains that if a ruling party wants to consolidate votes at the grassroots level, it has traditionally sought to get political figures in the area, such as the ward chief and township mayor, on its side. The most direct way to do that is to subsidize "inspection" trips abroad for them or support local activities, spending anywhere from NT$30,000 to NT$50,000 or NT$100,000 to NT$200,000 per event.
The KMT once had a powerful grip on this potent source of votes, but "the DPP has figured this out, and now meets the demands of grassroots vote brokers," the academic says.
An indirect but even more effective strategy to bring local political resources under family control involves a typical patronage model – exchanging votes and support for jobs. In effect, after mayors or other leaders get elected, they reward the support given by accepting lobbying requests from councilors and arranging work contracts or "substitute" government positions for the vote brokers' children.
"When the people who accept requests for political patronage are the ones getting elected, and high caliber people with ideals are not, that constitutes a new threat to Taiwan's democratic politics," a young Kaohsiung municipal government employee worries.
Working as a civil servant, he has discovered that even in green-controlled southern Taiwan, lobbying for jobs by many elected representatives has become "systematized."
The way it works, he says, is "the lobbying request is accepted, forms are filled out, and the person's name, his parents' names and their connection to the elected representative is noted. At the same time, work begins on finding the person an opening."
This bartering of votes for government jobs that now proceeds openly can exist because of legal loopholes. According to the "Regulations for Retaining Civil Service Positions without Pay," civil servants can apply to retain their position without pay for two to three years to care for newborn children or their parents, advance their education, or accompany a spouse going abroad for work or study.
Government agencies take advantage of the resulting absences by using their authority to distribute favors, assigning temporary contracts to supporters to fill openings left by people on unpaid leave.
"There are some people who when their work contracts come to an end, they are helped to find a new vacancy to fill. Things can continue going on that way until they retire," the civil servant says.
Failure of Nomination Mechanism
Deeply intertwined connections, networks of mutual favors and the exchanging of votes for jobs – these have all imbued Taiwan's grassroots democracy with a maze of alliances between political families. Those factors along with the loosening of party discipline and the rise of new powerful figures have extended the reach of second-generation politicians from the grassroots to the central government.
"The stories of many second-generation politicians actually reflect problems with political party operations. (Political parties) have not cultivated talent or prepared for generational change and have grown more distant from mainstream opinion," laments Lee Liang-cheng (李樑堅), a professor of finance at I-Shou University.
If Taiwan wants to fend off the negative influence of family politics and safeguard the progress of the country's democratic politics, criticizing the second-generation politicians is not the answer; the overall political system needs to be overhauled. That involves several steps, from a party's nomination process and open and transparent legislative procedures to related laws that are more comprehensive and detailed in scope.
The sociologist Ku said it is the basic right of second-generation politicians to vie for public office to serve their constituents. But to prevent the process from being controlled by political families, Ku explains, political party nominating mechanisms must first be strengthened so that parties emerge as public assets rather than as a family asset held by a small minority of people. Only then can parties be effective channels through which outstanding people can engage in politics.
Second, Ku says, all representative bodies, from local councils to the national legislature, need to be more open and transparent so that the public better understands how elected representatives make laws and allocate resources. All it would take to achieve that, he believes, is establishing a TV channel focused on the Legislature, enabling people to follow policy debates or reviews of pending legislation.
Ku stresses, however, that real progress in Taiwan's democracy will require a more educated public so that lawmakers and councilors are less inclined to fiddle around or behave unscrupulously.
Even more important is that laws and regulations governing political parties and elections are more open and demanding of good practices and create an environment for fair and reasonable political competition.
Chu Yun-han (朱雲漢), an Academia Sinica academician, observes that a "sunshine law" movement arose in Taiwan in the 1990s that set standards for government leaders and civil servants but went relatively easy on political parties and elected representatives. It also fell short on setting campaign finance and political donation norms. Without clear restrictions, the threshold for political participation and the expenses needed to run a campaign have risen ever higher, shaping a system in which political clans can thrive and carve up their own political fiefdoms.
"In this kind of environment, it's no wonder that we have this kind of politicians," Chu laments.
Running Hot and Cold on Politics
Though many second-generation politicians benefit from smooth entries into politics and abundant resources, their bright appearances often hide degrees of discontent difficult for outsiders to perceive.
Two-term incumbent lawmaker Chang Chia-chun (張嘉郡) admits that when she first represented her powerful political clan in Yunlin County to run for office, it was only because her father, former Yunlin County Commissioner Chang Jung-wei (張榮味), asked her: "Do you have the guts to stand for election?"
"I thought to myself, you (her father) dared to run. Why can't I?" recalls Chang, who enjoys interior decorating and painted the campaign headquarters of her younger brother, who is running for Chang's seat in January, Tiffany blue.
After Chang took on her father's dare, the county's KMT party headquarters announced three days later that it was nominating her as its legislative candidate. After getting elected, she became a public figure without any private space.
"I basically completed the initial mission I set out to achieve," says a relaxed-looking Chang in discussing her brother's quest to replace her. "I'm actually very happy to be letting go."
Translated from the Chinese by Luke Sabatier