Post-Paris Climate Conference
Global Low-Carbon Trends Taking Hold
精華簡文
Source:CW
The conclusion of the Paris Climate Agreement has raised the curtain on a low-carbon future. How are French and German corporations taking up the challenge to turn low carbon into high profits?
Global Low-Carbon Trends Taking Hold
By Kwang-yin Liu, Kuo-chen Lu
From CommonWealth Magazine (vol. 588 )


Nearly 250 years after the dawning of the Industrial Revolution, representatives from countries gathered in 2015 in Paris, France to reach a historical agreement on greenhouse gas (chiefly carbon dioxide or CO2) emissions, taking the first step towards averting the destruction of humanity due to catastrophic climate change. The agreement signaled the beginning of the end of the era of growth driven by reliance on fossil fuels (coal, petroleum and natural gas) and the beginning of a new era of low-carbon emissions and sustainability.

On the evening of December 12, we were on hand to witness the historic moment transpire at the UN Framework on Climate Change (UNFCCC), also known as the Paris Climate Conference or COP21: The conference chairman, French Foreign Minister Laurent Fabius, declared that 195 signatories had nearly unanimously passed the Paris Agreement, agreeing to limit the warming of the earth's temperature to within two degrees Celsius and attempting to keep temperatures from increasing by more than 1.5 degrees.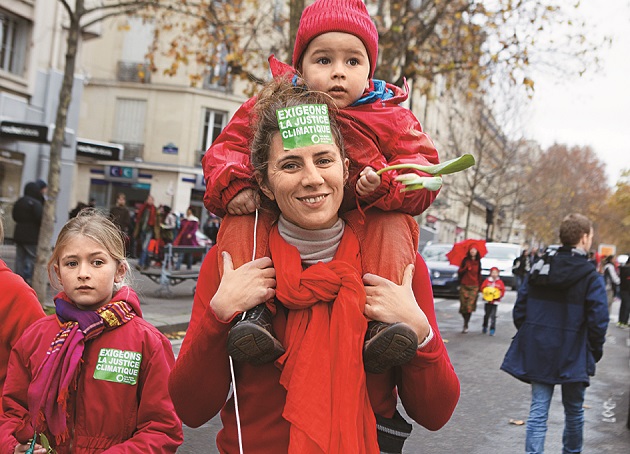 Wearing headbands with the slogan 'CLIMATE JUSTICE', mothers with babies demand that people in power make responsible decisions for future generations.
"History has been made in Paris, the City of Lights. The Paris Agreement confirms the irreversible transition to a low carbon, safer and healthier world," said Christiana Figueres, Executive Secretary of the UN Framework on Climate Change (UNFCCC).
Taking effect in 2020, the agreement's summary clearly demands that, by the close of this century, the rise in global temperature must be held "well under 20C" higher than it was at the start of the Industrial Revolution, but limited to 1.50C if possible (editor's note: the current rise is 0.950C since the dawn of the industrial age). Beginning in 2020, developed nations will provide a "climate fund" of US$100 billion dollars per year to support CO2 reduction and mitigation programs. Finally, nations worldwide shall endeavor to realize a carbon emissions ceiling by the second half of the century to effect a net negative growth from that point.
The United Nations Intergovernmental Panel on Climate Change (IPCC) has begun research into ways to limit the temperature rise to 1.50C. It is expected to announce its findings in 2017.
In comparison to the failure of the previous Copenhagen climate summit six years ago, credit for the success of the Paris Agreement must be given to the diplomatic efforts of host country France, as well as the cooperation of China and the U.S.
French Foreign Minister Fabius began making numerous visits to such large emitters and oil-producing nations as China, India, and Saudi Arabia two years ago, looking to get them on board.
Also, in the run-up to the Climate Conference, countries were encouraged to submit their Intended Nationally Determined Contributions (INDC). This sound approach yielded188 INDC pledges by countries accounting for over 98 percent of global CO2 emissions. Furthermore, five-year CO2 emissions reduction review plans were hatched, and nations will be asked to open their INDCs up to scrutiny to measure progress.
The United States led the way in its enthusiasm. In the second half of the year, President Obama first went to Alaska to witness effects of global warming, brought together 81 corporations to sign the American Business Act on Climate Pledge, and vetoed the bill for the Keystone XL oil pipeline from Canada.
At present, the U.S. provides US$400 million annually in aid to developing countries to mitigate the impacts of climate change, a figure U.S. Secretary of State John Kerry pledged at the Paris Summit to double by 2020.
China also expressed its determination, strengthening CO2 reduction incentives in its 13th Five-year Plan, including controlling total coal consumption, reducing CO2 from coal-fired power plants, and overseeing a steady increase in the proportion of renewable energy sources to 15 percent by 2020. And in addition to backing electric vehicles and energy-conserving products, the exchange of carbon credits and institution of the circular economy offer the country emerging investment opportunities.
For its part, India has been comparatively passive. Indian Environment Minister Prakash Javadekar pulled no punches with his assertion that "we need differentiated responsibilities to achieve a fair agreement."
India maintains that as the main beneficiaries of past economic development, developed countries should bear the most responsibility for reducing CO2 emissions.
In an analysis of various countries' INDCs, the UK-based climate science website Carbon Brief found that in order to meet their targets, 73 developing countries would have to spend at least US$3.5 trillion by 2030, with India alone spending US$2.5 trillion. Such hefty expenditures could influence India's determination to reduce emissions.
Even though the Paris COP21 agreement does not take effect until 2020, the following four global trends will surely become increasingly prominent:
Trend No. 1
CO2 Emissions Come at a Cost
Following the Paris Agreement, the trend toward carbon pricing will become more pronounced. Professor Chou Kuei-tien, director of the Risk Society and Policy Research Center at National Taiwan University (NTU), notes that countries will begin caring more about the carbon footprint of various products, even exacting a direct carbon tax on products.
Looking ahead, more investment will shift toward clean energy, the circular economy and low-carbon technology, and this transition is in fact already underway. During the Climate Summit, 28 investors from 10 countries, including billionaires Bill Gates, Richard Branson and Jack Ma, announced the formation of the Breakthrough Energy Coalition, which will invest at least tens of billions of dollars toward preliminary research into clean, low-carbon energy production.
Trend No. 2
Alternative Energy Right Behind
The fossil fuel industry will face increasing pressure moving ahead. According to analysis from the International Monetary Fund (IMF), 2015 subsidies worldwide for the fossil fuel industry will reach US$650 billion. The biggest losers at the recent COP21 summit were the Arab nations and the fossil fuel industry, which is certain to become subject to increasingly strict government limitations, along with competition from the alternative energy industry.
Countries and corporations that rely on cheap fossil fuels to encourage growth while not engaging in transition will face threats to their continued existence.
Trend No. 3
The End of Cheap Energy
There is after all no such thing as a free lunch, and in order to conduct its energy transformation, electricity prices in Germany have risen around 50 percent over the past 10 years, while the proportion of renewable energy is expected to reach 50% by 2030, (currently standing at 28%).
France, which derives over 75 percent of its energy from nuclear power, passed an Energy Transformation Bill earlier this year in the effort to boost the proportion of power produced by renewables by 2030 from 20 percent to 30 percent. Further, France will begin assessing a carbon tax of 56 Euros (around NT$2000) per metric ton from 2020, and will double the rate after a decade.
The good news is that the Taiwanese public is already highly aware of these issues. An opinion survey conducted by NTU's Risk Society and Policy Research Center found that over 85 percent of local citizens surveyed expressed willingness to pay higher electricity costs, and nearly 70 percent would be amenable to paying more taxes in order to develop low-carbon energy. Renewable energy accounts for just 4.7 percent of Taiwan's current energy production, considerably less than the average of 13 percent among advanced industrial nations, leaving plenty of room for growth.
Trend No. 4
Consumers Take the Reins
Change will be initiated from the ground up, and more consumers will consciously support enterprises that demonstrate concern for sustainability and low carbon emissions.
Do not presume that consumers can only passively observe these trends. Richard Northcote, chief sustainability officer at the major German chemical manufacturer Covestro, relates that more and more customers want to see the carbon footprint reports for their products, largely because they have found that many consumers care about sustainability and express their values through consumption decisions.
"Officials decide from the top down, but the people can facilitate change from the bottom up," says Ms. Michèle Pasteur, lecturer in national planning economy and local development at Paris's Pantheon-Sorbonne University.
Pasteur believes that, no matter what happens with the Paris agreement, the people can exercise their own power. "From the individual to the organization and the corporation, if you make carbon reduction your personal business, together we can get it done – and we can do it just as well as the government, if not better," she says.
The Paris climate summit is only the starting point. Now is the time for the people of the entire world to take action, and bring about change in advance of the coming low-carbon age.
Translated from the Chinese by David Toman