'Red Supply Chain' Threat
Buying Up the World
精華簡文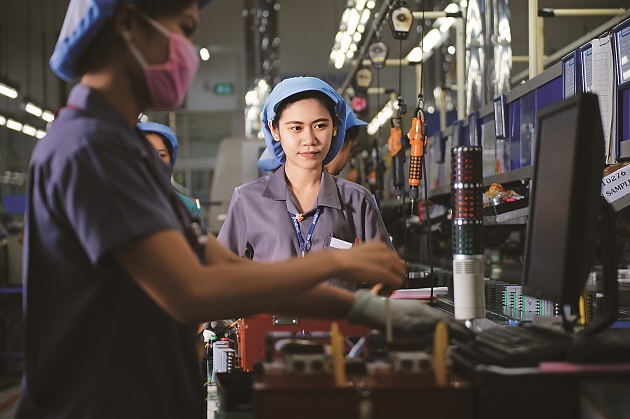 Source:CW
China's electronics industry, backed by its government's deep pockets, is feasting on global companies to build a high-tech supply chain that is overwhelming rivals. Taiwan's businesses face a bleak future if they don't face up to the looming menace.
Buying Up the World
By Elaine Huang
From CommonWealth Magazine (vol. 587 )


The Asian industrial chain will likely continue 2015's ominous path next year, with a red aura enshrouding the region.

At the end of November, China's largest semiconductor packaging and testing services provider and a rising star in the sector, Jiangsu Changjiang Electronics Technology Co. Ltd, landed orders for SiP (system-in-package) modules from Apple. As soon as the news surfaced, it sparked an uproar in Taiwan's semiconductor sector.

"Taiwanese semiconductor packagers spit out a mouth of old blood," wrote a triumphant Chinese media outlet, using the expression to describe how upset Taiwanese suppliers felt.

Though Taiwan-based Advanced Semiconductor Engineering Inc., the world's biggest IC packager, did not react publicly to the move, privately it had to be concerned, especially considering how long and how many tries it took the Taiwan-based company to break into the Apple supply chain .

Following moves by China's Tsinghua Unigroup to acquire a stake in U.S. company Western Digital Corporation, lure the man known as the godfather of Taiwan's DRAM industry – Charles Kau – away from Taiwan, and buy into Taiwanese chip packager and tester Powertech Technology Inc. and become its largest shareholder, Changjiang Electronics' gambits further sent chills down the industry's spine.

That anxiety was only heightened on Dec. 11 when news emerged that Tsinghua Unigroup would also take 25 percent stakes in Taiwan's second-largest IC packaging and testing company, Siliconware Precision Industries Co., and another Taiwanese IC packager, ChipMOS Technologies Inc. The deals still have to be approved by Taiwanese regulators.

"In the manufacturing sector, you can't just be big; you have to be strong," reads a set of proposals approved by the Communist Party's Central Committee in November for the 13th five-year plan, the final details of which will not be released until next year. But the plan's strategy to "buy the world" at an accelerated pace will take aim at the semiconductor sector Taiwan has built for more than three decades, described by many in Taiwan as "the last bastion of Taiwan's high-tech sector."

The posture has led to global brands lining up at China's doors seeking cooperation. Chip-making giant Intel acquired a stake in Tsinghua Unigroup – essentially buying a "ticket" to gain access to China's market. The price it paid was to promise Tsinghua Unigroup technical support.

In May this year, Dutch semiconductor firm NXP Semiconductors sold its radio frequency power amplifier business to Chinese interests in exchange for "admission" to China's smart cities and the potential market for smart city smart cards.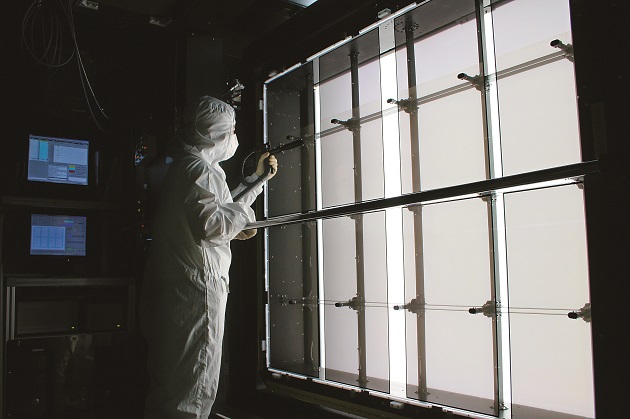 Chinese flat panel makers have rapidly expanded capacity in recent years. Facing China's quest for "big" and "fast," Taiwan needs to pursue "excellence" and "distinctiveness."
"The country injects capital, and then through partnerships between foreign and Chinese companies, the foreign partner trades technology for market access, enhancing the manufacturing prowess of Chinese enterprises," says Gordon Sun, director of the Taiwan Institute for Economic Research's Macroeconomic Forecasting Center, describing China's alarming new tactic.
China's investment of massive sums to secure technology clearly reflects the ambition of the country's businesses in every field to become autonomous and replace imports after years of copying and depending on others, to quickly jump into LEDs, flat panels, semiconductors, chip packaging and testing, and IC design, and move away from old economy products such as steel and petrochemicals.
As China raises its local content rate, it is also changing Asia's industrial supply chain. One concrete example of this is the red supply chain's ambush of the LCD flat panel sector.
The Donkey Outpacing the Horse
On Dec. 2, China's largest LCD panel maker BOE Technology Group announced it was teaming up with Corning to build a 10.5-generation fab in Hefei that will end the reign of Sharp's 10th-generation plant in Sakai, which opened in 2009, as the producer of the world's largest panels. Taiwan, which has been stuck with 8th-generation lines for the past few years with no new capacity in the pipeline, will only fall further behind.
"The copycats have passed us by, riding donkeys to overtake us on our horses," admits Tuan Hsing-chien, the chairman of Taiwan's biggest flat panel maker, Innolux Corp.
This year, Chinese flat panel makers such as BOE and China Star Optoelectronics Technology (CSOT) engineered huge increases in capacity by opening 8th-generation plants to tackle the 32-inch LCD TV market.
"The 32-inch market is the entry-level market. Chinese panel makers have taken it over completely. They've slashed prices down to their cash costs, and driven Taiwan and South Korea out of this market," says Lin Tze-min, a senior manager at the Industrial Technology Research Institute's Industrial Economics and Knowledge Center.
As Chinese flat panel vendors move toward 8.5- and 10.5-generation fabs, their capacity for 8th-generation processes and above will likely exceed that of South Korea, Japan and Taiwan in 2016.
Lin even expects the 42-inch and 43-inch panel sizes that form the backbone of Taiwan and Korean production to be squeezed by Chinese capacity beginning next year.
In competing with China, dodging the giant may be the only option. "China has disrupted the value chain. The model for a successful business is no longer the 'Western model.' Everybody is following China's Alibaba, Tencent, and Xiaomi. They have set the rules of the game," says Digitimes CEO and President Colley Hwang bluntly.
"It's an era in which values are being rebuilt," Hwang says.
Teaming Up with a 'Big Brother'
China has begun adopting the dual role of game participant and rule-maker, a stark reality that Asia can only adapt to rather than evade.
"There is no red supply chain. There is only a competitive supply chain," is the refrain of many major entrepreneurs, including Hon Hai Group Chairman Terry Gou and MediaTek Chairman Tsai Ming-kai. To them, shifts in supply chains are normal; the only feasible response is becoming more competitive.
C.W. Chen, chief researcher at ITRI's competitiveness center, believes that Taiwanese vendors who have been unwilling to confront the red supply chain would be better off facing up to a "future of a mixed-color supply chain," describing supply chains in which different countries and rivals of different colors cooperate.
"The strength of Taiwanese-invested businesses in China is limited. Joining with a 'big brother' to compete beats sitting there helplessly," says Chen, who suggests one option may be teaming up with Japan.
After meteoric rises in Korea and China's consumer electronics markets, Japan has gradually lost its competitiveness, but it remains entrenched as a formidable upstream supplier of key components and materials for high-tech products, Chen observes.
One example: Laser focus lenses have emerged recently as key components in mobile devices, including Apple's products. Made from gallium arsenide (GaAs) semiconductor laser diodes, the lenses enable people to bring their cameras into sharp focus quickly with a simple gesture.
When Taiwan-based HLJ Technology Co. developed its specialized laser diode known as VCSEL (vertical-cavity surface-emitting laser), it sought out a Japanese company to make the module and work together to break into the Apple supply chain.
Some players in the LED sector, which was battered by China's 12th five-year development plan (2011-2015), realized the potential threat from China early on and took action but have now realized the need for "mixed-color cooperation."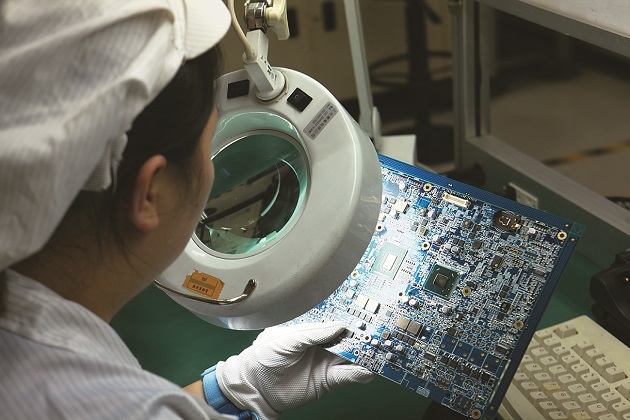 Most important for Taiwan looking into the future is to continue strengthening its R&D capabilities.
LED giant Nichia Corporation of Japan invested 100 billion Japanese yen (about US$815 million) in equipment over two years beginning in 2009. By 2015, while Chinese LED factories such as San'an Optoelectronics Co. were poaching talent in the supply chain and engaged in cutthroat pricing to undercut Taiwanese LED vendors, Nichia's depreciation was already fully amortized, leaving it free to devote its resources to developing patents and new technologies.
"We foresaw the potential competition from the rise of Chinese factories five years ago," Nichia chief legal and intellectual property officer Katsuyuki Akutagawa told CommonWealth Magazine.
Sure enough, with massive financial support from China's government, Chinese LED producers have bought large amounts of MOCVD (metal organic chemical vapor phase deposition, a key process in LED manufacturing) equipment at nearly zero cost to them, resulting in overcapacity that has turned the global LED supply chain chaotic.
Armed with patents and technology advantages, Nichia has since allied itself with two partners, both of them Taiwanese companies. One is LED packager Advanced Optoelectronic Technology Inc. (AOT), a subsidiary of the Hon Hai Group, and one is LED and silicon sensor chip maker Opto Tech Corporation.
AOT at one point was involved in a patent dispute with Nichia, but it has now accepted Nichia as one of its shareholders.
"We will be discussing together the development of the next generation of products," Akutagawa reveals, expecting to move in the direction of higher value-added products.
Strategies to Counter the Threat
Even if they are unable to "mix colors" in the short term, Taiwanese companies have reached a consensus: the best approach to deal with the Chinese wave is finding the right niche rather than completely avoiding a fight.
Take Innolux. Tuan in the past has adopted a competitive strategy that steers clear of a direct frontal confrontation with big Chinese rivals on mainstream specs. Instead, he has developed the market for niche screen sizes by cooperating closely with Chinese TV brands, ensuring an outlet for his panels.
So far, the strategy has worked, according to ITRI's Chen. "Companies like TCL and Haier all use Innolux panels. The quality of Taiwanese vendors has always been better than that of Chinese suppliers," Chen says.
One of TCL's subsidiaries is CSOT, Innolux's No. 1 competitor, but it also buys displays from Innolux, reflecting the new era of co-opetition and the increasingly blurry line and delicate relationships between friends and enemies.
Looking to another industry for a partner represents a second alternative to dealing with China's economic rise.
Bullish on the potential of Internet of Things opportunities the 5G era should usher in by 2020, MediaTek has not ruled out allying itself with a Chinese Internet platform operator such as Alibaba or Tencent to penetrate the huge market. Its idea would be to ride the back of these Chinese monoliths and supply the chips they need.
"Whatever the color, whoever is willing to give you the best terms and help you end up with the best profit is the partner Taiwan will work with," Chen stresses. "Taiwan's supply chain is up against the world."
Threatened by the huge Chinese colossus, many Taiwanese enterprises are also getting ready for "gang warfare."
Digitimes' Hwang feels that when contemplating new IoT businesses, Taiwanese companies should first meet Taiwan's cities needs for applications and services to hone their capabilities and technologies and then once proven bring that technology and experience to China, ASEAN and other markets to vie for a piece of their industrial and technological pie.
Facing a future of co-opetition, Taiwan will have to make difficult choices, but as long as it can find the right partners to make itself stronger, it will always have opportunities.
Translated from the Chinese by Luke Sabatier