Countdown to the 2018 Curriculum
Revolutionary Change for Taiwan's High Schools
精華簡文
Source:CW
What kind of future awaits millions of students when they enter a completely different senior high school system in the wake of Taiwan's most dramatic education reform in a century? How are schools and faculty preparing for this unprecedented challenge?
Revolutionary Change for Taiwan's High Schools
By Rebecca Lin
From CommonWealth Magazine (vol. 586 )


Taiwanese students who are currently attending their first year of junior high school will be the first to experience the island's most far-reaching education reform when they enter senior high school in the fall of 2018. Under the new high school curriculum, the learning experience will differ greatly from that of their older siblings or friends.

Many familiar features of senior high school will have disappeared three years down the road. Students will no longer have "classmates" in the classical sense but rather "course mates." Currently, students of the same year are divided up into school classes. The same group of students remains together and is instructed by subject teachers as a class throughout the school year. In the future, students will instead belong to several course groups with changing members

Under the new curriculum, core subjects such as Chinese, English, math, physics and chemistry are designated as "compulsory courses". Schools are required to group students based on their ability. There will be groups of different aptitude levels for each subject. Students are also encouraged to choose courses based on their personal interests and orientation.

Moreover, students will earn one third of their credits through "diverse elective courses". In order to implement the new course system with compulsory and elective subjects, schools will have to switch from the current system of large classes with 40 students to small groups of 12 students. In order to provide greater subject choice, the number of electives must be increased to 1.2 to 1.5 times the number of student classes.

The government has been advertising its 12-Year Basic Education Plan as a means to "nurture students' individual talents according to their character." Therefore, high school students will be able to cover a higher share of their overall credits with electives than before. Of a total of 180 credits, 118 credits must be gained in courses that have been designated as compulsory by the Ministry of Education. Another four to eight credits must be earned through "school-designated compulsory courses", whereas the remaining 54 to 58 credits can be earned in electives.
Individual Class Schedules
The 2018 Curriculum will turn Taiwan's century-old senior high school system on its head. In the future, senior high school students will no longer follow a class timetable but get a tailor-made "individual course timetable."
"The entire course design focuses on student needs and student learning," notes Hung Yung-shan, director of the Research Center for Curriculum and Instruction at the National Academy for Educational Research. Senior high school education should cultivate students' basic civic qualities and help every single student do a good job of molding their personality, exploring vocational and other career options, differentiating their education and preparing for college, Hung explains.
The National Academy for Educational Research serves as a think tank for the Ministry of Education. As a research institution, the academy has drawn up the, 12-year Curriculum for Basic Education generally known as the 2018 Curriculum, which are to be implemented following assessment by the policymaking Ministry of Education.
A Paradigm Shift in Education
In the classrooms of the future, the spotlight will move from the teachers to the students.
"This is a paradigm shift in education," remarks Chen Pei-ying, associate professor at the Department of Education of National Taiwan Normal University (NTNU). In the future, schools will have to produce course maps that show how these courses lead up to college. In the first and second year of senior high school, students will explore different career options, and they will enroll in specialist electives in their final year of schooling.
At the same time, students need to learn "how to select" their electives. In order to be able to plan their learning roadmap, they will need not only to know what their interests are, how they define themselves and what their strengths are, but also the possibilities that the future holds in store for them.
Major adjustments to the way we learn are necessitated by our rapidly changing world, and the skills and knowledge that recruiters look for are also constantly changing.
Senior high school education in industrialized nations is already being flipped or turned upside down. Even in China, where the central government keeps a tight grip on everything, including education, schools have begun to boldly experiment with more diverse ways of teaching.
Chang Kuang-yuan, head of the library at Taipei Municipal Song-Shan Senior High School, reveals that for some Taiwanese teachers, a recent visit to China was an eye opener. They went on a fact-finding trip to Gezhi High School and Shanghai Yucai High School in Shanghai in June this year to gain insights into the high school climate and curriculum reform there. "Before they went, many did not believe [that reform is possible], but after they went they were flabbergasted; it widened their horizons," Chang remarks.
"In the past, we thought it was impossible to realize 'individual class schedules,'" notes Chang in describing the widely held attitude among faculty and staff. After the visit, the teachers realized that this means teaching students in accordance with their aptitude, and that schools in Beijing and Shanghai are already practicing this.
However, after returning to the harsh realities of high school education in Taiwan, their initial enthusiasm soon evaporated into a thick shroud of anxiety and worry.
Big-Pie Thinking Meets Small-Pie Reality
Teachers in Taiwan are more and more frustrated on the job because they feel they cannot achieve much with their teaching as students lack the motivation to learn. Chou Mei-li, an English teacher at Taipei Municipal Yongchun Senior High School, a community school in eastern Taipei, describes feelings that many of her colleagues share. Senior high school teachers find their jobs more exhausting than ever but do not see their efforts translate into results.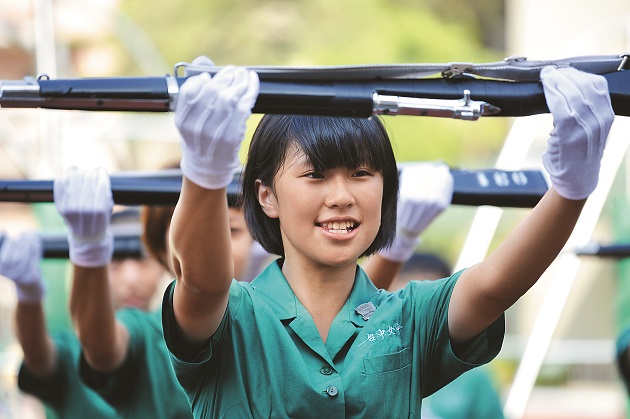 At school, the spotlight is moving from the teachers to the students.
Chou observes that students that entered senior high school after Taiwan introduced 12-year basic education in 2014 show a much wider gap in aptitude levels and are generally less motivated to learn than previous cohorts. Students easily give up on school if they do not have a sense of achievement. "Since we do not want them to drop out, we need to spend even more time tutoring them," remarks Chou.
Chou and her colleagues often tutor weak students after school, sometimes as late as 8 or 9 p.m. Nonetheless, the number of failed students who had to make up their deficient English core subject grades with additional summer courses doubled from two classes to four classes this year.
This phenomenon isn't restricted to community high schools. Prestigious elite schools such as National Taichung Girls' Senior High School in Taichung are experiencing similar trends.
"The aptitude gap for English already shows an M-shaped distribution," says Tsai Yu-shan, one of the school's English subject teachers. In the past, the scoring gap within the same class used to be around 6, which means there was difference of 24 points between the highest and lowest scores. This gap has now widened to 13.
There are only three years left before the 2018 Curriculum will be implemented, but Taiwan's education system seems ill-prepared in many areas.
One serious obstacle is the already crowded premises. Song-shan Senior High School in Taipei, for instance, has a total of 46 classes in three years, which already use all available space. Even the library has been vacated to create additional classroom space. Three years down the road, when students in grades 10 through 12 go to different classrooms for their various electives rather than having subject teachers coming to their home base, conditions are predicted to become even more crowded.
Another big headache for school administrators is rigid laws and regulations that make teacher recruitment a bureaucratic nightmare. The topic seems to hit a raw nerve with Lu Pei-chuan, principal at National Taichung Girls' Senior High School.
Lu's school currently offers foreign language electives in Japanese and German. In order to be able to broaden students' electives choices, new elective courses in the Vietnamese and Thai languages might be added. However, if such teachers are to be recruited, it must be made possible for several schools to share a teacher or to hire on a flexible part-time basis.
"However, laws and regulations for public schools are strict, and the remuneration is not good, so the number of employable individuals is quite limited," Lu explains.
A broader selection of electives also means that the number of teachers must increase as well. In a research study, Chen Wei-hung, the former principal of Taipei Municipal Jianguo High School, concluded that each class gets allocated 2.25 teachers under the current system. Once the new electives have been added, this figure needs to be adjusted upward to three. Senior high schools in Beijing and Shanghai have already achieved a teacher-to-class ratio of three to one.
Evidently more faculty members need to be hired, yet Taiwan's education budget is already stretched beyond its limit. The Ministry of Education has earmarked nearly NT$33.9 billion in its general budget for this year for the implementation of the 12-Year Basic Education Program. Nearly half of this amount, NT$ 16.2 billion, will be used to make senior high school education tuition free, with another NT$4.3 billion for tuition-free preschool education. This means that nearly 60 percent of the education budget is spent on subsidizing tuition. In contrast, a mere NT$155 million is invested in the professional development of senior high school faculty.
Race for Good Schools Could Thwart Reform
Another factor that causes schools problems is that many teachers have no confidence in the new policy.
"Many things are unclear, and people ask me 'won't the policy be halted again if the ruling party changes'," remarks one teacher. Uncertainty over the country's future and its political environment are generally cited as source of concern among teachers.
Aside from political factors, senior high school teachers have reservations because they fear that the good intentions behind revisions to the curriculum outline are always defeated by the prevailing social attitude that puts priority on getting into prestigious, "good" universities and colleges.
Fang Der-long, dean of the College of Education at National Kaohsiung Normal University (NKNU), grasps the 2018 Curriculum to compare it with the 2010 curriculum. He points out that schools back then were already asked to set up "curriculum development committees" to draw up school-specific courses. Most schools merely went through the motions in order to conform. "The senior high schools disregarded a number of existing policies; their only concern was to do well on grades - that is to attain a high university admission rate," Fang concludes with a sigh.
Meanwhile, the general sentiment on senior high school campuses regarding the 2018 Curriculum can be described as: "2018 is not that terrifying, but there also won't be that much room for new electives." As long as the overriding goal of parents and students is getting into a good university upon graduation from senior high school, the subjects that are part of the university entrance exam will always weigh heavier than any individual interests or talents.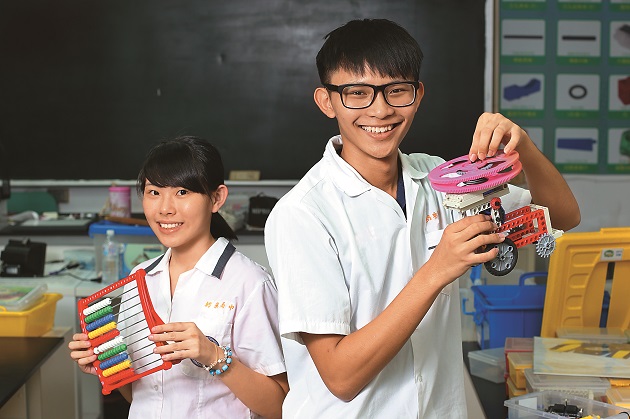 In the future, senior high schools will have greater flexibility in designing courses. Students will also have to plan their own learning roadmap.
"If we don't resolve the problem of exam-oriented teaching, everything will be only make-believe," notes Wang Jen-chieh, head of academic affairs at National Hsin-feng Senior High School in Tainan, heaving a deep, exasperated sigh.
As students still care most about their grades and university admission, it takes courage and determination for educators to embark on a different road.
A group of subject teachers who do not want to wait until public policy has trickled down have started to take things in their own hands to bring a fresh breeze into the teaching profession.
Lone Fighters Team up
Although it is a holidays, it is evening before Lan Wei-ying, a teacher at Taipei Municipal Li Shan High School, has time for an interview. Though visibly exhausted, her face has a radiant shine. On that day, Lan has already had four successive meetings, all to discuss curriculum planning with fellow educators.
A veteran teacher with 22 years on the job, Lan felt a fresh breeze blow through the school system when the 12-year Basic education scheme was launched. She began to prepare classes at school collectively with her colleagues. Ding Ya-wen, then head of the Department of Education in the Taipei City Government, promoted a "learning community," took teachers to Japan on study visits and organized international symposiums. Lan enthusiastically participated in all these activities. Subsequently, the Department of Education assigned her to teach natural science classes. Lan also teamed up with like-minded teachers to form specialized learning groups, prepare teaching methods and develop new courses.
From 2013, the department also subsidized 30 vocational senior high schools in the Greater Taipei area with NT$15 million over a three-year period under its Pioneer Program for Vocational Senior High School Courses and Teaching, which aimed to develop school-specific courses and let teachers witness international education trends and broaden the scope of their perceptions regarding education.
As the department continued to beat the drum for its cause, 25 specialized learning groups for various subjects including science, physics, biology, Chinese, history and English formed under the city government's Course and Teaching Development Working Circle Program.
If the learners are put at the core, the existing educational framework must be dismantled so that the classroom is no longer a battleground where teachers have to fend for themselves. "The 2018 Curriculum is group-oriented in its course design," remarks Lan. One reason is that a course must be developed by many people to ensure stable quality and continuity. Second, since the average teacher does not necessarily have interdisciplinary abilities, different subject teachers need to cooperate in developing such courses.
When such bottom-up grassroots initiatives gradually develop momentum, they may be able to make even schools rush forward. "The 26 senior high schools in Taipei City have more than 2,000 teachers. Over the past three years, more than 300 of them have already joined," explains Liu Kuei-kuang, head of academic affairs at Song Shan Senior High. As a result of cooperative efforts between Liu and teachers, the school is providing 27 elective courses for first-year students this year.
Like a pebble that hits the water, their efforts will continue to create a ripple effect across Taiwan.
While things have started to move at the teaching front, Professor Chen of NTNU is deeply aware that the scope of these changes is still fairly limited. Chen believes "as long as the examinations have not yet truly changed, the groups can only do so much." Systemic restrictions such as university entrance exams and the way talent is recruited will influence how far senior high schools will be willing to go in terms of opening up.
Reform Does Not Happen Over Night
Now that Taiwan has rolled out a 12-year basic education policy, senior high schools across the island are quickly nearing the final countdown for the new 2018 curriculum. Will it be able to bring about revolutionary change to teaching and learning as we know it? Will tailor-made individual class schedules be achieved and contribute to realizing the goal of a holistic education that nurtures healthy personalities and civic qualities in teenage students?
Professor Fang of NKNU is not worried. "For a policy to get firmly on track, it takes longer than three or five years, it might even take as long as 25 years," notes Fang. Now that the design of the 2018 Curriculum has been completed with much difficulty, it must be taken for a test drive and adjusted while it is running for three school years.
"No reform is put in place in a single step. This is particularly true for courses because courses keep developing; they develop a life of their own. We should watch them as they slowly mature. In the past, nobody was optimistic about the Nine-Year Integrated Curriculum [for compulsory education] either," remarks Fang, speaking slowly but resolutely in dismissing the naysayers.
Translated from the Chinese by Susanne Ganz