A Must Do Activity When Visiting Kaohsiung
'One-Day Farmer' Tour Has Hit Abroad
精華簡文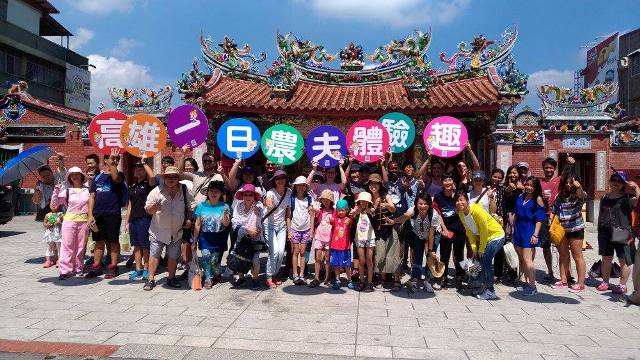 Source:Agriculture Bureau Kaohsiung City Government
Under the bright sunny day, a group of sweaty people are wearing gloves and protective clothing in a large pineapple field, and hurriedly harvesting pineapples.  The edge of pineapple leaves is very sharp which one hand has to hold the bottom while the other bend it down with great strength.  However, these group of people aren't farmers at all, they are tourists coming from Japan.
'One-Day Farmer' Tour Has Hit Abroad
By Agriculture Bureau of Kaohsiung City Government
Sponsored Content


After harvesting activity, these tourists also tasted a flavorful pineapple meal along with DIY pineapple cake bakeshop. The pineapple cake ingredients included pineapple fillings, dough for the curst, maltose, and butter which tourist followed baking SOP to make them. These DIY pineapple cakes have unique tastes that are apart from the pineapple cake sold in the souvenir stores. Everyone enjoyed being in a "One-Day Farmer" tour after all.

The in-depth experience from "One-Day Farmer" tour in Kaohsiung is quite different. Unlike any other ordinary food tasting and sightseeing tours, this fun and interesting activity gradually hit on other countries including Singapore and Hong Kong. Almost ten thousand tourists have experienced it already, and even a travel magazine "UWeekly" from Singapore gave its thumps up which attracted more Singapore tourists to make reservations.
Agriculture tourism successfully move southbound Magazine lead the way for foreigners to play
Through "One-Day Farmer" tour experience, tourists can go deep into the countryside and listen to the farmers' stories about their agricultural products. They also have the opportunity to experience hard farm work. In order to promote the value of countryside and create local employment opportunities, Kaohsiung city government kept pushing "One-Day Farmer" tour program to rural communities and encourage them to explore new local tourist spots. This program also created flavorful dishes based on its local agricultural prouduces, and planned special tours for the city people who have never experienced before. Recently, it even followed a HBO television series " The Teenage Psychic ", and introduced a "red turtle cake" tour which was a sweet pastry featured in the show. This event has attracted 400 employees including their relatives from Veterans General Hospital in Kaohsiung to experience.
Foreign tourists are making a beeline for it! Since Hong Kong and Singapore do not have agriculture industry, therefore Taiwan's countryside scenery has become their favorite places. This year's "One-Day farmer" tour campaign has joint with Kaohsiung City Tourism Association to attend Hong Kong international travel exhibition, and promote "Hong Kong and Macau Limited Edition" trip including visit banana kingdom in Chishan town, grouper farming in Yongan district, also experience fruit picking, diet and agriculture education, and see ecological countryside. Many schools in Hong Kong are already thinking to implement diet and agriculture education, and this would be the perfect opportunity for students to visit Taiwan and gain agricultural experiences. Sure enough, over 50 travel agencies are actively developing this unique agritourism for students.
"One-Day famer" tour even featured in Singapore travel exhibition. A local employee, Christine, was scouting for her annual company retreat spot. She didn't know how countryside looked like, and has doubts with the fruit she eats. Therefore, she went through "One-Day famer" tour international customer service, and inquired its itinerary in detail. Over 70 emails were exchanged to answer her questions one by one with thorough explanation, and finally the company decided to choose "One-Day famer" tour in Taiwan. This result is tantamount to a successful
national diplomacy.
The variety of "One-Day Farmer" tour Countryside sceneries recorded on film
A well-known Japanese travel website "Taipei Navi" specialized in introduce Taiwan's food tasting and sightseeing tours. After the website's reporters experienced "One-Day Farmer" tour, they exposed all their litchi harvesting activities in Dashu township, Kaohsiung on their website, which made Japanese tourists who want to visit Taiwan been aware of "One-Day Farmer" tour information.
To further deepen the tourists' impressions, agriculture department has utilized aerial drone to film all the tourist's activities just like personal micro film. All tourists have the chance to revisit all the beautiful and vast sceneries from agriculture department official website including under-bridge waterways and Yellow Butterfly Valley in Meinung township, Eighteen Arhats Mountain in Liouguei township, and wooden suspension bridge in Neimen township which are all unforgettable.
Kaohsiung Municipal Government Bureau of Agriculture was awarded the "Eighth Annual Healthy City - Innovation Achievement Award", and was nominated for the "Ninth Annual Government Quality Service Award" for the creation of "One-Day Farmer" tour due to its creativity and the successfulness of carrying out local industries. No one was expecting that common countryside was able to develop tourism, and even open up the market for oversea tourists. New tourism ideas in the near future in Taiwan is worth to wait and see.
---
"Happy Farmer" Website: http://agri.cocker.com.tw