Athena Chuang
Fendi Taught Me How to Run a Brand
精華簡文
Source:CW
Respectful and rebellious, yet seasoned beyond her years, Athena Chuang went to Milan to pursue fashion, with the goal of eventually founding her own brand. Now she has turned her unexpected homecoming into a new venture.
Fendi Taught Me How to Run a Brand
By Yueh-lin Ma
From CommonWealth Magazine (vol. 584 )


"I originally planned to only establish my own brand after I was 40, when I would have more resources and experience. I just cared so much about the dream of having my own brand, and was so afraid of shattering it," 31 year-old Athena Chuang says while sipping a cappuccino. Bathed in the warm glow of a Milan sunset, she bobs her head as her excitement grows, bringing her face in and out of shadow – much like the road she has taken as a fashion designer.

Bolstered by the support of the Yuloong Group's Tai Yuen Textile, Chuang founded her own brand in late 2013, over a decade earlier than she had envisioned.
"Fashion Paragon's" Accidental Road to Brand
"I told her, you have to know how to seize the moment at critical times in life. A lot of people think she's lucky, but she really works hard," says Stephanie Wen, vice president of Carnival Industrial Corporation Taiwan, who recognized Chuang's talent immediately while serving as a competition judge for 2013 Fashion in Taipei. Upon learning that Chuang had interned with the Italian brand Fendi for 22 months, she recommended her to higher ups at the Yuloong Group, suggesting that they provide the support necessary for her to establish her own brand.
Chuang has presented four seasonal collections over the past two years. Now she is in Milan for a joint presentation at Fashion Week with two of her former classmates from Japan and Korea, to reach the European market via her Milan showroom.
Chuang, fluent in both English and Italian, earned her Master's with highest marks from Istituto Marangoni in Milano. Having worked with Karl Lagerfeld, the esteemed creative director of storied French and Italian brands Chanel and Fendi, she ticked all the boxes for entry into the fashion world, prompting Wen to describe her as "a paragon of the fashion realm." Yet this "paragon" did not get where she is today easily.
First NTU, Then Passion
Chuang enjoyed drawing comics from a young age, and was especially captivated with science fiction and fantasy comics – anything that transports readers beyond the realm of reality. This infatuation led her to entertain notions of an art- or design-related major, but that desire fell on deaf ears in her family. "My family was worried that such a major, which could go in any direction, lacked security." So, like numerous other young people discouraged from following the direction of their choosing, she reached an understanding with her family: First she would complete a degree in sociology from National Taiwan University, after which she would get a degree in a field in which she was genuinely interested.
Nevertheless, she didn't waste her four years at university, using that time to examine popular culture and fashion from a sociological perspective. Upon graduation, she made a beeline for Milan, where, like a high school student, she immersed herself morning through night in intensive studies at a design school before going on to pursue a Master's degree.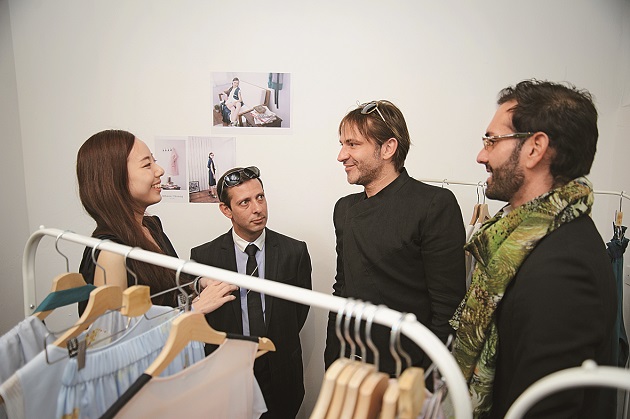 Athena Chuang describes the design concept of her new seasonal collection to Italian fashion editors.
"In Italy there is a strong emphasis on the study of design. I always thought that design is about drawing different styles and using one's imagination, but in actuality it is a total process. It's like a research report, where you gather a lot of information on a certain topic, then put it in order, draw conclusions and make associations, eventually coming up with new creative approaches and ideas. Only then do you start drawing," explains Chuang. The key here is crafting a complete collection, not just a few attractive designs. "The design curriculum in Italy makes you train this aspect over and over," she says.
Sporting solid fundamental academic training, Athena Chuang easily landed an internship with Fendi. The only intern in the Fendi women's apparel design department, she began taking part in all of the design department's tasks alongside six designers.
From research, analysis, sourcing materials, selecting colors, making drafts, finalizing designs, and making mock-ups, to casting models, styling, image, visual presentation, photography, and organizing shows, Chuang familiarized herself with every step in the process of developing a fashion product collection, learning along the way how to "run a brand."
"The subjects we discussed the most with design department supervisors were things like who is the Fendi girl, what does she like? She might need to be sexy at night, but elegant during the day, and maybe she's a little avant-garde with a touch of extravagance. Through constant discussion we designed products this brand needed," Chuang says.
200 Designs in an Afternoon
In order to secure full-time employment after her internship, "I pushed myself to the brink," she says. Whenever she got an order to draft a design, she would place a stack of A4 paper to her left and start drawing frantically for four or five hours at a time, piling the finished drawings to her right. Sometimes she would make 100 or as many as 200 designs in an afternoon, then wait for her supervisor to go through them and make selections.
Not used to the Roman accent upon arriving at Fendi's headquarters in Rome, Chuang had trouble understanding what her colleagues were saying at first. "Since they had the impression that language issues were slowing down my designs, I had no choice but to show them my value in other areas," she recalls. Consequently, she often kept drafting designs after coming home at night, and whenever her supervisor picked a few of them the next morning to make mock-ups, she would be over the moon for at least half a day.
After a year and 10 months there, just as her contract was about to go from intern to full fledged Fendi employee, Italy changed its regulations governing the residency and employment of foreign nationals in an effort to give local employment a shot in the arm, shattering Chuang's chances of staying on at Fendi. So in March of 2012, the company resolved to send her to work at Taiwan Fendi in a visual branding display role, and the following year she took part in the competition that led to the Yuloong Group discovering her.
"When people think of Asian designers, they might have a set impression, like the trademark asymmetry of Yohi Yamamoto. So it's not easy for young designers to make a new impression," relates Aki Nagai of Japan, a men's clothing designer who was a student along with Chuang in Milan and presented a joint show with her. He observes that Chuang's designs can create new feelings – elegant at one moment, then naughty and rebellious like a child the next – to show different facets.
In addition to comics, Chuang is a cinema buff, whose favorite titles include Hellboy, District 9, and Interstellar. Chuang aims to forge a new world through apparel, telling the free-flowing stories in her head while helping move her new brand steadily forward.
Translated from the Chinese by David Toman