Jamie Wei Huang
A Visual Language that Amazed Lady Gaga
精華簡文
Source:CW
Jamie Wei Huang quickly learned after arriving in London that there was nothing soft about fashion. But she has persevered and developed a distinctive style playing on materials and silhouettes that has won her an increasingly sizable following.
A Visual Language that Amazed Lady Gaga
By Yueh-lin Ma
From CommonWealth Magazine (vol. 584 )


September 18, the first day of London Fashion Week. It's only 11 a.m. on this overcast day, but excitement is already building at the main venue of London Fashion Week, the Brewer Street Car Park in central London's Soho District.

This 86-year-old parking structure has been billed by a large-scale mint-green signboard advertising London Fashion Week as the ultimate stage for 2016 spring and summer fashion trends. The fashion brands of more than 150 young designers are showcased on the building's third floor, their showrooms vying for the attention of global media and buyers.

The showroom of the "Jamie Wei Huang"label near the third floor entrance has caught the eye of CommonWealth Magazine reporters. We quickly learn that the label, run by the Taiwanese fashion designer of the same name, is about to hold an "off-schedule" runway show (not part of the main show) at 12:30 p.m. at Fashion Scout, a platform that unearths and showcases the brightest new fashion designers.

After getting an invitation, the reporters hustle on foot to the Freemasons' Hall about 20 minutes away.
The Many Colors of 'Nibbana'
More than 200 people are crowded into the venue to watch 10 models display 30 outfits and 100 separate items, from woven leather earrings to leather-stitched sandals and bags. The collection offers a vivid mixture of color – white, black, harsh reds and cobalt blues – and a strong style embedded with religious and folk elements.
The sanskrit name of the collection that the British audience tries with difficulty to pronounce in hushed tones, "Nibbana," packs a heavy Eastern flavor.
In the final 10 seconds of the runway show, Huang appears in the distance on the runwaydressed all in black, her long hair drawn over her left shoulder. She bows to the crowd, her wide-open eyes smiling radiantly.
The next time the CommonWealth reporter saw her, it was the afternoon of the second day of London Fashion Week. Because it was a Saturday, the main venue's exhibition areas were shrouded in loud noise from the throngs of visitors.
"If you feel the design of my clothes is different from others', that's because the materials used and structural elements are different. That stems from my sensitivity to different materials," Huang explains in a loud voice to be heard over the din of the crowd.
At the runway show a day earlier, one felt a sense of power rippling through her designs. Looking at the collection a day later in the showroomin greater detail, the geometric cutting, the layered juxtaposition of fabrics, the intricate stitching all supported Huang's description of her clothes as"retaining the visual beauty of the materials'own language."
Treating clothes as sculptured objects, she selects colors as thoughpainting a canvas with thick oil colors, a reflection of her extensive art background. After Huang finished her studies in Taiwan in the Plastic Art Department at Da-Yeh University, she decided to pursue her fashion dream and applied to renowned University of the Arts London college Central Saint Martins to study womenswear fashion design.
In 2013, Huang's graduating work earned her a "Designer for Tomorrow Award" that helped her get sponsorships and present a collection that year at Berlin Fashion Week. It also inspired her to launch her own eponymous label and begin exhibiting at London Fashion Week.
That same year, American pop star Lady Gaga wore Jamie Wei Huang clothes two days in a row, thrusting Huang into the media spotlight.
"It seems like you were pretty lucky," the reporter unwittingly blurted out, drawing a mild rebuke.
"I've never thought it was luck. You have no idea how hard I've worked! Only with hard work can there be luck,"the 30-year-old Huang replied without hesitation, as though unwilling to let down the goal she has been fighting to achieve since the age of 18.
Working with Alexander McQueen
During Huang's university days in Taiwan, she split her time working and studying to save up for tuition abroad. She left her native Changhua County to head north to Shih Chien University and took night courses on sewing while working during the day.
Shegot a loan to support overseas study and got into Central Saint Martins. Once there, she discovered a brand new world. When her class was assigned to hand in 20 sketches the following week, Huang wasshocked and terrified when some of her classmates submitted 200. But that steeled her determination to never be left behind.
During her summer vacation, she interned for renowned British fashion label Alexander McQueen, working up to 18 hour days that stretched from 9 one morning to 3 in the morning the next day.
"If we were able to get off early, it would be at about 11 p.m. or midnight at best," Huang recalls of her internship that seemed like boot camp, only maybe tougher.
After graduating, she launched her own label and quickly discovered that sustaining momentum season after season was far more challenging than the simple act of designing.
"There are two fashion weeks a year. It's like running laps. When you've finished one lap, you have to run another and then another. You have to keep starting over," Huang laments, explaining that work on new seasons begins before one has recuperated from the previous cycle. In the two and a half months leading up to every Fashion Week, she works every day without a day off, and she pushes through the last three weeks with only three hours' sleep a night.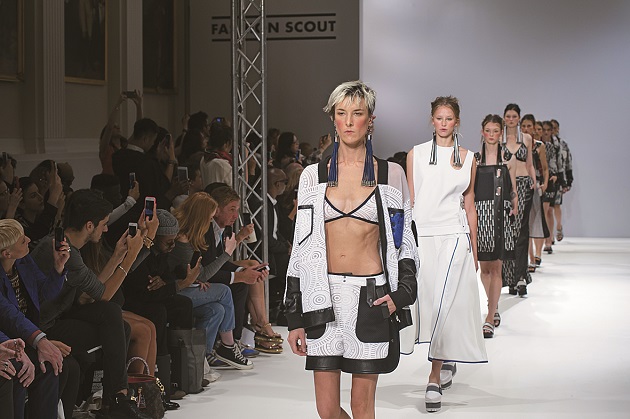 Jamie Wei Huang's designs have a distinctive style that is easy to identify, make her label easy for buyers and consumers to remember.
Dreams can be exhausting, but if you take her garments for a closer look and feel the metal buckles bound together with leather, Huang's eyes light up as she explains how the buckle was polished and how the distance between parallel stitching lines was decided.
That enthusiasm is the result of a strong will built through her insistence on using her 10 fingers over countless nights to polish and keeping stitches 0.2 centimeters apart.
"There are obviously machines, but I prefer to do the work by hand because only through a hands-on process can one really appreciate the beauty of the material," Huang says.
Bringing Out Beauty by Hand
Apu Jan, another Taiwanese designer based in London, says Huang's designs have their own signature style and distinctive personality, and also continuity. "That's very important because it gives people a point of reference to remember," he says.
Over the past three years, beginning with her first appearance at London Fashion Week in 2013 to present her 2014 Spring-Summer collection, Jamie Wei Huang's orders have risen from 40 garments, to 100 garments to 300 garments in her fourth season. Her clothes sell for an average of NT$30,000 to NT$50,000 per garment, with winter season items selling for as much as NT$100,000.
Showing at London Fashion Week for a fifth season in September 2015, Huang has grown increasingly confident in her label's sales.
"Fashion is a form of self-expression; it doesn't just represent the tastes of the social elite. A poem, a piece of music, a piece of clothing, regardless of their forms they are all fashion as long as you can find the significance behind their existence," says Huang, no longer the innocent young girl intimidated by her classmates' industriousness when she first arrived in England.
Huang catapulted onto the world stage through international fashion competitions, and she has been undaunted by financial constraints and tight deadlines. Mature and pragmatic, she resembles her designs – hidden inside her seemingly simple dreams are flourishes of power and allure.
Translated from the Chinese by Luke Sabatier