Taiwan's Manpower Crisis
Wanted: Software Engineers
精華簡文
Source:CW
As businesses evolve quickly to cope with a rapidly changing world, Taiwan's higher education system has become rigid and even obsolete, exacerbating a shortage of software engineers that could threaten the country's Internet and high-tech sectors.
Wanted: Software Engineers
By Sandy Lo
From CommonWealth Magazine (vol. 583 )


"Do you know any software engineers you could recommend?"

If ever there was a question that has gone viral in Taiwan's business community, it's that one, making the rounds without any satisfactory answer because every sector in the country is facing a shortage of software engineers.

"In the next five years, the lack of talent in Taiwan's e-commerce sector will be extremely serious. The PChome Group currently has a shortfall of roughly 300 to 400 engineers," PChome Online Inc. Chairman Jan Hung-tze says bluntly.

The problem has spread to such diverse online companies as Yahoo! Kimo, momo.com Inc., cacaFly International Media, Appier Inc., and Leopard Mobile, with all of them, regardless of size, complaining about the lack of software talent.

Amid a sluggish economy and a growing number of companies putting workers on furlough, AppWorks Ventures' co-founder Jamie Lin brought together 97 Internet companies to recruit new people, putting up a total of 620 job openings, "but we still couldn't find good software engineers," he laments.

Internet companies are not the only ones affected. The phenomenon has permeated every business sector in Taiwan. According to figures from manpower agency 104 Job Bank, the number of job openings in 10 software engineering positions requiring R&D skills – including software, firmware and video game program designers and algorithm engineers – has risen 71.6 percent from over 17,000 in 2012 to more than 29,000 today. But the number of people looking for such work has only increased 17.9 percent over that time, leaving 3.2 openings per applicant at present compared with 2.2 openings per applicant three years ago (Table 1)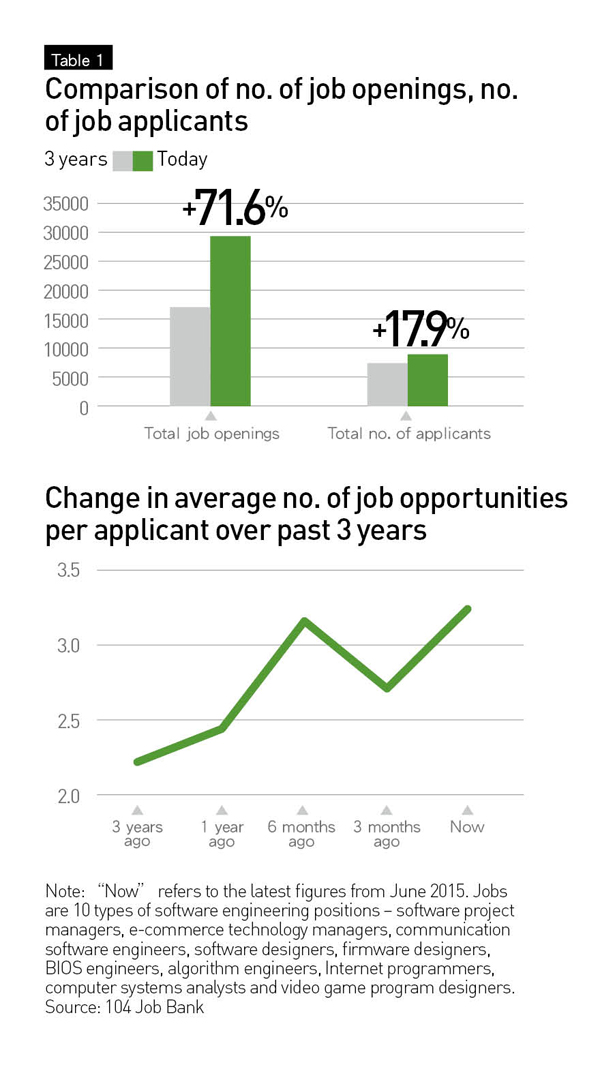 Of the 10 types of positions, software engineers are in the shortest supply, with four openings available for every applicant. That ratio increases to 5-to-1 for a segment within the software engineer category – Internet programmers. Even if the job site's 9,000 applicants all found appropriate jobs, there would still be a shortfall of 20,000 workers.
Companies often spend an entire year trying to fill these positions, an indication of the huge gap between supply and demand.
Several factors are contributing to the shortage: the poaching of local talent by overseas companies, inadequate cultivation of IT talent and competition for talent among big high-tech companies have all contributed to the problem.
Wang Chin-po, the chairman of game software provider Soft-World International Corp., says that about 20 percent of the technicians in the game software field – one of the most important in Taiwan's Internet sector – are recruited by Chinese companies each year with promises of important positions and annual pay of NT$10 million (about US$310,000 at current exchange rates). If talented people, such as graduates with degrees in information engineering from Taiwan's four leading universities, do opt to stay in Taiwan, the odds are that some of Taiwan's most prominent high-tech companies such as MediaTek Corp., Delta Electronics Inc., Chunghwa Telecom Co. and Synology Inc. will snatch them up first, making it even harder for smaller or less visible Internet businesses to find top IT talent.
"The software sector has always faced shortages, but they have become more evident than ever. That's because of structural industry-academia problems, which have caused supply to lag behind demand," says 104 Headhunter consultant Jim Lin.
Another key factor is the fast pace with which technology and business models are changing, says Lin, pointing to the growing complexity of new technologies and software systems, such as wearable device technology, the Internet of Things and Bank 3.0.
Where technicians from other fields could once learn enough on their own to be qualified for software development jobs and fill the IT talent gap, Lin explains, technology today has become so specialized that transitioning to a software career from outside the field can now be highly problematic.
"There are many 'hidden' job seekers, but not many are employable, so you have to deal with the real root of the problem and get schools to cultivate more IT talent," Lin argues.
So how many IT graduates does Taiwan produce every year? According to Ministry of Education statistics, "information engineering" departments, which are the core incubators of software engineers, produce about 8,000 graduates a year, up 2.7 percent over the past five years. But if one includes graduates from more general IT fields, such as information technology, computer and communication studies, applied Internet science, network systems and computer engineering, then graduate numbers are down 11 percent over that same period, far steeper than the overall 0.8 percent decline in higher education graduates (Table 2).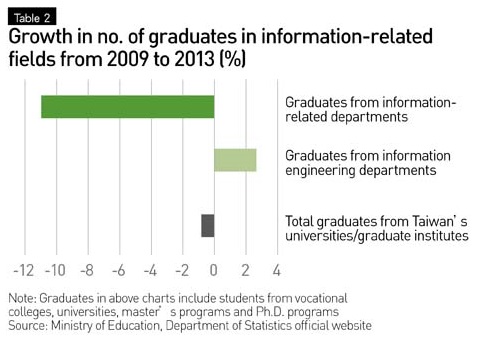 In the United States, there are three universities well known for their computer science and information engineering programs: MIT, Stanford University and Harvard University. All three have increased the number of openings in their programs to cope with existing social trends.
MIT's two main undergraduate computer science programs – electrical engineering and computer science, and computer science and engineering – have nearly 1,000 students combined and their enrollment has grown 91 percent and 65 percent, respectively, over the past six years. Enrollment in computer science programs at Stanford and Harvard has more than doubled over the same period.
A look at Table 3 shows the contrasting approaches between the U.S. and Taiwan. The rising lines in the top graph, showing growing student enrollment in these fields in the U.S., represent the aggressive response of American higher education to industry's needs. The downward sloping lines show how even Taiwan's best universities and the higher education system as a whole have dropped the ball.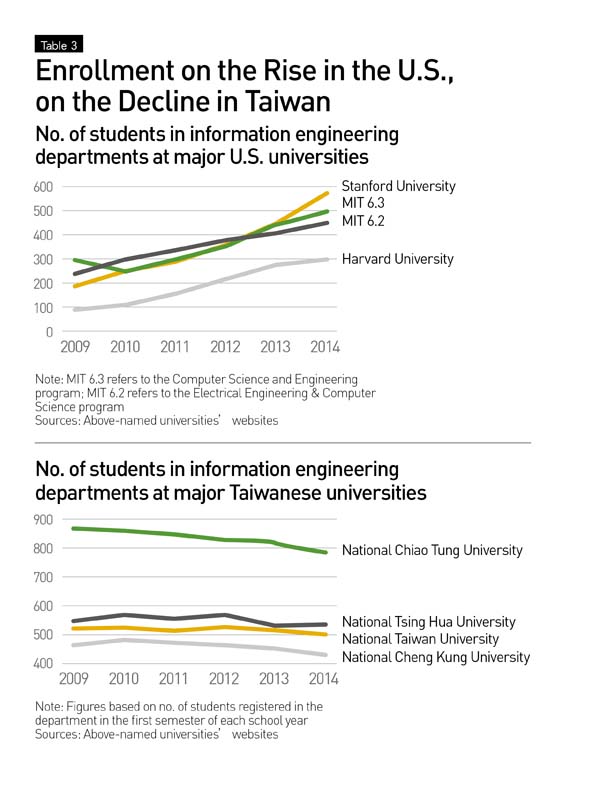 Enrollment in information engineering programs at Taiwan's four most prominent universities – National Taiwan University, National Tsing Hua University, National Cheng Kung University and National Chiao Tung University – fell 4 to 9 percent from 2009 to 2013. That there was a falloff was not completely surprising, considering that Taiwan's low birth rate led to an overall 1 percent fall in university graduates over the same period, but the degree of decline was stunning.
Why is it that Taiwan, known as an island of engineers, has withered in the face of the eruption of information in today's world? The academic community, focused on doing research and leading trends, must surely be aware of the growing demand for software engineers, so why don't universities create more openings and nurture more of them?
'Island of Engineers' without Engineers
"The enrollment quotas for Taiwanese universities are decided entirely by the Ministry of Education. We have no way to change this. So we cannot adjust student numbers in different fields to accommodate demand," National Taiwan University Executive Vice President Liang-gee Chen explains.
According to Article 12 of Taiwan's University Act, the number of students in a university should be based on a university's resources, with standards set by the Ministry of Education. Those standards also form the basis for the universities to add or adjust colleges, departments, institutes or courses or change enrollment quotas, the law says.
Consequently, universities have put the responsibility for Taiwan's shortage of talent squarely on the government's shoulders, but the Ministry of Education (MOE) feels the problem is more complicated than some universities are letting on.
"The universities' complaints don't tell the full story. What the Ministry of Education does is control the overall number of students (for each school), but in fact the schools can adjust the number of openings for students in each department," says Ni Chou-hwa, senior executive officer with the MOE's Department of Higher Education.
The government began controlling enrollment numbers per school about 20 years ago at a time when the number of universities in Taiwan was growing rapidly. There was a growing realization even then of the potential consequences of an aging society and a low birth rate, and allowing the unlimited growth of student bodies at individual universities flew in the face of future trends. In recent years, the effects of a low birth rate have become evident, and the talk now is focused on how to downsize universities.
Whatever the arguments, a stalemate exists. The MOE wants universities to adjust the number of students per department, but schools are reluctant to build up some departments at the expense of others for fear of setting off internecine feuds over the allocation of resources. Instead, they want the MOE to ease constraints on total student numbers. It's an impasse that appears to have no solution, with Taiwan's competitiveness a casualty.
Another Reality: A Lack of Interest
Even if the stalemate did not exist, however, the situation might still be precarious because of the possibility that not that many students are really interested in information engineering-related fields. There may be a need for different forms of encouragement and incentives to boost interest in the field, such as inspirational examples of Taiwanese software companies achieving success or an increase in pay scales in the sector.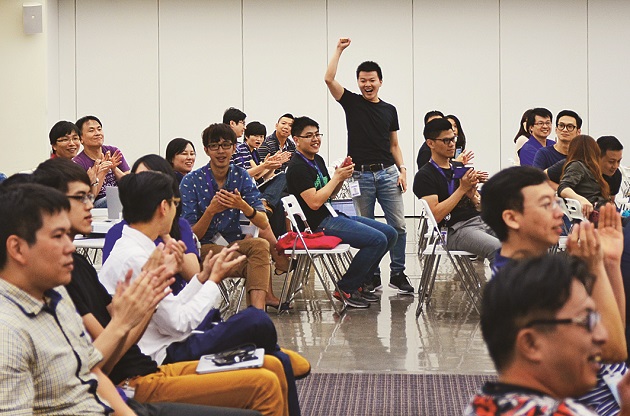 Yahoo Kimo launched a university internship program to turn students into future employees. (Photo courtesy of Yahoo Kimo)
Because of its heavy demand for engineers, the Internet sector has suffered the biggest blow from the imbalance in the supply and demand for engineers, but companies in the sector are trying to adapt by strengthening training internally, setting up systems to encourage employees to recommend new workers, and entering campuses to foster employees of the future.
"To solve our manpower needs, Yahoo Kimo has aggressively laid down roots, instituting, for example, a three-month summer intern program for university students that gives them hands-on experience, or having employees go to schools and share their experiences to help recruit fresh graduates," says Joyce Chiu, Yahoo Kimo's director of human resources.
Chiu says Yahoo Kimo very much encourages employees to recommend people to work there and offers substantial bonuses for successful referrals. Over the past year, she says, 20 to 30 percent of the company's new hires joined the company through recommendations.
A spokesperson for the momo shopping channel explained how the distortions engendered by the gap between industry and academia have held back the e-commerce sector. Academia's main focus at present is academic theory, the source says, while the private sector's priority is new technology applications that can improve the performance of businesses. The result is that new hires have to learn from scratch when they get a job in the real world.
The engineers most in demand at momo are those involved in app development, Java programming, user interface design and back office systems. Even more difficult to find are people with the talent to integrate programs and develop front- and back-end systems, according to the company.
In terms of job description, big data application engineers are hardest to find – there are few people with the practical experience necessary to satisfy the needs of Taiwan's many businesses looking to big data to help them thrive.
"We are mainly using internal training to strengthen the skills of our engineers while also recruiting new graduates and giving them comprehensive practical training," says the momo spokesperson.
Compared with major technology powers, Taiwan has a limited population that makes it impossible to develop every industry. Talent needs to be nurtured based on the strategic direction of the economy in the future.
Taiwan has already learned its lesson in trying to tailor talent "to order" for a single industry. To develop the country's biotechnology sector, educational institutions have aggressively added biotechnology departments over the past decade, but because the industry has had trouble getting off the ground, the talent cultivated in those programs now faces the need to learn new skills.
From that experience, Taiwan now realizes that an essential component of cultivating talent is targeting trends applicable to multiple sectors to reduce the potential for damaging misjudgments.
Today's technology trends, from Internet services and the Internet of Things to artificial intelligence and the transformation of old-economy sectors, all require proficiency in software engineering. Only by developing more software talent can Taiwan meet the needs of the private sector, and if the talent needed in the next five to 10 years is not to be dragged down by a rigid education system, then now is the time to begin breaking from convention and nurturing the software engineers of tomorrow.
Translated from the Chinese by Luke Sabatier