Battling the Spread of Illegal Factories
Taiwan's Industrial Land Crisis
精華簡文
Source:CW
Thousands of Taiwanese factories are operating illegally on land zoned for agricultural use. In many cases, they want to become legal but have found few options for doing so, in part because of land speculation and mismanagement. Is there any hope to solve this problem?
Taiwan's Industrial Land Crisis
By Kwangyin Liu, Kuo-chen Lu and Kai-yuan Teng
From CommonWealth Magazine (vol. 611 )


Over the past four months, CommonWealth Magazine has collaborated with the D4SG (Data for Social Good) Fellowship to go through large amounts of data and uncover the truth about illegal factories in Taiwan.

A total of 717 companies operating illegally on agricultural land in 186 "special agricultural zones" have applied to the Ministry of Economic Affairs to legitimize their operations by having the land they're on re-zoned. But the names of those companies or their locations were not made public.

With the help of data analysis specialists, we took the parcel numbers for the more than 3,000 parcels of land in the "special agricultural zones" being used illegally by those factories and converted them into geographical coordinates through the Ministry of the Interior's online platform. That information was then converted into satellite data and photos, and when they were compared with government notices and business registration information, the identities of these illegal factories came to light.
Many Illegal Factories Are Big Players
"Illegal factories" conjure up images of dirty, disorganized corrugated-steel structures hidden in some remote corner, but our investigation found that many of the enterprises illegally situated on agricultural land are in fact global leaders. These facilities stand like towering castles over fertile ground, and their owners drive expensive Rolls Royces or Lamborghinis on narrow country roads that weave through fields.
Of the 717 illegal factories applying to gain legal status by having the land they operate on re-zoned, Taichung was home to the largest number of them at 211. They include precision machinery, bicycle part and hand tool manufacturers, with many of the tool and bicycle makers clustered in the "golden valley" at the foot of Dadu Mountain. It's a cluster that produces more than NT$100 billion worth of goods annually.
Kaohsiung was second among regions with 205 illegal companies, primarily concentrated in the cluster of screw producers located in the city's Gangshan District that has an annual output value of NT$70 billion. Another area with a high concentration of rules offenders is Changhua County with 91 companies. They are centered primarily in Dingfanpo in the Lugang area, a leader in plumbing hardware with an annual production value of NT$80 billion.
One of the most representative of these illegal factories is a so-called unregistered factory (an illegal factory applying for government help in gaining legal status) that had its application to re-zone the agricultural land it sits on reviewed by the Ministry of the Interior's Regional Planning Committee on Sept. 22. The factory belongs to Depo Auto Parts Industrial Co., a major Taiwanese car lamp maker listed on the Taiwan stock exchange.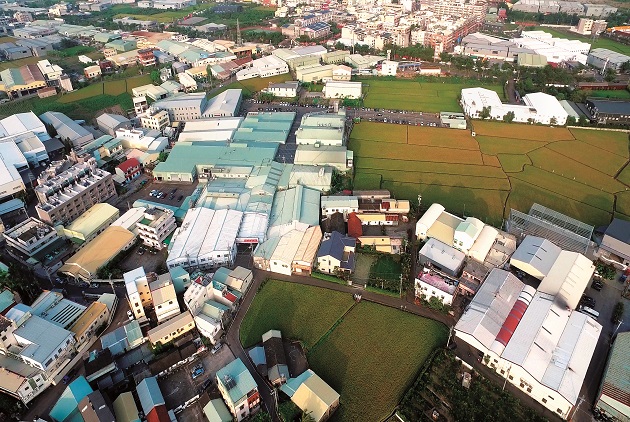 An aerial view of the Linkou Industrial Park (Zone 1), much of it appears to be a forest. Land in the bottom half of the photo was purchased for NT$40 million by a metalworking company, but it has yet to be developed.
The factory in the Dingfanpo (頂番婆) area in Changhua County is surrounded by prime agricultural land, but a visit there reveals a sign near the plant warning that the land is polluted with heavy metals and cannot be used for growing food. To many in the area, the image of this huge illegal factory hovering over contaminated farmland is rather ironic.
In much of Taiwan, deserted farmland often represents land that is lying fallow, but deserted farmland in Dingfanpo indicates that the land is polluted. When CommonWealth Magazine tried to interview Depo president Hsu Hsu-ming (許敘銘), he declined, saying he was too busy, but he is clearly intent on having the agricultural land on which his illegal factory sits and the surrounding contaminated land re-zoned into legal industrial-use land.
The practice of these "hidden champion" companies like Depo encroaching on agricultural land does not sit well with Tai Hsiu-hsiung (戴秀雄), an assistant professor in National Chengchi University's Department of Land Economics and a member of the MOI's Regional Planning Committee.
"Depo clearly has the money to buy land in an industrial park and build a factory there, but instead it is applying to turn good land into a factory. That's just heartless for so wealthy a company," Tai says.
In Lugang in Changhua County, a ping [1 ping = 3.305 square meters] of agricultural-use land costs about NT$20,000, compared with NT$100,000 for industrial-use land. If 10,000 pings of farmland are re-zoned for industrial use and a mechanism is not in place to return some of the gains to the agricultural sector, the owners of illegal factories will not only be avoiding fines but also score a huge profit on the re-zoned land.
On Sept. 22, Changhua County Commissioner Wei Ming-ku (魏明谷) told the MOI's Regional Planning Committee that the county was facing a huge influx of illegal factories from other parts of Taiwan, costing it about 30 hectares of land zoned for agricultural use, and the problem was growing even more serious.
Dealing with the applications of the 717 companies will be particularly challenging because of the conflicting interests of all of the stakeholders involved. But the problem of illegal factories encroaching on farmland in Taiwan extends well beyond these hundreds of companies and reflects a more general crisis in how the country zones land, and land for industrial use in particular.

Disappearing Industrial Zones
The problem has reached epidemic proportions in northern Taiwan, most evident in a more than 400-hectare site that surrounds Fu Jen Catholic University in the Taipei suburb of Xinzhuang.
Called "Wen Zai Jun" (塭仔圳), the site is home to the biggest cluster of illegal factories in the northern part of the country. Hidden here are makers of the gearbox for the 202nd Arsenal's Clouded Leopard armored vehicle, the exhaust pipes for Luxgen cars, storage racks for Gogoro's electric scooters and components for wind turbines.
Its origins trace back about four decades ago. The suburbs of Xinzhuang and Sanchong west of Taipei often flooded, so the government initiated a flood-prevention project in the 1970s that preserved two plots of land as floodways. One was the Erchong Floodway, lining the western border of Sanchong District, and the other was Wen Zai Jun. Construction has been barred in those areas for 40 years.
Yen Liang-yi (顏亮一) , chairman of Fu Jen Catholic University's Department of Landscape Architecture, uses an old aerial photo to make the point that during construction of the Erchong Floodway from 1982 to 1996, flooding in the Xinzhuang area gradually eased, and corrugated steel structures began to appear.
Land use typically evolves from agricultural to industrial to residential to commercial use. Taipei followed this pattern as it urbanized and expanded from one section of the city to another, pushing factories originally located within city limits to neighboring New Taipei (formerly Taipei County).
When Taiwan's economy took off, export processing became the life blood of economic life. Despite regulations against building, factories moved into the Wen Zai Jun area, and it naturally evolved into a metal processing cluster supplying customers in the Greater Taipei area and Taoyuan.
Today, the New Taipei Economic Development Department estimates that there are about 6,000 corrugated steel structures, of which about 1,000 are factories – about 80 percent of them unregistered –and the rest are warehouses. Of the factories, over half are metalworking shops, but some make food products while others specialize in plastic and automotive parts.
Many of them would like to relocate but have been unable to, highlighting a problem that was exacerbated when housing prices in Taipei skyrocketed, forcing average income earners to look for a place to live outside the city. Under pressure from developers, much of the land zoned for industrial use in New Taipei was rezoned into land for residential or commercial use. Land owners profited handily, but many factories leasing property had no choice but to relocate their operations, mostly to the Wen Zai Jun area.
Land Values Trump Machine Tools
Most of these unremarkable corrugated steel structures are relatively small, and the companies they house employ fewer than 10 people, but those companies are key players in Taiwan's economy.
"Without these contract manufacturers, industrial production in northern Taiwan and machine tool makers in central Taiwan might not be able to survive," says Chen Liang-zhi, an assistant professor in National Taiwan University's Graduate Institute of Building and Planning who has studied Taiwan's machine tool clusters.
So why is Wei Zai Jun facing redevelopment and why are the factories there facing eviction when another industrial cluster on agricultural land, the one in Dingfanpo in Changhua County, has received the support of everybody from Taiwan's president to local elected officials to re-zone the land and turn the area into a "green production cluster?"
The key is that about 80 percent of the factory owners in the Wen Zai Jun area rent rather than own the land on which they operate, which has led to financial incentives favoring maintaining the status quo. Though these factories are not legal, they still pay business taxes and they still pay rent, and with the rise in the number of illegal factories, the taxes collected by local governments and the rents collected by land owners far outweigh any potential income from agriculture.
As a result, factories continue to sprout up as land owners eye both rental income in the short-run and the chance to cash in in the long run if changes are made to how the land is zoned. Local governments may have wanted to crack down on the illegal facilities, but as their numbers have multiplied, they have turned into hot potatoes.
Because most of the factory owners do not own the land on which they operate, the approach used to guide companies in the "186 special agricultural zones" to gain legal status cannot be used, leaving the Industrial Development Bureau helpless.
No Way Out: Industrial Parks No More
Companies operating factories on the agricultural-use land in Wen Zai Jun realize the arrangement is not sustainable and have begun to look for a way out.
That should have been possible in the vicinity of their current location because the Xinzhuang/Taishan corridor was originally the site of many industrial parks.
But the area has since evolved into a haven for under-regulated residential complexes on what was industrial land, including a community development on the old Suzuki motorbike plant site. Another former factory site, the 3.3-hectares of industrial land in Xinzhuang once occupied by lighting manufacturer New Asia Co., was won in an auction by Farglory Land Development Co., which now plans to turn it into a mixed use residential/commercial development.
"I know that running a factory on agricultural land is not right, but why are industrial parks being turned into residential areas?" wonders Lin Chien-ming (林建明), the general manager of an industrial roller manufacturer located in Wen Zai Jun. Lin's company has annual revenues of about NT$30 million and counts among its customers AU Optronics, Chi Mei Corporation, China Steel and a German printing company.
Metalworking specialist Laigang, which has a 670 square-meter plant in which it makes guide vanes for hydropower turbines and gearboxes for the Clouded Leopard armored vehicle, is facing the same predicament.
"We know that this sector should be in an industrial park," says the owner's wife Chen Feng-ping (陳楓萍). Beginning two years ago, Chen and her husband Chen Chieh-chih (陳建智) looked for a suitable site to relocate their factory, without much luck.
"In the Guishan Industrial Park, with a less-than-ideal location at the side of a mountain, land costs NT$300,000 per ping. The Zhongli Industrial Park has a great location but all of the lots are over 1,000 pings, which was bigger than what we need and beyond what we could afford. In the Wugu Industrial Park, a ping actually costs NT$1 million. After looking around, we decided to stay here," she says.
Another company, SRD Industrial Co. (Stone Racing Design), specializes in exhaust systems and has developed its own patented designs. It also has its own sophisticated test facilities. On the day when CommonWealth reporters visited the exhaust systems maker's plant, SRD was working with a German car modification company to test if an exhaust system made by SRD would be compatible with the German company's electronic control unit on a BMW.
When the company's founder, Stone Shih (石治人), heard that the Wen Zai Jun area could be redeveloped, he urged the government to make available industrial-zoned land that can only be leased and not bought or sold.
"People who are really into their business don't necessarily want to buy land," he says, exposing the unhealthy mentality of many small and medium-sized enterprise owners who are hoarding industrial land expecting to make a killing on it one day.
But if a system is in place "to lease land, for 50 years or 100 years or whatever, then companies will put everything they have into their businesses," Shih says.
Hoarding of Land Hurting Industry
So, where have all the "disappearing industrial parks" – as described by manufacturers in the Wen Zai Jun area – gone to? And why it is so hard to find land on which to operate?
There are four main reasons:
Reason No. 1: The land tax on land for industrial use is very low. That gives land owners an incentive to hoard it, pushing industrial land prices even higher.
"I have been in the business for decades, and I've never seen prices for industrial-use land this high," says Wendy Hsueh (薛惠珍), head of Taipei research at real estate valuation firm DTZ Cushman & Wakefield.
Land prices in northern Taiwan industrial parks, she says, are out of control. Actual transaction prices show land in Sanchong industrial zones going for between NT$800,000 and NT$1 million a ping and land in Xinzhuang and Wugu industrial zones selling for NT$700,000 a ping.
"Industrial zones in northern Taiwan are like Daan District [in Taipei]. They are very expensive and there's little availability. Only wealthy companies can get in," Hsueh says.
Seeing demand for industrial land on the rise, real estate investors have moved into the market to buy lots left behind by factories that moved away. The buyers, often local residents with inside information, then divide up the acquired land into smaller parcels for resale. When the old plant site of baked goods maker Chu Shui Che Foods Mfg. Co. (掬水軒) in Pingzhen in Taoyuan City was auctioned off, for example, the buyer was an investor.
Daigee Shaw (蕭代基), a member of the Executive Yuan's National Council for Sustainable Development and a research fellow with Academia Sinica's Institute of Economics, argues that the idle land in industrial zones is the product of a fixed land tax rate for industrial land (of 1 percent), unlike for other types of land which have progressive tax rates.
"There's a lot of idle land in old industrial parks. In the Linhai Industrial Park in Kaohsiung, for example, most of the factories have closed down, but the land owners aren't selling because they don't need the money," Shaw says. If the government wants to promote more efficient use of industrial-use land, Shaw argues, it should consider a tax on idle land.
Reason No. 2: Industrial-use land is disappearing because it is being re-zoned into land for residential or commercial use.
DTZ Cushman & Wakefield's Hsueh says that a few years ago when the housing market was going strong, many people anticipated that industrial-use land would be re-zoned and go up in value, and invested in this market.
"The companies that were really doing business were being driven away by these padded land prices. Their only option was to move to agricultural land," Hsueh says.
According to Construction and Planning Agency figures, re-zoning measures by local governments around Taiwan over the past five years have cost the country 680 hectares of industrial-use land, roughly the size of the Hsinchu Science Park. Over the same period of time, residential zones have expanded by 900 hectares, and zones for special purposes have grown by 4,400 hectares.
As industrial-use land was being converted to land for commercial use, many land owners took advantage while industrial-use land was cheap to buy it up and hoard it, hoping to sell it when prices were high. Many manufacturers also discovered that speculating in land was far more profitable than making products, says National Taiwan University's Chen Liang-zhi (陳良治).
"Manufacturing became a side business, because in the end land could be relied on to generate value," he says.
Reason No. 3: Industrial-use land is not suited to the market's needs.
Very few industrial zones have been conceived for smaller factories; most industrial parks are desperate to attract the biggest companies, such as AU Optronics and Taiwan Semiconductor Manufacturing Co. (TSMC). Taiwan's National Audit Office has estimated that there are 337 hectares of idle industrial-use land, but most companies do not have access to because it is largely divided into plots of 1,000 to 2,000 pings, too big for the needs of smaller companies.
So when one asks companies in Wen Zai Jun why they don't move into an industrial park, it's like asking a food stand in a night market why it doesn't set up shop in Bellavita, Taipei's most upscale department store.
Government Drops Ball in Managing Industrial Land
Reason No. 4: The government is only concerned about zoning land, not managing it.
In both northern and southern Taiwan, CommonWealth reporters personally witnessed white elephants and night markets in urban industrial zones.
In the town of Xihu in Changhua County, the 46-hectare Xihu Industrial Park located in the southeastern corner of the Xihu Urban Planning District would appear to be half empty based on satellite photos. When you take a closer look, you notice that nurseries have sprouted up on many of the plots of land, and one part of the park turns into a tourist night market a few nights a week.
Why have things come to this?
The head of a real estate company in Xihu, Huang Wen-chin (黃文欽), says the chaotic situation occurred because the local government did not follow up on the park's development after it was built.
National Chengchi University's Tai is not surprised by that lack of follow-up. To local governments, zoning land as an industrial park and then selling it off one plot at a time is an end in itself, Tai says, because it's a source of income for their cash-strapped coffers. They are not nearly as concerned about whether the land is actually used for industrial purposes.
Legalize by Example
The dilemmas faced by manufacturers in Wen Zai Jun reflect the importance of making more rational and efficient use of Taiwan's industrial-use land. The central government needs to strengthen tax measures to counter the incentives for hoarding, and push for revisions to existing laws that will empower the government to buy back idle industrial land.
Beyond that, Taiwan should follow two approaches in tackling the many illegal factories in the country. First, it should slow down or even suspend the process of helping the 717 illegal factories that applied legalize their land. Instead, it should establish a model of a single illegal factory or a cluster of illegal factories being legalized by re-zoning that does not pollute agricultural land and does not continue to encroach on agricultural land, and under which the benefits of re-zoning are fed back to the agricultural sector.
Once a successful model is in place, it can be used as a standard for reviewing other cases and prevent repeating past mistakes.
The second approach is to stop the construction of new illegal factories. The central and local governments should enforce the law and tear down any new factories built on inappropriate land to deter would-be offenders and block the spread of such facilities.
Without such an approach, Taiwan will continue to see large numbers of illegal factories pop up to the point where there are too many to tear down and have to again be given an out to gain legal status, leading to a never-ending vicious cycle.
Translated from the Chinese by Luke Sabatier
Additional Reading
♦ Taiwan: The Water-starved Island
♦ Traditional Agricultural Knowledge of Taiwan Indigenous People
♦ Taiwanese Textile Industry's New Chance: Ethiopian Farmers + U.S. Machines