Speculation Frenzy
Cambodia: A Rose with Thorns
精華簡文
Source:CW
Investment in Cambodia from Taiwan, Japan, China and Korea has poured into Phnom Penh real estate market, chasing after returns of more than 7 percent. But while Cambodia may resemble a speculator's paradise, would-be investors should tread carefully.
Cambodia: A Rose with Thorns
By Kwangyin Liu
From CommonWealth Magazine (vol. 582 )


Cambodia has become a major topic of discussion among Taiwanese investors over the past two years. Along the streets of Taipei, huge billboards claiming "7 Percent Return Rate on Phnom Penh Real Estate" certainly have a way of commanding one's attention.

On the ground in Cambodia, our team of CommonWealth reporters found the city of Phnom Penh looking like one big construction site.

Entering the city from the airport via Russian Boulevard, we passed by the Korean Booyoung Group's US$1.1 billion, 2.7-square kilometer town project, in the shadow of the newly completed Aeon shopping mall, a Japanese investment.

The narrow road is bumpy, yet packed with large European and American SUVs. In fact, local Chinese-language guide David Chen tells us, "Phnom Penh has the highest concentration of luxury SUVs of any city."

Flights from Taipei to Phnom Penh are filled to capacity every day, exhausting Chen with all the tour groups he has to handle. Upon arriving in one of the city's main development zones, Diamond Island, the eyes are greeted by Greek-style architecture, a pavilion in the Renaissance style, and glass skyscrapers.
From Leper Colony to Diamond Island
"This place used to be a leper colony, which we locals called 'Leper Island,'" relates Chen. Sharing a similar past to Taipei's Losheng (Happy Life) Sanatorium, after less than 10 years of development it has been transformed into Diamond Island, a location developers from Singapore, Taiwan, Japan and China are fighting to get their hands on.
"Shopping centers and pizza chains keep opening up one after the other, and traffic congestion just keeps getting worse and worse. What is usually a 15-minute drive can sometimes take an hour," says Taiwanese expat C.T. Yeh, 33, deputy manager for credit marketing Cathay United Bank in Phnom Penh.
The International Monetary Fund is also bullish on Cambodia. One IMF report predicts seven-percent economic growth for Cambodia over the next few years on the strength of real estate and apparel export growth.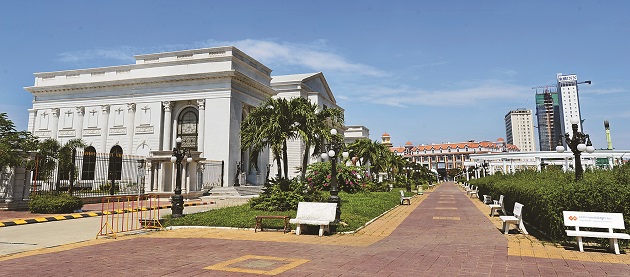 Diamond Island, a former leper colony, has been transformed into a new development in a hodgepodge of divergent architectural styles, from Greek Classical to Renaissance.
Textiles and tourism are the twin pillars of Cambodia's economy. Over 400 foreign concerns are invested in textile production facilities in the country, with Taiwan accounting for a quarter of them.
One of their representatives is Lin Chih Lung, founder and CEO of G-Spec International Co., Ltd. and chairman of the Taiwan Commercial Association in Cambodia. A 20-year veteran of Cambodia, managing three plants and a staff of over 3,000 people, Lin's company makes luxury nightgowns and pajamas expressly for export to European and U.S. markets.
Low wages have been Cambodia's biggest advantage, but changes are afoot.
Lin relates that the average monthly wage in Cambodia three years ago was just US$80. However, due to rising inflation and frequent union protests, the government has been forced to raise wages, which are expected to double to US$160 next year.
How has this country, after losing two million compatriots in a gruesome fashion to the brutal Khmer Rouge regime, become the land of money games?
Foreign Investors' New Darling
The first backstory making Phnom Penh the new darling of overseas investors is related to the hot money circulating around in the wake of quantitative easing from the U.S., followed by Europe. One Taiwanese real estate agent claims that investing in Phnom Penh real estate can bring annual returns of over 10 percent, making it more attractive compared to Taipei's two percent.
Second, Cambodia lacks foreign currency restrictions. Real estate is priced in U.S. dollars, and money can come and go freely, so foreign money can be taken out at any time, and profits can come quickly.
According to 2014 figures from the CBRE Group, a commercial real estate concern, real estate speculation has yielded numerous investors over 30 percent returns.
Third, foreign nationals can freely buy and sell real estate from the second floor up. Compared to Vietnam, which only recently gave the green light to foreign purchases of real estate, Cambodia is free. "Anything goes in Cambodia," says David Chang, first vice president of Cathay United Bank in Cambodia.
Luxury Apartment Complexes
Why have Taiwanese gone crazy for Cambodia? Despite making up only five percent of the local population, ethnic Chinese control more than 80 percent of the local economy. Three Chinese-language newspapers alone in Cambodia cater to this segment. While waiting at the airport baggage claim, real estate circulars in Chinese are right there by the carousel, vying for attention.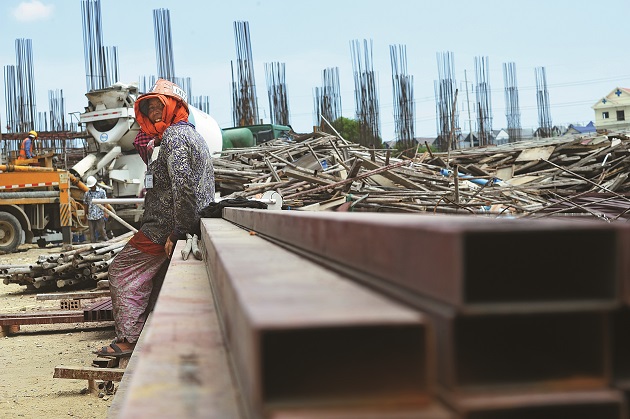 Phnom Penh looks like a massive construction site for developers from around the region and world. Meanwhile, are Cambodians building dreams or making bubbles?
Frenzied purchases by foreign investors have made real estate take off. A report by the National Bank of Cambodia's comptroller noted a startling increase in loans to builders and real estate last year, with building loans rising 37 percent and property loans skyrocketing 54 percent.
A group of Taiwanese builders is intent on constructing Phnom Penh's version of Taipei's Treasure Palace luxury apartments. Overseen by renowned architect C.Y. Lee, the 35-story Sky Villa has 256 large luxury units, going for around NT$100,000 per square meter and US$800,000 per unit (around NT$26 million), making it the most expensive residential complex in Phnom Penh at present.
"We aim to still be at the top of the pyramid when construction is completed three years from now," confidently states Neal Lin, vice chairman of Crystal Orange Construction.
The wealth gap in Cambodia is cavernous. Out on the streets of downtown Phnom Penh, child beggars reach out to tourists while business bigwigs and rich people engage in conspicuous consumption. Neal Lin relates that 70 percent of Sky Villa's units have already been sold, over half to Taiwanese, most of whom are business executives in China, along with some Cambodian locals.
Nobody knows more about the hot real estate market than Taiwanese-invested banks. "This year, loans are up 75 percent over last year, the bulk being housing loans," says Lawrance Liang, chairman of Cathay United Bank (Cambodia) Corp., Ltd. He adds that housing and real estate loans have accounted for the majority of Taiwanese-invested banks' business in Cambodia over the past two years.
Yet crisis lurks beneath the prosperous landscape.
Oknha Chim Khean, director of Kav Tang Construction & Development Co., Ltd., is a second-generation local Chinese with roots in Chaozhou, Fujian. Two of his development projects, Eternal Happiness City phases one and two in Phnom Penh, are completely sold out, and work is being stepped up on the third and fourth phases.
"Around 20 percent of the buyers are Taiwanese," Oknha estimates. For just over two million NT dollars one can purchase a small flat of around 65 square meters, which is less than one-sixth of the current going rate in downtown Taipei.
Low prices have attracted flocks of buyers, yet the prosperous scene is not without its detractors.
Standing on the top floor at Eternal Paradise City, Oknha points to a complex of tall buildings around a kilometer away and says, "That's Camko City, an over 100-hectare (approximately one square kilometer) Korean development project that was stopped around halfway through. Now it's an unfinished ghost town."
Work commenced on this city development cooperative project between Korea and Cambodia in 2003, with completion slated for 2018. However, Busan Savings Bank, the loan guarantor, went under in 2011 following the global financial crisis, taking the development project down with it. Oknha is mindful that in spite of the frenzy of activity and prosperity Phnom Penh presents at this time, the bubble could burst within the next few years.
Menacing Skyscrapers
While Taiwanese investors are lustily pouring money into Phnom Penh, what is locals' take on things?
Mony Mom, deputy director of Cambodia's Department of Industry and Construction, born and bred in Phnom Penh, returned to his home country two years ago after spending five years on a Doctorate in civil engineering at National Taiwan University. To him, the rapid growth spurt on the ground in his home city is cause for concern.
Mony Mom notes how Phnom Penh's infrastructure lags behind development, in areas such as insufficient firefighting ladders and very tight city alleyways. If a fire breaks out in one of the new 20- or 30-story buildings, the government will surely be caught short, ill-equipped to put out the conflagration. "No way would I buy one," he says gravely, in reference to the new residences.
He also reveals issues with the safety and construction materials on a number of Phnom Penh building projects, relating that one colleague of his, in charge of reviewing construction projects, took the day off and had someone else sign in his stead to avoid having his name on the approval documents for one project.
The prime time to invest may have passed. One real estate broker who requested anonymity tells of a client that bought a number of properties in Phnom Penh last year, and is stuck at the moment, unable to turn them over. "The first and second waves are the most lucrative; now the buyers are looking to sell," he says.
Is investing in Phnom Penh real estate an easy way to make money? Perhaps the answer is yes. But is now a good time to go there? As when handling the thorns of a rose, investors should proceed with caution.
Translated from the Chinese by David Toman