A Reformer Leads the New Indonesia
Jokowi Building a Maritime Power
精華簡文
Source:Top Photo Group / AP
Indonesian President Joko "Jokowi" Widodo heads the largest archipelago in the world. The country's vast ocean area, dotted with thousands of islands, is an asset but also often hampers development. Jokowi, the country's first president without ties to the political elite or the military establishment, is determined to turn Indonesia into a maritime power.
Jokowi Building a Maritime Power
By Elaine Huang
From CommonWealth Magazine (vol. 583 )

Scene 1: Cirebon, West Java, Connected to Trans-Java Toll Road
In August, the Indonesian main island of Java is sweltering in the sun and hot summer winds. On the flat asphalt road cars race at full speed and trucks zoom by with a whistling sound. The nightmarish traffic jams typical of the Indonesian capital are forgotten by the time we arrive in the port city of Cirebon, some 200 kilometers east of Jakarta, after a four-hour ride.
Cirebon lies right between West and Central Java. Decades ago, rattan furniture makers from Guanmiao, then Tainan County, in Taiwan relocated their businesses to Cirebon. In its heyday, the local rattan chair industry boasted 60 Taiwanese-owned companies.
"Before, it took a whole day to get from Jakarta to Cirebon; it is much better now," notes Jack Lai, honorary president of the Indonesia Taiwan Chambers of Commerce. Lai founded his rattan furniture business in Cirebon over 15 years ago. Meanwhile, his company has 500 employees and exports its products to Europe and the United States.
In June of this year, the 116km-long Cikopo-Palimanan Toll Road was opened, shortening travel time on the north coast between Cikampek and Cirebon. The new road connects the existing Jakarta-Cikampek and Palimanan-Kanci toll road sections, which are all part of the ambitious Trans-Java Toll Road project.
After taking office last year, Jokowi strongly pushed for the completion of this long-overdue road section, which is more than a decade behind schedule. He hoped that its opening before the Muslim holiday of Idul Fitri, which marks the end of Ramadan, would help ease traffic congestion as most Indonesians head back to their villages to celebrate with their families.
The new stretch constitutes an important step toward the completion of the over-1,000km-long Trans-Java Toll Road, which will link Indonesia's political and economic center in West Java with Banjuwangi on the eastern end of Java Island. It is hoped that, once completed, the road will help move people and business eastward, away from the congested and expensive metropolitan areas of Greater Jakarta and West Java. (Table 1)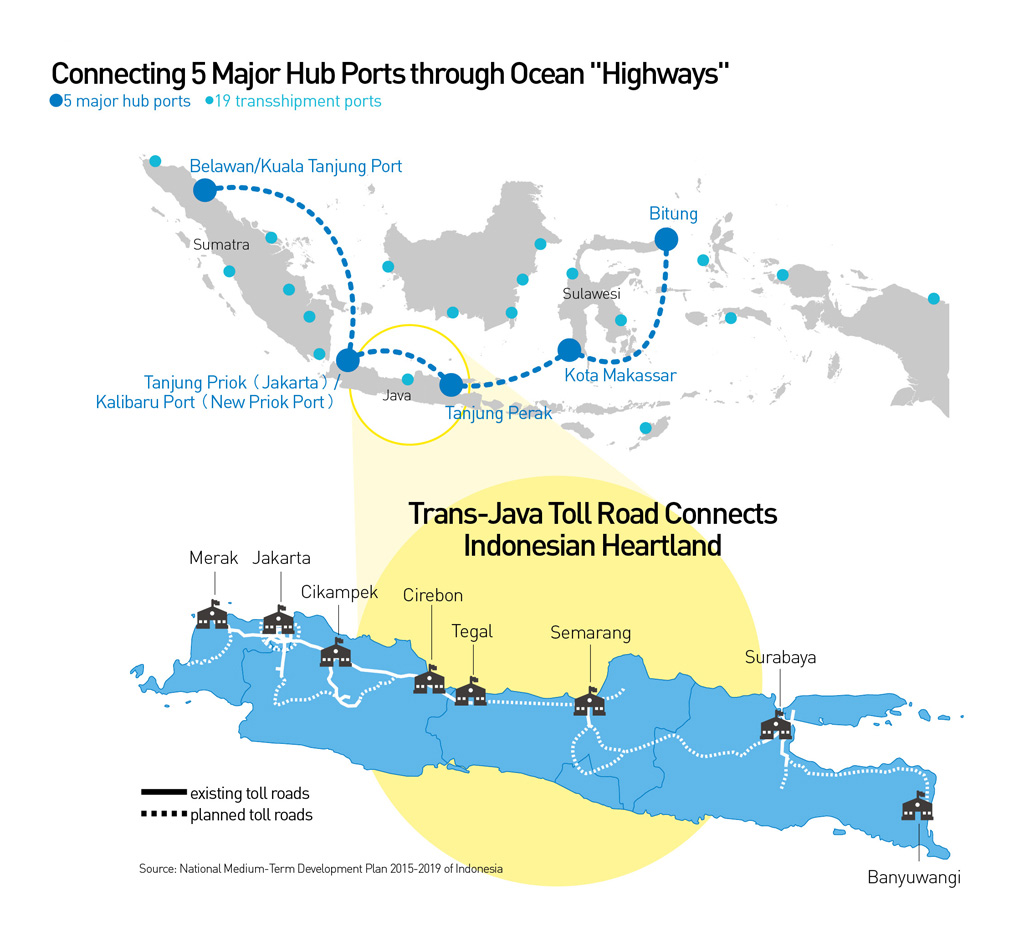 Jokowi even flew in by helicopter to personally cut the ribbon at the inauguration of the Cikopo-Palimanan Toll Road on June 13, well aware that this section is an important piece of infrastructure for realizing his vision of building a "maritime power."
Scene 2: Gresik, East Java – Construction Launched for Major Hub
In Gresik, a satellite town northwest of Indonesia's second-largest metropolis of Surabaya in northeastern Java, gravel trucks thunder down the road toward the coast, where the Java Integrated Industrial and Port Estate (JIIPE) project is under way. Across the coast, the predominantly Muslim island of Madura shimmers in the dust-filled air.
With its vast empty plots of land, the port area looks like a huge construction site. With lightning speed, a deep sea port is being built, a power plant and water treatment plants are being planned, and road shows to attract investors and companies are being prepared. In the future, a railroad and a toll road, which have yet to be approved, could connect the 3,000-hectare industrial estate with Tanjung Perak, the port of Surabaya, which will make it the most important logistics hub in eastern Indonesia.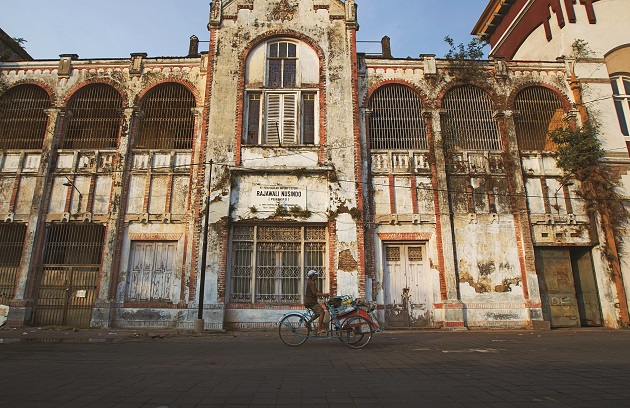 Kota Semarang in central Java was an important port during the Dutch colonial era. Dutch colonial style buildings give the ancient city its distinct east-meets-west character.
"In May, President Jokowi came to inspect the estate; the government keeps urging us to complete [the project]," says Haris Arianto, a 32-year-old marketing communication manager with Indonesian developer AKR Corporindo, as he shows the project drawings.
Specialized sea ports play a prominent role in the president's plan to restore Indonesia's past maritime kingdom glory. "This is the first one," Arianto remarks.
The ASEAN Economic Community (AEC) will be formally launched this December. Indonesia is the largest economy within the ten-member Association of Southeast Asian Nations as well as the largest archipelagic state in the world. With a population of 250 million people, Indonesia is the world's fourth most populous nation. Its territory covers more than 17,000 islands and islets spread out over vast expanses of ocean.
Being an archipelagic state can be a blessing and a curse, particularly when it comes to moving goods and people across the nation and bridging the huge gap in regional development.
The reform-oriented Jokowi, who was elected president last October, has presented a five-year national development plan focusing on developing maritime industries. The plan aims to improve inter-island connectivity by expanding existing ports and airports and developing a "nautical highway" system. Jokowi has pledged to transform Indonesia into a fully sovereign, economically autonomous, global maritime axis with balanced regional development.
"We have to work as hard as possible to turn Indonesia into a maritime nation once again. Oceans, seas, straits and bays are the future of our civilization. We've turned our back on the sea for far too long. It is time for us to realize 'jalesveva jayamahe,' 'in the ocean we triumph,' a motto upheld by our ancestors in the past," Jokowi said in his inaugural speech.
From the Grassroots, Craving Change
Most Indonesians believe that Jokowi's interest in improving infrastructure, regional balance, tax reform and other reformist measures is related to his personal background.
Jokowi hails from Surakarta, the historic royal capital in central Java also known as Solo, where he later established a furniture export business. He spent his childhood in a poor riverside squatter community. The family lived in illegally built shacks and was repeatedly evicted by the government without ever getting compensation. These experiences left a deep mark on Jokowi and are believed to have sharpened his eye for social injustices.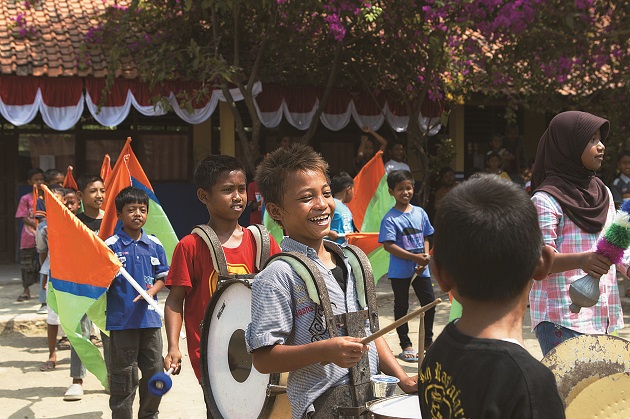 Despite rampant corruption and endless red tape, Indonesians know how to enjoy life. They hope President Joko Widodo will bring change and create jobs.
After entering politics, Jokowi stood out for his concern for people with lower incomes. While governor of Jakarta, Jokowi saw to it that people who had their houses razed to make way for construction projects were properly compensated. He also had health insurance cards issued to the poor.
"The biggest difference from past Indonesian presidents is that he does not hail from a business clan or a political family. He is able to look at things more from the perspective of ordinary people," says Privanbodo, chairman of information technology and multimedia with the Indonesian Journalists' Association.
The former businessman likes to spontaneously visit local residents and neighborhoods to better understand the needs of the people. He is known for his hands-on way of getting things done in an efficient manner.
"He is a president who dares to make decisions. The mass rapid transit system that is now under construction in Jakarta was a decision that he made when he was Jakarta governor. It had been in the planning stage for decades without any governor ever making a decision," recalls Dr. Tahir, founder and chairman of the Mayapada Group, an Indonesian conglomerate in banking, healthcare, retail and real estate development.
Sandiaga Uno, cofounder of the Indonesian private equity firm Saratoga Investara Sedaya, remarks that Jokowi, a self-made businessman, was able to become president even though he does not belong to the political or military elite because of a rising middle class. "We are seeing Indonesia's economy growing. The middle class is also sharply evolving, and we also see the level of education improving," he notes.
Jokowi owes his rise to power to ordinary people such as laborers, office workers and intellectuals who were fed up with rampant influence peddling and money politics. It is the open-minded people from the rising middle class who crave change and who are going to shape Indonesia's future face, he says.
Jokowi's maritime axis vision attempts to do just that - change Indonesia.
Strengthening Infrastructure, Interconnecting Islands
The National Development Plan aims to achieve even development across the major islands to counterbalance economically dominant Java, including Greater Jakarta. Toward that aim, five major hub ports and 19 transshipments ports will form "marine highways."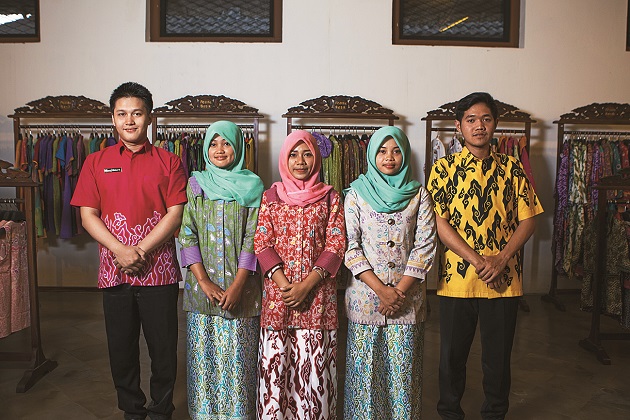 The various patterns and colors of traditional Indonesian batik fabrics reflect the diverse traditions of the nation's many ethnicities as well as a shared cultural heritage.
"Jokowi wants to balance economic development and narrow the regional gap," says Lee Yu-hsiang, vice president of the Indonesian Chinese Traders Federation, who has lived in the country for 28 years.
The concentration of resources in Java dates back to the country's colonial history.
The Dutch exported cash crops that they cultivated in fertile Indonesia - coffee, sugar and spices – from sea ports in Java to Europe and the United States. Even today, Indonesia still depends on the export of its natural resources, which has led to a big gap between resource-rich and resource-poor regions and has hampered industrial development.
"The recent 'resource boom' is over. Indonesia has to stop relying on natural resources and diversify its exports. We must invest more in infrastructure and manufacturing, as well as research and development," Jokowi wrote last year in an article in the Economist.
Indonesia's infrastructure is not competitive, facing bottlenecks in its power supply, a crucial factor in industrial development.
"On Indonesia's most affluent main island of Java, with its 140 million people, the per capita power production per day is a mere 216 watts, just enough to light up four light bulbs," explains Muhammad Lutfi, chairman of the Investment Coordinating Board (BKPM) and a former trade minister.
Lutfi, once the country's youngest trade minister, feels frustrated. "What an absurd figure! Indonesia has twice, three times the territory of Malaysia but is only able to light a balcony lamp."
Moreover, Indonesian port facilities are outdated, and transportation costs are high. As a result, logistics costs account for 24 percent of GDP, whereas that figure stands at only 15 percent for fellow ASEAN member Thailand.
Jokowi was well aware that should Indonesia continue to fail to invest in basic infrastructure, it would not be able to transform its economy. The country would not even be able to throw off economic colonialism, much less become affluent and powerful on its own.
But reforms require money. Jokowi took advantage of slipping international oil prices to resolutely slash fuel oil subsidies, which saved the state US$16 billion. Relative to GDP, Indonesia has the lowest tax revenue in Southeast Asia. As part of efforts to boost tax revenue through more efficient tax collection, tax registration numbers have been introduced; the additional tax revenue will be used to expand infrastructure and bolster social welfare.
According to BKBM figures, the 2015 budget for infrastructure has been increased by 63 percent.
"All past presidents wanted to cut fuel oil subsidies, but in the end, none of them did because the public reaction was very strong," notes Chin Yei-hwa, general secretary of the Jakarta Taiwan Entrepreneur Association, not hiding his admiration for Jokowi's brazen determination to push through unpopular measures.
Japanese-Chinese Competition
Indonesia receives foreign investment with open arms, well aware that it lacks the capital needed for economic transformation.
Less than 20 days after taking office last year, Jokowi led delegations to China, Myanmar and Australia to attend a series of international summit meetings. He held bilateral talks with the leaders of China, Japan, Russia and the United States, which he used to present his maritime axis policy as well as to emphasize Indonesia's importance as a regional partner in a bid to solicit foreign investment in the country's infrastructure.
"Jokowi's plan is to rebalance Indonesia's economy away from commodities and towards manufacturing," the Economist wrote in May of 2015.
Foreign investors are upbeat about business opportunities in Indonesia, given that it is the largest economy within the AEC. Over the past five years, the annual amount invested by the ten top foreign investor nations grew steadily, with Singapore and Japan taking the lead, and China quickly catching up. (Table 2)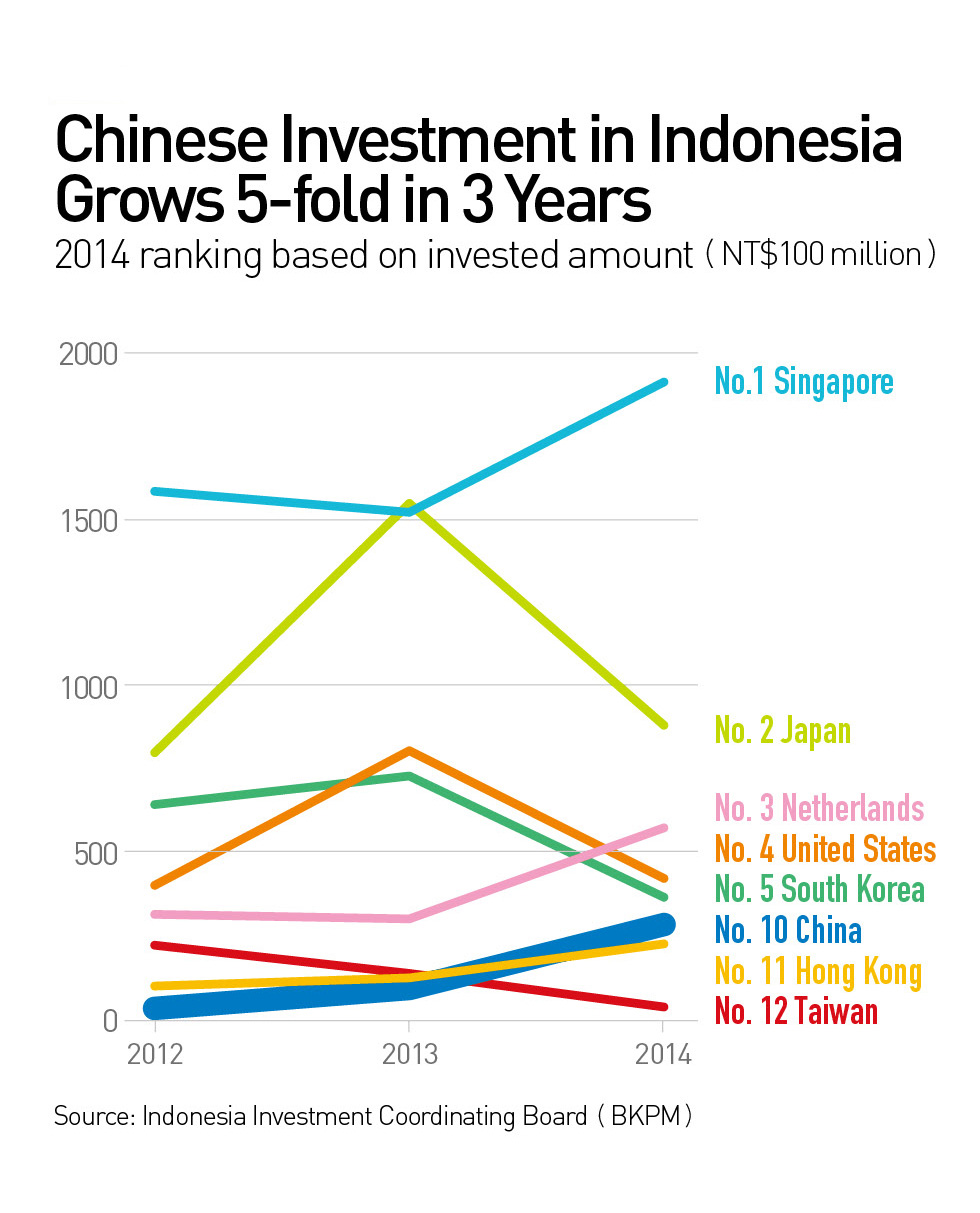 Most recently, Japan and China were locked in a fierce bidding war for Indonesia's first high-speed railway project, which will connect Jakarta with Bandung, the capital of West Java Province. China was eventually awarded the project because it offered loans to cover the US$5.5 billion project cost without demanding financial guarantees or funding from the Indonesian government.
While Japan is not trumpeting its activities as much as China, it has been adopting a long-term strategy, helping Indonesia develop its manufacturing industry.
Karawang International Industrial City, an Indonesian-Japanese joint venture some 75km south of Jakarta, is an automobile industry cluster. Major Japanese carmakers such as Yamaha, Daihatsu, Mitsubishi and Suzuki all have plants here in close neighborhood to Japanese-Indonesian car parts joint ventures. With the arrival of the Japanese companies, local salaries began to rise, now exceeding even those of Jakarta.
Indonesian-Taiwanese fiber glass cement maker PT Bangunperkasa Adhitamasentra has opened a factory with more than 1,000 workers here, in the vicinity of two business hotels. "Occupancy has been at 90 percent for three years in a row; it's all Japanese guests," notes Ronson S.S. Tseng, director of the company.
A 40-minute drive away in Cikarang is Longlife City, a residential compound for senior residents built by Indonesian developer PT Jababeka in cooperation with Japanese service company Long Life Holding. Japanese nationals who live and work in Indonesia long-term count among the main customers of the serviced housing complex.
"The medical care beds here are imported from Japan. Our dentist's office also cooperates with a Japanese hospital," explains Lydia, a 22-year-old Indonesian employee with Longlife City. Lydia is currently learning Japanese to be able to communicate with Japanese customers.
Manufacturing Industry Case 1: A National Car Industry
Indonesia once set itself the ambitious goal of developing a national car industry that would even surpass ASEAN's biggest automaker nation Thailand. Japan plays an important role in that scenario, since about 80 percent of Indonesia's nearly 1,000 car parts makers are linked to Japanese companies.
A key player is the world's largest carmaker Toyota, which has more cars on Indonesian streets than any other automotive brand.
Toyota Motor opened its second plant in Karawang in 2013. Numerous tour buses, used to shuttle employees back and forth, are parked in front of the factory entrance.
"This Toyota factory was relocated from Thailand; it makes car engines," notes Vito Gomargana, who is with the industrial development department of Artha Industrial Hill, an industrial estate developed by the Artha Graha Group. The group, which has interests in real estate, banking and telecommunications, just inked a cooperation agreement with Taiwan's China Steel Corporation in September. It also holds a plot of land in Karawang that awaits an investor.
Toyota originally made Thailand its production base in Southeast Asia, setting up several manufacturing facilities there. But when Thailand was hit by massive flooding in 2011, Toyota's supply chain came to a standstill. In 2013 the carmaker decided to invest US$2.7 billion in Indonesia over a four-year period to expand its car parts supply chain.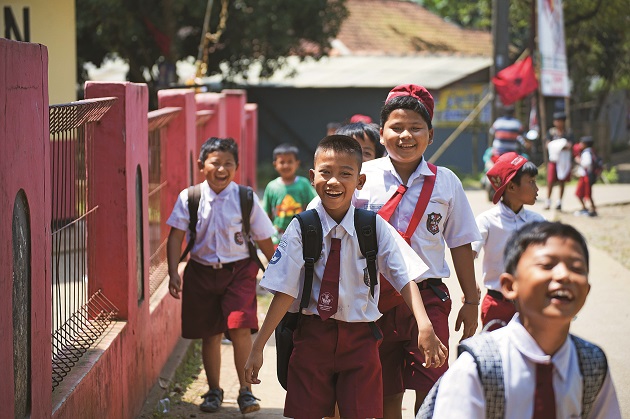 Indonesia hopes to bridge the gap in regional development and improve living conditions for the younger generation by expanding infrastructure construction.
It is not the first time that Indonesia has tried to restructure its industry by substituting imports with locally produced products. In the 1970s and 1980s, during the reign of President Suharto, developing import substitution industries was the official policy.
The Suharto regime invited foreign companies during a time of globally low oil prices to invest in the country's food processing and car manufacturing industry. In the early 1990s, Indonesia's manufacturing industry already accounted for a higher share of GDP than agriculture. But the crony capitalism that underpinned Suharto's autocratic rule eventually triggered the Asian financial crisis in 1997, ringing the death bell for his import substitution policy.
Jokowi is now making a fresh attempt, hoping to kick-start industrial transformation.
Manufacturing Industry Case 2: Refining Own Crude Oil
Another example for import substitution is the petrochemical industry. This is where Taiwan comes in.
Recently, Indonesian officials have been traveling to Taiwan quite frequently, including private visits to Taiwan's state-owned petrochemical giant CPC Corporation. They are eyeing CPC's fifth naphtha cracker plant in Kaohsiung, which will be decommissioned after 25 years of operations at the end of this year.
CPC is currently evaluating whether it would be feasible to ship the dismantled plant to another country for reassembly there. "Myanmar, Mexico and Indonesia have all come to talk with us, but Indonesia has been the most aggressive," says CPC Chairman Lin Sheng-chung.
Indonesia has abundant crude oil reserves, but due to a lack of technology and facilities in refineries, it has to export crude oil to Singapore for refining and reimport petrochemical products. While Indonesia needs 1.2 million tons of petrochemical materials per year, the country can provide only 700,000 tons from its own production. The remaining 500,000 tons must be imported – a huge amount.
This March, representatives for Pertamina and Indonesia's largest private petrochemical firm Medeco both talked with CPC about possible cooperation. The Indonesian government hopes that CPC's fifth naphtha cracker can be shipped to Indonesia after its decommissioning. They hope to bring the plant online for mass production within two years.
"This is definitely an investment project driven by domestic demand," says Lin. CPC has already dispatched personnel to inspect possible sites in Western Java.
"If we look at the big picture, our downstream manufacturers would also set up shop nearby if CPC were to set up a plant in Indonesia. This is a very good global expansion strategy," Lin says.
Population Dividend Boosts Domestic Consumption
Indonesia's moves to lure foreign investors with its domestic market come at a time of rising wages and slowing growth in China. The median age in Indonesia is 29. Young adults between 15 and 34 years of age account for 55 percent of the population. By contrast, the median age in China stands at 37. Indonesia is attractive as a manufacturing center precisely because of its population dividend - a large reservoir of young consumers.
"Of course foreign investors go to Indonesia not only to produce for export; they are also eyeing domestic demand," notes Kristy Hsu, program director at the Taiwan ASEAN Studies Center of the Chung-hua Institution for Economic Research.
Chinese handset makers ranging from Huawei to Oppo have all opened assembly plants in Indonesia and maintain a vast network of stores.
Taiwanese tire makers Cheng Shin Tire and Kenda Rubber Industrial invested in Indonesia this year and expanded existing production facilities there, respectively. "From the perspective of China plus one [other country], aside from Vietnam, I am most upbeat within ASEAN about Indonesia because its domestic market is big enough," Kena Rubber Industrial Chairman Yang Ying-ming says. Kenda's new plant in Indonesia is slated to start production at the end of this year.
Jokowi Put to Test at Home and Abroad
Actual figures, however, indicate that Jokowi's performance has not been very good this year.
Since he became president, the nation's economic growth rate has fallen from 5.4 percent to 4.7 percent, the lowest value since 2009. From abroad, Jokowi faces accusations that he pursues a form of populist protectionism. While he is wooing investors like a salesman who shouts "call me if there's a problem," bans on foreign investment in certain industries have not been eased.
Since local content rules apply to many major industries such as energy, retail and car manufacturing, foreign manufacturers are virtually forced to produce in Indonesia to fulfill domestic production ratios. "Under the fine-sounding open investment, you can only invest in designated projects, and with a mountain of obstacles," laments one foreign investor about what he perceives as unreasonable requirements, not to speak of bureaucratic red tape.
The most incalculable factor is the local currency. The Indonesian rupiah has depreciated in recent months to its lowest level since the Asian financial crisis, losing up to 50 percent of its value at one point. For Indonesian companies, redeeming corporate bonds keeps getting more expensive. At the same time, the Indonesian state's external debt exceeds the value of its foreign reserves.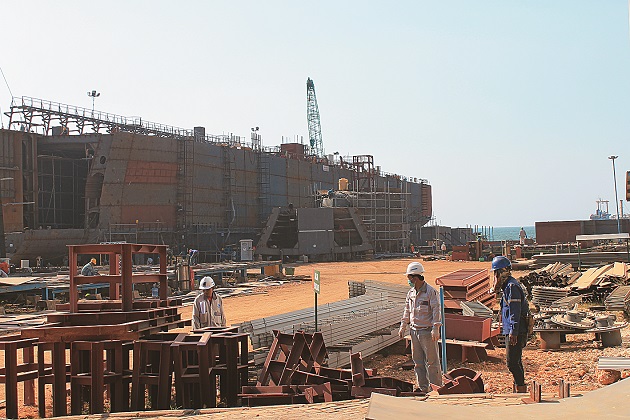 Indonesia hopes to import technology to upgrade its manufacturing industry.
Observers are wondering whether Indonesia, which counts among the countries that triggered the Asian financial meltdown in 1997, could unleash another crisis.
Indonesian businessman Sofjan Wanandi, economic advisor to the vice president, frankly acknowledges that Indonesia depends on natural resource exports for its foreign currency income. Now that demand for natural resources is weakening in China's slowing economy, Indonesia earns less foreign currency income, which puts downward pressure on the local currency.
"The Indonesian economy is not doing well, which is related to the fact that the world economy is performing worse than expected. [The economies in] Europe and the United States, and China in particular, are all going downhill, so Indonesia is affected, too" remarks Sofjan at his Jakarta home. Nonetheless, Sofjan points out that foreign investors are not withdrawing from Indonesia, as inbound foreign direct investment is still on the increase.
Yet due to the sputtering of the local economy, many voice doubts about the Jokowi administration's ability to rule the country.
Previous President Megawati Sukarnoputri, who founded the Indonesian Democratic Party of Struggle (PDI-P) and still leads it, supported Jokowi's bid for the presidency. When just elected, people voiced concern that Jokowi could become a "puppet president" without a real say in personnel decisions due to his lack of political experience at the national level.
"You should not underestimate Jokowi; he is Javanese, and the Javanese are most skilled at shadow theater," warns the Mayapada Group's Tahir. "He will only have master control if he personally serves as the puppet master behind the scenes," Tahir adds.
On August 12, Jokowi reshuffled his cabinet, replacing six key economic cabinet positions. In the shake-up, "unfit" cabinet members, who had been appointed to the first cabinet in return for their political backing during the presidential campaign, made way for people with economic expertise. "The economic cabinet reshuffle this time also conveniently helped divert political pressure," says Tahir.
"In the 18 years that have passed since 1997, I believe that Indonesia's political and economic situation is now the most stable ever. There is no talk of who could replace Jokowi," remarks S.D. Darmono, chairman of real estate developer PT Jababeka Tbk.
Amid a gloomy economic environment, the once wildly popular Jokowi seems to have fallen from grace. The budding maritime power still waits for its helmsman to turn the boat into the wind to start its voyage.
Translated from the Chinese by Susanne Ganz