DDK Group
Vietnam, I Hate Myself for Loving You
精華簡文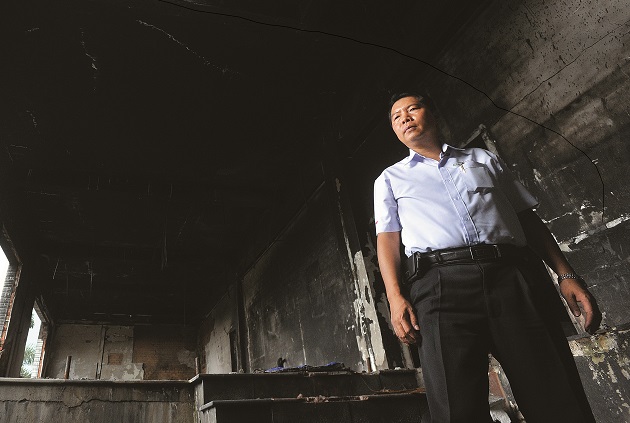 Source:CW
The Taiwanese company DDK Group, one of the world's 10 biggest manufacturers of high-end bicycle saddles, lost its entire 18,000 square meter facility in anti-Chinese riots in Vietnam last May. Yet, despite the outrage and devastating losses, it has decided to stay. Why?
Vietnam, I Hate Myself for Loving You
By Kwangyin Liu
From CommonWealth Magazine (vol. 582 )


"When I saw it on TV I was consumed by hatred. Why did they treat my dad that way?" asks Tsai Pin-yang, grimacing as he recalls how last year's events made him feel. At an age when he should be footloose and fancy-free, he was forced to contend with the sadness and hatred few 16-year-olds ever experience.

His father, 46-year-old Richard Tsai, is the chairman of Foming Bicycle Parts Co., Ltd. / DDK Group, one of the world's top 10 makers of bicycle saddles. Boasting a global market share of 5.5 percent, the company produces around seven million high-end bike saddles each year at two facilities in Vietnam.

However, a series of riots that grew out of organized protests of China's placement of an oil rig in waters claimed by Vietnam spiraled out of control, spilling over into Bình Dương, Đồng Nai, and Hà Tĩnh provinces. Protestors and rioters turned their wrath on foreign-invested corporations, and by the time the embers died out, 254 Taiwanese companies had suffered varying degrees of damage.

Among them, Foming's facility in the Song Than Industrial Park in Bình Dương Province was the hardest-hit. In addition to vandalism, the 18,000 square-meter manufacturing plant suffered from arson, burning for three days and nights and resulting in losses of at least NT$120 million.

Now, Tsai Pin-yang has come to Vietnam, the place that elicited such strong emotions of sadness and anger 15 months ago. He and his father walk side-by-side among the charred ruins of the factory facility, stepping over dismembered Greek statues and the ashes of wooden office furniture among the rubble.

"Pin-yang and this factory are the same age," relates Tsai, who set out alone for Vietnam just after the birth of his boy. He points at a thick steel beam, mangled by the heat of the conflagration.

The experience continues to haunt Tsai. He recounts the sequence of vandalism and looting: the first wave of rioters demanded that the plant cease production, after which a second group arrived to check and see if work had indeed stopped. Then a third throng set about smashing glass and trashing the offices. "Everyone says that's called the 'minimum'" says the DDK Group chairman. And finally, a fourth mob descended and began looting. "Humanity completely lost its sense of right and wrong, good and evil; the whole society got out of control," he says with a furrowed brow.
"I couldn't afford to get down on myself"
Every automobile on the premises was trashed, and all of the bicycles were stolen. When all was said and done, only two vehicles were spared, one a Mercedes-Benz SUV that was in the shop for maintenance, and the other a bicycle that had been lent to a friend.
As honorary chairman of the Taiwanese merchants association of Bình Dương, Tsai told himself to hold everything together for the sake of the more than 250 Taiwanese-invested operations that suffered losses in the attacks. "I need to be a rock for those Taiwanese merchants. What would they do if I let myself get down and wallow in self-pity?" he asks.
Behind the fortitude lurked a very personal weakness. "There was a time when I was so upset I couldn't sleep at night. A kind fellow Taiwanese businesswoman gave me a bottle of whiskey, and I couldn't get to sleep unless I drank myself into a stupor," he recalls.
In spite of Fongming's severe losses, they decided to stick to their guns, not only holding onto their investment but also making the quick decision to up the ante. "Why didn't you leave Vietnam?" the reporter asked him. "Where would I go?" he answered.
Tsai chose not to leave mainly out of feelings of obligation towards his customers, his workers, and himself.
First, while it generally takes at least three years to win a customer, one can lose a customer in the blink of an eye. "When a customer places an order with you, if you fail to deliver the goods on time, the customer just goes away forever," he says.
The second factor was a feeling of social responsibility. Tsai relates that, with over 700 employees combined among the company's Taipei office and the Changhua and Vietnam plants working seamlessly together, every element is vital. What is more, "If I'd given up, a lot of people would have been out of work," he adds.
The third driving force was faith in his business philosophy. Tsai spent the past 20 years building his business, from a small facility in Changhua to Vietnam, managing along the way to establish top market share in the difficult European market. "But I still have the Southeast Asian and U.S. markets to reach, and no time to think about stopping – I just want to get back and resume production."
It was that faith that helped him get back on his feet in a hurry. Within a week after his plant was wrecked on May 13, Tsai had leased a temporary facility in a neighboring industrial zone, resuming production by mid-June.
Not Moving Back to Taiwan
People might ask, why not pack up and move back to Taiwan?
In response, Tsai cites the relatively high cost of labor and land in Taiwan compared to Vietnam. Gesturing with his fingers, he calculates that with over 600 employees, each costing at least NT$10,000 more per month, operating in Taiwan would cost at least NT$70 million extra a year in wages alone. At that rate, "Moving everything back to Taiwan isn't even a consideration," he states flatly.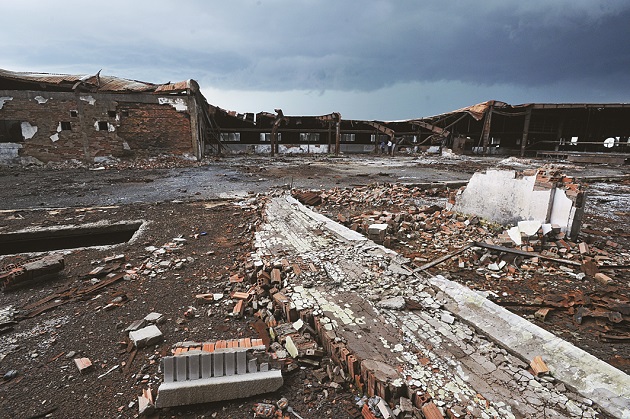 DDK Group suffered the worst losses among Taiwanese businesses in Vietnam's Bình Dương Province during last year's May 13 riots. The fires reportedly burned for three days and nights.
Even more critical is the pragmatic consideration of differences in tariffs. Tsai notes that bicycle saddles manufactured in Taiwan and finished in ASEAN countries are subject to a 20 percent import tariff. "My margin isn't even 20 percent, so how can I expect customers to bear the cost of tariffs for me?" The implication here, echoing the big issue for Taiwanese merchants in Vietnam, is that only by manufacturing in the ASEAN region can his company maintain export competitiveness.
Having made up his mind to stay, Tsai set about working harder than anyone else. "Even though so much went up in flames, at least the people, customers, talent, know-how and resources remain; the rest can be made back," he says resolutely. "If I think about the losses as a natural disaster, then rebuilding without delay is the most practical way to go about things."
With Taiwanese businesses having suffered such severe losses in the riots, can the Vietnamese government guarantee that similar situations will not take place in the future?
When we posed that question directly to Mr. Vu Tien Loc, president of the Vietnam Committee of Taiwan Affairs under the prime minister's office in the country's capital, Hanoi. Vu attributed last year's troubles largely to issues between Vietnam's central and local governments, adding that the Vietnamese government had taken steps to improve communications between the central government and local authorities. "Taiwanese merchants needn't worry. I can guarantee there will be no further unrest," he asserted confidently.
Vu Tien Loc had no choice but to make such a pledge in an effort to assuage Taiwanese merchants' fears, because Taiwanese businesses are invested in 50 of Vietnam's 58 provinces. Statistics back that up, indicating that Taiwanese investment is behind one out of every five job opportunities in the country.
Nevertheless, a number of Taiwanese investors admit off the record that the Vietnamese government's promises can sometimes come up short. Even though the Ministry of Economic Affairs concluded initial talks with Vietnam over a new Taiwanese investment protection agreement in late August, it feels like too little too late, as Vietnamese insurance carriers have been slow to respond to their claims, and they remain caught up in the struggle to recover.
Rather than wait for outside help, many Taiwanese businesses have taken the same approach as Richard Tsai, rolling up their sleeves and taking their fate into their own hands.
We rode in Tsai's car to the northern part of Bình Dương Province. After a 40-minute drive through pouring rain, Tsai came to a stop before the entrance of a factory under construction, where a three-story structure had already been put up.
Reborn in Just Four Months
We learned that after the chaos of May 13, intent on fulfilling hi
s commitment to customers, Richard Tsai took swift action to locate this seven-hectare plot of land in the Daden Industrial Zone. Ground was broken on September 13 on a new facility, exactly four months to the day after the riots, with construction scheduled for completion this October 24.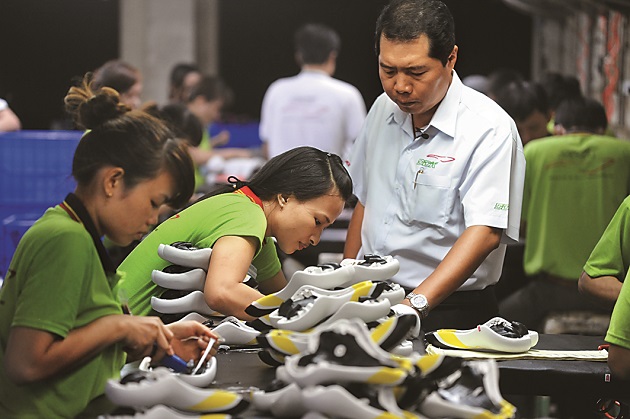 As one of the world's top 10 high-end bicycle saddle manufacturers, Richard Tsai was intent on restoring production within the shortest time possible to retain European customers' loyalty.
"It's not actually a cause for a great deal of celebration," Tsai admitted at the groundbreaking ceremony last year. "When you're faced with difficulty, you have no choice but to steel yourself and forge on against the tide," He added , recalling the faith that got him through the previous four months.
The experience taught Tsai that, in addition to taking advantage of opportunities, investment is also about risk management. He took pains to ensure that the rebuilding efforts included measures to bulk up security, drawing everything up anew, from fire protection equipment to the placement of flammable materials, and additional space between buildings.
What will come of the facility destroyed by the fires? "I'd like the plant to stay in the same place, ideally becoming a May 13 museum," relates Tsai. Looking at the new Daden Industrial Zone facility through the pouring rain, Tsai lights another cigarette and adds, "People should remember that day."
The evening of our visit happened to coincide with a gathering of
Taiwanese merchants for the Ghost Festival, attended by nearly all the Taiwanese business people with investments in Bình Dương and Đồng Nai provinces.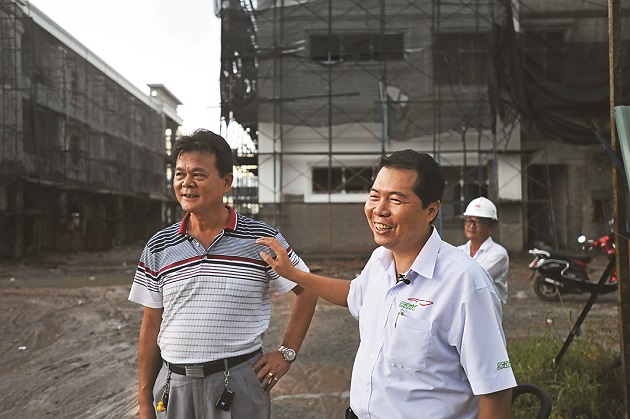 A smile finally returns to Richard Tsai's face as he enters Foming's new facility in the Daden Industrial Zone, where construction proceeds at a hurried pace.
As the festivities took place, a local all-girl trio danced energetically as they sang Joan Jett and the Black Hearts' 1988 classic, "I Hate Myself for Loving You."
That song seemingly encapsulates how Richard Tsai and a host of other Taiwanese business people in Vietnam feel, caught in a love-hate relationship and torn between sticking it out and letting go.
"You took my heart and you took my pride away
Can't break free from the things that you do
I wanna walk but I run back to you
That's why I hate myself for loving you"
Translated from the Chinese by David Toman