Taiwan's New Strength: Industrial PCs
Protech and the Wisdom to Stay Home
精華簡文
Source:CW
Engel Wu has resisted the urge to pursue quick profits in China, instead staying in Taiwan to oversee Protech Systems' transformation from the bleak PC industry to the opportunity-rich industrial computer (IPC) sector and its 50% margins.
Protech and the Wisdom to Stay Home
By Kuo-chen Lu, Elaine Huang
From CommonWealth Magazine (vol. 581 )


Convenience store kiosks can be used to purchase high speed rail tickets, concert and performance tickets, or Taiwan Railway tickets, and they even link to smart phone apps for printing, bill payments, or adding stored value. It has changed life for many Taiwanese, but most people are likely unaware that these seemingly ubiquitous convenience store sales kiosks, which bear the mark of a Japanese brand, are 100% made in Taiwan.

Even more surprising is that despite a steep decline in the value of Taiwanese exports, as well as razor-thin margins in mobile phone and PC manufacturing, one ICT vendor has gone ahead and invested in a new plant in Liudu, outside Keelung. The new facility spans over 30,000 square meters, and the company is set to begin a major wave of employee hiring.

The company is Protech Systems (南京資訊), a hidden champion in the manufacturing of convenience store kiosks. Although known by a Chinese name – directly translated as Nanjing Information – that can be easily be misconstrued as not being very Taiwanese, Protech's founder and CEO Engel Wu is a typical son of Ilan.

Back when he founded the company in 1982, Wu thought of calling it Taipei Information. However, a friend told him that Taipei was "merely the provisional capital," and that Nanjing was "the legal capital (of the Republic of China)." So weighing the provisional against the legal, he decided on the Chinese company name of Nanjing Information (although opting for the unrelated and neutral-sounding English name of Protech Systems).

Adding more interest and drama to the saga, the unsung hero that goes by a very Chinese name is steadfastly opposed to setting up manufacturing in China, opting instead to pursue transformation and upgrading at home in Taiwan.

"In the 1990s, one after another of my friends went over to China to set up factories. Meanwhile, I put up a building in the Neihu Science Park, enduring ridicule that staying in Taiwan was just like waiting to die. But inside I was thinking, going (to China) was the real suicidal move," Wu recounts.

It was this determination that provided the impetus for Protech Systems to transform itself from a PC vendor into an industrial PC company that now boasts NT$2 billion in annual turnover and a gross margin exceeding 50 percent. Four out of 10 Protech's customers are from Japan, three in Europe, and just under two in the USA. In addition to vending kiosks in local convenience stores, Protech's products can be found in ticket vending machines and point-of-sales systems in convenience stores and retail outlets around Japan.
Doubled Commitment
Personal computers comprised Protech Systems' main product line for the first decade of its existence. Wu rode the PC wave as it crested in Taiwan until 1995. Even though margins held at 15 percent at the time and the PC sector was thriving, two things transpired that made Wu decide to withdraw from the PC business and not invest in China.
First, PCs became consumer commodities. As Wu recalls, PCs were just beginning to become personal necessities, and consumer commodification signified that only the world's top 10 PC brands would be left standing, with perhaps only three of them turning decent profits. Knowing full well that he would likely never even have the chance to make it into the world's top 10 PC brands, he would be obligated to transform.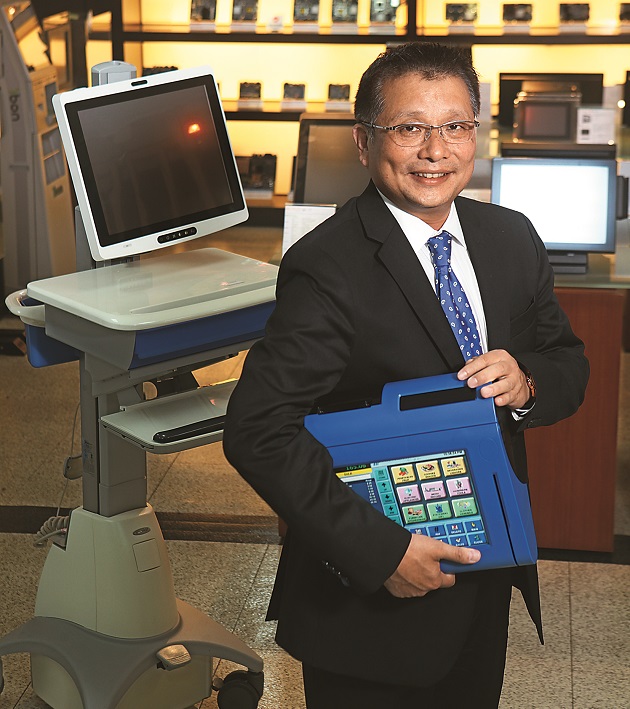 From store checkout systems, Engel Wu has expanded to computers for medical applications and convenience store vending kiosks. While turnover remains relatively low, Protect Systems has established its competitiveness in low volume, high volatility business.
Second, Taiwanese PC makers were investing heavily in China. Wu, the son of a farming family from Ilan, thought back to his earliest days after coming to Taipei to study, attending school by day and working at Western electronics plants at night. Even though those major brands took advantage of cheap Taiwanese labor and never bothered teaching Taiwanese about the technology involved, Taiwanese learned everything they needed to eventually supplant them.
Now, Taiwanese firms are investing in China for the cheap land and labor, even moving R&D there. "One of these days they (local Chinese vendors) will replace us," says Wu.
So Wu quit the PC business and went into IPCs, starting with IPC motherboards. In talking about Wu, the first thing National Taiwan University professor of international business Jaw Yi-long says is, "That down-to-earth quality of a country kid has never left him, despite living in Taipei for so long." Wu's passion for service has also made a deep impression on him.
These qualities happen to suit the IPC industry well. The volume of customer orders is low, and you have to serve each customer with all your heart.
The transition was not easy at first, especially since Wu had to defer to his Japanese vendors, letting them call all the shots in everything from standard operating procedures to specifications, as well as specifying parts and components.
In contrast, Taiwanese PC makers investing in China were seemingly raking in huge profits overnight, reaching annual turnover worth of NT$10 billion. Meanwhile, as Wu remained stalled at the NT$100 million level, friends would come back and tease him for holding on to the still-underdeveloped Neihu Science Park, saying that "In China you can have a factory as big as you want, and command several thousand employees. That's what being a boss is all about."
Over the first decade of the transition, whilst the PC industry was hitting its peak, Wu was back in Taiwan working on his relationships with Japanese customers. Wu relates that when all is said and done it is all about "trust" when doing business with Japanese. Getting the product right is only half of that equation, the other vital half being crisis management.
With its high degree of customization and flexible production, there is no such thing as a perfect product in the IPC field. Niggling issues are always bound to emerge, and when they do, you have to resolve them.
Flawless crisis response is the key to victory, earning customers' absolute trust. "Some Taiwanese are quite shortsighted," Wu says, "When Japanese say something is not good enough, they make their calculations and figure: We are only doing NT$10 million of business with you (the Japanese client), but fixing the issue will cost NT$30 million, so we'd better not fix it. But if you don't fix it, you get blacklisted and never regain access."
Losing NT$30 million on a NT$10 million job is never a good deal, but as Wu describes it, "Doing business with the Japanese is like courting. When you're still chasing after the other person you're afraid you won't get them; but once they're yours it's the other way around, and they're afraid of losing you."
Rules for the Second Decade
It pays to think over the long term, and a decade of learning from the Japanese aided Protech Systems' transition. Over the second decade of its transition, the company went from mastering the production process to Japanese clients talking in terms of concepts and needs, while Protech made the decisions on designs, specs, and components. Step by step, the company steadily developed integrated systems and software to cover both hardware and software services.
Now, in addition to spanning industrial computer motherboards, POS (point-of-sales) systems, convenience store vending kiosks, and automated teller (ATM) machines, Protech Systems has ventured into industrial computers for aerospace and healthcare electronics applications.
For instance, computer controllers, image processing, and uploading systems have replaced developing diagnostic X-rays and CAT scan negatives, enabling doctors to show patients their X-rays directly on a computer screen. Protech also provides integrated cash receipt and payment hardware and software systems for local Taiwanese food and beverage hospitality industry businesses, with an ever-growing scope of products and applications.
Now, friends are returning to Taiwan and praising Wu for his foresight in remaining in Taiwan, and owning his own building in the Neihu Science park. And Protech keeps growing, with a new plant in Liudu, the first phase spanning over 33,000 square meters with phase two protected to occupy another 21,000 square meters. In addition to production, the facilities include a nearly 2,000 square meter athletic complex, and a plot of land for every staff member to grow vegetables in the organic greenhouse.
Compared to the bleak state of the PC industry, everything is looking rosy for Protech in the future. Wu describes IPC as a prototypical "long-tail" industry, in which the top 10 manufacturers occupy just 20 to 30 percent of the market, with around 2,000 other smaller names holding up to 80 percent. Unlike other industries, the big do not always get bigger in this field, as those with vast capital and large-scale operations can never fully eliminate small- and medium-sized businesses.
With the opportunities presented by the Internet of Things, Big Data, and Cloud computing, Wu sees unlimited possibilities moving forward, firmly believing that as long as you move quickly enough and work hard at innovation, there is no reason to fear China's Red Supply Chain.
Translated from the Chinese by David Toman