Asus Chairman Jonney Shih Puts off Retirement Amid Bumpy Transition
精華簡文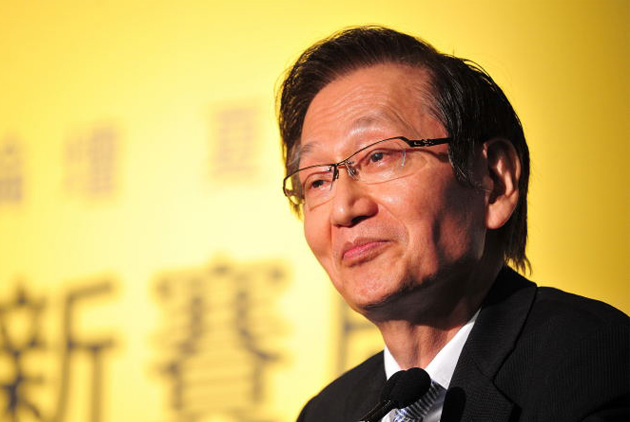 Source:CW
After a crucial board meeting on April 18, Asustek Computer Inc. (ASUS) Chairman Jonney Shih announced that he would stay at the helm of the computer manufacturer while Jonathan Tsang, Asus' largest shareholder, would stay on as president. Shih's announcement put an end to the persistent rumor that he would retire in June. How will Asus steer through this transition?
Asus Chairman Jonney Shih Puts off Retirement Amid Bumpy Transition
By Elaine Huang
web only

On April 18, Taiwan's high-tech circles were awash with rumors of Shih retiring from all posts in June to hand the baton to Chief Strategy Officer Ted Hsu.
Asus, Taiwan's largest personal computer maker, ranks fifth worldwide in terms of shipments. Media reports in the middle of last year and this March unveiled the plots of "palace intrigues" taking place as executives jostled for positions amid sweeping corporate restructuring. But the ASUS PR department refused to comment on these reports, noting that the power to make top executive changes is vested in the board of directors, and that publicly announced board resolutions shall prevail.
A dramatic turn of events took place on the day of the board meeting when evening came. Following the board meeting around 5 p.m., Shih sent an email titled Expand Asus Horizon Together to all employees, explaining that he and Tsang would remain in their posts while Hsu was promoted to vice chairman.
According to the email, which has been obtained by CommonWealth Magazine, the new management will focus on safeguarding profit growth in Asus' major business units while also building a smart enterprise that enables new connected services and a new retail model to explore growth opportunities in the coming five to ten years.
"Taking into account industrial change and team completeness, I have decided to continue to serve as a member of the team," Shih wrote. He also pointed out that Asus will cultivate outstanding managers internally or recruit them from outside to set up a talent pool and successor teams.
Since the news of Shih's impending retirement broke exactly on the day of the board meeting, a technology executive who knows Asus well pointed out that such rumors creates a major headache for Asus management.
Business Reorganization Fails to Deliver Expected Results
"Half a year ago, Shih actually wanted to retire, but not from all his posts as it was rumored on the outside. Instead, he was to take the role of Asus advisor, letting Hsu take over as chairman. To complete the generational transition, he wanted Tsang to retire with him," remarks one industry insider. However, faced with the rumors, Shih clearly had no choice but to retain the chairmanship to stabilize the situation.
In April of 2016, Shih launched a succession plan inviting his comrade in arms, Asus co-founder and then Pegatron Corp. Vice Chairman Hsu, to serve as the company's chief strategy officer. Hsu's return to Asus shattered the chances of Asus CEO Jerry Shen, who had been tapped as a strong candidate, to succeed Shih. Although Shih did not directly name Hsu, ten years his junior, as his successor, he told the shareholder meeting at the time that he would pass the baton in one or two years.
At the regular shareholder meeting, Shih noted that the company's reorganization would focus on a reallocation of resources with the goal of improving the precision of new products and shortening the time to market. Shih personally headed the reorganization task force, which held numerous in-house "merciless discussion" meetings to speed up the pace of reform.
However, the market remained unimpressed, so that the reforms failed to translate into markedly higher sales.
In 2017, Asus posted annual net profit after taxes of NT$15.545 billion for an EPS of NT$20.9, the lowest figure since Asus spun off Pegatron more than seven years ago. Consolidated revenue in the first quarter of this year, announced in April, also failed to stay above the NT$100 billion mark.
Therefore, Asus kicked off another reorganization round this March. The restructuring efforts, this time spearheaded by Hsu, triggered an internal power struggle. At an internal coordination meeting half a month ago, Eric Chen, global vice president and head of the Systems Business Group, and Jackie Hsu, corporate vice president and general manager of sales of the Open Platform Business Group, defended their turfs. In the end, Shih, Tsang and Hsu had no other choice but leave the organization of the business units untouched.
Global Smartphone Market Share on Downward Trajectory
One high-tech executive who is familiar with Asus says that smartphones are the company's "true black holes."
Only last week, Asus began to sell its new ZenFone 5 in Taiwan, again using popular South Korean actor Gong Yoo (alias Gong Ji Chul) as its brand ambassador. In the first 24 hours after hitting the market, 12,000 ZenFones 5 were sold online, more than Asus expected.
The high-tech executive reveals that after Hsu returned to Asus and inspected the sales situation, he once stated that the smartphone business will be the first unit that he wants scrapped after he takes the reins, stating that he could not understand why almost 3,000 people work in the handset and mobile communications team, including software development, testing and customer services, whereas the entire Asus Group has only around 5,000 employees.
Between 2015 and 2017, Asus' share of the global smartphone market slipped from 1.25 percent to 0.78 percent, according to market research firm Gartner Inc. This indicates shows that the massive input of personnel and resources for development failed to boost sales.
However, the idea of phasing out the handset business touched a raw nerve with Asus. A former Asus senior manager notes that Shih and CEO Shen both consider mobile phones an important business for expanding the scope of the Asus brand. Shen has travelled abroad several times to head sales pitches for the ZenFone in overseas markets. "They injected massive resources into the development of smartphones, which ate into profits. Then they used the money they made with notebooks to subsidize [the smartphone business]. For a year, this is still feasible, but doing this for 10 years…," remarks the former Asus manager, indicating that he does not believe the approach is justifiable in the long run.
Moreover, the main revenue and profit generators, notebooks and motherboards, have hit a growth ceiling. In 2017, Asus revenue and profits dropped to a seven-year low.
The expansion of the mobile phone business and the subsequently developed Zenbo companion robot and cloud-based services did not go according to plan either. "This must have dealt a major blow to Shih," a veteran Asus employee observes.
Yang Wen-teh, vice president at industry consultancy Cinno Research, notes that, based on its smartphone shipment volume, Asus has already been relegated to what the industry in China calls the "second echelon" of smartphone makers.
Tough Decision Awaits Asus Boss on Smartphone Business
The two younger Chinese smartphone brands, Oppo and Vivo, sell at least 100 million handsets a year, while Asus ships about 13 million per year, continuously falling further behind its Chinese competitors.
"If Asus truly drops from the top echelon, it will make a difference when it comes to negotiating prices for key parts. Samsung, for instance, won't be as supportive regarding price and quantity as with first- echelon makers," Yang points out.
"First they must avoid fights over personnel matters. The problem is not whether Jonney is at his post or to whom he hands the baton. It's that whoever takes the leader position in the future must face and handle the hot potato that is the unprofitable smartphone business," posits Yang.
Shen has said that the coming two years will be crucial for the development of Asus. Moreover, he placed "smart enterprise", "gaming" and "forming a national AI team" as the three main directions on the company's agenda, and identified new retail as a hot topic. Once organizational restructuring is complete, Asus will adjust relevant areas step-by-step to improve the customer experience.
Navigating a corporate transition and succession is easier if aided by tailwinds. Asus, however, is facing strong headwinds as it steers the large corporation through a sweeping reorganization exercise.
Now that skillful strategist Shih has announced that he will stay on as helmsman, he will have to find ways to turn these headwinds of corporate transition and reorganization in a more favorable direction.
---
Additional Reading
♦ Corporate Succession: Morris Chang's Last Hurrah
♦ Ready for a Clean Break with TSMC
♦ Asustek Computer: Getting Stronger by Getting Leaner