Lung Ying-tai:
Biweekly Visits Are Half-Hearted Endeavor
精華簡文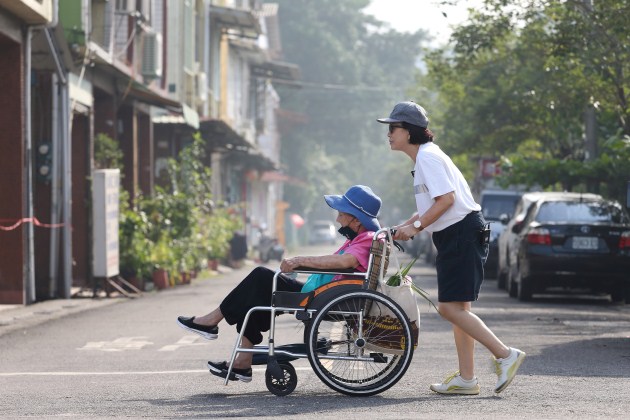 Source:Chien-Tong Wang
Former Culture Minister Lung Ying-tai went to the United States to study when she was 23. She stayed there for nine years and subsequently lived in Europe for another 13 years. Back in Taiwan, Lung served as head of Taipei City's Department of Cultural Affairs and then joined the Cabinet as Minister of Cultural Affairs. Between her government posts, Lung taught at universities in Hong Kong for a total of nine years. During more than three decades abroad, her parents back in Taiwan were always at the back of her mind.
Biweekly Visits Are Half-Hearted Endeavor
By Yueh-lin Ma
From CommonWealth Magazine (vol. 646 )

In late October of 2017, Lung decided to move to the town of Chaozhou in Taiwan's southern Pingtung County, where she now teaches writing at Chaozhou Junior High school to students from four local schools .
From an informal chat between the reporter and the students before class, it seems that Lung's work is quite well- known among the students at Nan Rong Junior High School in Kanding, who have read her 2009 book about the Chinese civil war Big River, Big Sea – Untold Stories of 1949 and heard her mother talk about The Wild Fire, a 1985 collection of socio-critical essays that caused an uproar in then still- autocratic Taiwan.
One girl likes to read books about history because she feels that lessons can be learned from the past. Another student notes that Watching You Go (2009) and Grow up Slowly, Child (1984) left a deep impression on him. He was moved by the loving family relationships and the gentle yet powerful language Lung uses to describe love and affection.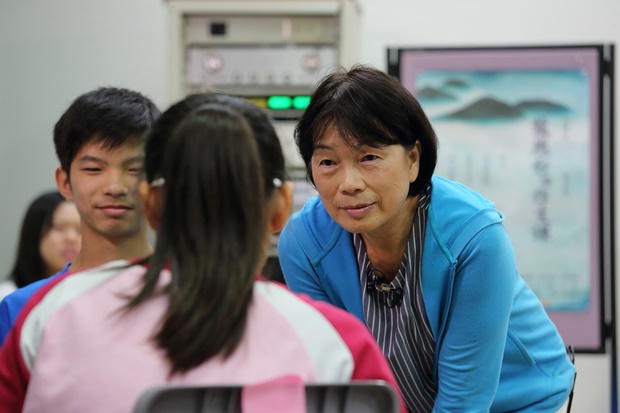 In the first class, devoted to the topic "From inquiry to debate", Lung shows the students photos documenting the wealth gap, which leads into a discussion on the topic of why poor people are always shunned. Lung likes to walk around the classroom, winding her way between the desks. Raising her voice, she points out that writing an essay means making value judgments and taking a stance while having empathy for others. "Each choice we make has many aspects that can be discussed," she says.
Her moving from Taipei to Pingtung was a belated choice.
Home is Where the Mother and the Cats Are
On April 1 last year, Lung began her first-ever silent meditation retreat in Hong Kong. During the three-day activity, participants were not supposed to talk;, they could only think. During the meditation, while practicing breathing and matching the breath with upward and downward movements, Lung watched a silk cotton flower gently float down to the ground from a very high tree. In that moment, a long-held yet faint thought finally took shape, and she made up her mind.
Lung decided to move from Taipei to Pingtung to spend time with her 93-year-old mother, who suffers from dementia.
Four months later, she moved into living quarters on the sixth floor of her older brother's house that had been converted from a storage. Thus she began her new life that allows her to chat loudly with her mother every morning.
Since her 6th floor study and bedroom face south, Lung only needs to step out onto the balcony to get a panoramic view of the lush green slopes of Mt. Dawu and feel hear the wind blowing in from the Pacific Ocean. Lung brought her two beloved cats, Da Mi (Big Cat) and Xiao Mi (Little Cat), with her from Taipei. The furry companions stroll around, moving back and forth between the white desk and the red recliner.
In her notebook, Lung has jotted down the following thought: "Home is Where Mother and the Cats Are."
As Lung returns home from her writing classes, her mother, Ying Mei-chun, sits quietly on the sofa. As soon as she enters the room, Lung kisses and hugs her. The warmth and affection between mother and daughter seems like the golden evening sun that shines through the French window. Lung has chosen a familiar Shaoxing Opera to entertain her mother. She helps her put on headphones so that she can listen un disturbed while Lung talks with her guest.
"When I read a book, I sit next to her. When the weather is good, we sit on the balcony together without talking," remarks Lung. In the morning, she pushes her mother in the wheelchair when they go shopping for groceries and flowers at the traditional market. In the evening she helps her mother apply body lotion and massages her hands and feet, combs her hair, grooms and dresses her neatly just as if they were preparing to stop by at the neighbors.
Going Through the Motions
Ying Mei-chun was diagnosed with dementia 18 years ago. Over the past 15 years, Lung kept visiting her mother at her brother's home in Pingtung every two weeks regardless of her job responsibilities, be it as head of the Bureau of Cultural Affairs in Taipei, as culture minister or university lecturer in Hong Kong.
At the time, she thought what she was doing was enough. She justified her actions, thinking: After all, how many people, not counting those who live with their parents, can afford to take time out of their busy schedules to keep visiting their aging parents in Pingtung from Taipei or Hong Kong every two weeks?
In the later stages of her dementia, Lung's mother could no longer talk, which meant that Lung would often sit next to her mother during her biweekly whirlwind visits, reading a book or looking at her smartphone screen.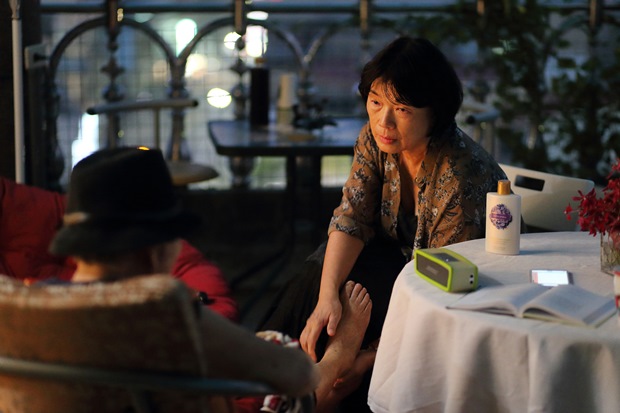 Even after leaving the Ministry of Culture three years ago, Lung still maintained the same visiting pattern, enjoying her newly won freedom and leisure time in Taipei reading, writing, meeting friends and doing some work for her cultural foundation. She had finally, become master over her time again.
Yet she didn't feel as at ease as she'd thought she would be.
For a long time, she would wake up in Taipei in the morning asking herself the same question: Why am I here? Answering this question was difficult, as she could just as easily live in Vienna where her younger son lives. Or she could live in Hong Kong and teach there. Of course, she could also live in Pingtung where her mother was.
"The person who is the most important, the emotionally closest to you in the whole world, is living the last part of her life. Who knows how many days she has left, so what are you still doing here?" Lung asked herself. Gradually she realized that her biweekly high-speed railway trips to Pingtung were a dishonest, half-hearted, fake endeavor.
In this world, people become probably most stingy when it comes to sacrificing their time.
If it was ten years earlier, Lung could still help her mother paint her fingernails in different colors. But now her mother's eyes no longer sparkle from inside.
"If you ask yourself what and who is most important at this moment, then the answer is crystal clear," explains Lung. Yet despite her sharp intellect, it took a long time for her to come to this realization.
Returning to Be Close to Mother and Hometown
"The only chance to meet for the two parallel lines that are the finite period of my own life and the final days of my mother - the person I am most indebted to - is in the present; there is no past and no future," remarks Lung in describing her mother-daughter relationship.
The sense of guilt and unease that always nagged her deep inside has disappeared because she can now be at her mother's side from morning till night. Moreover, rural life in Pingtung has also calmed her down, bringing her closer to the soil and the people, washing away the skepticism she developed while active in Taipei politics.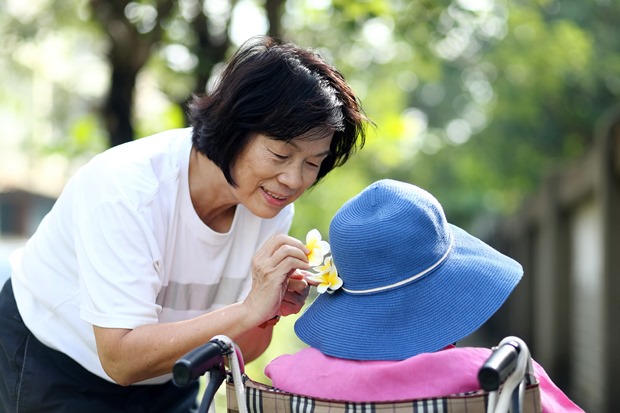 Having returned to her mother and her hometown, Lung was able to safely return to the world of writing. She began to brainstorm story ideas for a book, perhaps in the form of letters to her mother.
She gets up at 6 a.m. every morning and takes a morning walk along the banks of the Donggang River. When facing East, one can feel the sun becoming gradually stronger, the sunshine warming the face. Then Lung grabs her mobile phone and takes umpteenth shots of the sunrise in Taimali, never growing tired of the gorgeous scene. Upon returning home around 8 a.m., she pushes her mother in the wheelchair on their daily tour of the morning market. On the road she picks up a frangipani flower in shades of cream and yellow and affixes it to the brim of her mother's hat. As they encounter familiar faces and scenes in the market, Lung can tell that her mother is happy.
Truly Facing the Essence of Life and Living
During the long and quiet night, the roads in rural Pingtung are deserted. In the wee hours, Da Mi jumps onto the balcony railing, inspecting her territory. On the table sits a big bouquet of butterfly orchids and white baby's breath, a bottle of strong 48% vodka and cream cheese that a friend brought specially for her from Taipei.
As Lung chats with us about her return to Pingtung, she points out that she now has more time to read books and is able to pay attention to some more penetrating, more perennial essential questions. She has reread the 1854 transcendentalist classic Walden, or, Life in the Woods by Henry David Thoreau. Why did Thoreau choose to live by himself in a cabin near Walden Pond? Because it is only possible to face the essence of life and living after forsaking all material things.
"I left Taipei not only out of concern and disappointment over reality but also because I wanted to think deeply about just what the essence of life is in the end," Lung reveals. Her intention as an author is similar; she wants to take another look at her own mother and the era of her mother's generation.
The Wooden Book- Carrying Case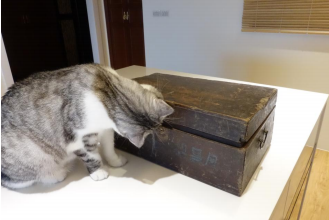 When the plane of Antoine [de Saint Exupéry] crashed in the Libyan desert [the event that inspired him to write The Little Prince], the ten-year-old Chinese girl Ying Mei-chun happened to be in negotiations with her parents: "It's not my fault that brother is not doing well in school," she said. " If I earn my tuition, will you let me go to school?"
Smoking his water pipe, her father, a landowner, looked at his intrepid daughter with amused interest and said laughingly, "Okay."
So Mei-chun went to dig up peanuts in the smallholder's peanut field, put them in a basket and peddled them in the market. Although the peanuts earned her barely any money, the adults gave in, and her mother even asked an old carpenter in the neighborhood to make a wooden book- carrying case for Mei-chun.
Mei-chun left home at the age of 24, and from then on she encountered insurmountable hardship, often being caught between life and death. She did not know that the old city she called home had to make way for a dam. Three hundred thousand people were forced to relocate as the city was submerged at the bottom of a reservoir. From then on, Mei-chun's homeless mother was left wandering from place to place, covering large distances.
In 2007, I tracked down Mei-chun's relatives in Wuyuan County in Jiangxi Province. My cousin put a wooden box in my hands, saying "That's your mother's book-carrying box…"
The sadness of years past resembles faintly swaying water plants that become visible when the daylight penetrates shadowy waters.
After Mei-chun left, her mother held on to this wooden book box as she was sent off to distant places, traveling across mountains and rivers and falling into abject poverty. She guarded this wooden book case until her death.
I open it very slowly only to find two lines written with a fountain pen in blue ink.
Please do not open this box...Ying Mei-chun is free to open it.
The blue ink is as clear as the still-wet tears of yesterday.
Translated from the Chinese article by Susanne Ganz
---
Additional Reading
♦ Lung Ying-tai: Taiwan: A Depressed Model Student
♦ Hate Me or Resent Me, I Have No Regrets
♦ Bank Chairman Quits for His Father's Long-Term Care