2015 City Happiness Survey
Restructuring Triggers Fight for People, Resources
精華簡文
Source:CW
Taiwan's "Big Six" special municipalities have now taken shape, soaking up resources and people, and extending the gap between cities and towns. Not only improving its ranking across five categories to claim first place, Taipei displaced Taichung City as the top destination for "domestic migration."
Restructuring Triggers Fight for People, Resources
By Kai-yuan Teng
From CommonWealth Magazine (vol. 580 )


The 2015 CommonWealth Magazine's City Happiness Survey results are out. Which cities and counties are winners, and which are losers?

Among the six special municipalities under direct central government administration, Taipei once again took top honors in the competitiveness category, followed by Tainan and Kaohsiung in second and third, respectively. Meanwhile, New Taipei City fell out of the top three. Outside the Big Six, Kinmen County was the big winner, knocking "tough customer" Hsinchu from the top spot.

This year, the top six cities and counties the Taiwanese public would like to migrate to matched the six special municipalities exactly, with Taipei City knocking out Taichung City as the first choice for "emigrating" within Taiwan.

Judging economic vitality in terms of population growth, the gap between Taiwan's six special municipalities and the other administrative regions widened even further.

Each of the special municipalities showed stable growth, with the exception of Kaohsiung. Taoyuan demonstrated the most significant growth at 0.7%, followed by Taichung and Taipei, respectively. Taoyuan mayor Cheng Wen-tsan emphasized that Taoyuan can comfortably grow by 50,000 people each year. "At 200,000 over four years, that's equal to half the population of Ilan County," he adds.

Standing in contrast to the six special municipalities, the other cities and counties lacked allure, with eight losing population.

Further analyzing figures released by the Directorate General of Budget, Accounting and Statistics (DGBAS), beginning in 2009 more people have moved away from Changhua County, Nantou County, Yunlin County, Chiayi County and City, Pingtung County, and Keelung City than have moved in, constituting a fairly serious population drain.

"Urban regions offer more employment opportunities and provide better social welfare. These factors, combined with convenient transportation, act like a magnet," observes Dr. Lyu Yu-cheng, associate professor in the Department of Public Management & Policy at National Taipei University.

Confronted with the various impacts of the shifting population structure, cities and counties have stepped up efforts to compete for people.

On the ground across Taiwan's towns and cities, CommonWealth reporters found that local governments have taken a number of steps in preparation for battle to come.
Go after Different Demographics
Hsinchu, which has the lowest average age per resident, promotes itself as the "children's city"; Taoyuan City, the fastest-growing municipality, looks to attract young people to settle there through employment opportunities; and Matzu, with Taiwan's longest-living population, hopes to become a "healthy island" for senior citizens.
Now in his first term as mayor of Hsinchu at just 40 years of age, Lin Chih-chien made a point of ingratiating himself with new parents and children as his first act upon taking office. Lin stresses that Hsinchu City has had the distinction of being the city with Taiwan's highest birth rate for 11 years in a row. This is reflected in the local demographics, where children ages 12 and under account for 12 percent of the population.
"I want to forge the most child-friendly city in all of Taiwan," says an excited Lin, the father of two young children himself. "Our goal is to catch up to Taipei by building a family activities center in every administrative district," he adds.
Newly-minted special municipality Taoyuan City is not content to let its neighbor attract all the praise. Taoyuan City is the top performer in terms of annual population growth, at 2.2 percent leapfrogging past Taipei at 1.5 percent.
Standing on the roof of Taoyuan City Hall, Mayor Cheng Wen-tsan points to a construction site and, noting the city's ample employment opportunities, states that Taoyuan aims to become "the first stop for young people."
Matsu, which boats extraordinary natural beauty from sea to mountains, seeks to become a "senior citizens' paradise." Back when he was serving as director of the Matsu Bureau of Health, newly-minted Lienchiang County magistrate Liu Tseng-ying stressed during out interview that Matsu is Taiwan's most long-lived counties.
During his time at the Bureau of Health, Liu has gradually resolved Matsu's problem of lacking in healthcare resources, and now the system for transferring patients from Matsu to Taiwan and the on-line medical system are completely up to speed. "We have excellent healthcare," he proclaims.
Citizens of Big Six not Easy to Please
Taking the survey results as a whole, Taipei is still the big winner. Taipei claimed first place in four of the five major indicators covered by the CommonWealth's City Happiness Survey. "Taipei City has all the advantages, but its own efforts cannot be denied," notes Professor Neng-jay Shih of the National Chengchi University Department of Public Administration.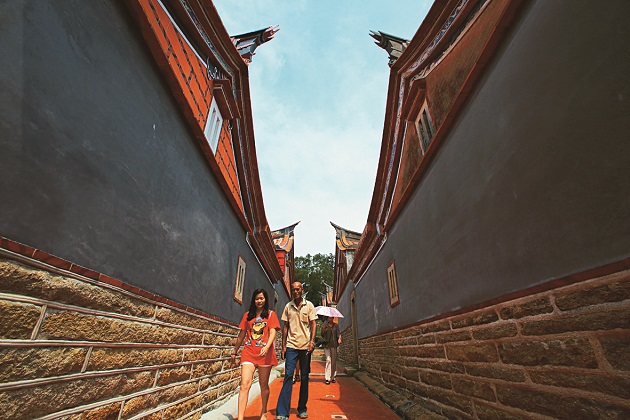 Kinmen distinguished itself among counties and cities with high satisfaction rate among residents.
National Taipei University associate professor Lyu Yu-cheng, of the Department of Public Management & Policy, offers further analysis, citing Taipei City's comprehensive civil service structure, under which 14,000 civil servants serve 2.6 million residents. Contrast this ratio to New Taipei next door, where 10,000 public functionaries serve four million citizens.
In his first exclusive media interview since visits to Shanghai and Seoul, Taipei Mayor Ko Wen-je said that the most impressive aspect of these two cosmopolitan cities is their long-term planning. "Seoul currently has 300,000 units of public housing, their response to high housing prices 26 years ago," he marvels. Among the five major indicators, Taipei was only outstripped by other members of the six special municipalities in the single category of social welfare.
Taichung City topped all comers for two social welfare indicators, namely "average number of interview cases with high-risk families" and "average number of service calls for elderly people living alone officially listed as needing attention." In terms of the subjective measure of 'overall satisfaction', the City also achieved high rating among its residents.
In the 'economic vitality' category, Taichung also surpassed New Taipei, coming in behind only Taipei City.
Taichung City mayor Lin Chia-lung stresses that Taichung has always had a very respectable employment rate, but with lower salaries than other major municipalities. For this reason his top priority is to attract business and improve the investment climate, which he asserts "will bring up the overall wage level."
Paul Lin, chairman of the National Association of Small and Medium Enterprises, feels that whilst Taichung has a very good industry foundation, Taichung Harbor's throughput is too limited. Consequently, it "needs to improve its infrastructure."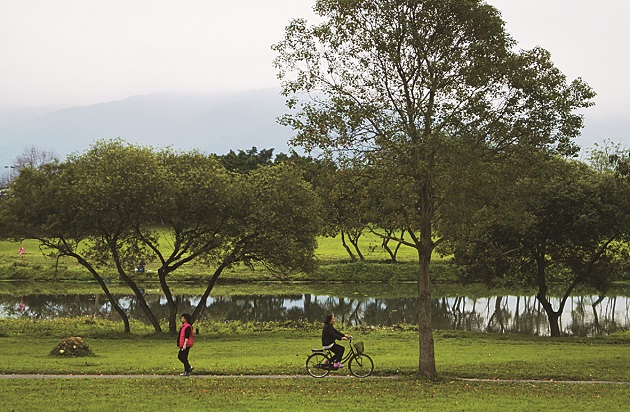 Yilan's strength has traditionally been environmental protection, but striking a balance between tourism and the environment is a major challenge moving forward.
Also notable is that, despite the relatively comprehensive facilities and services available across urbanized counties and cities, citizens are ambivalent in regards to performance ratings.
Taking the six special municipalities, whilst Taipei leads by a wide margin by objective measures, it only ranks third in subjective citizen satisfaction. New Taipei fared even worse, ranking last by citizens' subjective satisfaction in spite of taking a back seat only to next door neighbor Taipei City against overall objective measures, dropping the major population center's overall average.
The mayor of Hsinchu also faces a similar situation. Hsinchu ranks highest by all objective measures for facilities and services among all cities and counties outside the special municipalities, yet it only polls twelfth in residents' satisfaction.
Lyu Yu-cheng chalks this up to citizens becoming "pickier and pickier" as urbanization takes place. He cites as an example the "1999 Citizen Hotline" through which the Taipei city government received more than 6000 phone calls a day, whilst Kaohsiung fielded only around one-tenth that volume. To turn things around and close the gap in satisfaction, Lin Chih-chien believes that Hsinchu needs to restore citizens' sense of pride.
Compete for Greenness
Unlike the severe imbalance caused by Taipei City's domination of the six special municipalities, the other counties and cities demonstrated different strengths across the categories surveyed.
Economic vitality has always been Hsinchu City's strength. Measured by such sub-indices as per capita consumption expenditure, per capita disposable income, and the percentage of the population with a college education or higher, Hsinchu leads the pack by a wide margin.
Nevertheless, Kinmen sits atop all counties and cities outside the Big Six, thanks to her citizens' strong feeling of contentment. Kinmen County Magistrate Chen Fu-hai feels that the most pressing aspects for maintaining his constituents' happiness include improvements in healthcare and local water – the latter an issue that has long plagued the offshore island.
He cites Kinmen's over pumping of ground water, which has persisted for a decade now. For a city intent on raising competitiveness, "If you don't even have water, you can just forget about anything," he stresses.
The combination of small-scale urbanization and a low degree of development helped Taiwan's three main offshore islands sweep the top three in the environmental protection category. Shortly after taking office, Penghu County Magistrate Chen Kuang-fu announced the cessation of work on the Dacang Cultural Park (大倉媽祖文化園區), which had come under fire from environmental groups. "It would have cost a billion NT dollars, which is basically Penghu's four years' budget, discounting all expenditures. Yet even more critically, no environmental impact study was done," he relates.
Back on the main island of Taiwan, Yilan and Hualien counties are the class of the group in environmental protection, taking fourth and fifth overall among counties and cities outside the Big Six. This year the Yilan county government fired its first volleys in response to the proliferation of structures categorized as "farmhouses" built on land zoned for agriculture, getting stricter about screening individual "farmer's" qualifications and issuing building permits.
"Last year when I toured every town and village in Yilan, the pace at which 'farmhouses' are being built was astonishing, completely dwarfing the rate of development the last time I stood for election," recalls Yilan County Magistrate Lin Tsung-hsien.
Balancing Ambition and Morale
The newly-minted administrative chieftains are motivated and eager to strut their stuff, but Lyu cautions that in addition to vision, they must pay attention to preserving morale among the civil service ranks, and whether they can hold up under the strain. "Otherwise, the backlash from the establishment could be severe."
And whilst administrative heads around the island boldly proclaim their intentions to forge new paths, public governance is a marathon, not a sprint. Who ends up on top in another three years will be decided by their resolve and executional acumen.
Translated from the Chinese by David Toman
---
About the 2015 City Happiness Survey
To gauge the competitiveness and general level of well-being in Taiwan's 22 localities, the 2015 CommonWealth Magazine City Happiness Survey ranked Taiwan's cities and counties based on 73 objective and subjective indicators in five general categories: economic vitality, environmental protection, governance, culture and education, and social welfare.
To account for differences in development, the survey was divided into two groups, one for Taiwan's six "special municipalities", and one for Taiwan's 16 other cities and counties.
In the special municipality division, scores for every indicator were based on a 1-5 scoring system, with the best performer receiving a five, the next best getting a four and the poorest performer receiving a one. A similar formula was used in the non-special municipality division.
The data for the objective indicators come from government surveys and statistics in 2014, while the subjective indicators reflected opinion polls conducted by CommonWealth Magazine. The statistical indicators accounted for 80 percent of the total score and the opinion polls for 20 percent. The average scores of all of the indicators in each of the five major categories were then added up and divided by five, and then multiplied by 200 to obtain the final score.