Taiwan's First LVMH Prize Recipient- Angus Chiang
Taking Taiwan's Culture to the Runways of London and Paris
精華簡文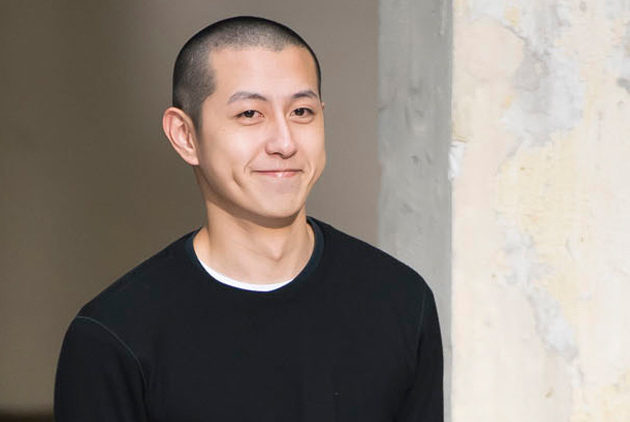 Source:Angus Chiang
Everyday experiences like shopping for materials at Yongle Market or listening to the rush of motorcycles on nearby streets provide vital creative energy for emerging Taiwanese fashion designer Angus Chiang. This attuned sensitivity to Taiwan's distinctive everyday culture has helped Chiang make inroads into the fussy European fashion market.
Taking Taiwan's Culture to the Runways of London and Paris
By Min Chou
From CommonWealth Magazine (vol. 647 )

Over the last two years, the name "Angus Chiang" has become synonymous with "Taiwan" on runways at international fashion shows in London and Paris.
Fashion designer Angus Chiang derives constant inspiration from Taiwanese culture. Incorporating elements ranging from electric flower floats, to student culture, outdoor banquets, motorcycles and scooters, his designs have opened the door of entry to major international fashion week shows.
Recommended by Shih Chien University in 2013, Chiang's graduation collection work, "Sailing to the Moon," bested competitors from top global fashion design schools in over 20 countries to garner the International Award at the 2013 London Graduate Fashion Week show.
In 2017 Chiang made the short list of 21 finalists for the LVMH Prize for Young Fashion Designers. This honor gave him the distinction of being the first Taiwanese menswear designer to gain entry on the official calendar in his first Men's Paris Fashion Week.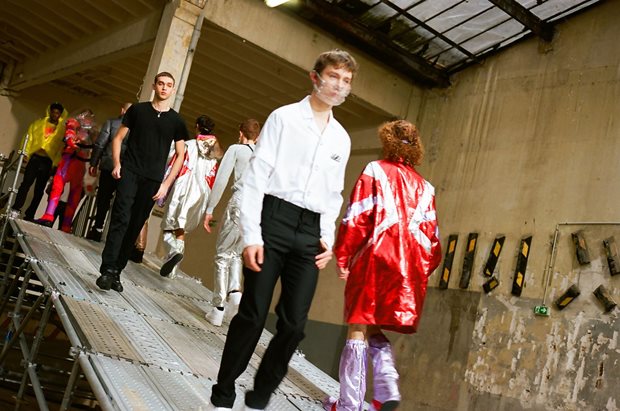 Image: Angus Chiang
Chiang's meteoric rise on the international fashion scene is unprecedented for a Taiwanese designer. Over the course of his short career, his take on Taiwanese culture has captured notice and appreciation at Fashion Weeks in London, Paris, and Vancouver.
Professor Hsu Feng-Yu, head of the Shih Chien University Department of Fashion Design, says, "We live in this culture and are constantly exposed to its garishness and second-ratedness, impossibly distant from the realm of refinement and taste."
Yet Chiang boldly expresses an approach to design that addresses local culture. And it was this aspect that was critical to Shih Chien University's recommendation of Chiang to represent the school and Taiwan at the London Graduate Fashion Week show. "Chiang's work has depth, and it demonstrates holistic thinking across his entire line. He has long exemplified the qualities of a designer," says Hsu.
According to Hsu, Chiang's designs do not express the inherent Taiwaneseness of objects themselves, but bring out certain cultural qualities from fresh, interesting perspectives.
Moto Dreamchasers Show Taiwan's Strength
Chiang chose a very Taiwanese title, which has been translated to "Put the Pedal to the Metal!" in English, for his 2018 Fall and Winter line.
In addition to mixing uniforms, metallic hues, inflatables, and woven elements, Chiang's series introduces the element of "wind." Here, he casually incorporates bulbous shapes of attire inflated by the wind while riding a motorcycle in jacket shoulder stitching, elbows, or curved spines.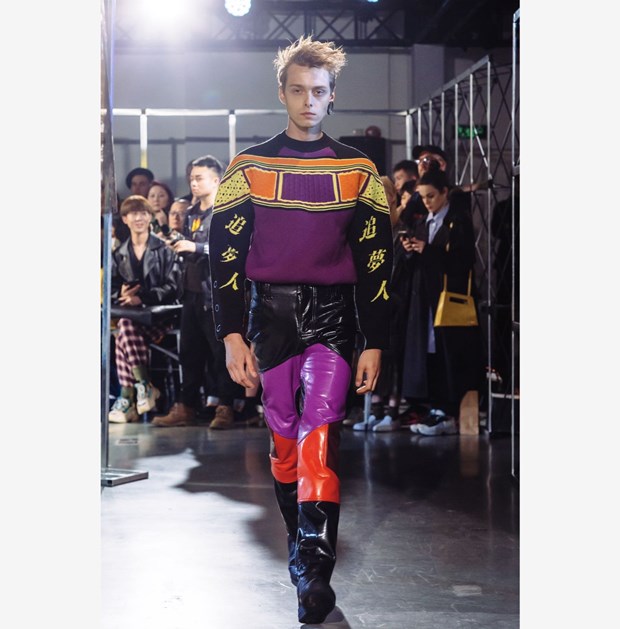 Image: Angus Chiang
His design language also incorporates a few elements of realism, depicting a group of people on the streets of Taiwan chasing their dreams for a better life in the future.
Fresh from this January's Paris Fashion Week, Chiang was the subject of an exclusive interview with Women's Wear Daily, shortly after which he and his crew regrouped for Shanghai Fashion Week in late March.
Chiang's distinctive creative approach, punctuated throughout with elements of Taiwanese culture, has won numerous praise on social media from young audiences, as well as a torrent of accolades and a passionate following for his super cool aesthetic on his brand's official Weibo.
Why does he keep focusing on Taiwanese culture?
"I suppose it's my responsibility," Chiang tells us at a Starbucks in a brand new office building in Shanghai's bustling Hongqiao Hub.
The Angus Chiang brand was established in 2015, with the deliberate choice of locating its office near the Yongle materials market just off of Dihua Street in Taipei. Just 23 at the time, Chiang was both the designer and the brand manager. As he ran his daily errands, from buying materials at Yongle Market to praying at the Cheng Huang City God Temple, listening to the rush of motorcycles on the adjacent street, the whole time he was collecting material.
Drawing from these experiences, Chiang enlisted a Taiwanese indie band to perform music for his show. To complement the fashion show's theme, he prepared pearl milk tea for attendees. For his latest Moto Dreamchasers show in Paris, he had the new Taiwanese brand Chief Helmet supply 200 helmets, which surprised and delighted guests when they arrived at the show to find helmets placed on their seats.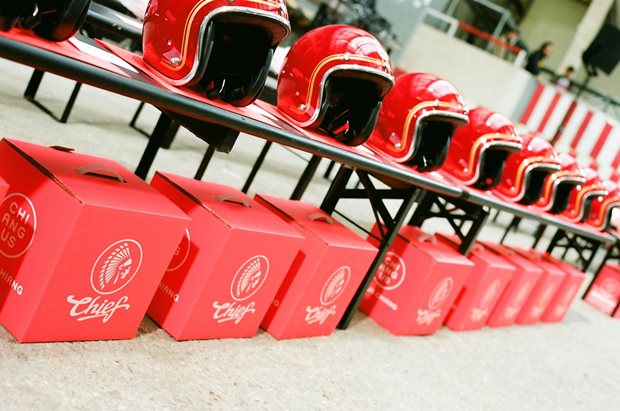 Image: Angus Chiang
Chiang is full of confidence that he can "take Taiwanese culture overseas and show everyone its beauty."
Still, with his inclusion on the official calendar of Paris Fashion Week, something that makes many other Asian designers green with envy, comes a great deal of stress.
The cost of this showcase event was at least three times that of his debut London show, as he no longer received partial assistance as a student. From venue and stage lighting, to models' hair and makeup, and making the guest list, Chiang had to take care of everything himself.
Team of Under-25s Storms the International Market
Asked how he has held up through it all, "Except for worrying about money, I enjoy everything about it," Chiang responds with a smile.
The group of under-25s surrounding Chiang has been instrumental in making everything happen.
Angus Chiang's brand director, Doug Hu, just 23, has already accumulated extensive hands-on experience organizing fashion shows in major cities around the world, taking the team on more than 20 flights per year.
"We hold ourselves to very strict standards, so we don't give seasoned fashion industry professionals any reason to dismiss us as 'just kids,'" says Hu.
Continuing, Hu says the only way to make seasoned industry professionals feel comfortable is to set the highest international standards, and to be even more thorough and meticulous than everyone else.
This April, Chiang moved his office to Shanghai, where he is preparing to launch a second line. In May, he will be featured in the opening ceremony for a famous trendy select shop, meeting the Japanese public for the first time.
While the brand presents a show in Paris, the team is in Shanghai taking orders. Chiang reveals that 80 percent of his company's sales currently come from major cities across China, led by a huge support base in the Sichuan city of Chengdu.
"Even though we're in Shanghai, Taiwanese culture is still the brand's DNA. And this will never change," stresses Chiang. Even more important for him is how to help people from all over the world better understand Taiwanese culture and touch their hearts.
Profile of Angus Chiang
Year of Birth: 1991
Current Position: Fashion designer at Angus Chiang Fashion
Education: B.A. in Fashion Design, Shih Chien University, Taipei
Awards & Recognition:
● International Award at the 2013 London Graduate Fashion Week show
● Finalist, 2017 LVMH Young Designer Awards
● First Taiwanese menswear designer to gain entry to the official calendar at 2017 Men's Paris Fashion Week
New Energy: "There are many other Taiwanese elements that can be used. It's perfectly natural. Why do I want to keep focusing on Taiwanese culture? I suppose maybe it's my responsibility to take Taiwanese culture overseas, and show everyone its beauty."
Translated from the Chinese article by David Toman
---
Additional Reading
♦ A Chinese Culinary Creator – André Chiang's New Position
♦ Eliana Kuo: Taking Taiwanese Fashion Labels to Europe
♦ Apu Jan: Quiet Storm of Talent, Ambition and Acumen
This article presents the opinion or perspective of the original author / organization, which does not represent the standpoint of CommonWealth magazine.