Behind E.Sun's Historic 'Jiaoxi Meeting'
2 Pieces of Paper = 1 Smooth Succession
精華簡文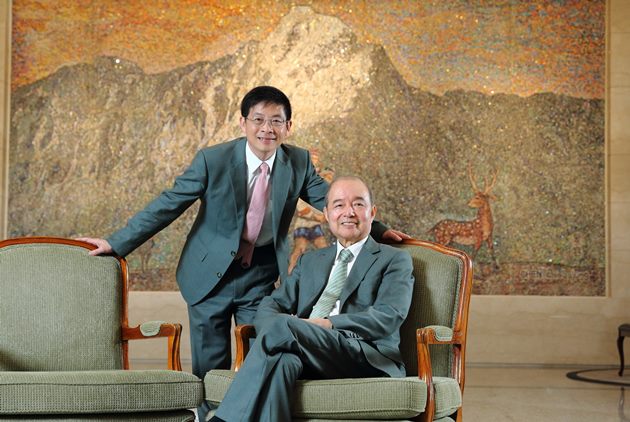 Source:Chieh-Ying Chiu
The succession issue has troubled many Taiwanese firms, but E.Sun Financial Holdings handled it smoothly 10 years ago. Ten years later, the company's chairman and president divulge for the first time the back story behind why it went so well.
2 Pieces of Paper = 1 Smooth Succession
By Kuo-chen Lu, Kai-yuan Teng
From CommonWealth Magazine (vol. 647 )

E.Sun Financial Holdings Co. got its start 26 years ago when it was founded by a group of professional managers. Since then, its capital has risen 10-fold, and its assets under management have grown to over NT$2 trillion. Over the past 10 years the average shareholder rate of return has exceeded 10 percent, the highest among financial holding companies (FHCs) in Taiwan.
The company has long been one of the favorite FHCs of foreign investors, who now hold more than 50 percent of its shares, and it was the first Taiwanese enterprise in the financial sector to be selected to DJSI World, a Dow Jones Sustainability Index.
A Bold Succession Plan
In 1992, then Hua Nan Commercial Bank Vice President Huang Yung-jen mobilized professional managers in the banking sector and investors in old-economy industries to found E.Sun Commercial Bank. The bank was then used to form E.Sun Financial Holdings in 2001, and Huang became chairman of the new organization.
In 2008, E.Sun Financial Holdings President Hou Yung-hsiung retired, and Huang tapped Joseph N.C. Huang, the financial holding company's chief strategy officer at the time, to replace Hou. At 43 years old, Joseph Huang became the youngest person ever to head an FHC in Taiwan, a record that has yet to be broken.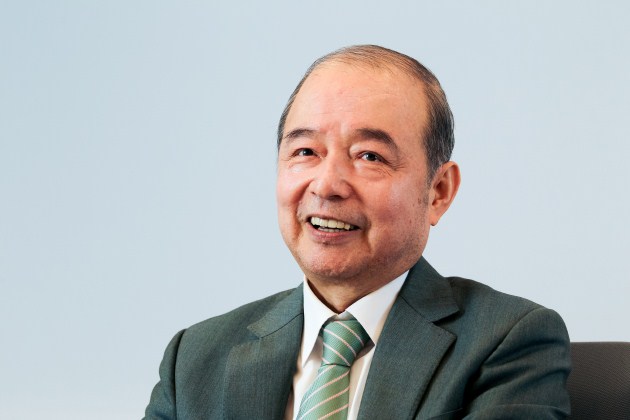 E.Sun Financial Holdings Chairman Huang Yung-jen chooses people based on their character. Joseph Huang is a strong communicator who is flexible within limits and willing to help others. (Image: Chieh-Ying Chiu)
Particularly impressive was that "Huang Yung-jen was able to get everybody to buy into this succession. No senior executives resigned. They all stayed on to help Joseph Huang," says Ko Chen-en, emeritus professor of accounting at National Taiwan University (NTU) and an independent director on E.Sun Financial Holdings' board.
With so many Taiwanese companies facing succession dilemmas, how was E.Sun able to make the transition so smoothly?
The Jiaoxi Meeting – A Succession Model Is Born
It depended on a long period of succession planning. Huang Yung-jen recalls that in the years before Hou retired, he discussed the succession issue on several occasions, with the decisive meeting coming in Jiaoxi, a hot-spring resort town in Yilan County.
At the time, he invited all of E. Sun Financial Holdings vice president-level executives to an upscale hotel in the resort town and told them in advance there was no need to prepare anything for the gathering.
On the day of the meeting, Huang Yung-jen closed the door and handed each of the attendees a blank piece of paper. He asked them a question for them to answer in writing: "What are the qualifications needed for E.Sun's successor?"
The answers were summarized into three main qualifications: 1) The person had to be committed to E.Sun; 2) had to have professional and leadership capabilities; and 3) had to be widely respected in the financial services sector. The three attributes were clearly defined.
After the attendees racked their brains to come up with those three qualifications and the results were compiled, Huang Yung-jen then took a second piece of paper with the names of all of the vice presidents on it and asked attendees to recommend who best met those qualifications.
They were to choose one or more names of people on the list or of somebody not on the list, and if they chose more than one candidate, they had to rank them in order of preference. Most importantly, Huang said, was that they had to explain why they recommended the people they did.
A total of four vice presidents were chosen by the group, with Joseph Huang receiving the most votes. But the others also drew a fair amount of support, according to Huang Yung-jen, who did not announce the results that day and did not reveal the vote tallies to anyone. Instead, he asked everybody in attendance to think more about who was the most appropriate E.Sun successor based on the three main qualifications they identified.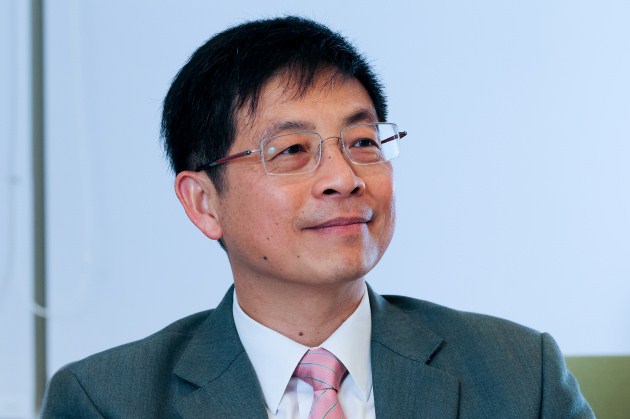 E.Sun Financial Holdings President Joseph Huang (Image: Chieh-Ying Chiu)
Ten days later, Huang Yung-jen revealed the results, noting that Joseph Huang had the most votes but that the three others also did well. After a wide-ranging discussion with the vice presidents, Huang Yung-jen said at the meeting's conclusion: "I will say clearly that my choice was the same as that of the majority. I've selected him [Joseph Huang], and I'll take responsibility for that."
After the Jiaoxi meeting, Huang Yung-jen briefed independent directors and other directors on the proceedings and submitted a report to the board's Corporate Governance & Nomination Committee for discussion, establishing it as a succession model.
But why in the end was Joseph Huang the choice?
"You are putting your trust in a successor for the next 10 years or even longer, rather than somebody expected to do a job for a year or two. You are choosing a successor for the future rather than for the present," Huang Yung-jen says, explaining why Joseph Huang's age – he was the youngest of the candidates at the time – actually helped him prevail.
When people a level below the E.Sun Financial Holding chairman discuss the succession process, they describe the election in Jiaoxi as simply the result of a 16-year process of nurturing Joseph Huang. It was a system, they say, that was not only applied to the eventual winner of the succession race but to all of E.Sun's mid-level and senior managers.
1,300 'Engineers of Hope'
In fact, E.Sun Financial Holdings built a succession pool by whittling down 8,000 people to 1,300 "engineers of hope" and then to 300 managers, from whom 20 plus vice presidential-level managers were chosen. This deep talent pool is directly monitored and managed by the company's president and chief human resources officer.
"Succession depends on a system. The 0.2 percent were generated from the 2 percent, and these 2 percent were generated from the 20 percent "engineers of hope." Succession cannot just mean advancing one person, but also passing on a succession pool and system," says Lee Ji-ren, a professor in NTU's College of Management.
One example, Lee says, is an E.Sun Financial Holdings program that selects 20 to 30 "engineers of hope" every year for a trip to Europe that was led in the past by Huang Yung-jen (and are now led by Joseph Huang). They get visit banks and museums and art galleries with rich histories and try local delicacies, exposing them to what a "good bank" is and giving them a chance to see the world. The tours also nurture cultural literacy and build cohesion.
To Huang Yung-jen, however, it represented an opportunity to observe members of the succession pool up close and gain an understanding of the individuals' family backgrounds, attitudes and values, the NTU academic says.
Lee believes Huang Yung-jen has always had an image in his mind of what a banker is – someone with a soul who is cultured and has a strong sense of identity with the institution.
Participation Needed for Strong Sense of Identity
The high sense of belonging and identity with the company among E.Sun employees starts with employees being able to participate in meetings that have implications for their future.
One example: When companies discuss a highly confidential merger, the participants are generally limited to their chairmen, presidents, chief strategy officer, and chief financial officer who can be seated at a single table. But E.Sun allows middle managers to participate, bringing 70 to 80 people together for meetings to discuss mergers. That often leaves attending lawyers and accountants stunned, who remind E.Sun of the need to protect confidentiality.
"The founder said that bankers have a duty to be discreet, and E.Sun people understand this duty," says Joseph Huang, expressing confidence in his employees.
So why are middle managers allowed into meetings on potential mergers?
"A merger can affect the current leadership as well as middle managers. Once a decision to merge [with another company] is reached, they will be the ones who have to execute it. In 10 or 20 years, it will have an even bigger impact on them, so they are clearly the most important stakeholders," Joseph Huang says.
Another motivation is to have employees become shareholders. NTU's Lee observed that E.Sun Financial Holdings pays its lower level employees and managers better than other domestic banks and financial holding companies, but its middle and upper level people are paid below the industry average, yet have a very low turnover rate.
He didn't understand why until he compared the shareholdings of E.Sun Financial Holdings' executives with those of other FHCs. It turns out that E.Sun had far more core managers owning a million shares of their company's stock than did its rivals.
"E.Sun Financial Holdings' employees are the company's owners," Lee says, explaining their loyalty.
Getting employees to become major shareholders is anything but easy, however, and requires considerable determination.
When Huang Yung-jen founded E.Sun, he clearly told investors that it would be run by professional managers and that he would not accept any outside lobbying or intervention in the bank's management, even from E.Sun shareholders.
He recalls that in the bank's first couple of years, there were people who lobbied the bank for loans or to get it to hire people, but their requests were all rejected.
Some of them did not understand the approach, Huang says, and he had to prove to them over time that E.Sun would hire people fairly and transparently without any outside influence.
Because of E.Sun's conscious decision to put employees first, its programs to issue shares to employees and promote its employee share ownership trust are more aggressive than those of other companies. But with employees making off with so many benefits, aren't shareholders resisting?
NTU's Ko explains that in the bank's early years, there were shareholders who wondered why E.Sun was not more focused on its bottom line and worried about whether the company's deep commitment to corporate social responsibility would actually pay off.
But because E.Sun has been good to its employees, "the employees have worked harder and treated customers better, especially important given that banks are in the business of providing good service to customers. This has been reflected in the company's performance and profits, with shareholders the biggest beneficiaries in the end," Ko says.
A high degree of employee unity, high employee stock ownership and stable foreign investor participation have emerged as the three pillars of E.Sun Financial Holdings' succession process, showing that succession and passing on institutional knowledge does not have to be a headache.
Translated from the Chinese by Luke Sabatier
---
Additional Reading
♦ Resolving TSMC's Succession Dilemma
♦ Asus Chairman Jonney Shih Puts off Retirement Amid Bumpy Transition
♦ The Undiscovered Asian Offshore Tax Haven